The making of a Patience Brewster keepsake, from concept to creation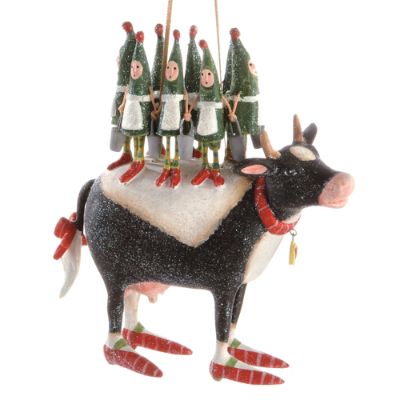 Everything Patience Brewster comes to life through her own original artwork. Her thoughtfully developed process is hands-on from start to finish. From drawings to carved wood models to clay molds, the intricate painting and the appointing of final details results in miniature, lighthearted masterpieces infused with uncommon detail.
Here's a snapshot of the process that brings each Patience Brewster design to life:
Each design goes through a three-step sketching process: Patience starts with an initial black-and-white rendering, then she translates this drawing into a full-color painting, followed by additional drawings for multiple angles and profiles.
A talented team of sculptors precisely recreates Patience Brewster's design by transforming each drawing into a three-dimensional woodcarving.
Meticulous adjustments are made, in consultation with Patience, often requiring either additional carving or the application of clay amendments.
The approved model is placed in a bed of clay to create a mold, and then removed. Artisans hand paint resin into even the smallest nooks and crannies of the mold to capture every minute detail of the original design, before the rest of the resin is poured in—no machines are involved.
An extra note of interest: a single mold only lasts for approximately 30 ornaments before details begin to disappear and the mold is discarded.
After the resin hardens, the figure is removed from the mold, hand-trimmed, hand-sanded, and primed for the decorative painting stage.
All painting is done by hand, over several hours, using an astonishing number of colors for just one single Patience Brewster design.
Detailed embellishments, such as sewn fabric accents, stars and glitter, are added.
Finally, a stamp of authenticity, including the year of creation, is applied.
This fascinating look at the artistic vision of Patience Brewster is proof that when you purchase one of her signature designs from Grandin Road, you're receiving a truly handmade, one-of-a-kind work of art.
See and hear more about this process, as described by Patience herself. Then peruse Patience Brewster's collection at Grandin Road.
3 true
Category:72172-Making a Patience Brewster Keepsake
Category:72172-Making a Patience Brewster Keepsake