Holiday Storage
Staying organized for the holidays is a must; with all the parties to plan, gifts to buy, and decorating to be done, it's easy to forget what happens at the end of it all. But once the carols have been sung, presents unwrapped, and holiday guests returned home, it's time to pack away the memories for future use. Protect your keepsake holiday collections with these helpful tips for safe and efficient storage.
Disassemble the tree
If you display a fresh-cut tree, you'll first want to remove all ornaments and lights. Clean out the tree stand and test the lights before you wind them up neatly around pieces of cardboard or coffee cans. Dispose of lights that don't work, toss out any broken or perishable ornaments or decorations, and donate those that you don't plan to use next year. Follow your town's guidelines for how to dispose of your tree properly, and be aware that garlands and wreaths are often included in this collection day.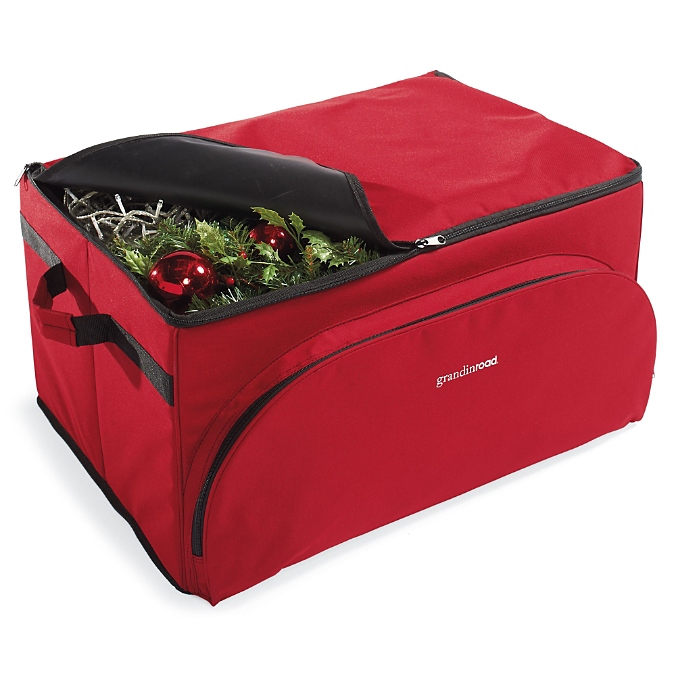 Pack away your artificial tree in a tree storage bag or its original box. The bag or box will protect the tree from damage throughout the year, but note that a bag is easier to transport up or down stairs and offers more long-term durability. Depending on the type of tree you display, it can be stored fully assembled, flipped, or disassembled in pieces. Some trees come equipped with a storage bag that can be gathered at the base of the tree when you first assemble it. When you take it down, all you have to do is take the tree skirt off and pull the bag up and around the tree.
Protect your ornaments and trimmings
Because they are often made of glass, ceramic, and even lacquered dough, ornaments can be the most challenging items to safely store. Make sure you're prepared with a sturdy ornament keeper that cushions and protects them well. It's great if you kept the original packaging for your ornaments, but if you didn't-or just need to conserve space-try a large container with designated compartments for each piece. You can also wrap each one in tissue paper, bubble wrap, or re-sealable bags, and arrange them carefully in an open tote or box. Keep your most fragile items at the top of the stack; egg cartons work well for tiny ornaments. Store metal ornament hangers in re-sealable bags.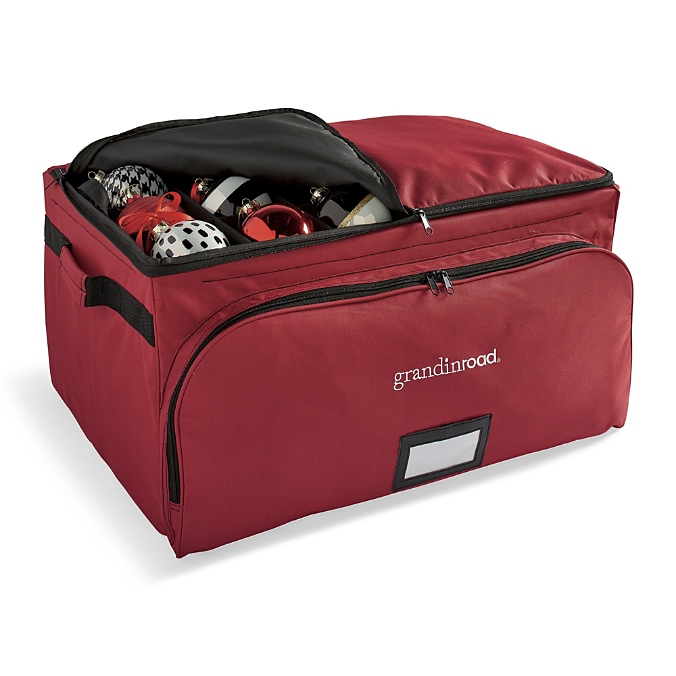 Remove ribbon from your tree carefully; roll it up to safeguard against crushing, fraying, and wrinkles. Use original spools if you have them, or wrap ribbons around pieces of cardboard, clothespins, or drape them over hangers. After removing them from trees, garlands, or vases, flatten all decorative picks, branches, and blooms and stack them in boxes. Dispose of any perishable cranberry or popcorn garlands or broken pieces.
Pack up your wreaths
The best way to protect your wreath is in a container specifically designed for wreath storage. Select a wreath storage bag equipped with a hanger that properly supports the body of the wreath and can be hung so it takes up less valuable space. In some cases, these wreath bags are sturdy and large enough that you can keep all of your decorations intact; just ensure that your ornaments and decorations are securely attached. Also, you can hang up your wreath uncovered (beware of dust and spiders) or packed away in a plastic bag with a homemade hook.
Gather the garlands
Before you take down garlands, tie a ribbon or tag to the spots where they attach to railings, balustrades, or mantels to save you some time next season. Consider using a Multi-Use Storage Bag to safely stow them away, but remember to leave a bit of space at the top to prevent crushing. Or, if you have enough extra space, hang your garlands vertically and uncovered in a closet or storage area.
Overall, remember to label all of your containers-this is a huge time saver. For the items that are most important for early decorating, mark them with "Open First". And, of course, make sure those specific containers are on top.
Pack your holiday décor, greenery, and Christmas trees in sturdy storage bags and keepers for years of future use. Shop Christmas Storage at Grandin Road.
Category:72174-Holiday Storage
Category:72174-Holiday Storage