Guide to selecting and decorating your Christmas tree
'Tis the season for creating the perfect Christmas setting—with a tree that complements your style and space. Start with a great tree and dress it up. Take your tree's theme, whether it's a color group, a pattern mix, or a group of characters, and extend it all around your home. Make every activity part of your holiday traditions; choosing a tree and decorating it with family and friends are a sure way to make lasting memories.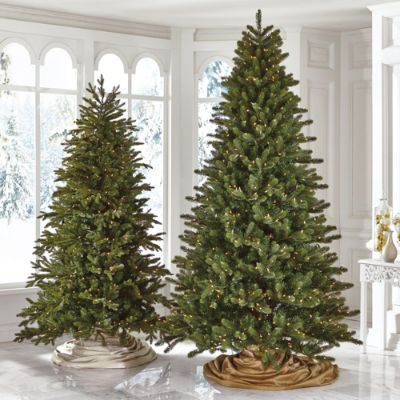 Before you buy: fresh-cut, live, or artificial
If you love the smell of pine and don't mind the mess of fallen needles or having to water daily—a fresh-cut tree may be right for you. Fresh-cut Christmas trees require a little extra care and attention, and this can be part of your holiday tradition. Most trees come from the fir, spruce, or pine families. Keep in mind that trees are often suited to particular regions, which can affect their availability in your area. As for basic set up—just trim off a few inches at the bottom for a fresh cut, position it in a stand, and water regularly.
For those who prefer a more environmental option, and have a place to plant an evergreen outdoors, a live tree may be just the thing. This type of tree arrives in either a large pot or a burlap sack with its roots completely intact. After enjoying the tree over your Christmas holiday, plant it right into your yard. Keep in mind, if you are selecting a live tree, be sure to do your homework and choose a species that will grow and thrive in your region, and a location with the best conditions.
If you or someone in your family has allergies, if you don't want to deal with the hassle of cleaning up after and watering a real tree, and if you have reasonable storage space, an artificial tree may be more to your liking. Today's artificial trees are available in a wide array of types and sizes with a variety of branch tips—they're often molded from branches of real species, for a realistic look. You'll find trees with tips modeled to look like those of firs, pines, spruces, and other classics. Branch treatments, like flocking or hand-applied berries, add extra character to your tree, even before you add your favorite ornaments.
Light it up: pre-lit or self-lit
One of the many advantages of decorating with an artificial tree is that they are often pre-lit with professionally installed lights—all you have to do is assemble the tree, plug it in, and you're ready to decorate. Most pre-lit trees offer clear or multi-colored lights; in some cases you can select from incandescent or LED bulbs. Keep in mind, if you like to leave your lights on for six or more hours a day, plan to replace your tree or all of its lights every two or three seasons.
If you light your tree yourself, you can get creative, using vintage-style lights or battery-operated LED strands. Whether you're preparing for an artificial, fresh-cut, or live tree, the general rule for lighting is 100 incandescent lights per foot of the tree's height, a little less if you use strings of LEDs. Expect to replace strands of lights each season.
Dimensional decisions: height and width
Height is paramount when selecting the perfect tree. Are you looking to fill a tabletop or reach a cathedral ceiling? In many cases it's best if your tree is 6" to 12" lower than your ceiling. This way you're sure to fill the room, and leave space for tree toppers and decorations that extend above the top branches. Trees are measured from the floor to the top of the tree; artificial tree heights typically include the stand.
Remember to keep width and girth in mind. Fuller trees are standard and work best when you're filling a room. Slim and pencil shapes are also available, providing a perfect fit in more compact spaces, like entryways and alcoves. Also think of density and profile—although it's not always immediately obvious, a great profile is what makes each tree unique. If you love to fill boughs with yards of ribbon and substantial ornaments, you may want a tree with deeper branch pockets.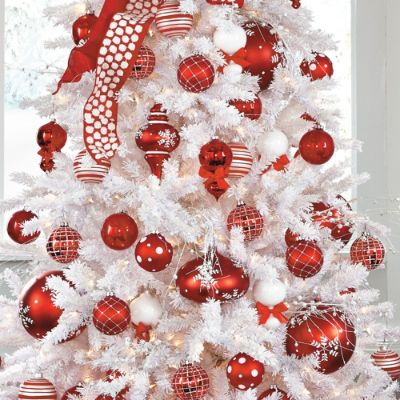 Decorations that deliver personal style
Make your tree ornaments work for you—it's up to you whether they complement or transform your home's décor. Be mindful of where you display them: delicate pieces are best for a tree in a formal room; sturdy, non-breakable ornaments and décor are better suited for a family room, kitchen, or child's playroom. Adding new ornaments every year creates a tradition all its own. Toss in some new basics—don't be afraid to blend new colors, patterns, and textures with your traditional pieces.
Ornaments aren't the only decorations for your tree. Dress it up with ribbon—weave lovely ribbons through the limbs, either vertically down the tree or horizontally around it. Add a bounty of picks, branches, and blooms that include flowers, leaves, and berries for extra dimension. Add a cast of characters, like elves or even owls. Don't forget about handcrafted cranberry or popcorn garlands—these are always fun to make with children. Top your tree with a traditional star or angel, or use a large bow, a cascade of ribbons, or sprays of picks. Don't forget about the tree skirt underneath. Get creative: consider a faux fur blanket or a tablecloth. And don't forget to add the Christmas train on a track.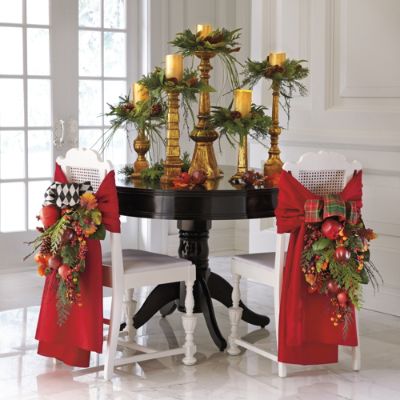 Take your decorations all around the house
Keep in mind: ornaments aren't just for trees anymore. Hang them in front of windows; fill glass vases and containers with them. Attach them as garnish to wrapped packages. Use the same ribbon used in your tree as a border for tablecloths, table runners, and candles. Fill containers and adorn Christmas wreaths, garlands, and swags with the same picks and ribbons found in your tree.
So get started! Refresh your holiday decorating theme by selecting your special tree, adding new ornaments to your collection, and inviting your clan to gather around and put it all together over hot cocoa or mulled wine. It's time to make some memorable holiday moments.
To find your perfect tree, shop our selection of artificial Christmas trees.
3 true
Category:72176-Christmas Tree Guide
Category:72176-Christmas Tree Guide