Halloween Haven
Halloween Fun Facts
Haunting trivia to amaze and delight…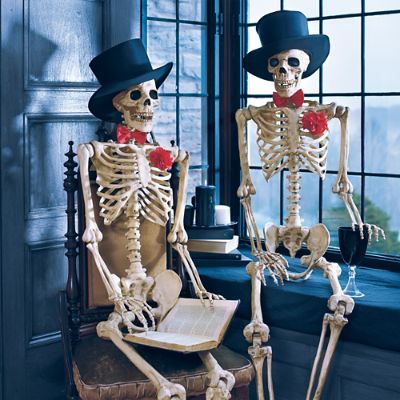 Costumes & Trick–or–Treat
Number of American adults who wore Halloween costumes
Largest number of people used to create one costume: the Village Halloween parade in 1998, when a large group of folks dressed up as Imelda Marcos' shoe collection.
The first written mention of trick-or-treat in a national publication dates back to 1939.
Apple Week (1926), Conservation Day (1941), and National Popcorn Week (1951) were all alternative names given to the Halloween season.
In California in 1905, the recommended Halloween treats included sticky molasses taffy and hot green pickles.
Pumpkin Fun Facts
Halloween Pumpkin: the original junk food? Native Americans taught white European settlers how to raise pumpkins. Colonial farmers in New England used them as a junk crop-they planted pumpkins on leftover land and used the fruit to feed the animals (yes, fruit - pumpkins are genetically related to pickles and melons, and are technically fruits, not vegetables).
Fastest pumpkin-carving speed? 16.47 seconds (the Guinness World Record).
The world's largest jack-o-lantern weighed 666.32 kg (1,469 lb) and was carved in October 2005 from the world's largest pumpkin (another Guinness World Record).
Pumpkin Boats? One cold October 22, 1997, the World's First Pumpkin Regatta captains competed in cucurboats - vessels carved the day before from 800-lb. pumpkins and driven by car battery-powered electric trolling motors - in New York City's Central Park. The course was 1/4 mile. The competitors: Stew Leonard, Connecticut dairy-store owner; Henry Stern, New York City Parks Commissioner; and Wayne Hackney, creator of the cucurboat. Stern won the first race (it was a fix); his pumpkin sank during the second.
The largest number of jack-o'-lanterns displayed in one place? 30,581 pumpkins in the City of Keene, New Hampshire on October 19, 2013.
Farthest a pumpkin can be shot from an air cannon? The "Big 10 Inch" air cannon shot a pumpkin 5,545.43 feet on September 9, 2010, landing this measure in the Guinness Book of World Records.
The first pumpkin pie? While Native Americans used the pumpkin for medicinal purposes, wove strips of dried pumpkin into mats, and roasted pumpkins to eat, it was the colonists who invented pumpkin pie by slicing off the top, removing the seeds and pulp, filling the inside with milk, spices, and honey and baking it in hot ashes.
Hauntings, Ghosts & Vampires
A 2005 Gallup Poll found that almost of third of us say we believe in ghosts
More than 1,700 movies have been made about vampires.
The next full moon on Halloween will be October 31, 2020.
PMost active haunted spots in America? According to the American Ghost Society, it's the Bell Witch Cave (Adams, Tenn.), the battlefield at Gettysburg, Bachelor's Grove Cemetery (Chicago, Ill.) Dudleytown (Litchfield County, Conn.), the Old Slave House (Equality, Ill.), Alcatraz (San Francisco, Calif.), Winchester Mansion (San Jose, Calif.), Myrtles Plantation (St. Francisville, La.), and Whaley House (San Diego, Calif.).
Parades & Celebrations
The Neewollah — Halloween backwards — Festival in Independence, Kansas claims to have had the first citywide Halloween celebration in 1919.
The oldest, continuous (since 1920) Halloween parade takes place in Anoka, Minnesota.
The first Halloween adult costume parade took place in the late '60s in the Castro District of San Francisco, California. The current largest parade marches in Greenwich Village, New York.
The National Halloween Committee, formed to encourage Halloween parties for service men and women, boasted 50,000 private Halloween parties in New York City in 1943. By 1948, the Committee estimated there would be 11 million Halloween parties coast to coast.
Halloween at the White House
White House Halloweens: Eisenhower's 1958 White House was lit with an orange glow for a staff lunch given by the First Lady. Out in Seattle, the Vice President's daughters were trick-or-treating accompanied by the Secret Service; Julie Nixon was a red devil and Trisha was a ghost.
Eleanor Roosevelt made the first contribution to the 1960 UNICEF's Trick-or-Treat for all the World's Children campaign. Danny Kaye kicked it off in 1965.
3 true
Category:66718-Halloween Fun Facts
Category:66718-Halloween Fun Facts