Halloween Haven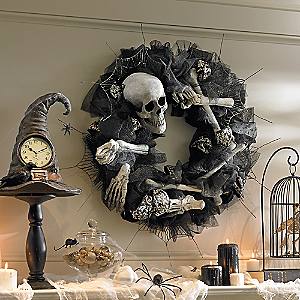 The mantel is the heart of your room, so dress up that little ledge to celebrate the harvest and Halloween. Whether you prefer to keep it simple and chic or you like to layer up the decorations, the right balance of embellishments make it even more enticing to gather around the hearth for a fireside chat or a haunting ghost story. If you don't have a fireplace, make your own mantel: install a wide shelf and trim it with a mantel scarf, or create a lively tableau on an accent table or sideboard.
Astonishing Arrangements
If a blood curdling Halloween is your bag, mix stacks of vintage books and salvaged pieces with animated skulls, page-turning spell books, talking busts, a holographic urn, or other animated Halloween props. Add some gloomy light with a group of black dripping candles or candlesticks filled with black, purple, even blood red tapers. For a truly macabre finale, drop in severed hands, creepy crawly spiders or other and hang a swinging bat or two from above. Your mantel will be so frightening, even the dust will be afraid to settle there.
Handcrafted Halloween
If the former sounds too scary, a homespun Halloween theme may do the trick. Slip a glamorous mantel scarf over the shelf, and then add a set of blocks that spell your favorite spook-friendly message, a few fancy pumpkins, a couple of candelabras, and voilá! You've made Halloween even more charming.
An Abundance of Accents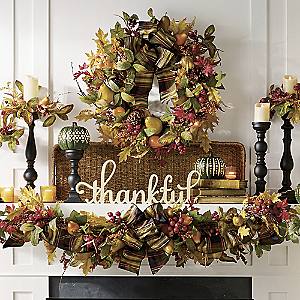 A well-planned harvest mantelpiece can take your room from summertime all the way through Thanksgiving. Start by draping rustic burlap or faux dupioni across the shelf. Warm up the display with a lush wreath on the mantel, a hearty swag, and metallic pillar candles. Work with a range of heights and shapes; flank each side with a mix of everlasting topiaries and gold candlesticks. To fill the tableau a bit more, add some bark owls or autumn elves. Shop Indoor Halloween Decorations and Fall Decorations
3 true
Category:66681-Mantel Decorating Guide
Category:66681-Mantel Decorating Guide