Halloween Haven
Keep Pumpkins Looking Freshly Harvested
Pumpkin Care
Most people want to enjoy their pumpkins and Jack-O-Lanterns as long as possible, yet prefer to avoid the decaying orange squash on the doorstep scenario. So how long can you keep a pumpkin without it rotting? Uncut Halloween pumpkins kept in a cool place, but protected from frost will keep for an average of two months. Depending on the weather (cool and overcast is favorable, hot and sunny is unfavorable), a carved pumpkin will last from one day to one week. You can extend this time to up to two weeks by covering every cut surface with petroleum jelly.
Jack-o-Lanterns that have been lit decay more quickly because once the lid is on, the pumpkin "cooks" from the inside out. The solution is to carve a chimney hole in the lid so that heat and smoke can escape, allowing your masterpiece to last much longer. Simply light the candle and see where black soot marks the lid then cut a hole in that spot to let out the heat.
If you want a longer-lasting, hassle-free display, consider purchasing artificial pumpkins. Long gone are the cheap plastic imitations of yore. Many of the faux pumpkins today are strikingly realistic and even can be carved. For the greatest convenience and enduring spook factor, look for faux jack-o-lanterns that are pre-lit.
Pumpkin Variety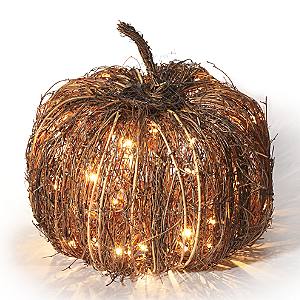 Pumpkins are a member of the squash family and, like most fruits and vegetables, come in a variety of shapes and colors. To create an eye-catching visual display, scour your farmer's market or local garden center for orange, white, red, and bluish-green varieties. Some are smooth, but you also are likely to find gnarled specimens that are downright ghastly.
As an alternative to fresh, faux pumpkins are a mess-free way to decorate season after season. You'll find variety here, too, with both solid and carved options in assorted sizes and colors. Some carved pumpkins come pre-lit with mini lights for added convenience. Newer animated Jack-o-Lanterns are a fun and frightening twist on this traditional Halloween decoration.
Giant or miniature, oblong or round, smooth or nubby, real or fake, you'll find an extensive variety of pumpkins that will allow you to create the festive or frightening look you desire.
Shop Pumpkin Decorations
3 true
Category:66673-Halloween Pumpkins Care Guide
Category:66673-Halloween Pumpkins Care Guide