Halloween Haven
From wicked to "wowza!", there's a witch for every Halloween decorating style.
No Halloween display is complete without a wickedly wonderful witch. Here at Grandin Road, we give you a veritable brew of choices. Below are our top ten favorites.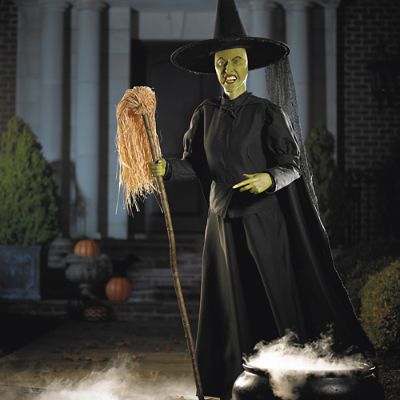 1. Dorothy's biggest nightmare: the legendary Wicked Witch of the West
She just may be the queen of Halloween, threatening everyone with the phrase "I'll get you, my pretty!" and shrieking "I'm melting!" all the time. The officially licensed speaks the original lines from The Wizard of Oz movie and stands over six intimidating feet high. She's a great addition to the foyer or the hall. Position the broom in her hand, or take it away for variation. Surround her with flying bats. Whatever you do, keep one eye on your little dog.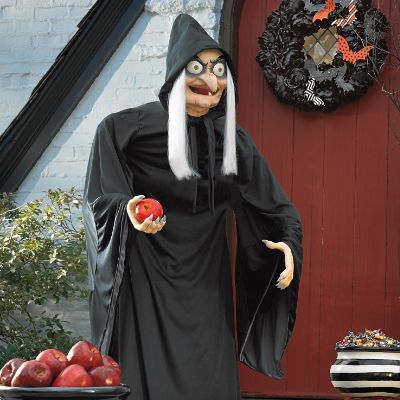 2. She sent Snow White into a deep sleep
This old hag attempted to steal Snow White's legendary claim of beauty, and she's the perfect company for a bowl of apples or trick-or-treat candy. Beware: she'll offer her shiny apple to you and all of your guests as she recites her creepy sayings. Don't bite. But do take her out on Halloween night or place her in an entryway near a looking glass.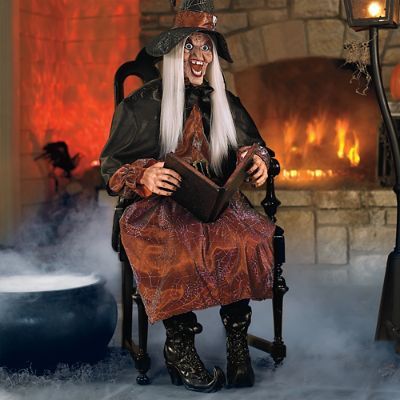 3. A wickedly good conversation starter
Make the life-size animated Storytelling Witch part of your covered porch or patio Halloween décor. Just sit her in a rocker and she'll start in with her poem, spell and recipe; all the little ghosts and goblins are sure to gather for her performance. In preparation for her arrival, be sure to stock up on troll toes and snake venom.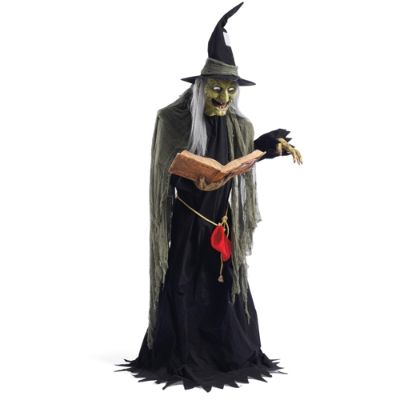 4. She gives a spellbinding performance
Another life-size, wicked wonder, our Spell-Casting Witch has several spells she'll recite from her grimoire (book of spells). Her very presence will add some serious hocus pocus to your Halloween display. She looks best beside a bubbling cauldron and surrounded by a veil of fog.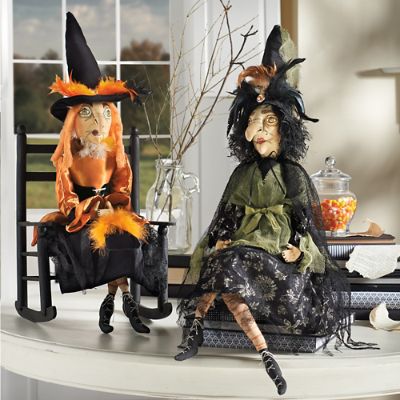 5. Artist Joe Spencer's witches rock on
If your Halloween decor is more charming than chilling, Lucille and Thelma will fit right in. Celebrated doll maker Joe Spencer designed these well-frocked and delightfully detailed ladies for a fabulous tabletop or mantel display. Prop both of them on a spidery stool or park one in a rocking chair that's the perfect size.
6. Esmeralda can easily conjure a tabletop to talk about
With a hat that's fabulous enough for the likes of Hedda Hopper, a tray of treats and a posable black cat on a leash, Esmeralda's 17" stature makes a truly terrific tabletop centerpiece. Settle her into a mossy nest and surround her with apothecary jars full of candy. Act quickly: she's a numbered, limited-edition character, so she could sell out!
7. Mark Roberts's winsome witches are handcrafted works of art
Everything about these bejeweled and bewildering witches is over the top. Layers of beautiful fabrics embellished with glitter, fluttery feathers and faux fur will attract all the right attention. Let them hover above spidery stands or balance on oversized feet – they'll instantly claim center stage in a bed of moss or silken spider webs gathered on a marvelous mantel or sensational sideboard.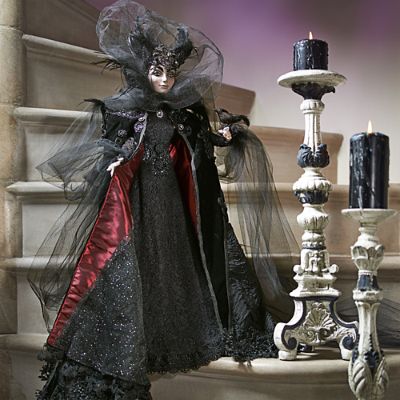 8. From Katherine's Collection, perhaps the most bewitching witch of all
If you're serious about having an elegant Halloween, the haute design of the heirloom sorceress is the perfect way to cast a spell over your display for years to come. Every inch of her hand-painted 32"-tall frame is enveloped by a cloud of black velvet, dupioni silk and tulle, all further embellished with beautiful beading and elegant embroidery. Place a few tall candlesticks around her, and voila! Your display is complete.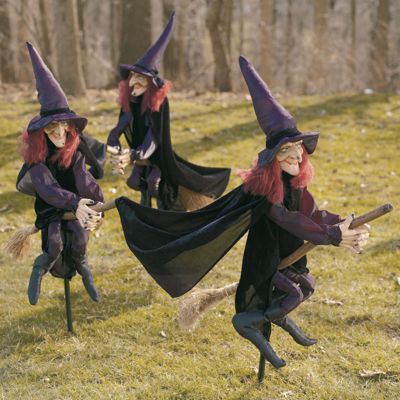 9. Frolicking fantasy for your front lawn
If you enjoy an enchanted outdoor landscape, a set of staked witches will surely do the trick. These three have hopped on their brooms and are ready for takeoff – although their stakes will keep them anchored. Pose their legs and arms however you like, and keep your Halloween decorating interesting… and the neighbors spellbound.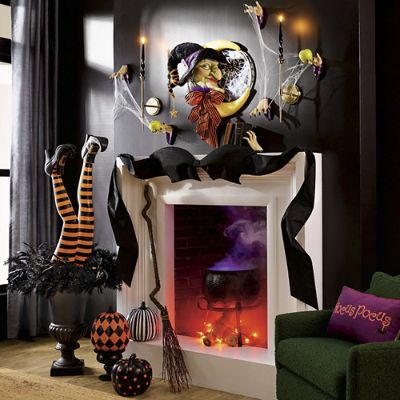 10. This one's in desperate need of a leg up
Or maybe she just got tipsy on all that cider. Plant a pair of witch leg stakes in the yard or in the Hadley planter. They're sure to cause come howls of Halloween laughter.
Whether your style is freaky, fun or fabulous, by now you've found a witch that has you spellbound. It's witchcraft, afterall!
3 true
Category:85176-Which Witch
Category:85176-Which Witch