TWO EASY WAYS TO TRICK OUT YOUR TABLE
The grand stage, where you serve up all your deliciously spooky snacks, fearsome finger foods, and thirst-quenching spirits, will instantly become the focal point of the party. Fiends and family will swoop in for a bite, mingle among the other ghouls, and return again and again. So put your best fright forward, by displaying this spine-tinglingly impressive pair of wickedly easy (and affordable) Halloween decorating ideas. Making them is monstrously satisfying. What's more, when guests ask where you got them, you can reply, "I crafted them myself!"
BLACK MAGIC ROSES
Dark and dramatic, a big bouquet creates the perfect centerpiece. Or, consider giving your guests a shocking surprise by greeting each with one of their own (beware of thorns).
SUPPLIES
2 dozen red roses (don't be afraid — budget blooms from your local grocer are perfect, and a little wilt just ups the thrill factor)
Black floral spray paint
Copper-hued glitter
Black vase (spray-painting an attic or inexpensive tag sale find works just fine)
INSTRUCTIONS
Fill vase with room-temperature water.
Cut roses to desired length, for best display in the vase.
Fill a bowl with copper glitter.
One at a time, generously coat each blossom with black floral spray.
While the spray is still wet, dip the blossom into the copper glitter. (Hint: vary the amount you apply to each, for a dynamic, light-and-dark look.)
Carefully place each rose into the vase, one at a time.
Let dry, then adjust the arrangement as needed.
Simply BOO-tiful!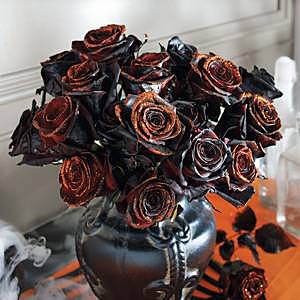 Black Magic Roses
BUBBLING CAULDRONS AND SMOKESTACK BOTTLES
Here's your chance to bring your buffet alive. A variety of vessels, overflowing with mysterious (but harmless) mist, adds an otherworldly aura and visual energy static Halloween decorations simply can't duplicate.
SUPPLIES
Low ceramic bowls or vintage glass bottles (what you can dig up, on the cheap, will be super)
Warm-to-hot tap water
Dry ice (find it at a local deli, grocery store, or ice supplier)
Oven mitt or gloves
INSTRUCTIONS
Fill your container(s) with warm-to-hot water.
Wearing gloves, drop in a few chunks of dry ice.
Ice will bubble and smoke for 5 to 10 minutes.
Replenish water and repeat as desired.
And shazam — you've brewed up a host of Fright Night toil and trouble, in a flash.