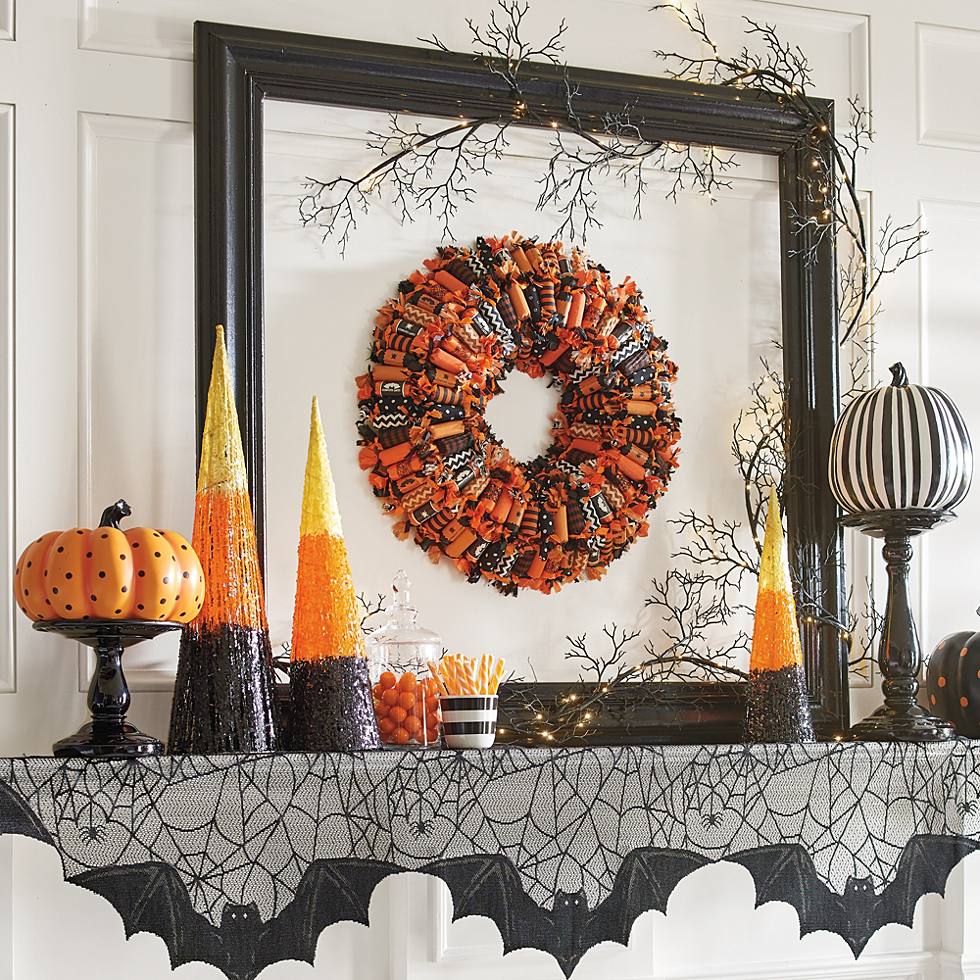 If you ask us, half the fun of Halloween mantel decorating is taking a great idea and instilling it with your individual sense of style. Making it your own. There's just so much joy in looking at the results of a completed project and knowing that your creativity—no matter how well developed you feel it is—played a part. "Absolutely… I did that!"
With this in mind, we have some out-of-this-world tips to share for quickly and easily transforming any mantel from the everyday to the bewitchingly beautiful. We'll talk about the ultimate display we've created for inspiration, then how to tailor it to perfectly suit your space, taste, and budget. BTW: you don't even need a mantel in your home to give it a try. Just apply these same simple design principles to a shelf or console table and any expanse of wall.
You'll be overcome with the decorating spirit and jumping to get started in 3… 2…
3 | the focal point for your Halloween mantel
A generously proportioned, dynamically designed centerpiece catches the eye and provides an anchor for complementing embellishments—we'll construct the scene around it.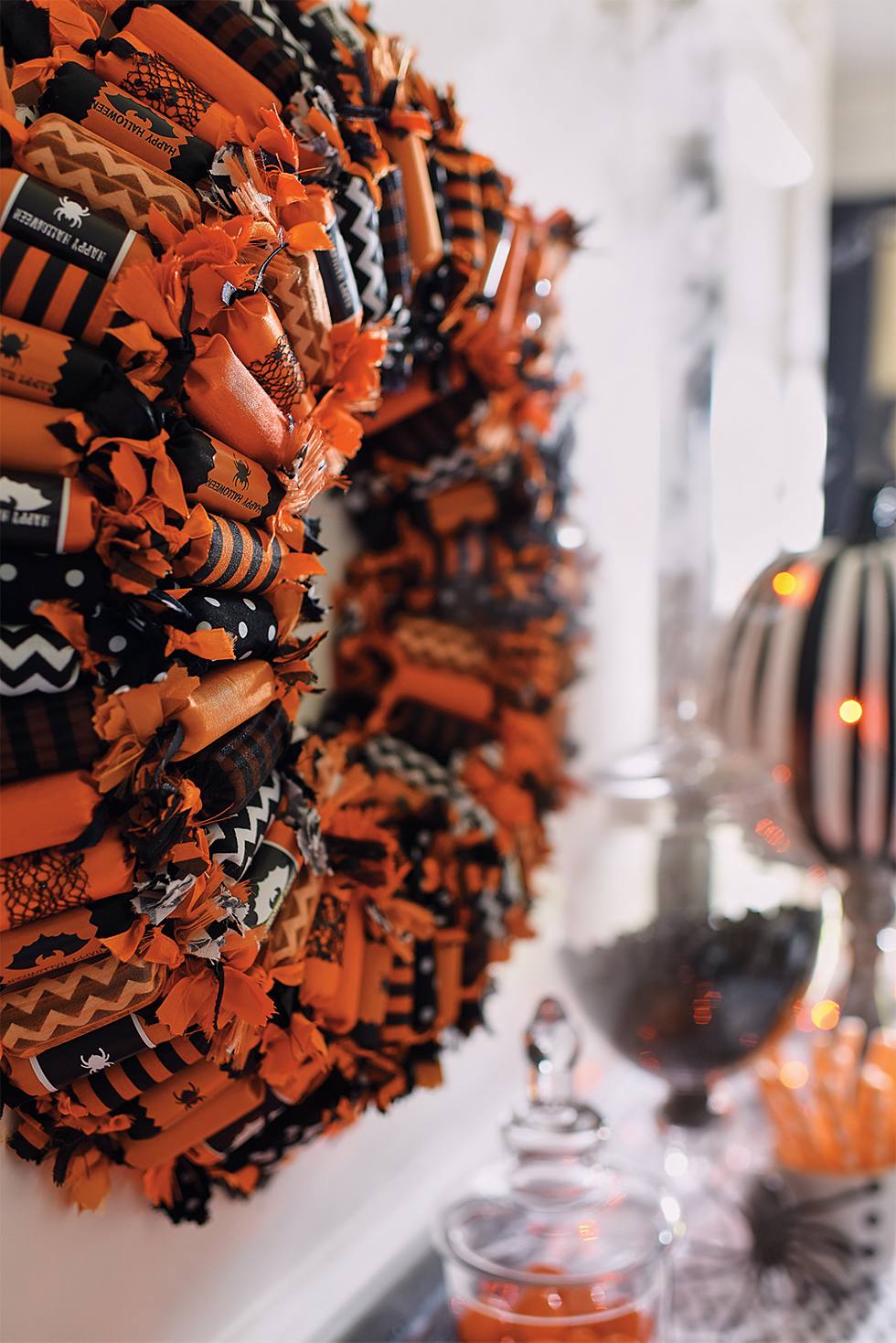 Inspirational: Our sweet designer Candy Wreath is the start of something special. Its impact has been magnified with a clean black picture frame, creating a visual boundary (think spray-painted attic or tag sale find). And lengths of asymmetrically positioned Pre-lit Branch Garland add a natural touch and element of spookiness.
Personal: So many economical alternatives. Swap out the wreath for a flock of our Felt Bats, Script "Beware" display, or a home-crafted witch in silhouette. Anything you love. Frame and garland? Strictly optional.
2 | the foundation
A counterpoint and grounding element to the higher positioned centerpiece. Common, connecting component for the decorative accents that rest on it.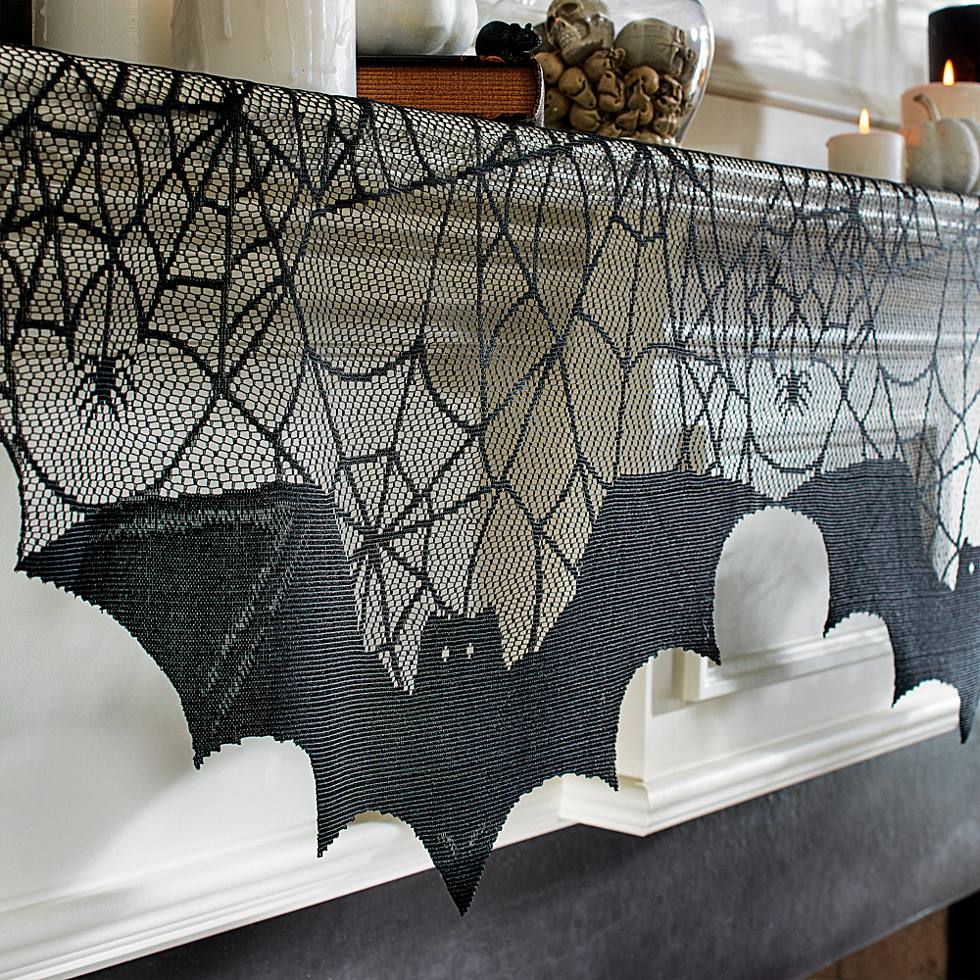 Inspirational: We think the lacy structure of our Bats Mantel Scarf makes it just perfect. Disguising the plain white mantel, while creating a cool black-and-white color contrast. The large bats instantly say Halloween, without making things too scary.
Personal: Try our Bewitching Mantel Scarf, a plain black tablecloth, or multiple lengths of pre-lit Branch Garland to put your special twist on the mantel's surface.
1 | the fine details
An imaginative brew of varying colors, forms, and textures that creates a visual bridge between the focal point and foundation, enhancing the appearance of both. Most importantly, the dimension these elements bring engages the viewer and draws the eye closer.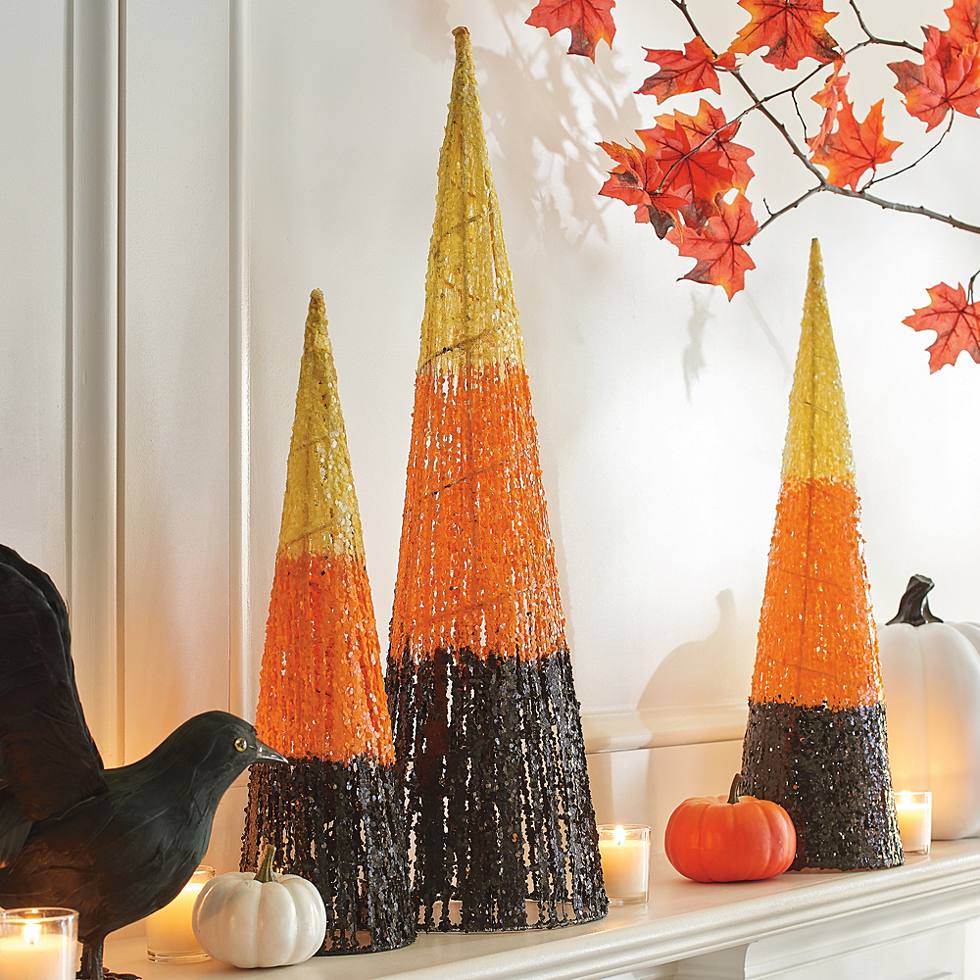 Inspirational: Classic Halloween Cone Trees provide height, while also amplifying the black and orange tones in the wreath. See how the curved shape of the pumpkins softens the straight lines of the cones? Candy vessels are not only a functional design element, but also make the overall vibe more casual and friendly. Note the left-weighted asymmetry of these pieces that cleverly counterbalances that of the branches. Tricky!
Personal: This is where you can really let whatever level of design sensibilities you possess shine. The sky's the limit, really. More cones? Sure. Add our Harlequin Candles, "BOO" Marquee Letters, or turn your entire mantel into a candy bar filled with treats? No-brainer. Just be certain you're still working within your chosen color palette, for a cohesive look.
---
grandinroad is all about ease. And easy is having the freedom to do whatever makes you smile and makes you happy. Just go for it. And once you finish your magical Halloween mantel, snap a quick pic and share it with us on Instagram or Facebook; tag #grandinroad.
Shop all Indoor Halloween Decor.
More great tips where these came from. Check out 10 Exclusive Ideas to Get Spooky on Any Budget.