FIRST, THE ORIGINS OF DECEPTIVE DISGUISES…
There's little doubt that both children and adults enjoy dressing up for Halloween. Some costumes can be inspired by popular culture, but enduring themes tend toward the macabre. This tradition can be traced back nearly 2,000 years to a Celtic New Year's celebration called Samhain, which was held October 31.
According to National Geographic, the night of Samhain, spirits were thought to walk the earth as they traveled to the afterlife. To confuse the spirits and avoid being possessed, Celts often wore costumes and masks. Through the ages, the night before November 1 was observed with bonfires, costumes, and parades, though under a new name: All Hallows' Eve — later known as Halloween.
NOW, DRESS YOURSELF TO THRILL
It's easier than ever to unearth an ensemble that will scare up its share of compliments. Discover daring and delightful ways to transform yourself for the witching hour. From glam to goth, here are some fantastic ways to freshen up your Fright Night fashion.
SASH-AY LIKE A SORCERESS
From trick-or-treat to Halloween formal, a sensational skirt of glittered layers of tulle is the perfect way to bewitch a crowd. Trim it to any length you'd like – shorter for cocktails, floor-length for the ball. Add a spooky sash around your waist and you'll be dressed to the nines in no time.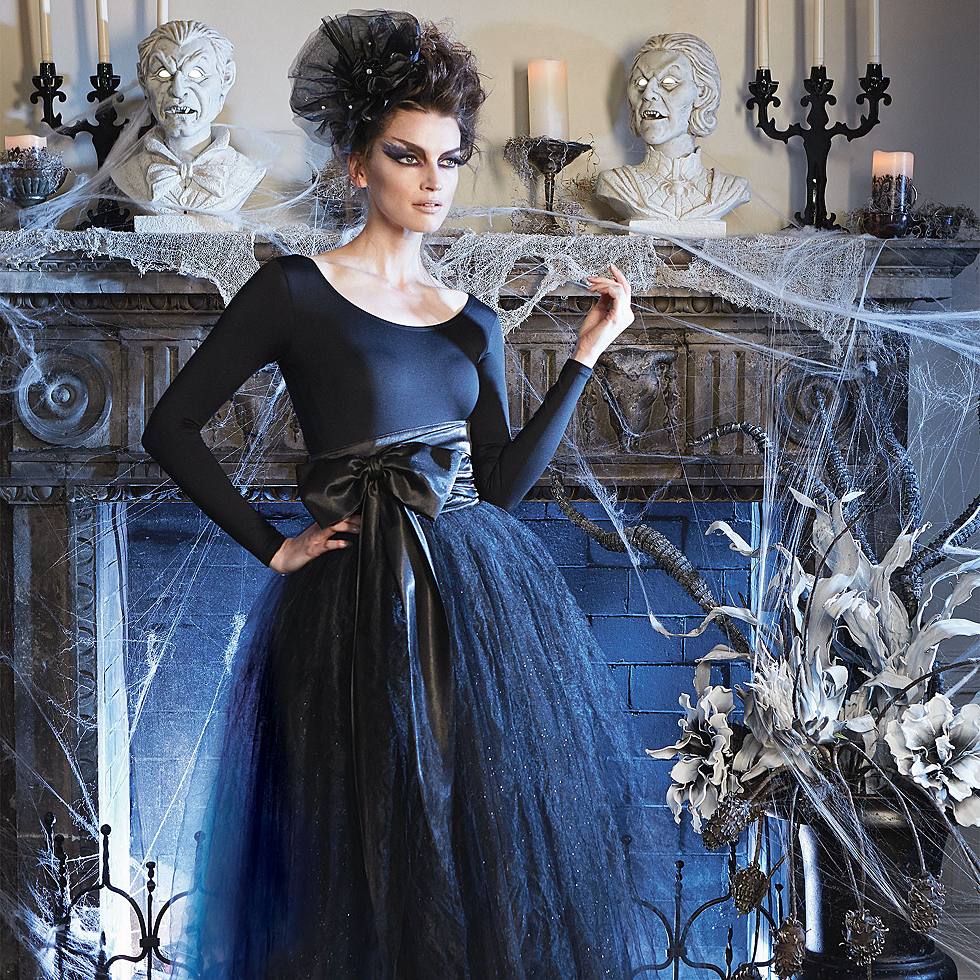 EN-WRAPTURE
Transform your little black dress in a snap, with the perfect wrap. Steal the scene in a beaded, sequined, and fringed Day of the Dead Poncho. Slip into a bejeweled or Spider Web Poncho. Get extra foxy draped in the fabulous faux fur of a Werewolf Wrap, detailed with satin lining, green eyes, four paws, and a fluffy tail. Skull lace makes a perfectly fine finish to any eerie ensemble.
OMG GLOVES
Dare to be dramatic with opera-length gloves. Try on a pair painted with skeleton bones, complete with sparkling jewels. It's an easy, frightfully affordable way to wear your passion for Halloween on your sleeve.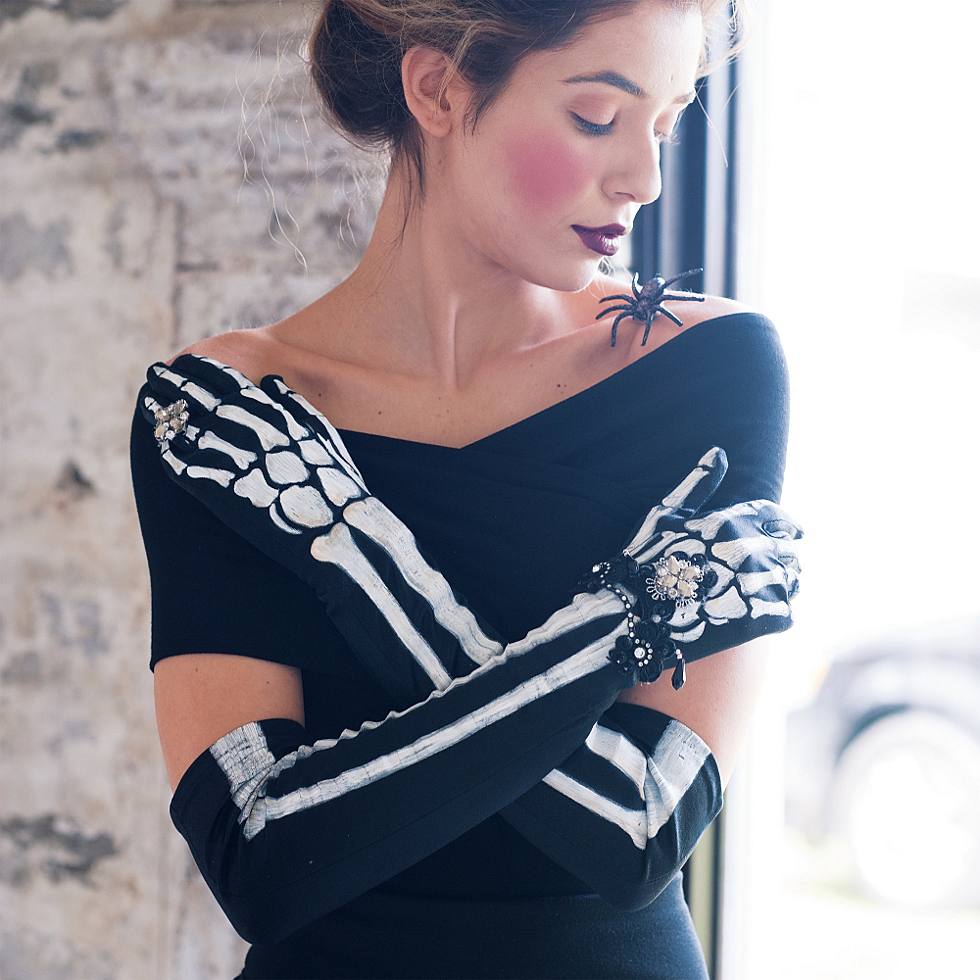 PLAY SOME HALLOWEEN HEAD GAMES
After you've teased your tresses into the perfect updo, take them to the next level with a spellbinding headband. Go for one with flying bats, an oversized spider, or wickedly stylish witch hat.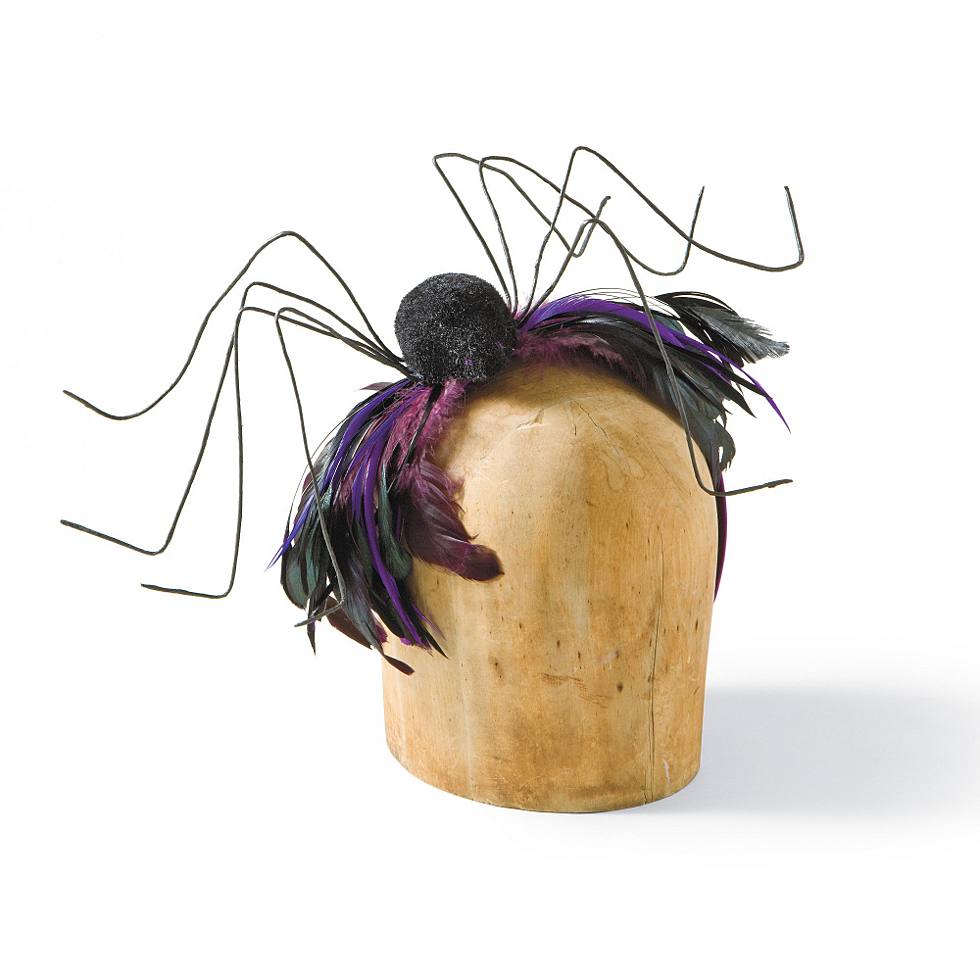 GO ARMED WITH CHARMS
Work your magic – at the office and beyond – with a versatile mix of charm bracelets. Each is the perfect final touch and a fantastic way to get in the spirit without getting all dressed up. Plus, a little shake might just rattle the zombies.
HANDSOME AND SPOOKY SARTORIAL SPLENDOR
Put a feather in your fellow's cap – and a raven on his brim – with a glamorous, Gothic Top Hat that will take his tall, dark, and handsome look to a new level. Cover his shoulders in fantastic feathers to match, with a dramatic and sophisticated cape.
Whichever updates you choose to add to your charming or chilling closet, make it something so spectacular that you'll be tempted to strut it all year long. Happy Haunt Couture!