Halloween Lighting Tips From the Pros
Here's something all professional decorators can agree on: strategic lighting is one of the easiest and most effective ways to create a mood in your home. At Halloween Haven, we've always found strategic lighting can capture the perfect effect we're seeking: eerie, campy, playful, or just plain scary. You can do the same. And it's not that scary—creating that scene is both simple and cost effective. Why? With just a little lighting, you can bring out the dramatic character of decorations you already have.
So whether your diabolical plans call for sending shivers up the spines of the neighborhood ghosts and goblins, or setting a sinister and sophisticated scene for your upcoming Halloween party, what follows are some very easy and effective ways to add real stage presence to you current ghastly décor.
HALLOWEEN GOES HOLLYWOOD
"It's alive!" That famous cry of Doctor Frankenstein, as he brought this monstrous creation to life (with the help of some pretty impressive bolts of lightning), may be the most famous scene in the history of Halloween-inspired Hollywood. True, the classic films of the 1930s can't compete with the current gory days of cinema, but what they did have was a great sense of scene-setting. And nothing was computer generated-the effects you saw on film were mainly through dramatic set design and you can do the same. Here are some dreadfully delightful tips…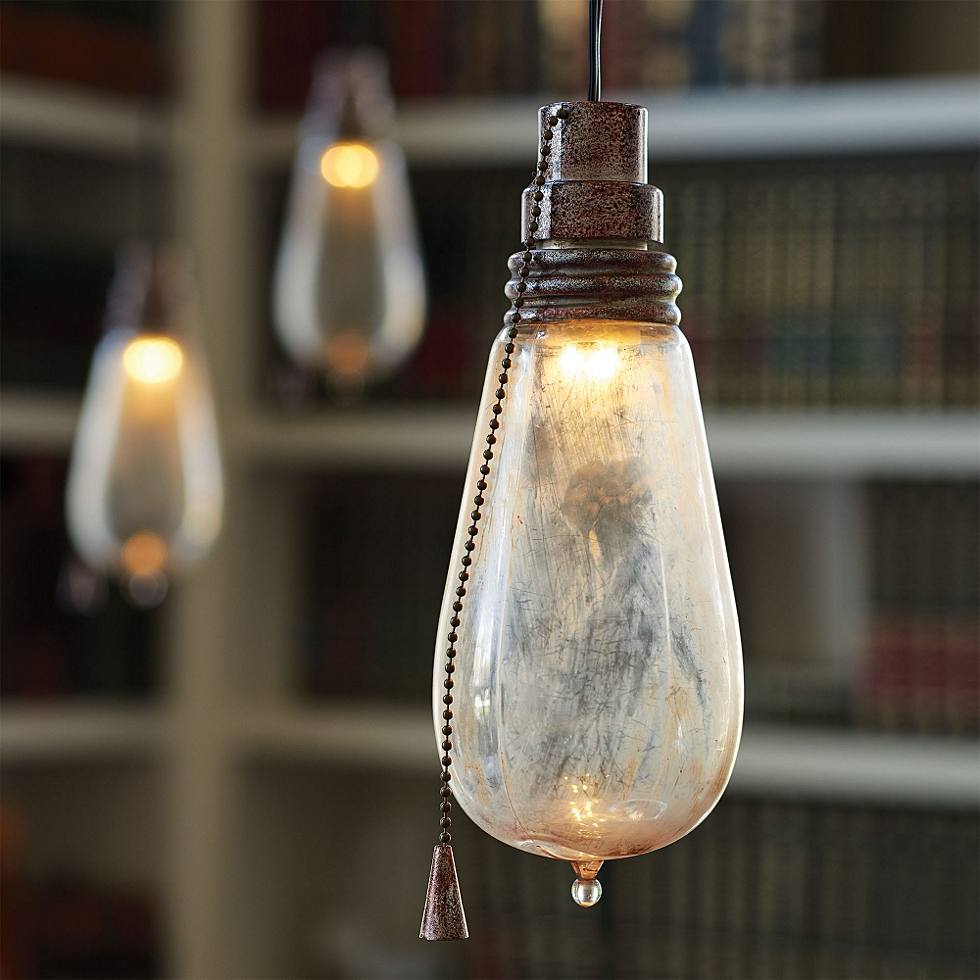 UP THE CREEPY FACTOR WITH OUR ATTIC LIGHTS.
If these lights could talk, they'd say, "Don't go in the attic! Or the entryway, or down the staircase." With the addition of our Creepy Attic Lights, anyone will have a moment of hesitation before wandering forward. These are lights with a decidedly dark character, complete with "short-circuit" sputtering and a weathered appearance. It's a great way to set the perfect mood on a front porch, or hanging from second-story or attic windows for a fiendish final touch.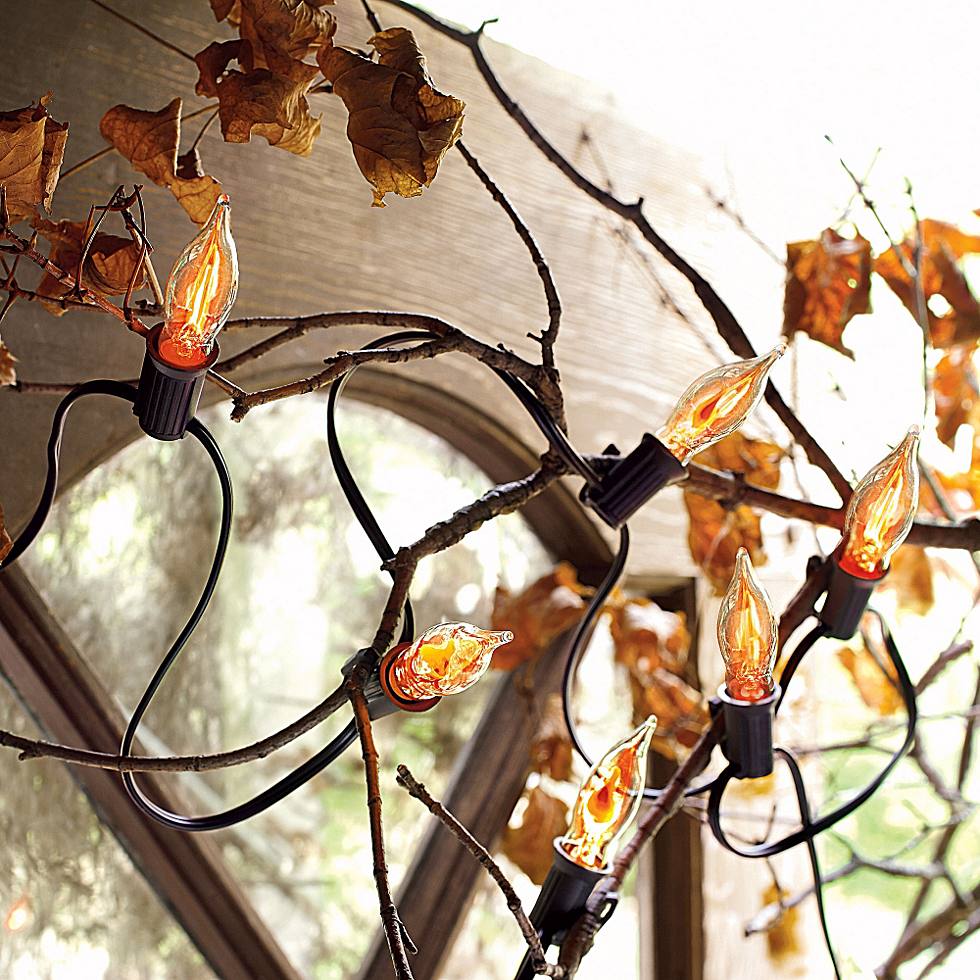 ADD A CREEPY ACCENT TO A FAVORITE DECORATION.
One of the classic techniques of stage designers is to draw attention to certain areas of objects with light. And what better way to bring attention to your own favorite creepy corner than to accent that area with our Flicker Flame String Lights. Their flame-like flicker naturally attracts attention, especially if you've created a special scene at the top of a stairwell or hanging from the ceiling. Plus up to three of the 16 foot strands can be linked together giving you 70 bulbs and 50 feet to really spread the dread throughout a room.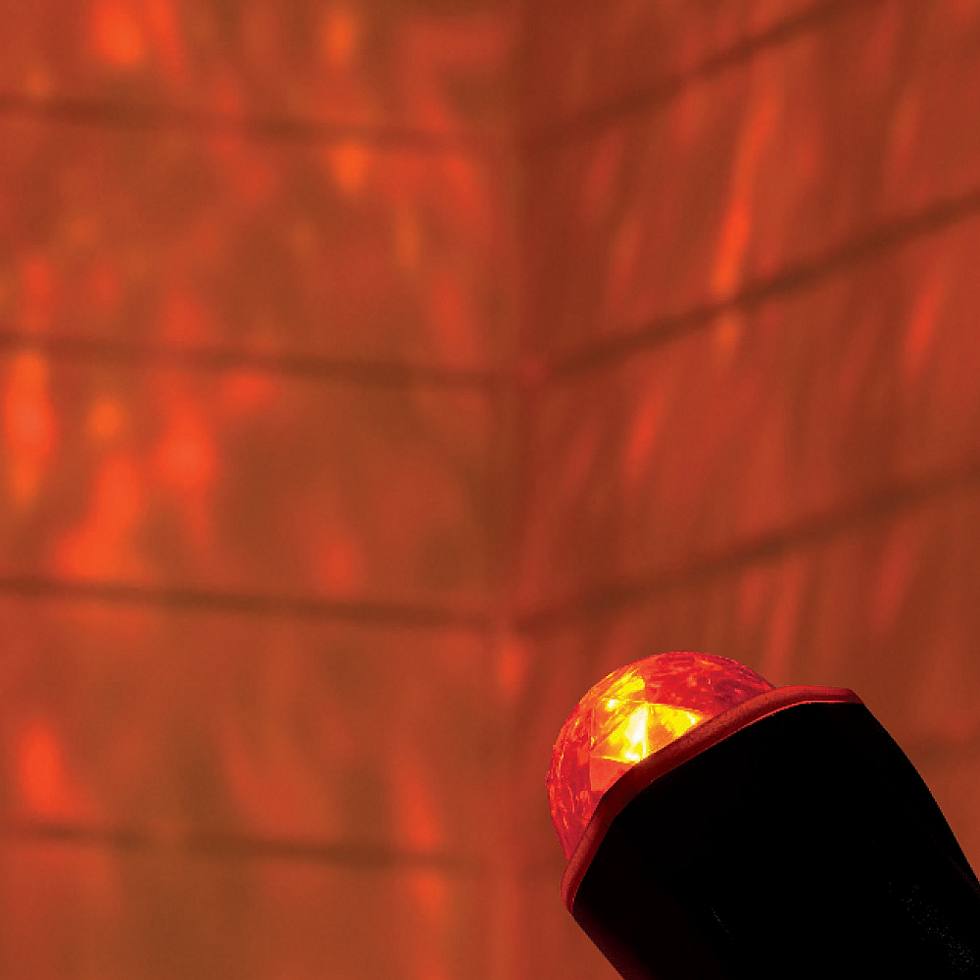 WASH YOUR WALLS WITH AN EERIE GLOW.
Another classic stage technique is to use wash lights to fill in the shadows with softer light. Our Fire and Ice Spotlight can fill a large wall with the most impending sense of dread this side of The Shining. Placing the spotlight at least 15 feet from a wall or object produces an 8- to 10-foot dreadfully dramatic diameter. Two or three placed in discreet locations transform any space into a flickering caldron of eerie optical effects.
PROP YOURSELF WITH A CANDLE.
Every otherworldly hostess with the ghostest needs a crypt full of candles to light her lair. Of course, with an open flame and hot, dripping wax, real candles can be scary, indeed. Problem solved with our battery-operated candles. The flame is courtesy of an LED, so there are no worries about heat or a sudden wind leaving you in the dark. Placed strategically in the nooks, crannies, and other places that candles could never go (bookcases, stairwells, window ledges,) these "aspirational" props add a gloomy glow that's more about mood than anything else. Our micro lights or Ghost Light Strand can also provide strategically sinister ambient lighting adding depth and character to a properly macabre setting.
Borrow techniques from the professional stage and create your most memorable Halloween experience yet. Shop a host of Halloween lighting options, designed to keep drama aglow in the dead of the night.