MAKE IT SPOOKY OR SOPHISTICATED…
As autumn knocks at your door, tots and teens return to school, leaves change color and collect on lawns – it's time to get going with fall decorating. Add some magical elements to your landscape: dress up your entry with stacks of designer pumpkins, trick out your yard with Halloween witches, ghosts, and gravestones and adorn your doors with wickedly wonderful wreaths and garlands. Whether you're looking to create an elegant entryway to celebrate the harvest or terrorize the neighborhood (or perhaps a little of both), here are some delightful elements to consider.
A BEAUTIFUL HARVEST AT YOUR DOOR
When creating a classic and tasteful harvest-themed entryway, be sure to cover the basics and accent with items that can withstand the outdoor elements. Trim a doorway with garlands; add a designer wreath or swag to each door; fill urns with stacks of pumpkins and fall foliage. Sweeten your greeting; make your threshold a stage for designer pumpkin decorations and one-of-a-kind entryway mats.
AUTUMN EVERLASTING
Select decorations made from materials that make it easy for you: display lifelike, weather-resistant fall foliage accented with faux berries, fruits, dried pinecones and colorful ribbons and fabrics made to last for seasons to come. Choose durable, lightweight containers that are easy to move around the porch or patio. In preparation for hanging garlands, consider the size of your doorway; most standard entrances look best with three garlands linked together. For a finishing touch, illuminate your mix – orange or white lights add the perfect glow to your cornucopia of arrangements.
SINISTER SCENES ON THE LAWN
If you're looking to frighten those who darken your threshold, life-size Halloween figures like witches, skeletons, and ghosts are a wicked way to welcome your guests. Select figures with light-up eyes and scary sound effects; add a fog machine to get everyone in an otherworldly mood. Create a scene in your front yard with a faux-stone graveyard full of undead zombie characters clawing their way out of the ground. If porch space is limited, or already at capacity, hang ghosts, witches, skeletons, and bats from gutters, banisters, and over doors. Trick-or-treaters and guests will surely be screaming with delight!
As the sun sets earlier and the air gets cool and crisp, you'll be honoring each day with elegant autumnal arrangements and lighting up the night with bewitching Halloween decorations – happy harvest, and happy haunting!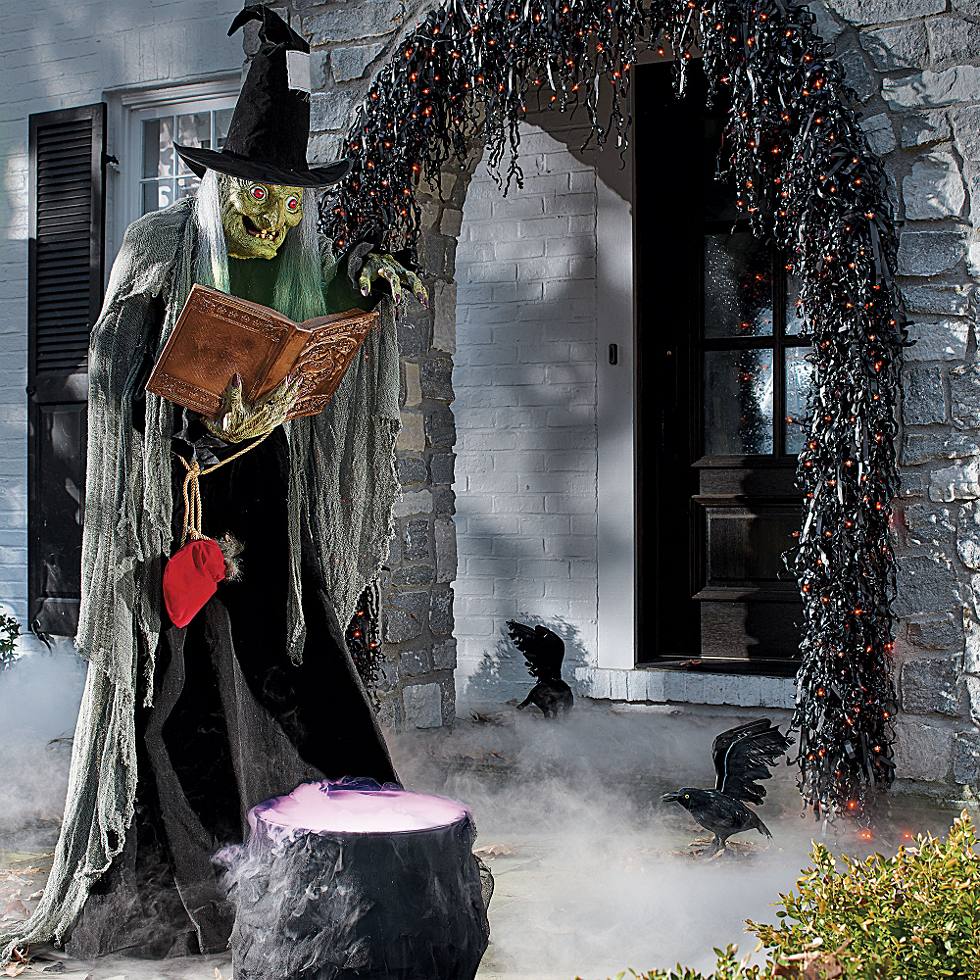 Shop all outdoor Halloween decorations >