Still up to the same old tricks when it comes to welcoming Halloween guests to your house of thrills? Well, sit for a spell. With a wave of our magic wand, we'll reveal three wickedly easy ways to take your front porch or entryway décor to a hauntingly beautiful new dimension. Presto.
Before we dig in, let's be clear: this isn't just about Halloween—or even fall, for that matter. We celebrate every day, at grandinroad, so that makes putting a seasonally inspired smile on your front door a four-season philosophy. After all, we affectionately refer to the entryway as your "home's hello." The first thing guests encounter as they arrive and the visual appetizer for the fun celebrations and lasting memories that follow. Easter to Christmas, always have a warm welcome waiting—and just like what lies beyond the door, always have it say, "oh, it's so you."
Right. That's done. Now feast your eyes on this…
First, striking black and white—simply bootiful
Now appearing in the center ring, Cirque Halloween. Oddly enchanting, isn't it? Yet, with just a handful of pieces, it's simple to make a big impact with anyone who darkens your doorway this season. Our stunning Tick Tock Wreath (or your own, if you're crafty) creates an instant focal point. Add height and balance with our Eerie Bat Trees or Witch Leg Stakes. Ground the entire scene with a flock of crows and our signature Designer pumpkins. Beware: for some, attempting to re-create this entire setting in every detail can be unsettling. Don't be afraid to pare it down to suit your space and taste.

Just wait till they come face-to-face with your new stare case
"Trick or… OH MY." So mysterious and spooky. And no coincidence, since this dead-simple look stars elements from our Mystical collection. A natural for those lurking for a more sophisticated alternative to black and orange that also works nicely with the surrounding landscape. All eyes turn to your ominously alluring Dark Forest Wreath. Complement with crows, candles, and urns filled with our lifelike Garden Vine Urn Filler (faux real—they do work great year round). Pro stylist trick #13: willow, faux ivy, and moss create the flanking branches. Knockout.
Bright blooms for Halloween? Absolute no-brainer.
If you haven't noticed, while shopping for a new casual chair or, say, some artwork, we kinda like color. The thought of going through an entire holiday season without it is, uh… spine-tingling. Choose as many pieces of our Gothic Romance Collection as you like. Carve out plenty of room for some illuminated pumpkins, let the fog roll in, and GLAM. No, really, this splendid spectacle is courtesy of our Glam Halloween theme. Craft a charming scene.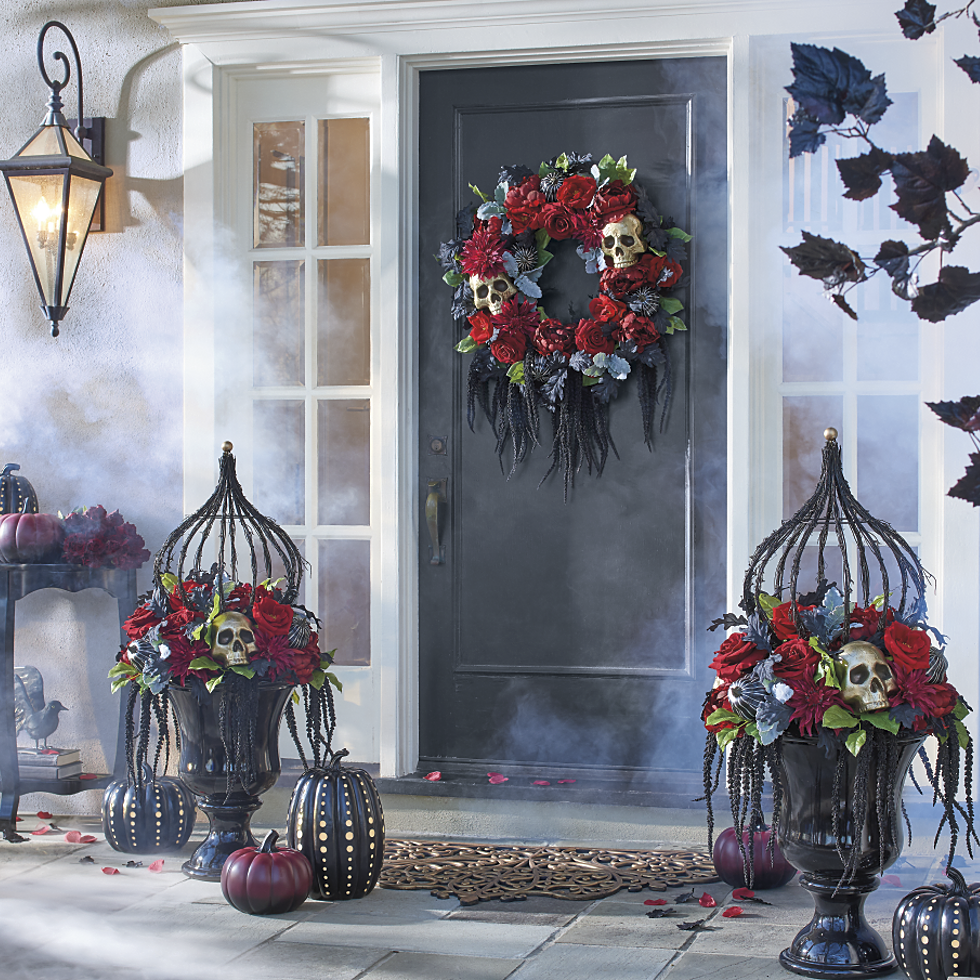 That's what we call a triple threat. With the inspiration you see here, and all the key components to stir up your own amazing display just a click away, opportunity's at the door. How will you step up your Halloween greeting game? Be creative and, most of all, have fun. Then be sure to share your front porch showstopper on Instagram and Facebook. Hashtag #grandinroad.
Shop all Halloween.