Halloween Party Ideas
It's time to party like it's 1699...
Halloween is a festive holiday for both children and adults, so it's an excellent time to entertain family and friends. Whether you want to host a small gathering or large party, we have some inspired ideas for raising everyone's spirits.
Seasonal or sinister? That is the question.
Your first step is to determine the size of your party and develop a guest list. Then it's time to establish a theme. Your guest list may determine if the event is a family fall fest or ghastly cocktail party to die for. Regardless, the theme helps bring into focus all the other elements of the party, from invitations and music to food and decorations.
Halloween and harvest party themes can include:
Costume Party – Leave the costume ideas to your guests' imaginations, or you can suggest a theme, such as a specific decade/era, entertainers, historical figures, etc.
Haunted House – Transform your home into a thrilling and chilling haunted mansion. Each guest can sign the guest book in blood (ketchup), eat eyeballs (peeled grapes) or indulge in brain (cold spaghetti).
Harvest Gathering – This is geared toward a family party, with fall decorations and activities such as pumpkin carving, bobbing for apples, apple picking, hayrides or a corn maze.
Ghoulish Cocktail Party – Host a sophisticated adult party with a Halloween theme, serving eerie edibles and devilish drinks.
Thriller Book or Movie Inspired – Recreate scenes from "Dracula," "Frankenstein," "The Shining," or any other frightening book or movie. Have guests dress like the characters.
The Devilish Décor
Whether your theme is harvest or harrowing, you can decorate in a myriad of frightfully easy and affordable ways. First, consider setting the mood outside. Let lanterns, luminaries, string lights and jack-o'-lanterns light the way to your door. A seasonal harvest garland, pumpkin decorations and hay bales create a warm welcome, while black garland, gravestones, ghosts and reapers set a sinister tone.
To create a cozy feel, spice up a room with natural elements, such as pumpkins, apples and fall leaves. Garland looks festive cascading down a banister or draped over a mantel. Wreaths, candles and mantel swag also impart glorious color and warmth.
For a frightful affair, a foggy cauldron at the threshold adds mystique as guests step inside. Dim lighting and battery-operated candles create instant drama. Creepy animated characters, such as life-size witches, skeletons, ghosts and vampires—particularly those with moving parts and illuminated eyes—are sure to create a scare. Crows, bats and black skeleton cats are perfectly unnerving scattered in every room, including the bathroom.
The Frightful Feast
Devise a menu that's easy to create and even easier to serve. A buffet of "forkable" and finger foods is the most manageable way to serve a crowd. With a little effort and creativity, ordinary food often can be given a clever makeover and sly name. A quick Internet search will result in hundreds of ingenious recipes that you can prepare ahead of time. After all, you want to be sure that you enjoy the party, too.
Essentially, offer variety of victuals to accommodate everyone's tastes. Combine prepared and homemade items, and consider textures and colors that add visual interest to the table. You may offer skewers of meat, along with crudités platters and fruits such as apples, pears, and grapes. It's also fun to scour your market for weird and wacky fruits and vegetables, such as lychee or Chinese artichokes, which either can be served or used as table decoration. The season also lends itself to charming bite-size desserts, including apple tartlets, killer cupcakes, and cutout cookies.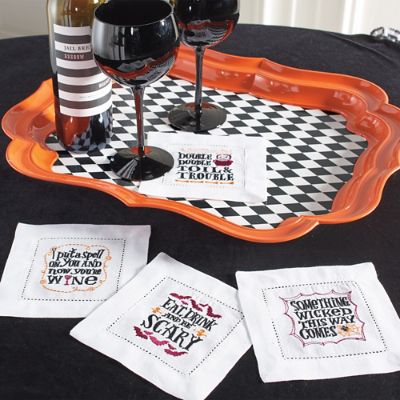 Beyond the buffet, you'll want to have bowls of pretzels, popcorn, nuts or candy at the bar, in the kitchen and throughout the house. Keep the drinks simple, offering soft drinks, waters, seasonal beer, wine and perhaps one "killer" cocktail served in a wicked goblet.
The Terrifying Table
Bewitch your guests by setting a table worthy of all your delectable treats. Tablecloths, table runners, and placemats come in a variety of colors and textures that serve as an auspicious foundation for festive platters and plates. Setting your serving pieces among candles, creepy hands, and seasonal or wicked-looking produce will easily do the trick.
These festive, fast and affordable ideas for hosting a Halloween party are guaranteed to lift the spirits of family and friends. So have a ball … if you dare!
3 true
Category:66671-Halloween Party Ideas
Category:66671-Halloween Party Ideas