We love color. Lots of color. The moment you realize that the world of home décor has fashion seasons and color trends just like the clothing world, the whole idea of room design becomes easier to understand, and maybe even more fun to experiment with.
Here's how a few current color trends in home design have been flowing through and creating a lasting impact:
1. Grays are clean, modern, and able to mix anywhere. We offer pieces like the Lucy Sofa and the Frankie Chair in rich shades of gray. You'll also find this updating color in bedding and headboards, as well as in faux fur accents and glossy lamp bases. It's a wonderfully defining color for any space you want to upgrade with a more elegant, refined feeling. It's also a gentlemanly color that pairs well, and politely allows other bright, fun hues (from art to accents) to pop in a fresh way.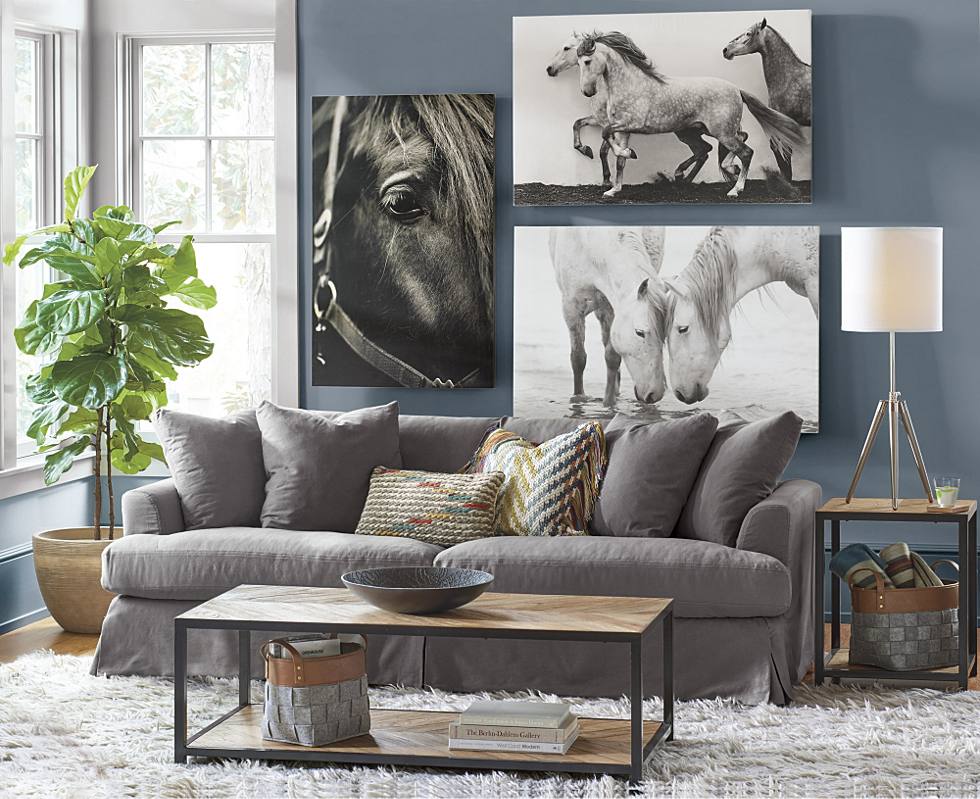 2. The neutral color party is still in power. Update your entertaining area now with bar and counter stools in shades of gray from charcoal to dove and gray-beige. Or try the hue as a naturally chic-but-neutral room foundation. Many neutral rug styles inhabit this trend, and another trend as well: the movement toward flat-weave rugs. Neutral accents are easy: for example, a lamp with a fire-glazed ceramic base brings it all together, as does a natural faux fur pillow, or the warmth of wicker and wood.
3. True blues continue to make an impression, now showing up strongly in sofas and chairs (the Lucy Sofa actually presses two trend buttons: blue and velvet). Or try the color as an accent, in a handwoven flat-weave style with a nomadic design spirit. Other ideas: modern side tables and consoles are an inventive way to add the color. And here come denim-inspired blue home furnishing, in everything from accent pillows to painted furniture and slipcovers.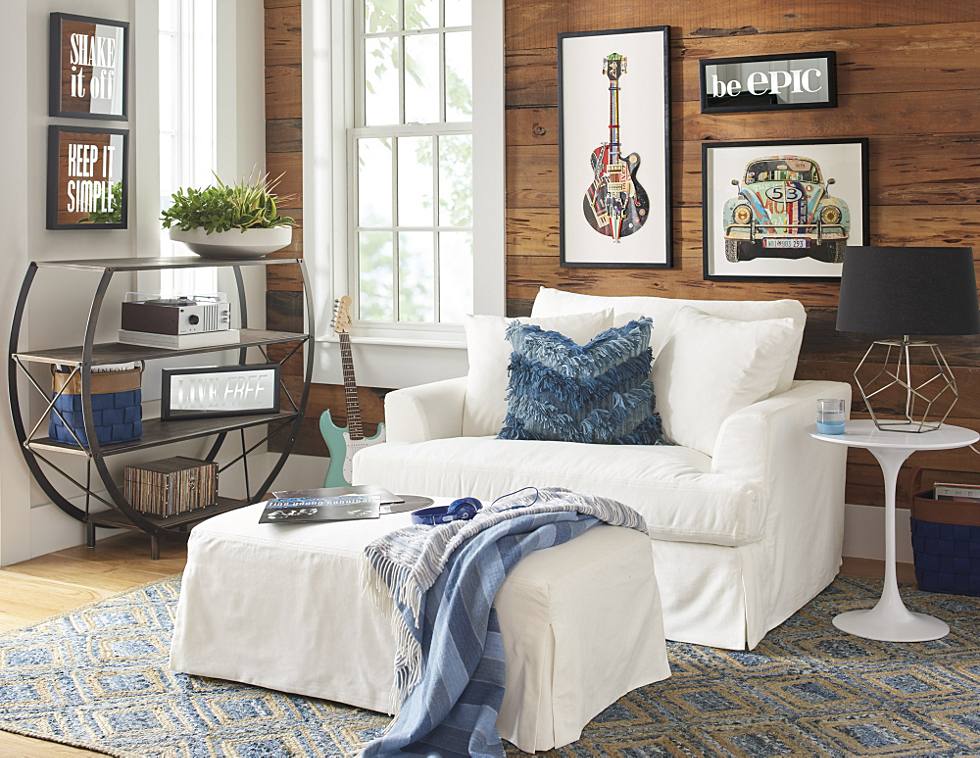 4. Greens: showing up richly as we wander into fall. Greens of all hues, from bottle green to inky dark teals, take over. (Tip: Our velvet Chesterfield-inspired Adelle Sofa in Velvet Jade is a stunner to watch for.) Botanical leaf prints have new currency.
5. Cedars, cinnamon, and warm reds in bedding, bar stools, and accents. Leather or bonded leather bar stools come in a fantastic range of color options, as do counter stools. Authentic artisan crafted kilim accent pillows with patterns woven in these shades are a very easy way to try out the trend, bringing the colors together in a global vision way that crosses over to work with the honest, earthy design trend, too. And naturally, they look amazing with leather furniture in any space.
6. Iridescent colors feel so fresh. Pinks, purples, and greens are like the ever-changing tones of an iridescent finish on tiles and glass, and mercury glass accents. Also known as the "petrol" color trend, because it resembles the rainbow of color seen on a pool of petrol fuel; edgier beauty and dress brands are mimicking the wet sheen and coloring in new formulas and fabrics. A few of our side tables have color-tinted clear glass tops. Mercury glass lamps and holiday décor will also bring touches of this coloring into any room. Clear acrylic can catch the eye with a spectrum glassy color in the right light.
7. Blends of warm, honest wood and stone hues are touched with crisp whites. Think wood, stone, leather, concrete, faux fur, and natural materials like raffia and wicker, against creamy cotton, linen and wool. The brown, saddle, stone, and desert color groups can live adjacent to white to increase the warmth of the natural materials.
8. Pinks and rosy, bright purples pop some brightness into the dusky warmth of fall and winter, and inspire us to delve into the art of contrast.
9. Black paired with white is always edgy. But right now, it's returning full force to the attention of home designers. Side by side, or woven into patterns, black and white's yin-yang  presence is felt in subtle ways. Black-and-white or silver-gray-black tonal wall art works well, too. Black iron and steel elements, gracefully done, add presence to room accents. Watch this trend going forward, with design styles that range from delicate interpretations that feel timeless, to deeply powerful modern statements.
10. Deep or unique color on painted walls looks more intriguing than ever. Dark saturated hues, for walls and built-ins (painted grid-style in ranges of shades within a color family), give you other ways to experiment with using more color in the home. Furniture pops in a new way against a backdrop of vibrantly paint. And of course, don't forget the world of contemporary wallpaper, where color and pattern still rule; wallpaper patterns are becoming more artful and  inventive every day, increasing the options for a new kind of design freedom.