The color pop of the Vale Pillow brings to mind bright beads, a lipstick kiss, juicy berries, sparkling gemstones. It enlivens a space.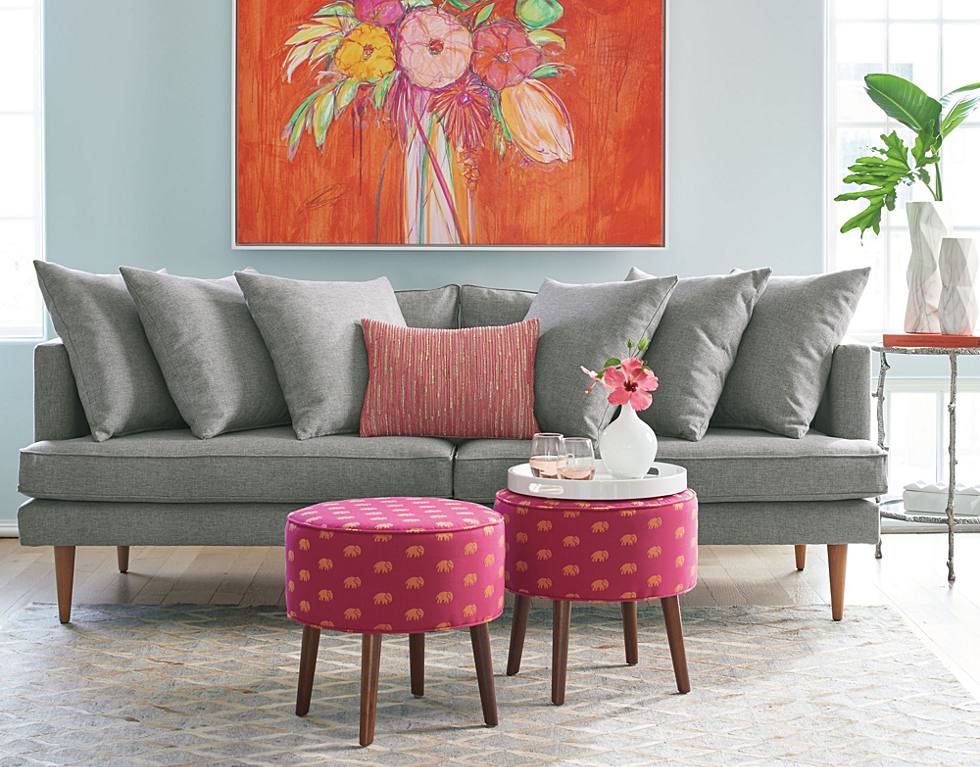 It also proves the words of interior designers around the world who say that every room needs a touch of pink. The color pink is said to be a positive one that brings an instant mood lift. For years, pink symbolized caring, compassion, and femininity. It can still be innocent, or glam. A fresh and relaxing color in its palest incarnations, pink plays well with many hues.
Five ways to try some pink:
One. Pink pillows are probably the easiest step-in way to test the "touch of pink" designer theory in any room in your home. Whether you want a traditional fabric pillow in a vibrant shade of the color, a classic rose tone, or something fluffy like ultra glam Mongolian sheep fur, or you're ready for elegant, luscious  velvet, there's a way to bring this color into play with easy pillow accents and groupings.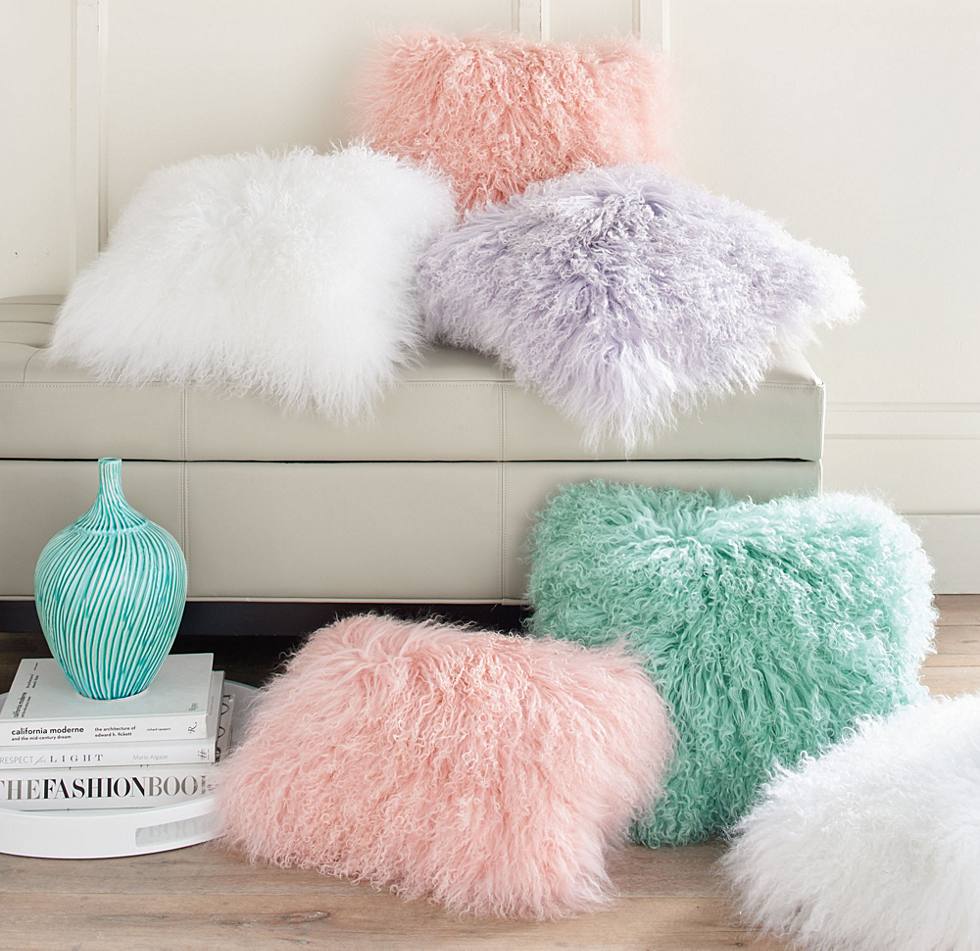 Two. Pink wall art is a lift in any room. Use it to play up pink-toned elements in furniture and décor, paying attention to the fabrics and hues within patterns. In a neutral room, a bold piece of pink-toned wall art on its own makes a statement. Or, try a small framed piece featuring the tones you like, to subtly brighten and update a wall, a nook, a corner (works even if you're opting for a very soft petal hue).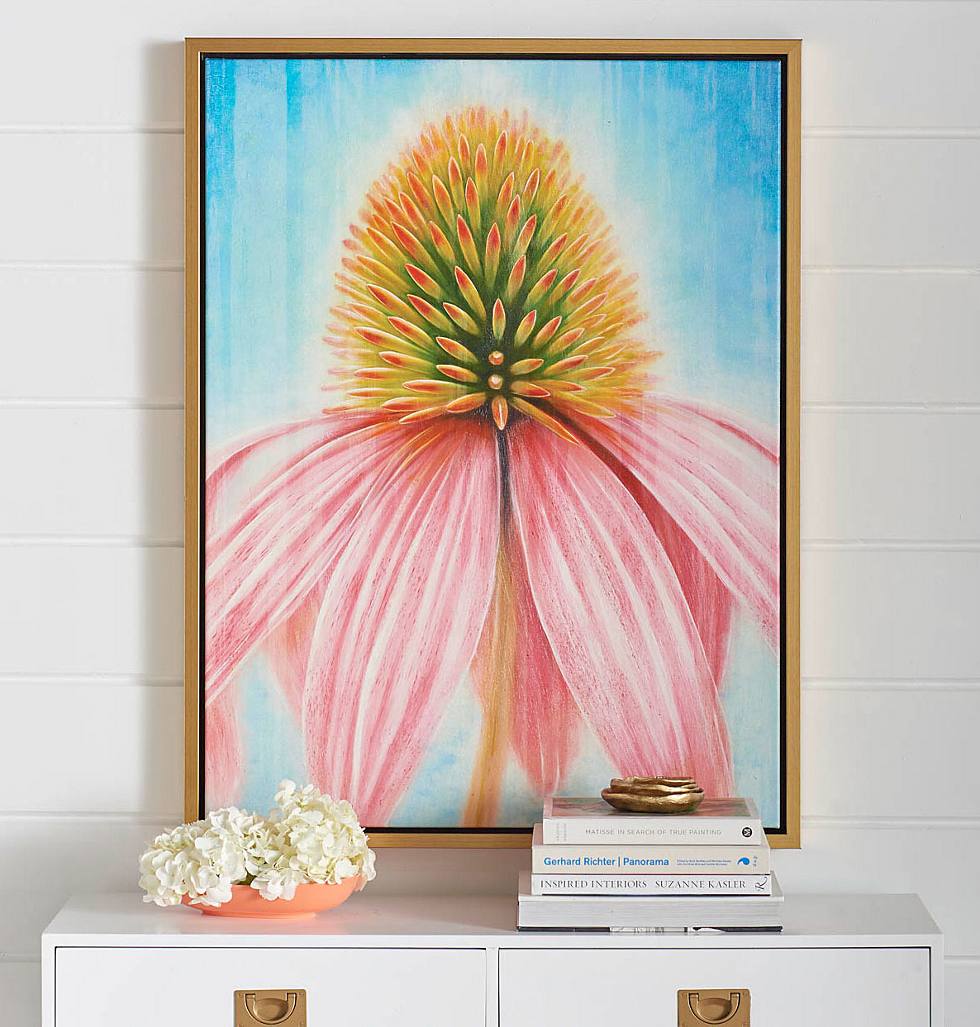 Also, artwork featuring combinations of pink and metallic gold will feel a little more glamorous and or elegant. One more idea if you're redoing a space, and like pink, but don't want to commit to painting a wall that color: create a wall gallery of pink-based art in the mood (bright, subtle, cheery, dreamy) of your choice.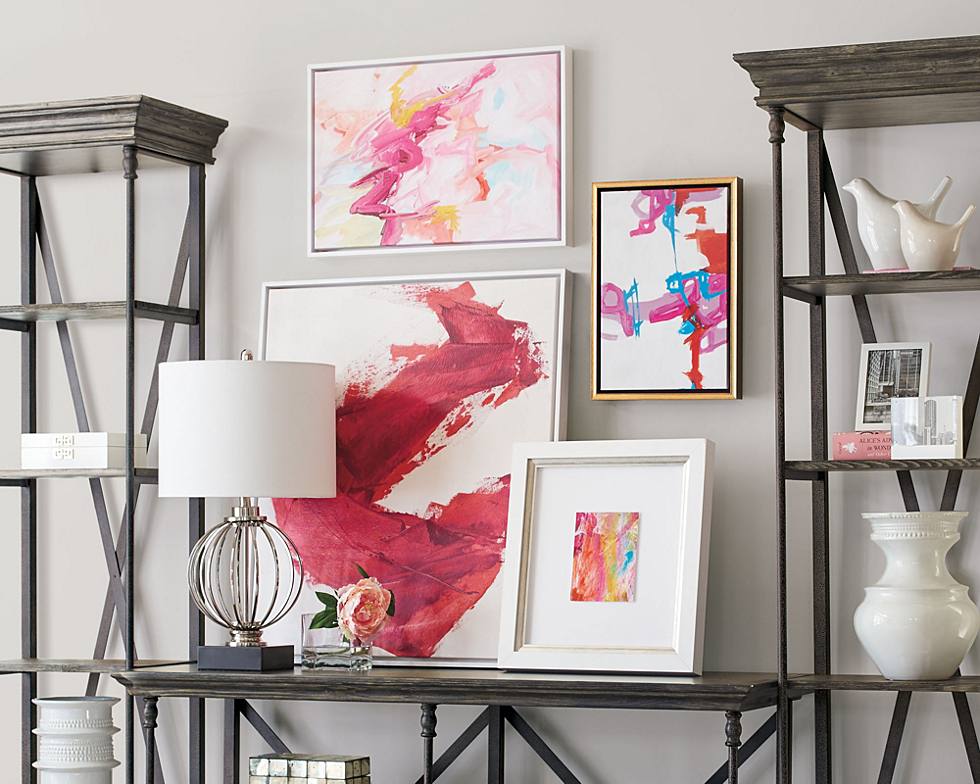 Three. Pink furniture and rugs offer a creative, individual look with a very nice pedigree. Pink pieces might be upholstered in rich, velvety solid fabrics with a touch of fun glam and sheen, or with prints that contain the color in a mix of playfully bright or complementary tones. Living with a neutral sofa you love, and ready to go for a bigger look? Time for a stunning pink rug, perhaps in an intriguing multicolor pattern.
Up for an edgier approach to the color? A pale pink Mongolian sheep fur bench we call the Scarlett is an lash-batting eyeful of sophisticated glamor that looks elegantly interruptive in a neutral space, or absolutely artful in a minimalist modern room.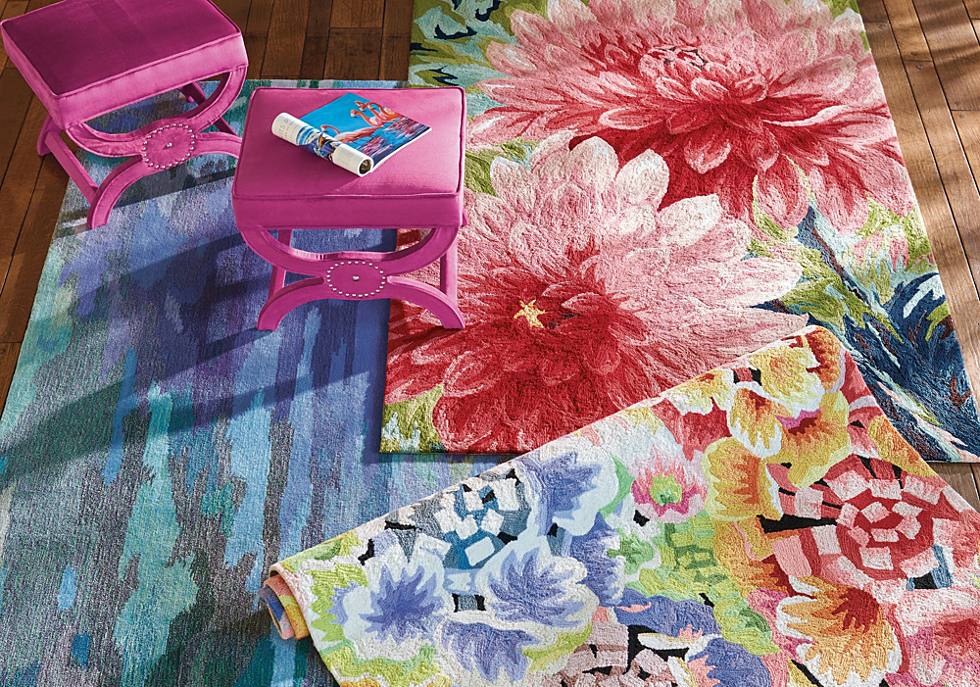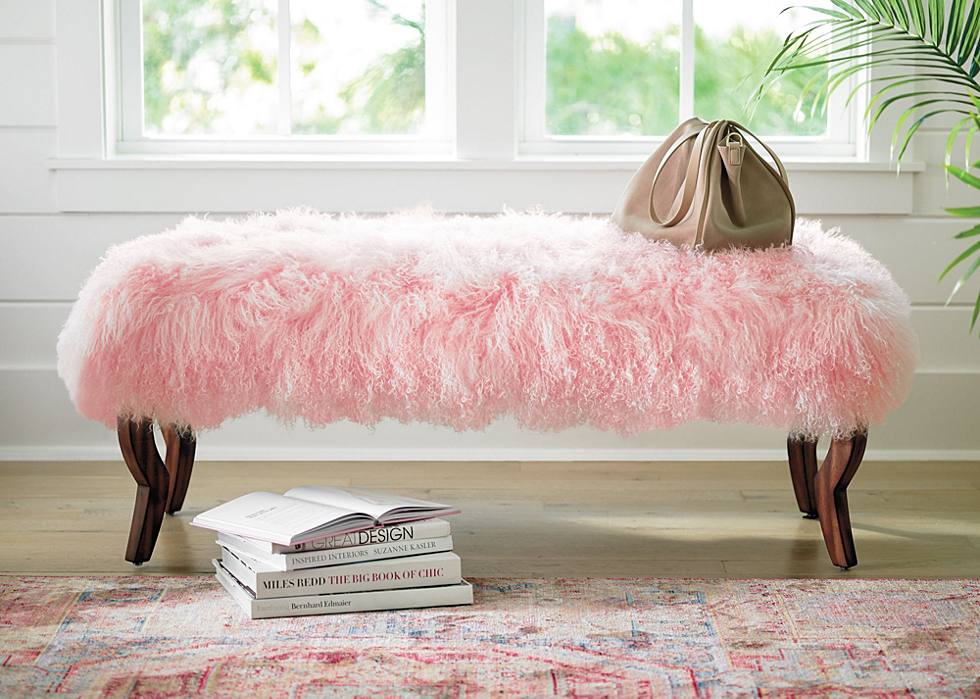 Meanwhile, our chic little ottomans work the color pink like lipstick kisses, ready to give your room their brightening love. A pair of pink Birdie Ottomans at the end of a bed or poised near a neutral sofa can raise your design impact instantly.
Which brings us to: what about pink chairs? We say: absolutely. Sipping a cocktail in a hot pink armchair at a party may be the perfect intersection of fun and style. Even a single rich pink chair creates a new focus, and sends a positive style message about your creativity.
Four. Pink accents. We're all in love with the unique, right? So we've paired a mirrored glass top in a warm rosé tint with gold-toned stainless steel to create our rather glam Vivienne Table Collection (choose a C table, tray table, or a side table; pieces also available in other colors). Stunning. Elsewhere in your home, try other simple touches. Pink bedding, even pillowcases, add a whisper of charm to any bedroom. To note: a soft, pale shade of pink is more than pretty: it can soothe and calm the brain, so you can rest.
In the same way, you can create a soothing dining experiences with pink patterned tabletop linens in soft floral prints. This is an especially nice touch outdoors for summertime entertaining, and looks wonderful with gleaming white china.
Five. Pink outdoors for your porch, patio, or pool area is fresh and exciting. And it's not a crazy leap, even if you've been used to living with neutrals. Pink's new and upcoming  looks feel softer, more carefully chosen for the modern eye. Consider sea-weathered pink rockers, or benches, and patterned cushions that are as appealing to the eye as rose petals in a garden, or the view of sunset colors across an Italian sky.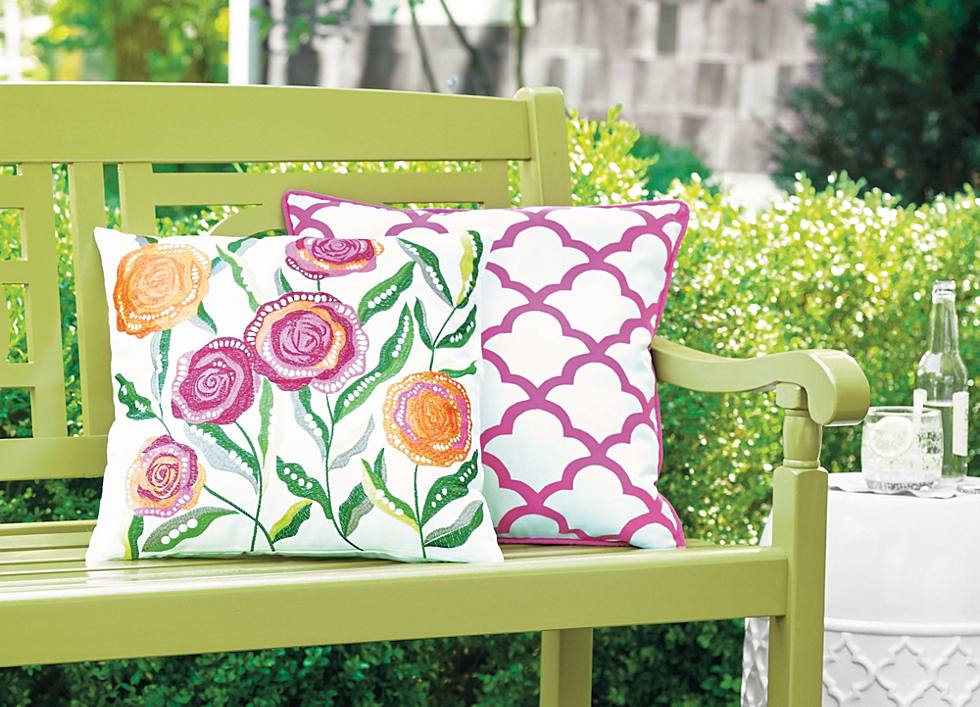 We like the crisp attitude of pinks mixed with blues. Printed outdoor cushions and rugs that pair the classic combinations of pink and navy, pink and sky, pink and seawater turquoise, can be a simple way to insert this look into an existing outdoor seating area. Working a pink and blue palette can make your space look seamlessly put together and updated.
And while we're on pairings, don't forget that the pairing of bright pink and vibrant green outside has long been a preppy standard. (Try our popular Amalfi Bench in the Pesto color with pink pillows, as shown here.)Outdoor cushions by the pool look amazing in these colors. (Summer's really the perfect season for Pantone's color of the year, Greenery, to add fresh-stem, Swiss chard, blade-of-grass visual crispness to the world of outdoor pink flowers and textiles!) We're having fun with all the possibilities of the mix; you can, too.
Pink Tips: little extras that can do a lot.
• Pink bowls or vases, or floral-ringed candle holders, using the fresh look of spring greenery, real or faux.
• A pink platter centering a casual party table.
• A pink lamp shade, on any white or metal base, for a change that enhances the beauty of the light.
• A coffee table book or first edition with a pink-hued cover.
• Pink flowers in a silver, white or milk glass vase.
Seductive, inviting, and always fresh, pink is an idea waiting for your personal interpretation. Blush. Rose. Hibiscus. Bubblegum. Quartz. Grapefruit. Geranium. Shell. Shrimp. Petal. The options are endless.
The moral of our color story: try a touch of pink, and work your own magic, your way.