Choosing a new sofa is a big deal. It's an investment that you're going to live with – as in, no hiding this bad boy in a closet, so choose wisely.
Our 5-step sofa shopping plan considers the big questions, to help you figure out which sofa is absolutely right for you.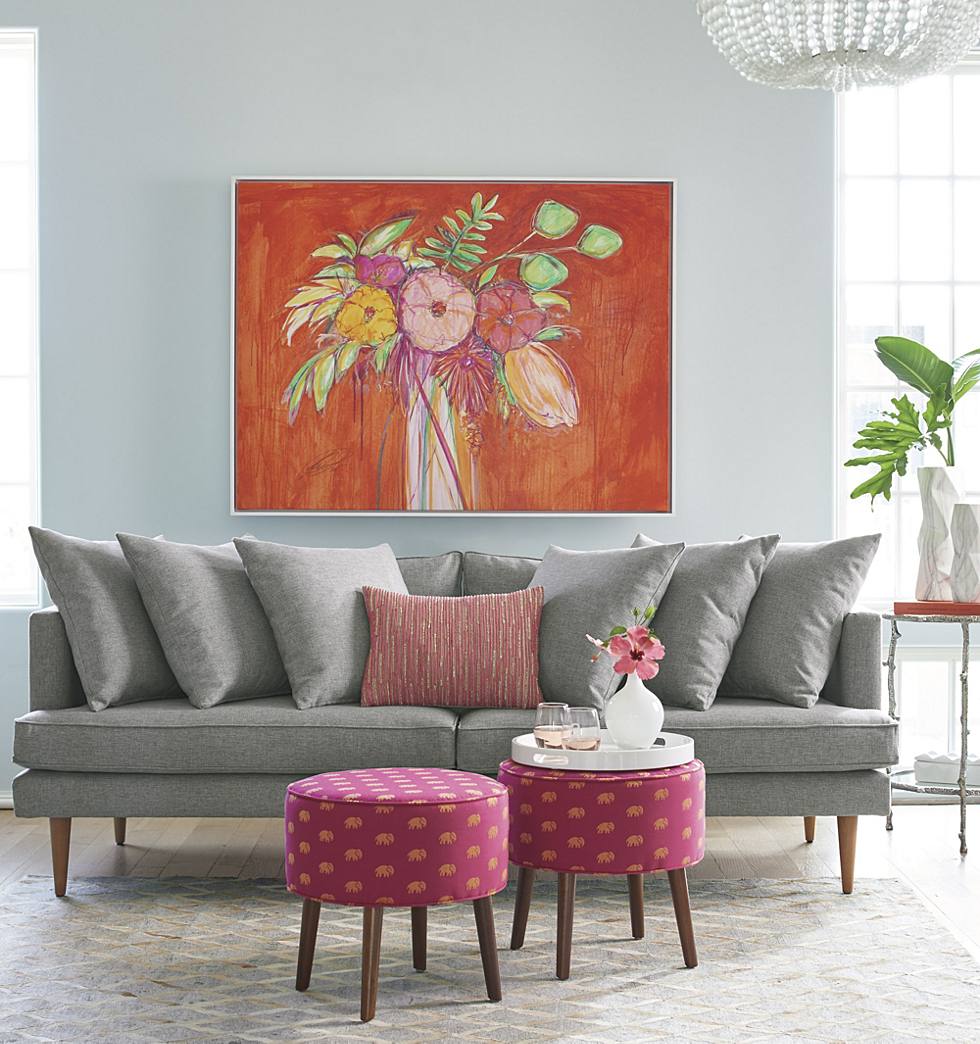 Step One: Casual or formal? Identify the way you live. 
Be honest about this so you can get the design that will make you happy. Always do you.
If you like to lounge and relax a lot, comfort issues should be a priority. A slipcovered, feather-filled dream like the Ava Sofa from our Ava Collection might be perfect.
If you tend to focus on decorating in a more designed, architectural manner, sure, go for a structured look like our Lucy Sofa, above, for a modern, sleek edge plus comfort.
If you want to update your style, look for a new unexpected color, refreshed fabrics (tweeds with modern coloring, for example, or easy-care velvet – our Sophie Sofa comes to mind), buttton-tufting, overall height, and well-designed classic detailing like clean or sculptural lines. You can pull in a lot of freshness with your sofa choice.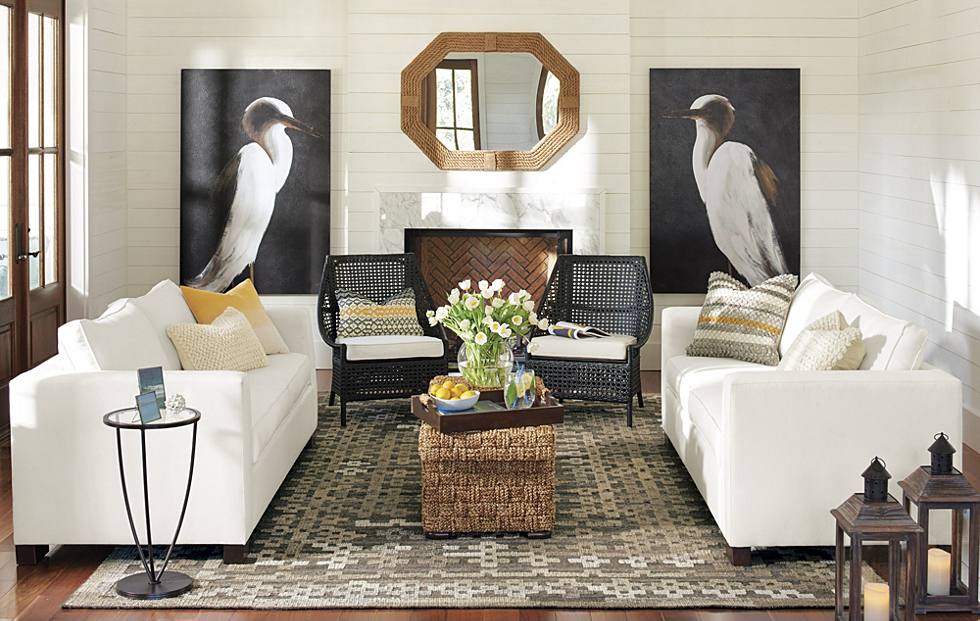 Step Two: Color. Figure out your creative path: vibrant, or more neutral?
Let your well-considered "my natural style is really this" answer guide you.
You can always balance your options, if you're torn: use colorful or statement-making pillows on a neutral sofa style.
Or, consider this:
Your everyday, main sofa can be one upholstered in a gorgeous neutral fabric, or a rich dark color that acts like a modern neutral (rich blues or classic bottle green), or leather. You can use pillows to change and brighten the look, and at the same time, you'll always have a good, versatile, neutral sofa to count on, like our Hudson (above).
Your occasional room sofa can be more of a personal statement for a great secondary sitting room or a bedroom. If you like prints, or bold colors, try it here with the sofa you live with a little less. You're having fun with it, but on a less committed, day-to-day level.
Try slipcovered styles. Sofas and sectionals that are designed with removable slipcovers are another way to live in a flexible-design manner. Our Ava Sofa is  designed this way, with extra, easy-care, spill-resistant slipcovers in additional colors you can order separately.
Step Three: Decide how much size matters. 
The traditional sofa is 80 to 90 inches long, and about 39 to 41 inches deep, with a seat height of about 19 inches
Back height varies by style; traditional and transitional backs may be a bit higher than the backs of the long, low-slung modern sofas you're seeing on home shows.
If you want room for really stretching out on your sofa, then you'll probably want a minimum length of 78 to 80 inches for your new sofa.
But there are other ways to stretch out, too.
Some sofas come with oversized ottomans that, when pulled up to a sofa or sectional, turn the seating plan into a stretch-out-and-nap area with the footprint of a full or queen bed. Our Ava Sofa and sectionals collection offers this option.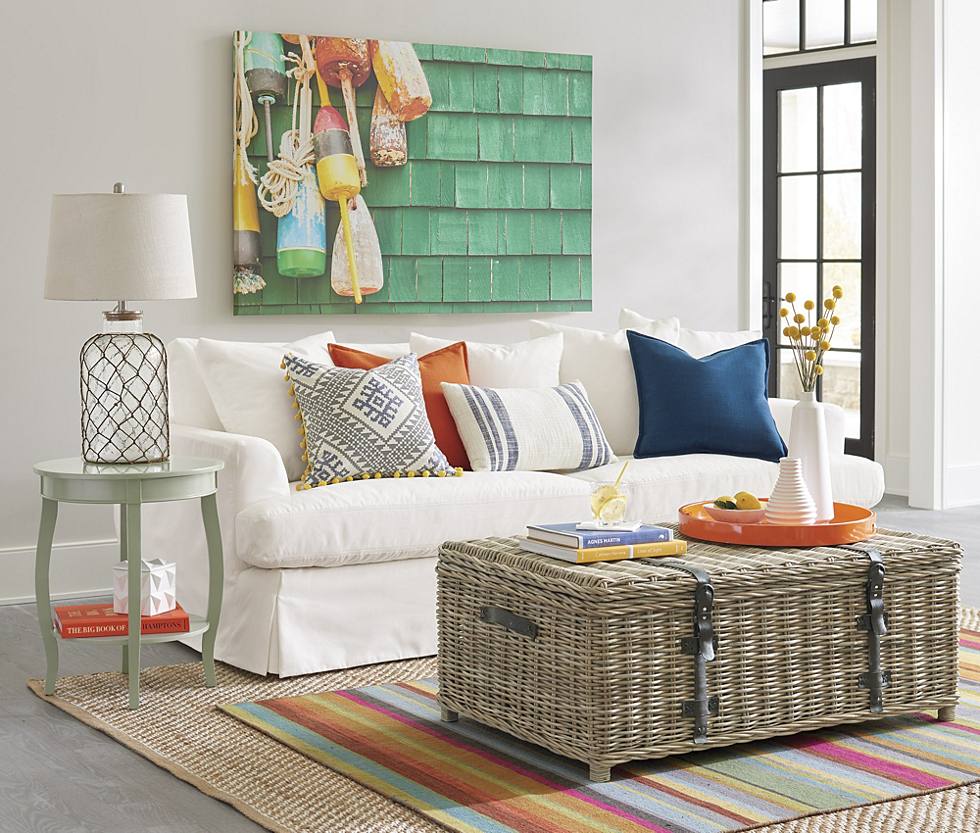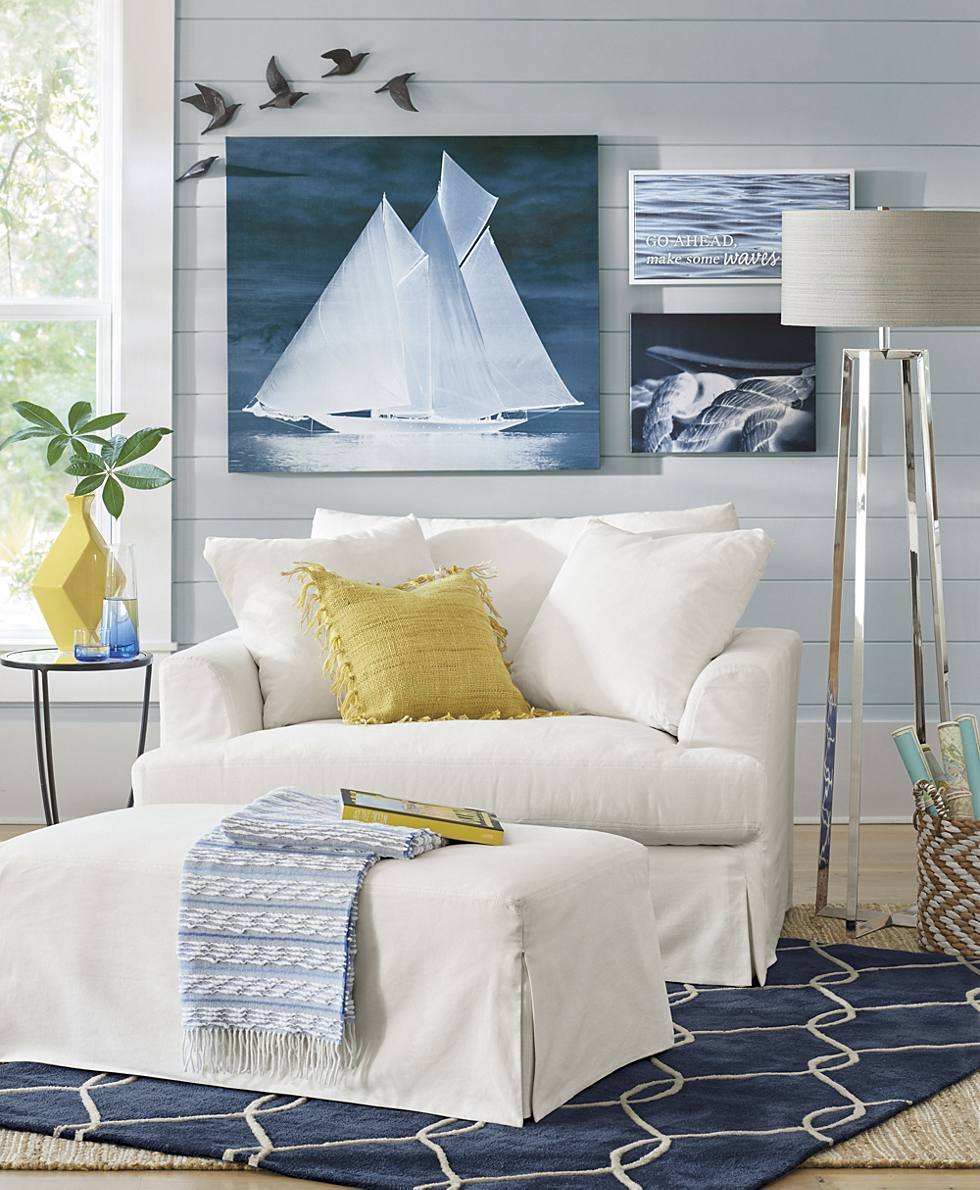 In the same way, make sure a loveseat-size sofa works for the way you'll want to relax in your smaller space. If you think you may want to nap on it, it may be too short (50 inches or less length-wise), so adding an ottoman becomes more important. Get one that matches, or invest in soft, stylish ottomans upholstered in fun fabrics.
Step Four: Do the "footprint" test before you buy.
Few shopping mistakes present a bigger logistic challenge than realizing the sofa that just arrived just doesn't fit. Take time to measure.
How to "footprint" test your sofa space:
Before you order a sofa, cut up some old paper shopping bags (or use newspaper sheets) and tape them together in a pattern the same size and shape as the floor-size, length-by-width dimensions of the sofa or sectional you're considering. Place this paper "footprint" on the floor in the designated space, to make sure it works. Are you allowing enough traffic area? Room for end tables, or a coffee table? Idea: in smaller spaces, using ottomans (easily moved) instead of a heavy coffee table can help with space issues.
Step Five: Make sure the frame's sturdy with the raise-a-leg test.
Quality is something that's important to us, and we know it's important to you.
When it comes to a new sofa, always look for a frame of kiln-dried hardwood. These frames resist warping and bending, so they give solid service in your home. Grandin Road insists on kiln-dried hardwood frames for our sofas and sectionals for this reason.
There's also an easy trick for knowing if you've got a sturdy sofa in front of you.
The Raise-A-Leg Sofa Test
Lift one of the sofa's front legs about half a foot off the floor. When this is going on, the front leg on the other end should lift up as well. This is your sign of a well-built piece.
But if that other front leg is still touching the ground, the frame may be a bit on the weaker end of the build spectrum, and you may want to consider this before you buy it.
We make Grandin Road's sofas with kiln-dried hardwood frames to make shopping easy for you, because that's your instant assurance of a long-term, sturdy frame. You know what you're getting, without rounding up a strong, muscular friend to shop with ("Josh, lift up THAT sofa now, pretty please?").
We consider other details too. For example, we like a sofa that's constructed with a high-quality, eight-way hand-tied spring base for exceptional comfort. The springs are actually hand-tied together, a method creating superb resiliency, strength, and flexibility that can withstand a lot of use over time.
A sofa is a wonderful purchase that can change everything about a key room in your home. Make the best choice you can, by prepping yourself for the buy, and you'll live with your new sofa happily ever after.
Ready? Shop our sofa collection now.