The new Modern Tropical look is a soothing, clean, updated version of the more vibrant tropical décor we usually think of. It still uses natural wood and rattan furniture pieces accented with pops of classic island patterns, but this new look can be simplified to a few sleek and special pieces within an airy, white, or sea-toned space.
Use the wood, rattan and jute rugs as your beach-neutral tones (think of driftwood and sand colors, bleached shells and natural stone). Add accents in hues like bold clear orange or yellow or blue (ceramics, textiles, artwork) in a very spare, very curated way. Keep it simple. The look will be fun, but updated.
Of course, you can still opt to turn on the sunshine in the bold Classic Tropical style. Or pull in cool blues and green palm fronds for a South Seas Tropical Escape. Or, do a pink-and-green Tropical Cocktails look. Create your own twist on the Modern Tropical living trend. Your only goal: a relaxing space that makes you feel happy, like you're on vacation.
Our menu of Modern Tropical Décor must-haves can be your starting point. Mix and match the pieces to create a tropical escape that's right for you: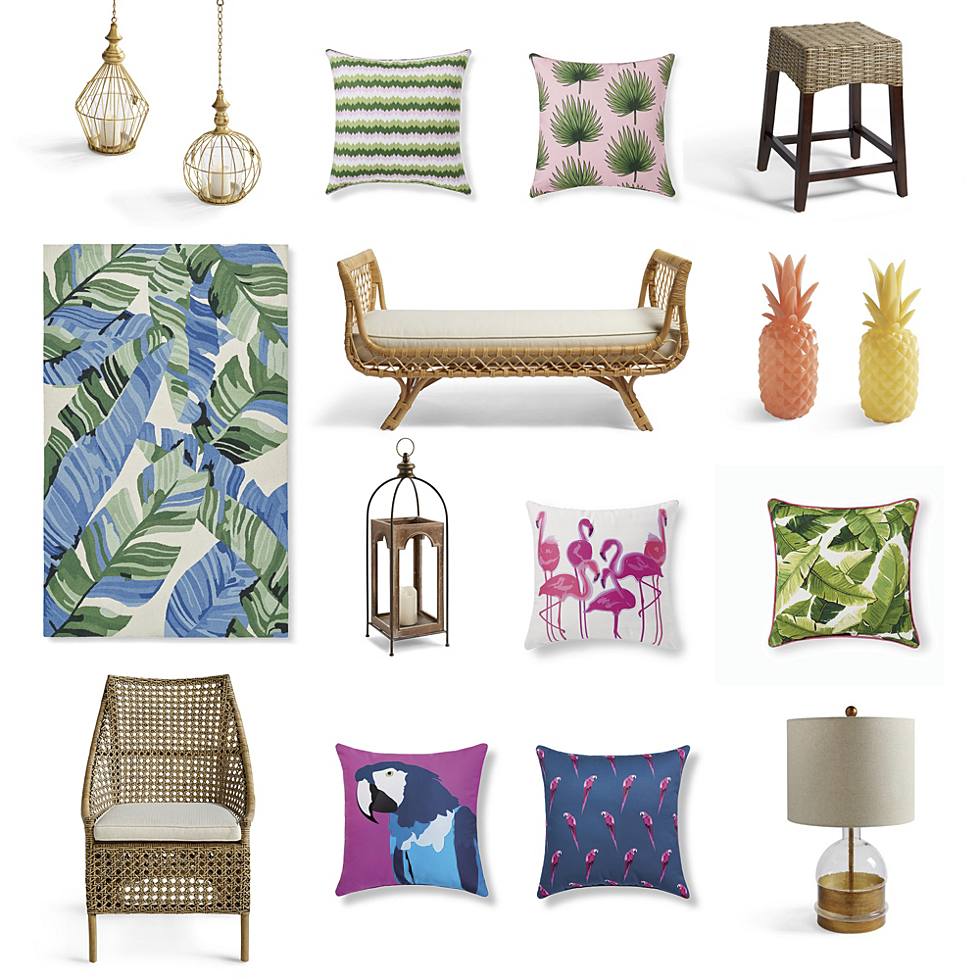 Augusto Chair and Ottoman • Naples Dining Chair • Paloma Bench • Skye Backless Stool •
Rachel Ottoman • Leila Outdoor Pillows • Palm Springs Outdoor Pillows •
Pretty in Pink Flamingo Party Outdoor Pillow • Maggie and Zara Parrot Outdoor Pillows • Bradford Hanging
Lanterns • Elliot Lantern • Pineapple Lights • Tropical Palms Outdoor Rug • Quinn Basket
Weave Outdoor Rug in Natural • Perrie Mirror • Mali Quilt • Linen Quilted Coverlet •
Column Planters • Pearson Planters • Sadler Table Lamp • Visionary Floor Lamp