As with all things in life, there's the instinctive way to hang a collage of artworks as a stunning wall gallery ("Look, I'm pounding nails and throwing things on the wall! Hope it looks okay! Have some more wine and ribs with me!"). And then, there's the much better way.
The much better way avoids mistakes that lead to Wall Gallery Heartbreak: pieces that make strange wall mates odd spacing between frames, too much matchy-matchy, that last piece that kind of trails off to the right too near the window, and a bunch of "oops" nail holes left behind as you keep moving pictures to get the wall to look right, or at least better, or give up.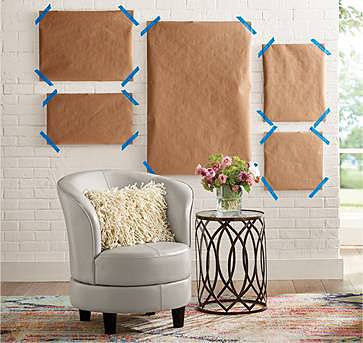 Ready to save yourself from heartbreak and do it right, the fun and easy way? All you need is:
Sheets of poster board or a roll of brown kraft paper from any office supply store, scissors, painters' tape, and a sense of fun. Your hammer and nails can watch.
First, trace each piece of your favorite wall art on a piece of the kraft paper or poster board, or measure and mark the paper freehand, and cut it out, to form paper patterns of the works. Write a small description of each piece of art on the front ("pink modern") of each pattern, or attach a photo of it that you've printed out.
Now lay the real artworks out on the floor. Play with the arrangement of pieces like you're making a collage, until you have an arrangement you like. When dealing with contemporary artworks of different sizes and shapes, this step is critical to happiness. Mind the amount between frames on every side. Our tip: even spacing amounts (example: two inches between frames on every single side) will look more professional.
Once you have a layout you like, you're ready.
Armed with painters' tape, tape the corresponding sheets of paper on your wall to replicate the arrangement you have on the floor. This is your real-life on-the-wall gallery guide.
Now step back and take a look. Is the amount of space good, or does the wall look choked? Are you hanging too high, or too low? Should you move the group left or right? How's the lighting (natural or electric) going to impact the look? Maybe you'll want to leave the paper pattern up for a couple of days to really see how light might affect the gallery. Rearrange the pattern shapes if you wish.
Feeling good about what you see? Yay! Now get that hammer and start to pound in those nails (be sure your hanging mechanisms are supporting the weight of each piece properly). You may still want to rearrange a few things as you go, because you're creative that way, but you'll have saved a lot of time and nail holes overall.
Style-easy! Enjoy your wall art, and be ready to tell your envious friends how you did it.