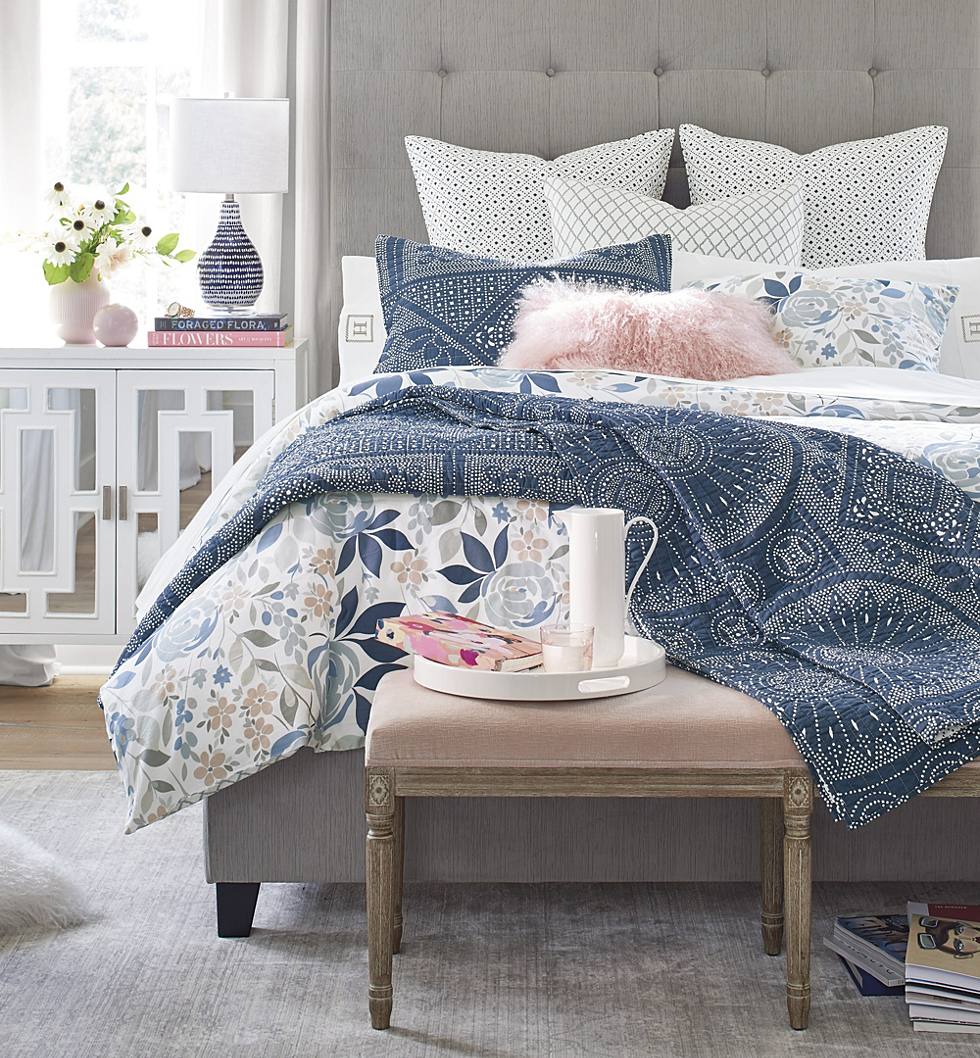 Love a gorgeous bed? Now grandinroad is happy to share some of our favorite bedscaping (like landscaping, but for the bed) ideas and clever tips with you. Along with kind compliments about our colorful, comfortable bedding collection come questions. Like, "how did you style that photo?" and "how you do layer your own beds?" So we asked our product manager for her favorite tips, ideas, and hacks that will work whether you like a modern, tailored look for your bed, or a soft, romantic nest.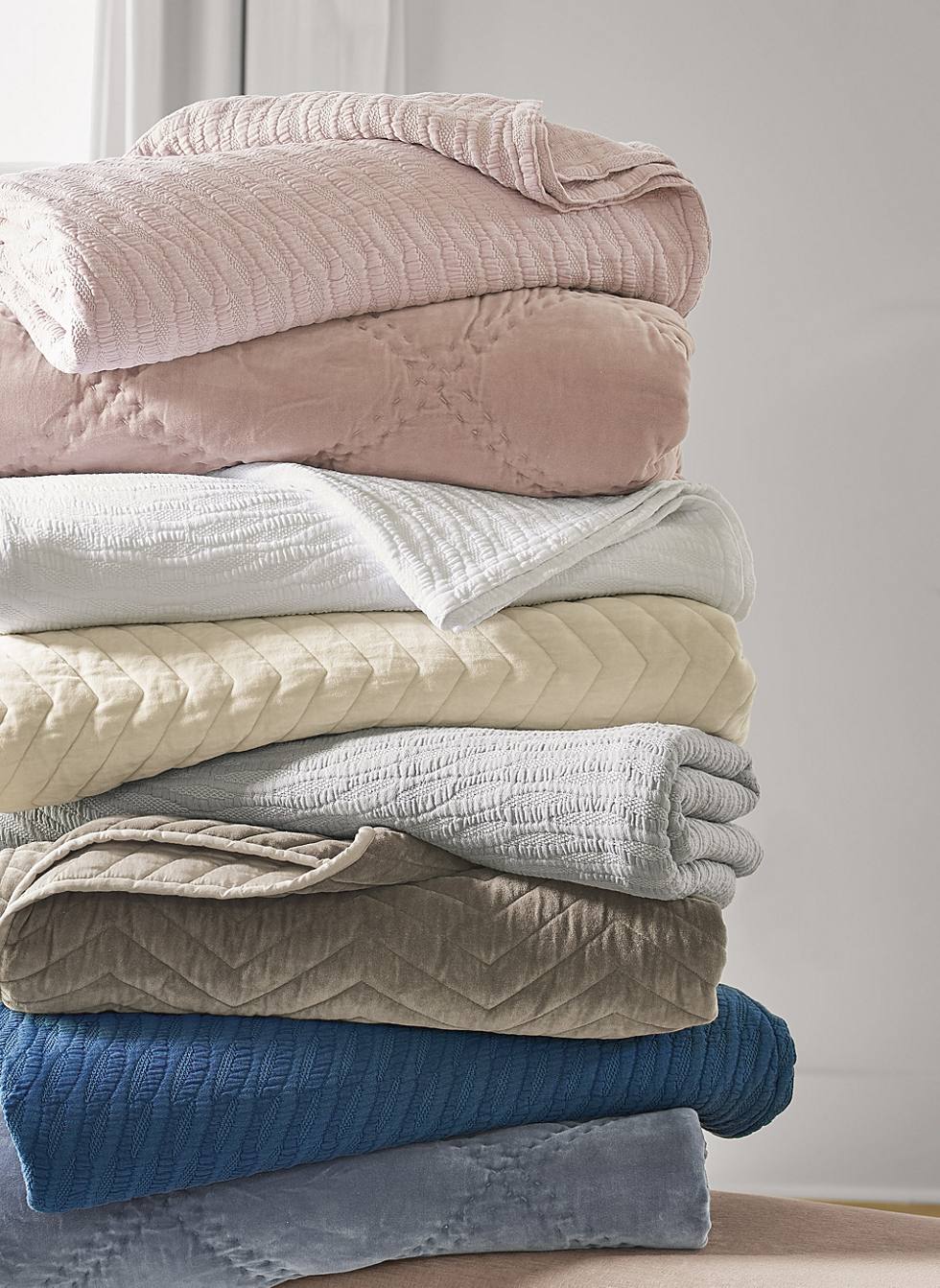 1. We love the grandinroad classic Priya Matelasse Coverlet on everything, because it is a good all-season weight. The 100% cotton material serves as a perfect, breathable layering piece all year long. And the Portuguese-crafted, textured fabric looks elegant—but it's conveniently machine-washable. (Velvet makes a rich statement, too.) Matelasse dresses up a guest room (and our EZ Bed™) enough to feel extremely welcoming, and to give it a well-designed, thoughtful look.
2. For a fluffier duvet look, try either of these ideas:
a. In colder weather, you can place two duvet inserts (we suggest breathable, lightweight down or feather fill) inside one duvet cover. (Example: two Queen duvet inserts inside a Queen duvet cover. It's a "fluff" trick used by decorators, and people who love extra warmth as temperatures plummet. The trick is to buy a duvet insert that's two or three inches to five or six inches larger than the duvet cover.
b. This fluffing idea is perfect year-round. Place a King-sized duvet insert (down or down alternative) inside a Queen-sized duvet cover. The look will be fluffier, without the extra heat and weight.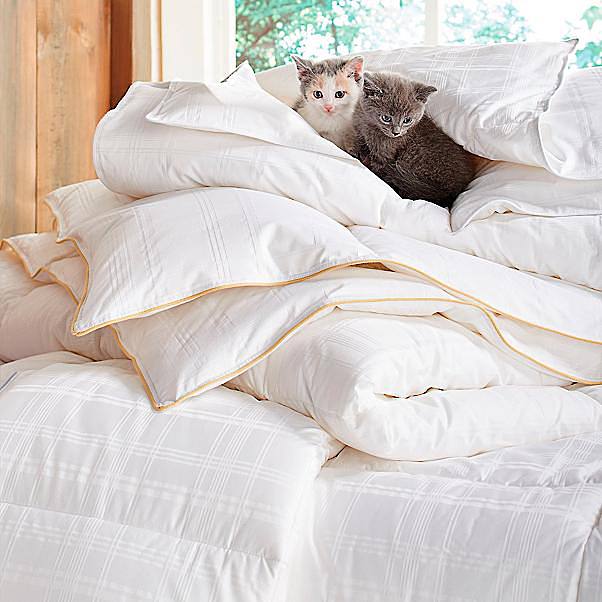 3. Fighting for the covers at night? Or in a "he sleeps hot, I sleep cold" arrangement that means you're getting fitful sleep? Go European: use two Twin duvet inserts in duvet covers side by side on your bed, instead of one Queen or King duvet in a cover. Why? You each get your own to cuddle in (or to kick off) without bothering the other sleeper. And you can each choose your favorite kind of duvet insert material, too: down or feather or down-alternative. It's the arrangement you'll find on most Scandinavian and European beds. Try our Elements Bedding Basics collection for the perfect comfy duvet inserts. Just make sure your duvet covers match for a smooth continuous look that appears to be a one-piece concept—again, grandinroad offers many beautiful bedding and duvet cover styles and patterns, like our popular Willow Bedding Collection, from which to choose.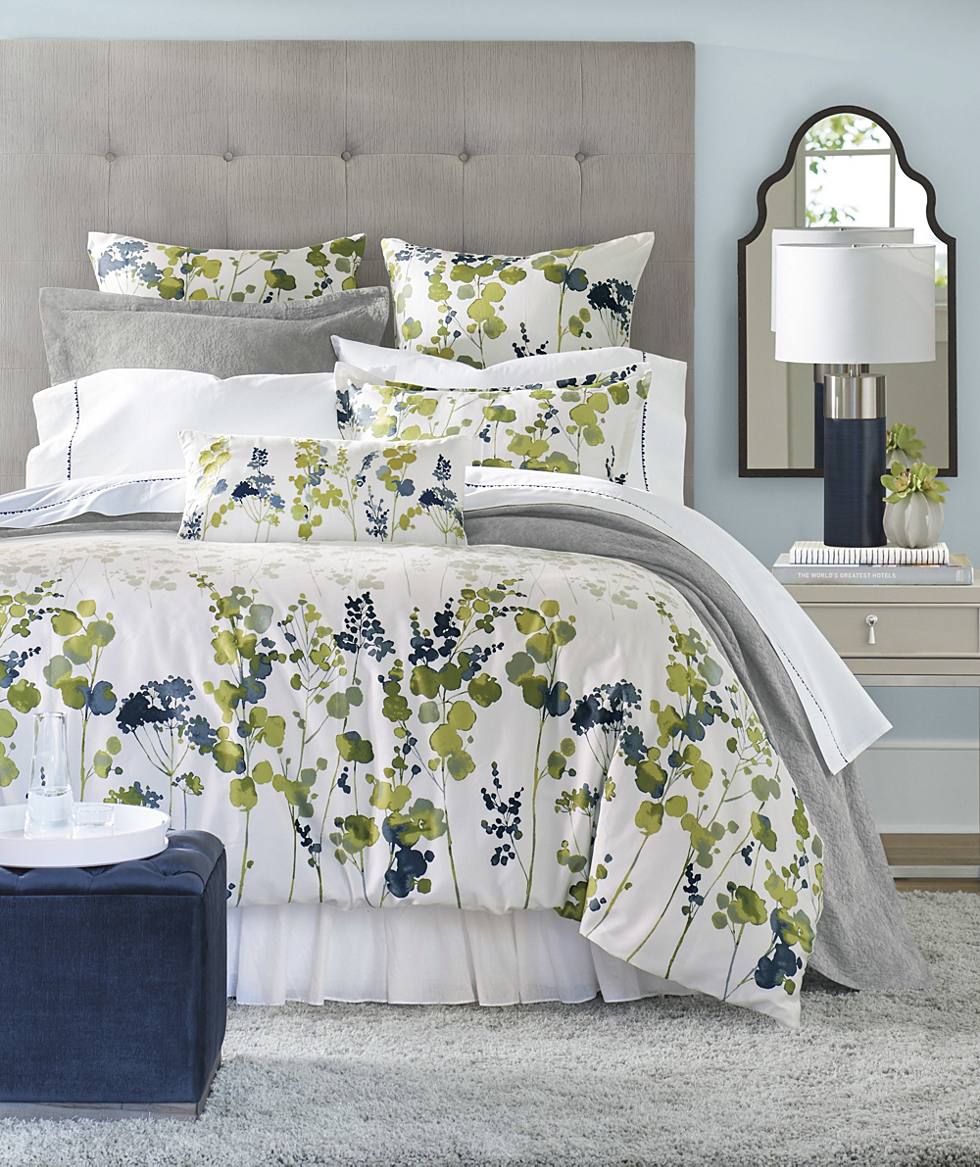 4. How many pillows to use on a bed?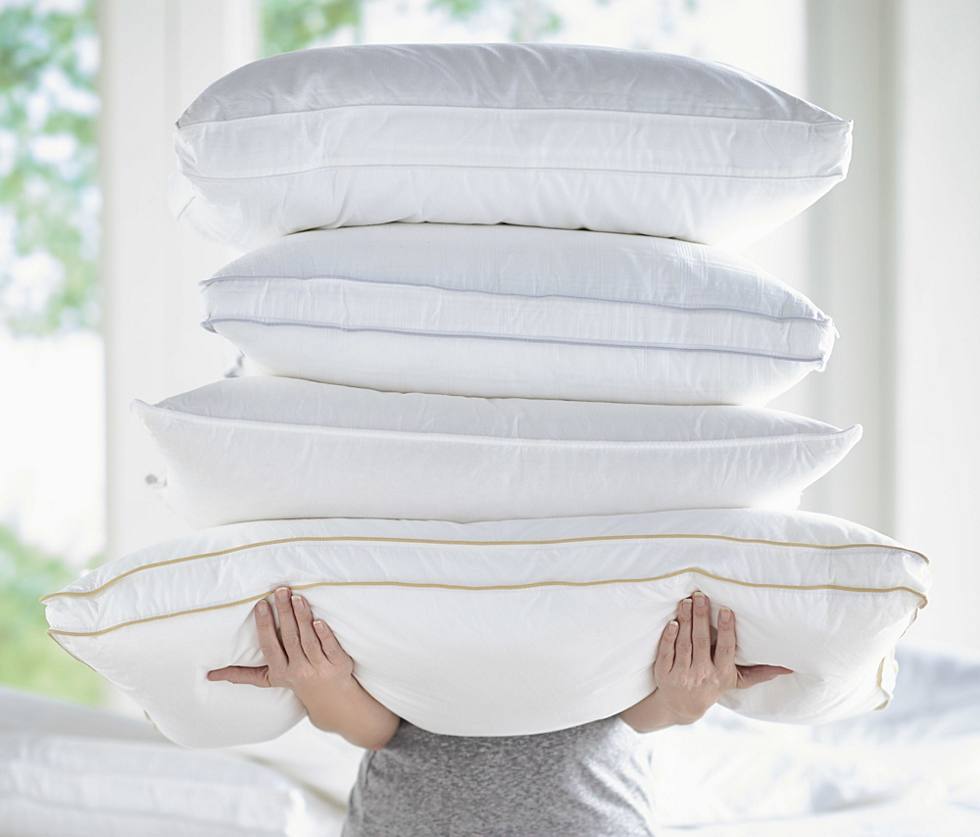 And how to arrange them? Here's one easy idea: on a Queen-sized guest bed, we like two King shams side by side against the headboard area for a little more drama (you may prefer three Euro pillows and shams, or two Standard pillows and shams). Next, line up two Standard pillows in front of the Kings, then two decorative accent pillows as a finishing touch. One unique accent pillow (perhaps it's handmade by a friend, or has a whimsical saying) can rest there, too.
5. The luxury-hotel way to arrange pillows on a bed (as illustrated above):
a. King Bed: against the headboard, line up three Euro pillows side by side. On these, place two King pillows, side by side. On these, two Standard pillows, side by side. Then one decorative accent pillow rests against the Standard pillows. The shams for the Euro, King, and Standard pillows should be within the same colors, pattern family, or design group (reverse patterns and similar coloring can personalize your sham arrangement).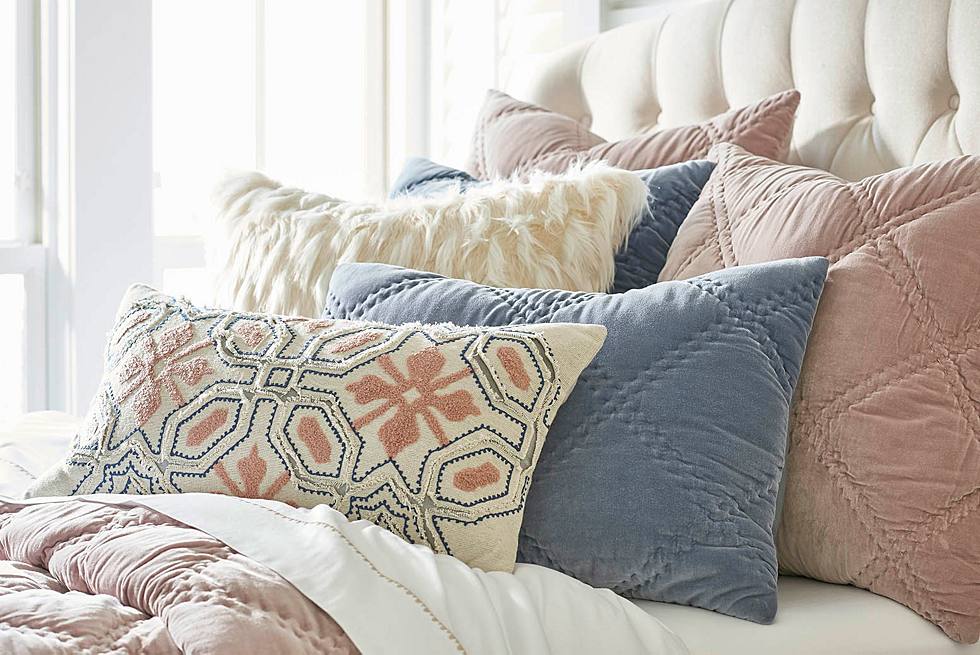 b. Full or Queen Bed: against the headboard, place two Euro pillows side by side. Moving forward, on these, place two Standard pillows, side by side. Finally, one decorative accent pillow rests against the standard pillows. The shams for the Euro and Standard pillows should be within the same colors, pattern family, or design group (reverse patterns and similar coloring can personalize your sham arrangement).
c. Twin Bed: Place a Euro pillow against the headboard, a Standard pillow against the Euro pillow, then, finish with a cute accent pillow to enhance the bed design.
3 Bonus Bedscaping Tips
Triple sheets for a "faux duvet" effect: What? It's a hotel thing that gives you the essence of living the duvet-plus-cover life, with easier care. Works this way: after you put the fitted sheet and top (flat) sheet on your bed, put ANOTHER flat sheet on top of the previous one. On this second flat sheet, place your duvet insert, blanket, or comforter, then cover it with a third flat sheet. Fold the top over four to eight inches, as you normally would fold your sheet over when prepping the bed for sleep. It's like a faux duvet cover, and the sheets can be a little easier to wash weekly than removing and washing a duvet cover (though real duvet fans know the small extra effort it always worth it).
If you like to read in bed, keep a lumbar pillow or a bolster pillow hidden behind your main bed pillows, at the bottom of the headboard (where it meets the mattress), to fill the gap so your main pillows won't fold or crush down behind your back.
How to dress a super-fat, two-story, extra-extra-thick mattress? If fitted sheets never seem quite deep enough, or you're breaking nails trying to get the fitted corners over your whopper mattress, you can skip the fitted sheet, and use a large King-sized flat sheet instead, with neatly tucked corners. Try hospital corners (a 45-degree fold angle) or hotel corners (a 90-degree fold angle).  If you're using a duvet cover, you don't really need that top sheet anyway, so you're just repurposing it to better suit your needs. In Europe and Scandinavia, the duvet insert and its duvet cover are usually all that top the bed above the sheet-covered mattress, but you can use a sheet under the duvet, too.