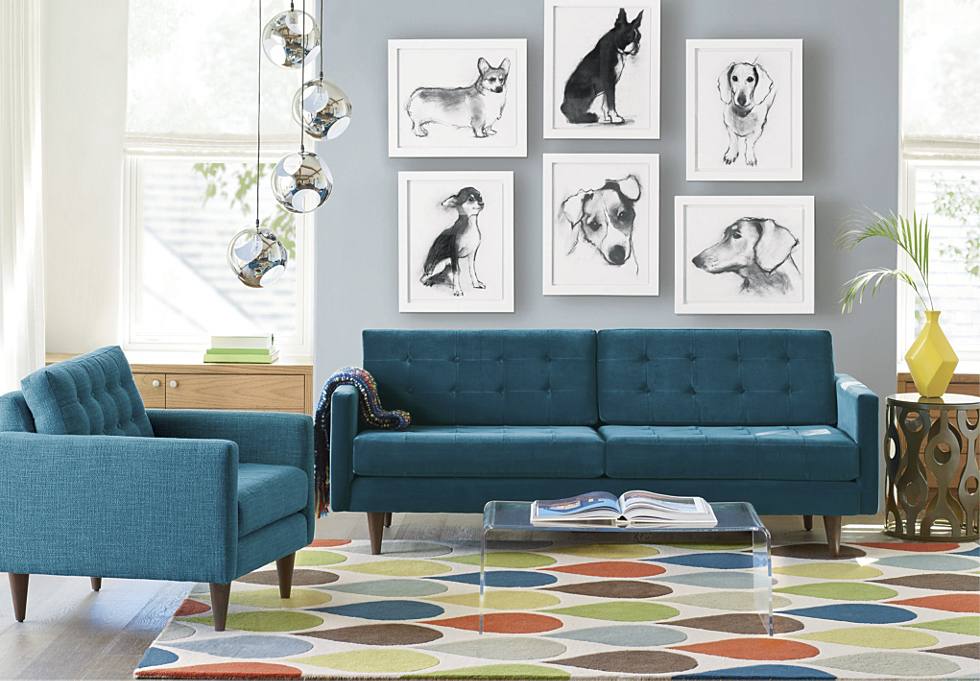 If you like minimalism, the idea of sleek city cocktail hour glamour, or what has been called "the elegance of refusal"—meaning, living with a few clean-lined, handsomely crafted, timeless pieces in a well-defined and orderly space—you may be a Mid-Century Modernista in the making.
If you tend to say no to busy rooms, clutter, and take about a year to find a throw pillow you're willing to live with, you may be a Mid-Century Modernista. If, however, one sleek glam piece (a Spartan-like bench with unexpected upholstery, for example or glittering gold metal and glass drinks cart) can make you hit "order now!" in a split second, you may be a Mid-Century Modernista.
If you gravitate toward natural tones balanced by rich texture and just a handful of saturated, deep, purring colors that make you think of suave, handsome martini-drinking spies disarming international intrigue in a splendid Parisian flat in the 8th arrondissement, you may be a Mid-Century Modernista.
How did this happen? Easy: you're creative by nature. When movies and television can hook us up so easily with past eras of rich design thanks to set designers who are passionate about their work, of course we're going to be impacted by the visual and emotional truths of why certain furniture designs are utterly brilliant forever.
Mid-century modern furniture, which from the 1940s through 60s saw its highest development as the new smooth, chic, streamlined approach to modern living, underlined how life was changing. Suddenly life stepped away from chintz and doilies and busy carved wood, and went utterly sleek and elegant. Because it was also so comfortably easy to live with, mid-century style is a trend that's never lost momentum here or abroad.
When a recent hit cable television series about the era of New York City ad men from the 50s and 60s made this trend zoom in popularity from coast to coast, furniture designers got busy and began to have even more fun with iconic styles.
The clean, squared, or rounded shapes of the original mid-century furniture reappear with their calm, unruffled, elegant energy. But there are subtle upgrades.
Cushioning may be more comfortable. Sizes of sofas, accent chairs, and other accent pieces are adjusted to current tastes or needs—bigger for our more expansive home spaces, but also available in smaller versions for those with a taste for mid-century modern accent pieces or who live in trendy tiny homes, or the new micro apartments that are changing life in crowded, expensive cities like New York and San Francisco. The pieces don't overwhelm. They provide a stunning, quiet environment as the perfect background for the creativity of living.
Fabrics are easy care and explore more color and texture options today while retaining the tweedy, sleek, or lusciously upscale vibe of the originals.  A single red or ink blue sofa packs a design punch in any modern space.
Wood tables are toned for today, and new permutations of the form are invented. Wood elements follow the mid-century lines, but in new materials, wood frames may be paired this time around with a stunning turquoise velvet version of a classic mid-century chair design.
Feeling equally sleek, with a taste for subtle modern elegance?  This is your design influence. Step into it, and enjoy.