It's challenging to decide which rug you want–we plead guilty to offering hundreds of styles. Even tougher decision: figuring out the size of the rug you'll need. We can help.
First, some basics
Generally, use a rectangular rug in a rectangular room; a square rug in a square room; and save round rugs for use in entry halls, under any circular dining tables, or even in a playroom.
Always place your furniture first before measuring for a rug. This can save you from ordering a size that might be too big, or small. In a dining room, you might want to measure inward from pieces lining the room like china cabinets, drinks carts, or consoles. Kraft paper cut to the size of furniture and placed mat-style on the floor can also help you see how much rug you'll need.
Now, three classic rug-sizing tips
Tip #1 Traditional sizing always works.
In a room of average to ample dimensions, when the goal is to create a single seating space together in a clean, unified way, use a rug that's a little larger than the furniture footprint area. Measure the "furniture footprint" of your room (the space occupied by seating, ottomans, and tables). Then add at least 6 to 12 inches to this measurement to know which rug size to order.
Example: Say your furniture footprint is 7′ x 9′. A slightly larger 8′ x 10′ rug, or really better yet, a 9′ x 12′ rug, will visually hold the seating space together and the entire seating area will fit on it, unifying the room in a simple, clean way.
Traditional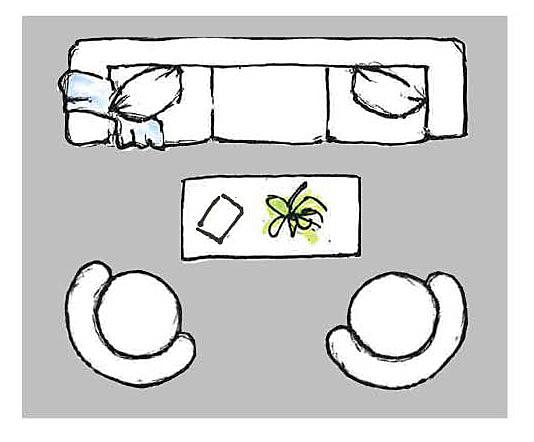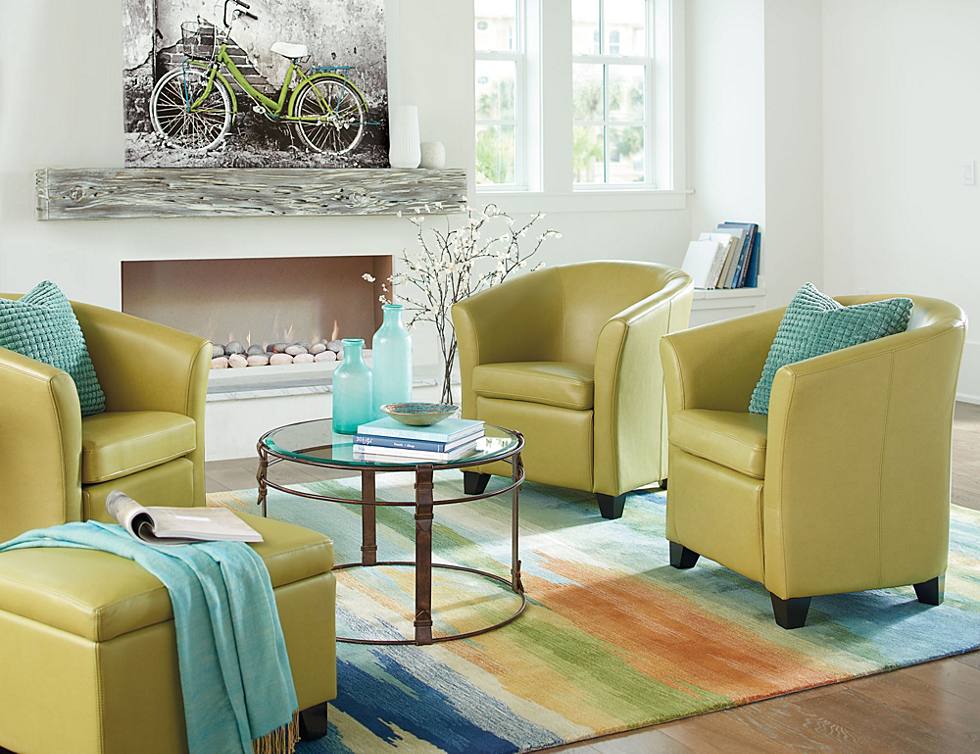 Tip #2 Smaller rugs can create defined spaces.
When you need a rug foundation for a side room, or want to create cozy seating areas within a room, smaller rugs can be used to anchor the spaces.
Center a smaller rug you like (one that's, say, 5′ x 7′) in your seating area, keeping at least the front legs of each piece on the rug, evenly and consistently, even if all the pieces cannot fit fully on the rug. This creates a pulled-together cozy conversation area. If you do place furniture a bit off the rug, be consistent: two legs off the rug per key piece, evenly placed.
If you have a sofa whose back is against a wall, gain some extra rug up front if needed by pulling more rug forward to create the defined area, keeping just the front legs of the sofa on the rug. Or place the rug in front of the sofa, with chairs or tables positioned on it, facing the sofa.
Modern Classic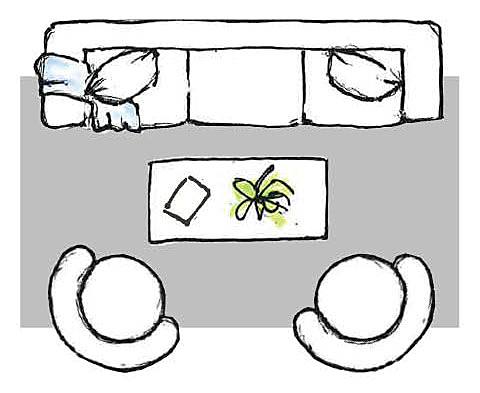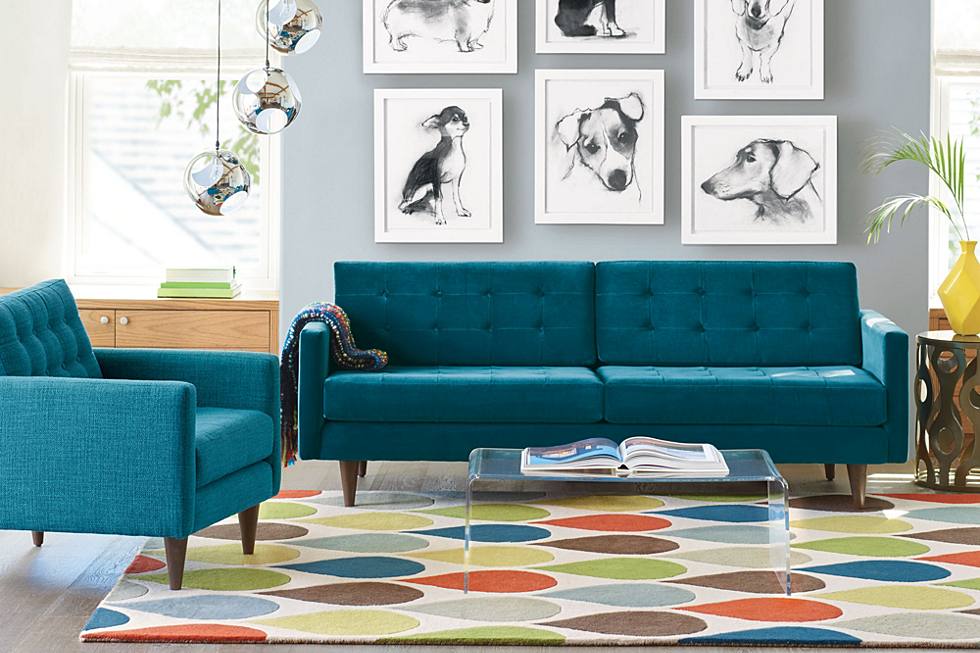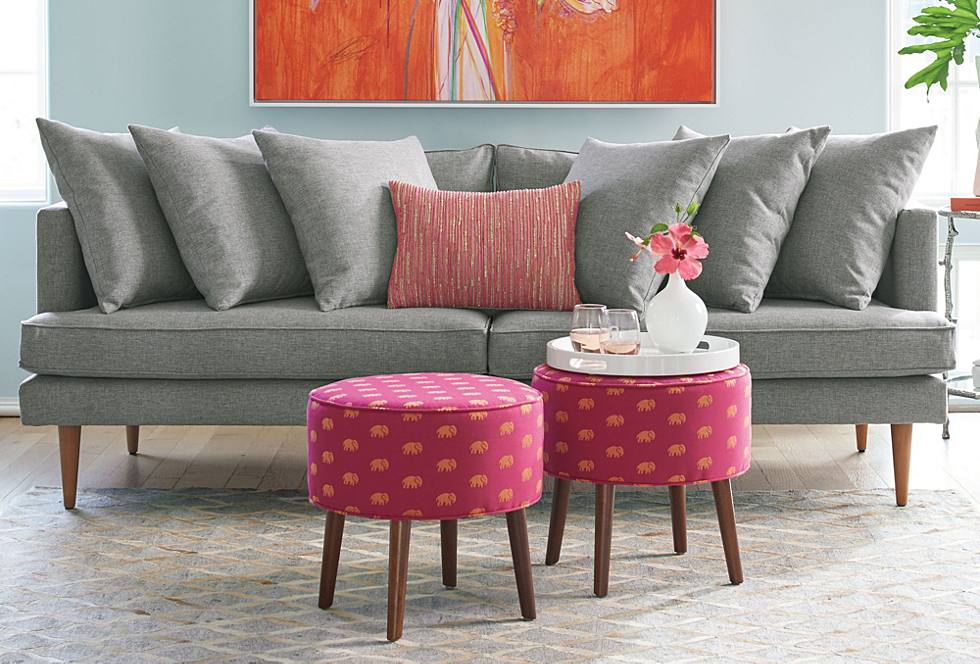 Layering is always a solution for a perfect-looking, but somewhat too-small rug. Want a fuller-coverage look? Layering to the rescue: try placing the too-small rug over a larger, flat weave rug that you'll select in a neutral color, or in a color that relates well to the smaller rug. This simple trick can extend your coverage, and color, for a better visual in any room. You can even mix textures.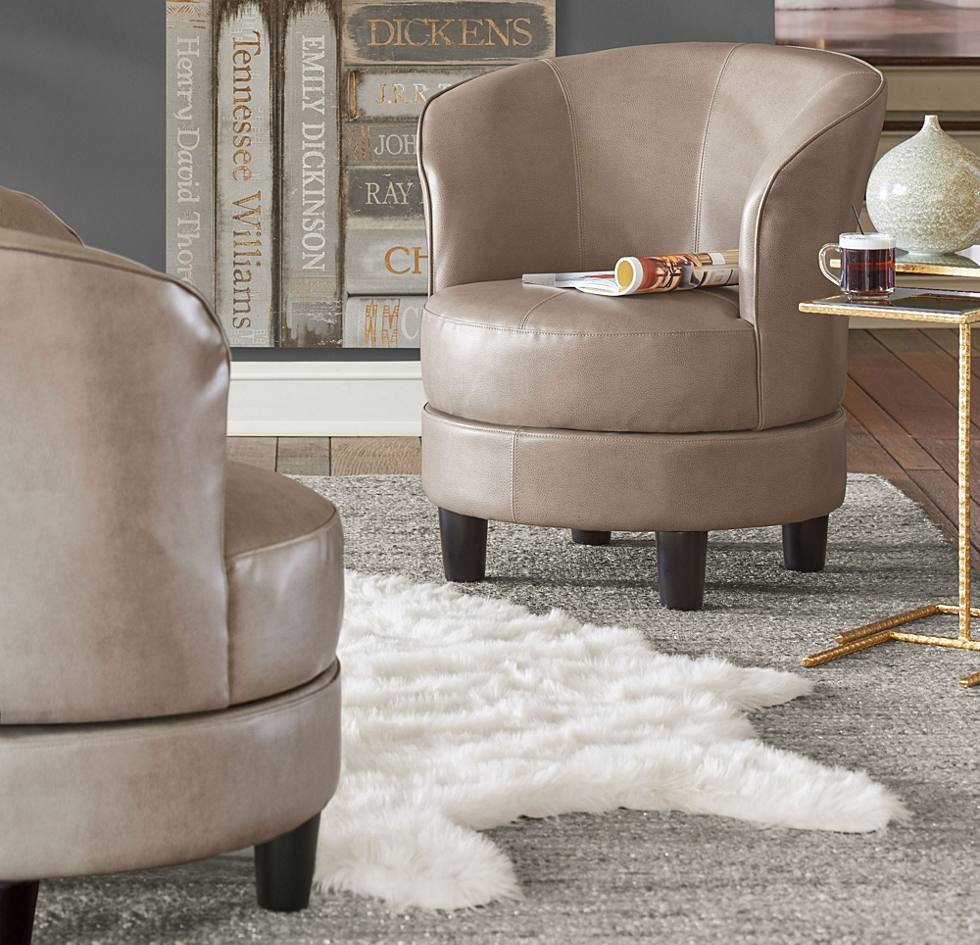 One caveat: in a dining room, using a rug that's a little too small can be more than a visual issue. It can be problematic for your guests, especially if the chairs are left hanging partly off onto a hard surface floor, causing the chairs to feel wobbly or even like they might tip backwards.
If you wish to keep the too-small rug because it works with your dining room design, layering it on a larger flat weave rug is really a must. And, remember, whether you layer, or give in and simply get a larger area rug to properly accommodate your dining room furniture's footprint, always allow for enough room for the chairs to be pulled out to a normal "seated" position upon the rug's surface. You'll want some inches to spare for your guests' comfort, so keep that in mind when measuring. Now you're a truly great host.
Dining Room


Tip # 3 Consider the position of furniture & room shape.
In a living room, dining room, or great room, you want to work with the shape of the space, so a rectangular rug is laid down following the shape of a rectangular room, its long sides parallel with the longer wall. You want a rug with enough length to mirror or fill the rectangular space, ideally while keeping a consistent distance from the walls on all sides. A long room with a skimpy rug or too much bare floor at one end simply doesn't look complete or inviting.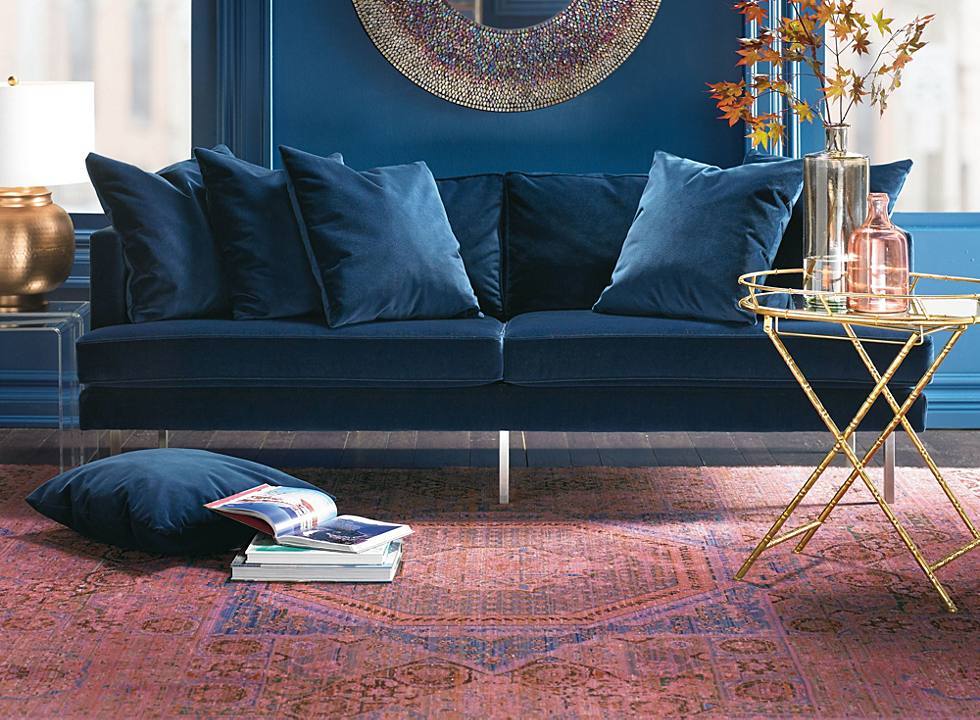 In a bedroom, when using an area rug, lay your rug so that the long side runs from one side of the bed to the other. This allows for enough footage on either side to equal the furniture footprint including the bedside tables, and to ensure that your feet can step comfortably onto a soft rug when you get out of bed.
Example: A queen size bed measures about 5′ across, so a rug that is 10′ across, horizontally, can offer a landing space of about 2-1/2′ per side (if the bed and rug are centered). A king size bed is just over 6-1/2′ across, so a rug that is 12′ long will again give you about 2-1/2′ of landing space per side.
Starting the rug about halfway under the bed can give yourself more rug to enjoy in the room space at the foot.
Bedroom 1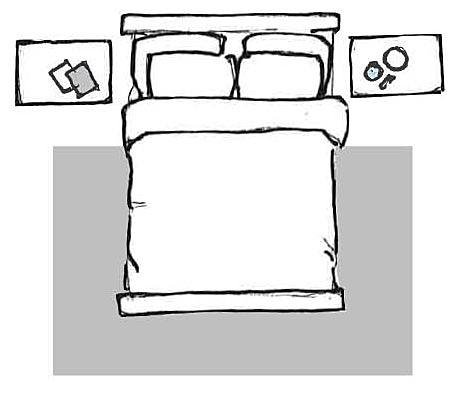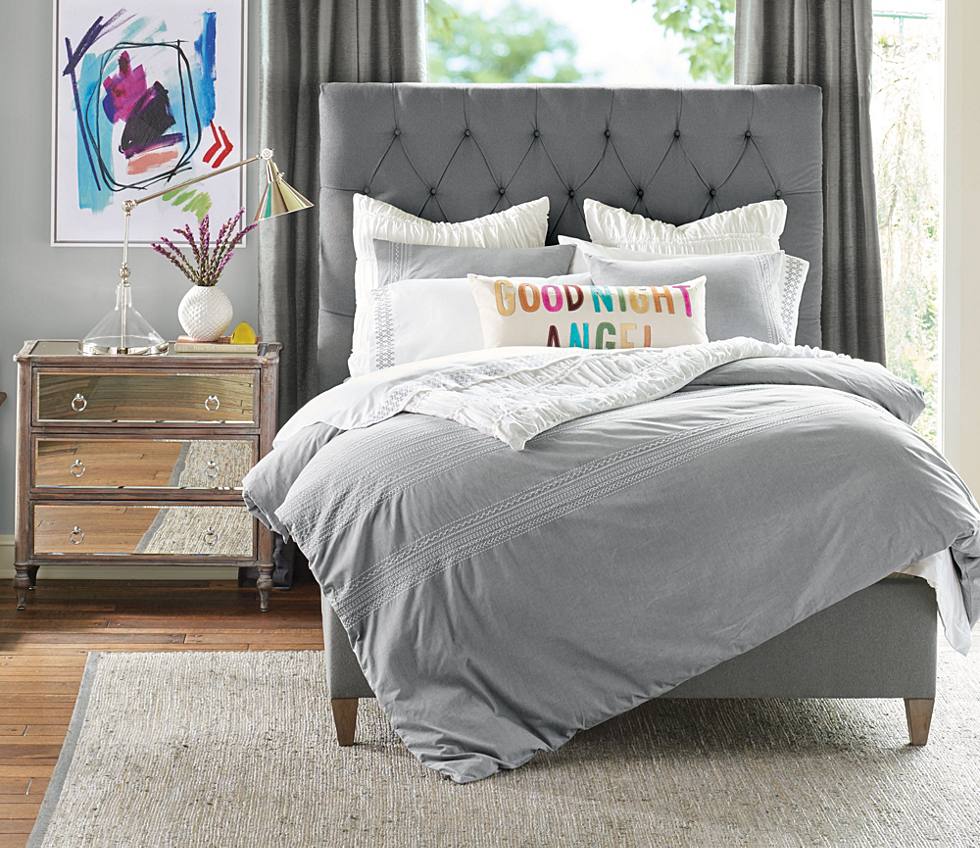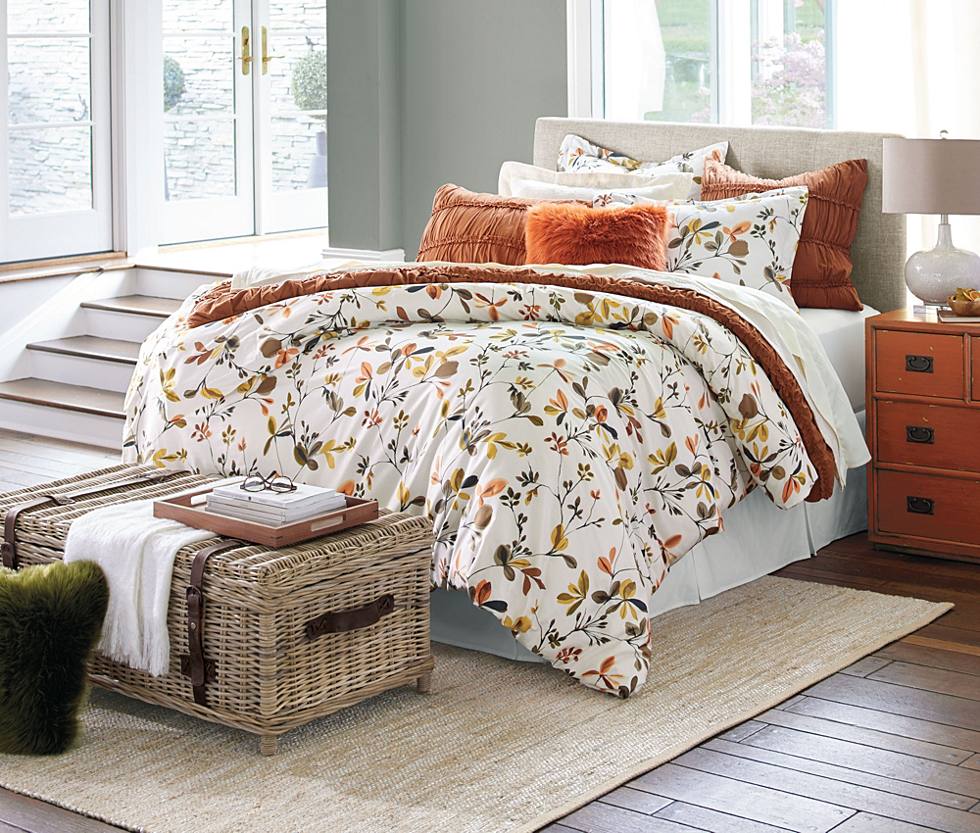 Finally, some people prefer a smaller rug placed on each side of the bed. In a modern space, a fluffy faux fur rug or a burst of color can be fun, especially on a beautiful floor of wood or natural stone.
Bedroom 2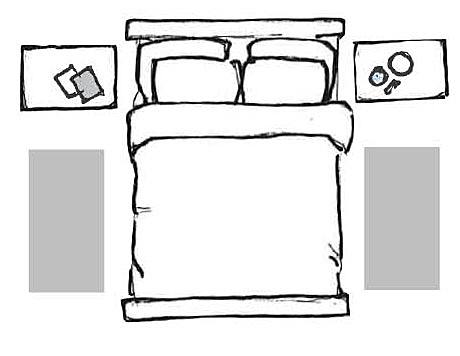 Shop all grandinroad rugs.