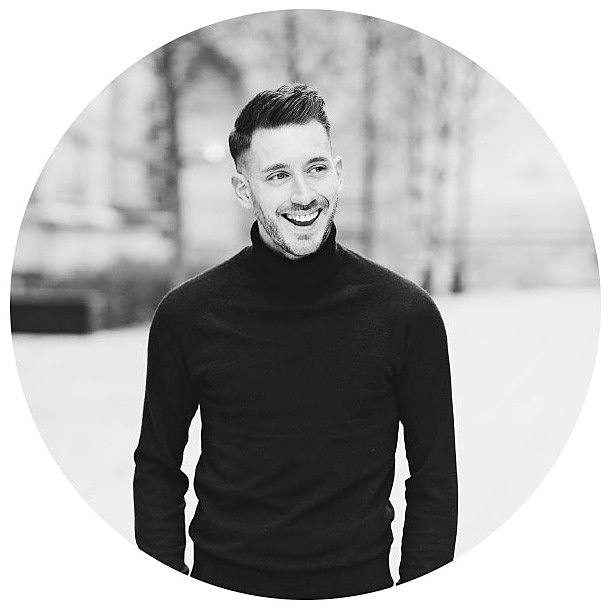 The first of lifestyle blogger and author Will Taylor's room designs for grandinroad is going live, and we're excited. Will created an all-new, make-you-smile styled concept derived from our own grandinroad product assortment to, as he says, inspire you and provide achievable yet stunning ideas for your home updates.
We talked to Will about his first concept for us: a very inviting blue and green living space.
Question from grandinroad: How did you choose the idea of travel as the visionary starting point for your room designs?
Will Taylor: I've always found travel to be a great catalyst for design inspiration. I find it an invigorating feeling when I'm immersed in a new culture—the fresh textures, colors, sounds, scents, patterns of a new-to-me place often leaves me brimming with new décor ideas to weave into design schemes I'm working on back home.
Q: Tell us why you selected these colors.
WT: My thinking behind this room was how we can use beautiful design and color to put the joy in January. After all, it's so darn cold and gray across much of the country at this time of year that most of us are hunkering down and seeing out winter from the comfort of our homes. So why not do it in joyful style, right? I designed this blue and green living room to have a timeless and traditional vibe that leans toward an early spring palette. These rich shades of the two hues work well at this time of the year because they don't feel out of kilter with our innate drive to hunker down and get cozy during the cold month of January.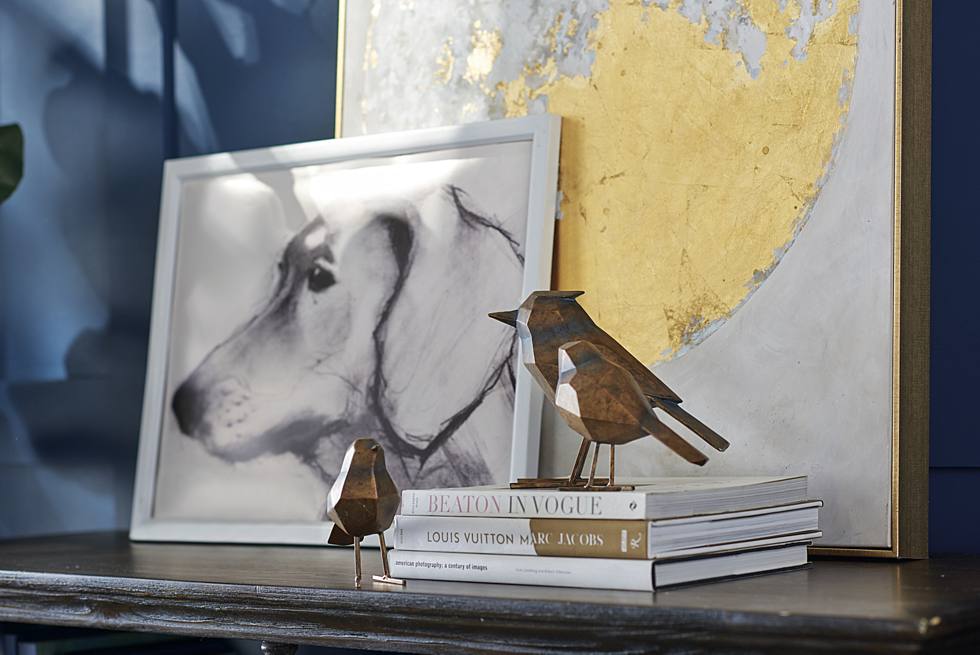 Q: How can we add brightness or sparkle to a room, especially this dark and wintry time of year?
WT: Metallics are a perfect way to layer shimmer and shine into a room during darker months. Think: a hammered copper bowl on the coffee table or a faceted metallic table lamp. Small accents like this will add a make-you-smile style touch to a space and will play off the light beautifully.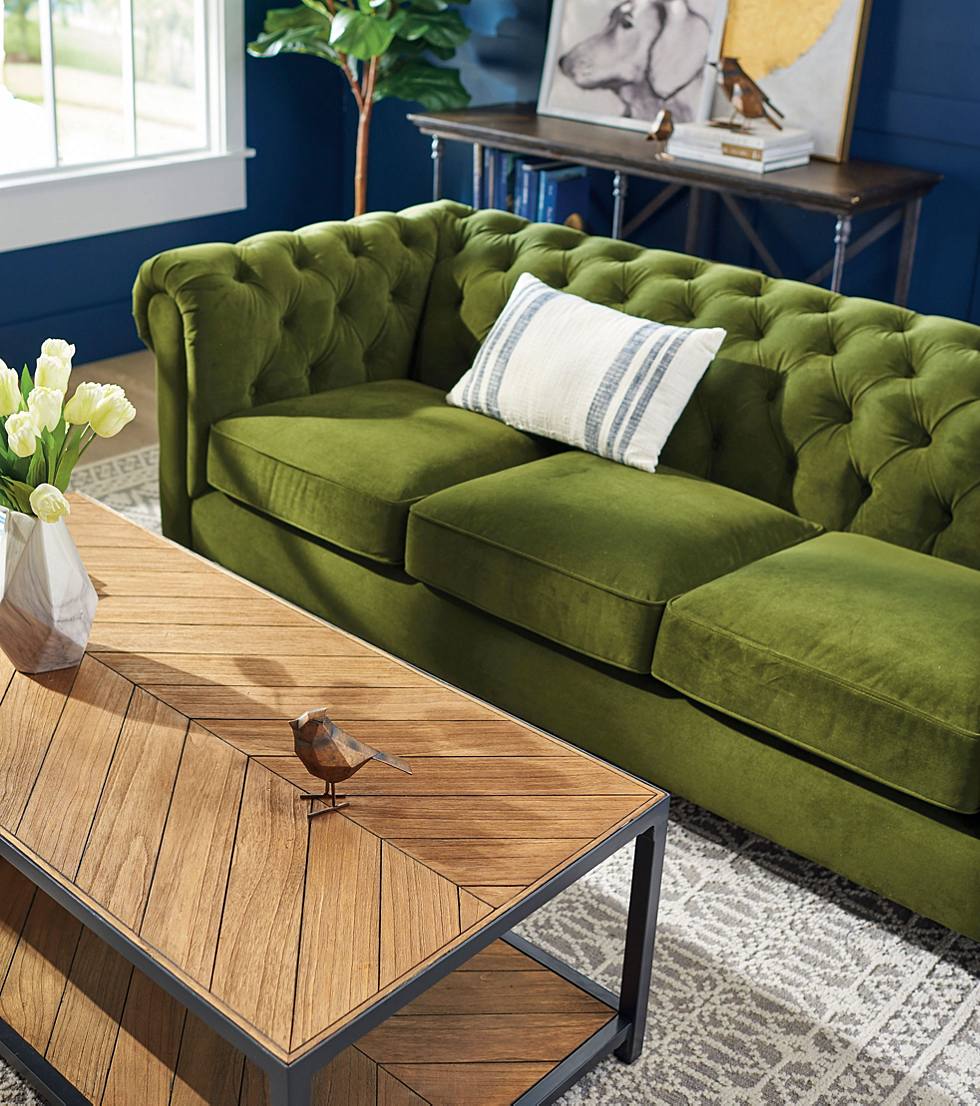 Q: Some of us find it daunting to select a sofa – it's a major investment! What sold you on this one?
WT: The London Sofa is an absolute knockout in this shade of Jade green. You can't go wrong with a chesterfield when looking to create a classic 'will-never-go-out-of-style' kinda look. Love! One of my favorite picks for this space was also the Oliver Accent Table because the vintage-style feathered arrow legs provide subtle detail to the room.
Q: Adding room accents can be tricky. Any tips?
WT: Sure! In this space the rich navy blue wall provided a grounding backdrop for the Jade sofa, while pattern introduced across the Jordan Wing Chair and Sonoma Rug added depth, texture, and visual interest to the living room. Finally, I added some metallic touches because I think we can all benefit from a little shimmer and shine on these dark winter days – the Gold Moon Wall Art is perfect for this!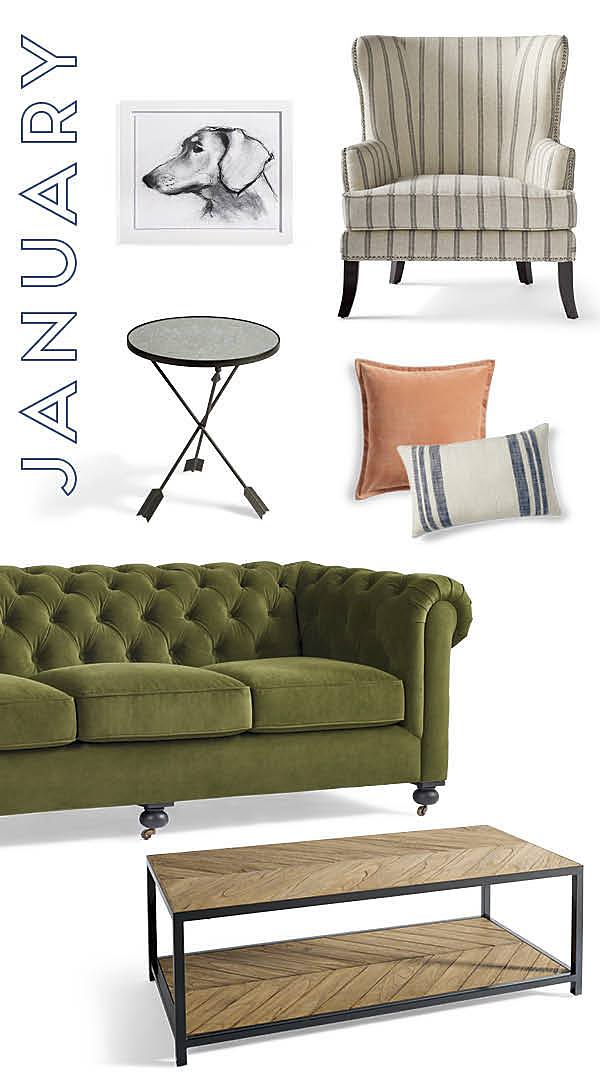 Q: What's your best tip about selecting a rug for a room or a new room design?
WT: I like to think of rugs as anchor pieces in a room. So, in a space where the main pieces of furniture are neutral and calm you can use the rug to be the 'wow' moment. Or, as is the case in the living room I designed this month, where the sofa is the statement of the space, I used the rug as a neutral layer to temper the boldness of the sofa, and tie in the other elements of the space.
Our thanks to Will Taylor for sharing his ideas with us. Want more Will right now? Check out his brilliant (& fun) blog: Bright Bazaar.
SaveSave
SaveSave
SaveSave