The Max Multifunction Table is our favorite new piece of useful furniture. Max is totally MacGyver-like: a sleek, super-efficient, ingenious secret agent table trouble-shooting project table that does what ordinary desks and tables and storage bins only dream of, and looks cool doing it.
Max is all up for anything! You need more craft space? Done. Less? Easy. File storage? Want to move it around? Wings up? Wings down? Make it compact like a side table to keep in a corner? Okay!
Max is chill with everything you want, and just wants to make you happy!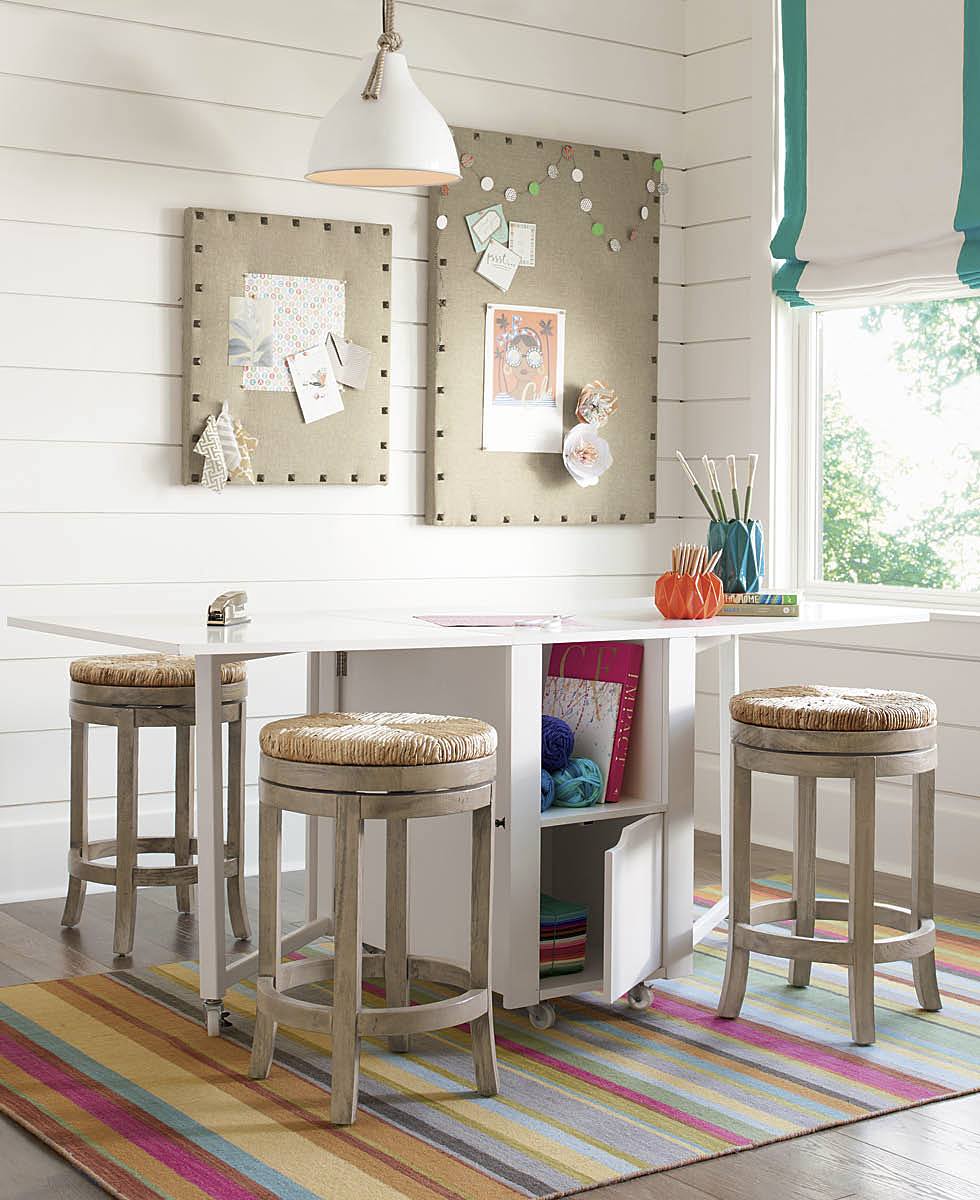 The five reasons it's really ready for anything:
• This work station is a combination desk/crafts table/workspace and storage unit
• Tabletop surface space can be easily extended with one wing, or both wings.
• Won't take up a lot of space, so it's ideal even in smaller rooms.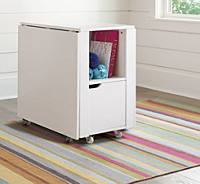 • Folds compactly and rolls aside for space-saving storage, or use as an extra side table.
• Folding support legs easily roll into position on casters, and lock into place for a sturdy working space or serving station. Add stools, and you're set!
Want the perfect workstation that gives you the surface space for projects, a workstation that folds down compactly and rolls away to store easily, yet also looks great if you keep it out, and makes life totally easier?
You want Max.
A ready-for-you project table, whatever your work style

Whatever sort of project doer, busy person, or crafter you are, Max makes sense.
• Many Seriously Gifted People have "crafting rooms" or "work spots" for all their cool projects. "This is my Christmas Room! This is my Shoe Design Space!" And that is awesome! But some people don't have rooms like these. And even those who do, often lack the right kind of table to work on in those spaces, or actually lack convenient storage. Do you have storage right at hand? Know where everything is? Have more room quickly, if you need it? More tabletop space if needed? Max gives you more room and convenient storage just like that, boom!
• Then there are Seasonal Crafters and Project Doers. Are you one? Certain times of year, the art supplies and lists appear, piled on the kitchen counter, lumped forlornly in a corner. How can you get it out of the way fast to keep the kids or pets from getting into it? Or keep the house looking neater when friends drop in? How can you make it all more efficient to work with? Where can you store it until later? How can it be easier to drag it all back out again? Max will help you store work materials neatly, and roll it all away compactly for storage in a closet, corner of a spare room, etc.
• Maybe you're a Creative Artist, Designer, Blogger, Homeroom Mom, or Event Organizer. Such great intentions, and so many projects and special supplies and inspiration items, which are…somewhere…where are your magazines, by the way? Where's the fundraiser's marked-up budget? How long can you create good things in a mess like this? Max won't let you feel overwhelmed and messy. Max will soothe you back into being a beautifully organized powerhouse of a do-er.
• Are you a Wishful Attempter? Those of us who want to work on projects, really, but we simply have no good corner to work in. We don't want a mess sitting out in the dining room. We don't want it taking over the coffee table, or cluttering the bedroom. Max will make room for you to do what you like, anywhere, even in front of the tv, so you can finally live your creative dreams.

So, the deets about our Max Multifunctional Table
Max is a seriously well-designed combination roomy work table and two-sided storage unit that can fold out or down into the workspace you need. Ingenious in every way.
Use it as an expandable sturdy desk/table with the top wings fully extended on the folding support legs, or just with one wing extended in smaller spaces. Open it up for the surface you need for anything, from cutting and crafting to writing and designing.
Does Max have convenient storage space, too? Yes. On both sides of the center section, there's one cubbyhole shelf space and one storage cabinet space (with a door). So that's two cubbyholes and two storage cabinet sections.
When you're done working and storing things, the Max folds down compactly into a neat, goes-anywhere piece that can double as a side table if you don't want to store it. After you fold it down into its compact shape, it rolls easily aside into a corner or closet, on smooth caster wheels. You can still access stored items easily even when it is folded.
About that rolling ease: Max is equipped with a support leg system that folds out smoothly for super easy set-up, using the caster wheels, too.
Using Max is a breeze, not an annoying struggle.
And Max has style. It's made with an engineered wood in birch veneer with a smooth white finish; there are no raw edges or sides. Max is nice enough to double as an impromptu bar cart or serving station, too. Toss a lamp on top when it's folded down and you have an instant bedside table for an instant guest space.
Shop for Max and other desks and storage furniture ideas at Grandin Road.