Trends are your muses. Those appealing eye candy nuggets of fun and beauty that can call your name. Hear that?
You don't have to follow trends like they're law, of course; you have your own great ideas and unique creative vision (and that's precisely how trends are born, after all. Someone with a fresh eye pursues a dream, and…something brilliant takes shape).
But as we all know, whenever  you're creating a personal home space, new ideas can always spark more conversation. A trend idea can supply the missing puzzle piece.
So, see if any of these design trends make you say, "I'll have some of this, please."
Trends we tend to love a lot:
1. Glossy gold treasures. Metals (polished gold tones, silver tones, or antiqued pewter finishes on iron or brass) are bringing new luxury and elegance to rooms. New gold tone side tables in modern sculptural shapes have the power to alter the way rooms are perceived and define seating areas. A casual entertaining space is instantly more interesting when refreshed with even a single gold accent. A gold tone lamp with a smooth rounded or crisp "pleated" metal shade would be a perfect example of this metallic trend pushed to a sculptural, contemporary level. Paired with the year's airy tones of serene blue and rose pink, gold and other metallic tones glow with warmth.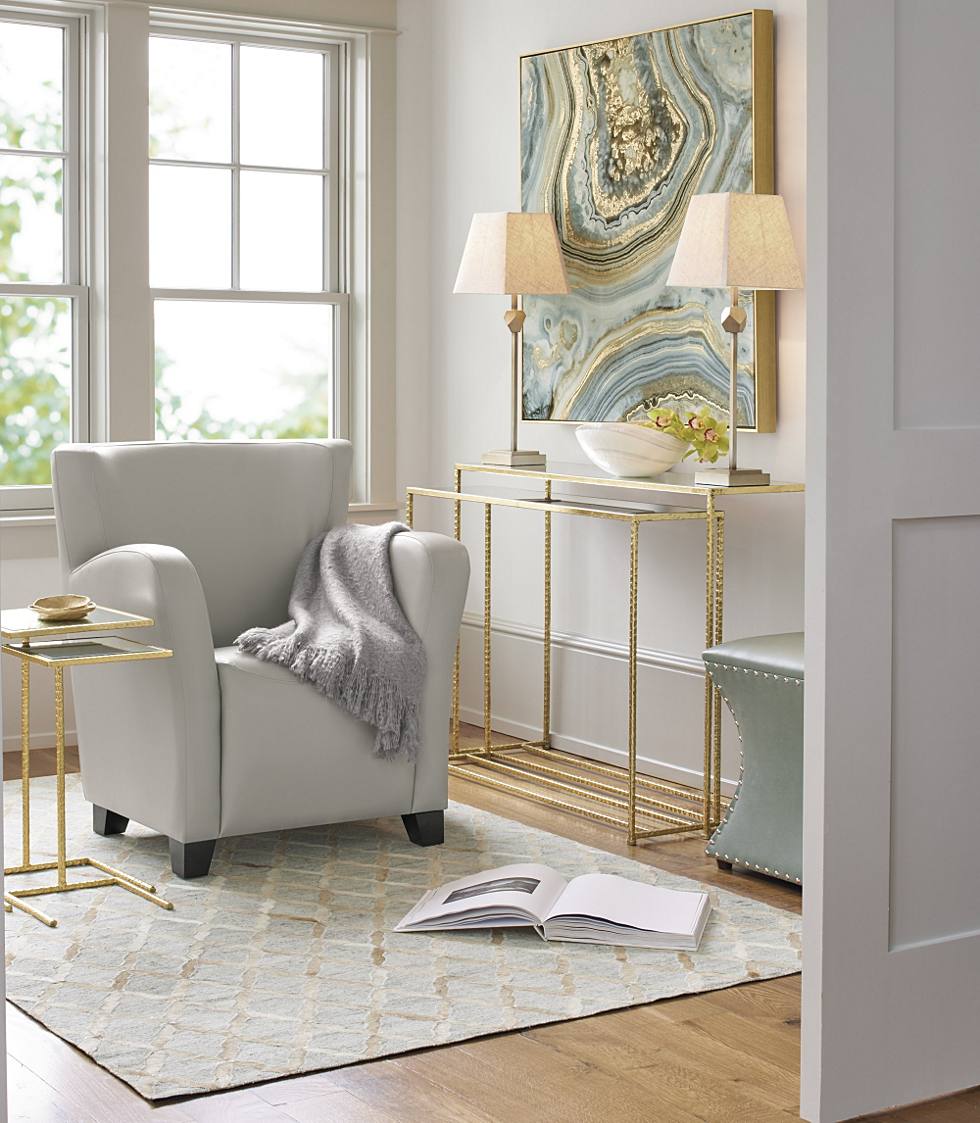 2. The honest design trend is underway. It lures us into a designer world of whole earth meets architectural brawn, where warm tones join clean cloud whites. Wood, stone, leather, formed concrete elements and accents, faux fur, and natural materials like raffia or wicker all nest together here in a contemporary way to appeal to the artist and modern dreamer. Leather chair colors in the brown, stone, and desert color families are used adjacent to crisp white elements, to increase the contrast interest by playing up the warmth of the darker natural materials. Pieces that combine updated rattan with polished mahogany fit in beautifully, too. Patterns, from tribal to kilim, add strong graphic accents. This is the future of the new nature-hewn haven, and the inspired upscale city cave.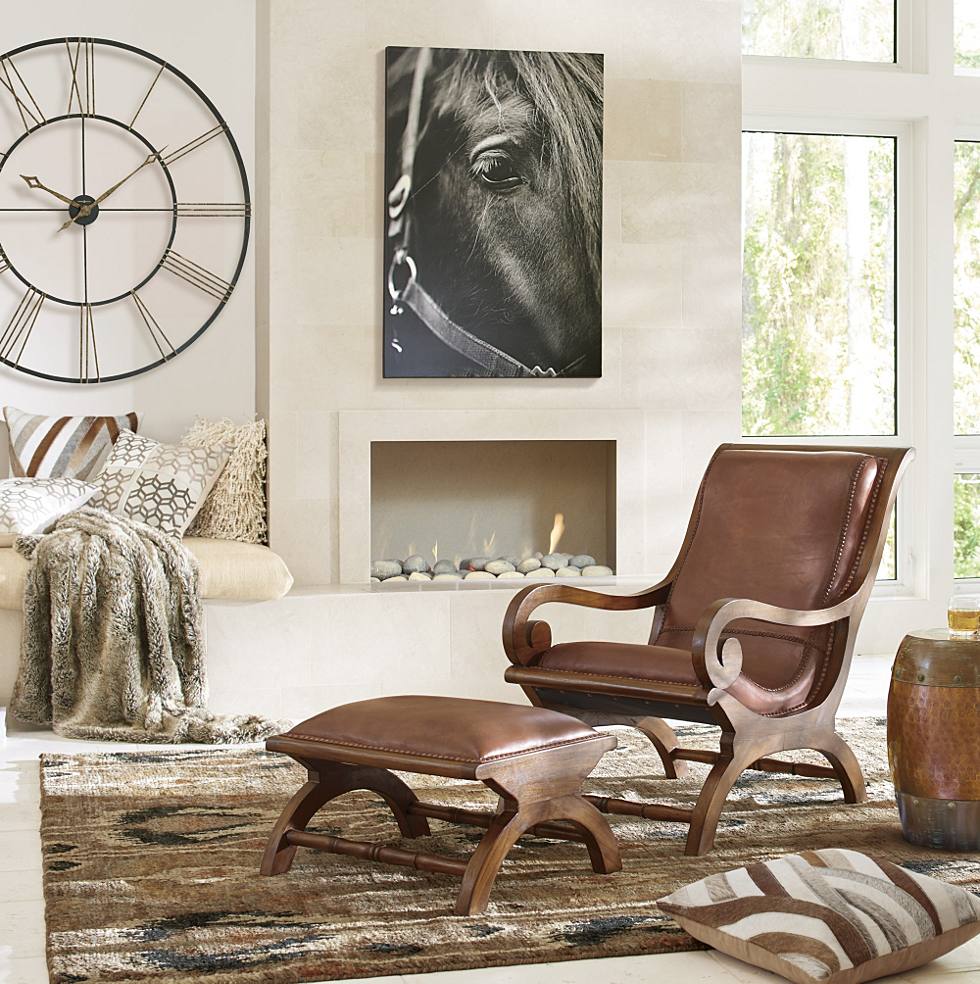 3. Rugs with nomadic patterns and ethnic geometric designs work today. You know them in classic settings, but now they're also keys to ethnic, honest-hewn environments. Real or faux sheepskin designs change the meaning of rooms. This look is an earthier, warmer progression forward from the industrial trend. In the kitchen, vintage rugs play up the new trend of a more varied use of color and design. A vintage multi-toned rug centered on a kitchen floor complements the new idea of using two kinds of cabinetry finishes in a single space (ex: mixing a roomful of painted white cabinetry with two focus-point brown-stained wood cabinets).
4. Black and white, and related elements of dark iron detailing, add new interest. Coffee tables, shelving, and side tables are examples of designs that harvest the trend with dark metal trim and details. More fanciful sculpted or wrought iron approaches work too, and are also found in wall décor. Black and white furniture and rugs are appearing, and more concepts are lined up on the horizon.
5. Vibrant color whirled together in patterned, bright rugs and art adds to the modern take on decorating for personal impact with a free, post-Bohemian hand. Vivid color jump-starts a statement in an otherwise pointedly neutral space. Even a sedate kitchen, dining room, or reading corner will seem surprising and new again with a vibrant rug in an unexpectedly bold pattern or color. Flat weave rugs featuring crisp geometric patterns, many with Nordic overtones, are also taking over floor space going forward.