There are times when the sheer impact capacity of a piece of art with broader dimensions gives you more range to reinvent your space, and completely update a room.
The way big, oversized art is hung, or placed, can literally change everything, from the way a room feels to you (warm, contained, open, edgy, or elegant). We're lucky to be decorating at a time when the world of modern design has flung open the doors to new ideas, a sense of fun and a broader perspective on ways to make our homes unique, fantastically personalized, and more visually exciting.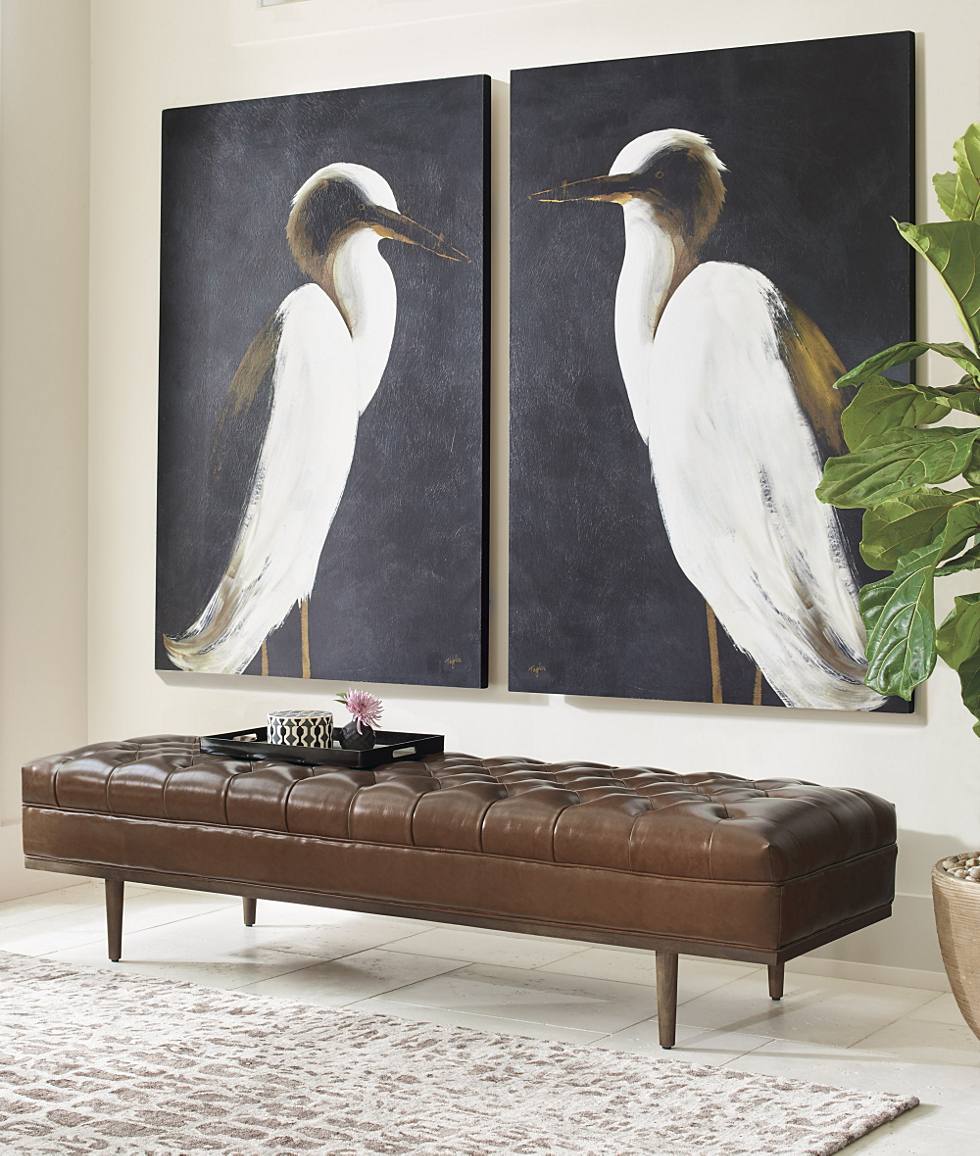 The beauty of oversized art is also the drama it adds to a room
We're free to make a bigger statement, any room, any time. Big art is part of that.
Ideas For Hanging Oversized Art
1. The Low Hang and the Stacked Low Hang. Newest thing we've seen and the most fun to try, so we'll talk about it first. This involves breaking the rules in a strategic way. Forget strict "eye height" thinking. It's okay (repeat: "It's okay!") to hang large wall art a little higher on the wall, and then hang another large piece (a partnering work of art, for example, or art that visually and emotionally supports and contrasts the topmost piece) immediately below it.  Even if the lowest part of the frame reaches just a few inches above the floor. Even if the lower piece is standing on the floor leaning. It's all good.
2. Behind the Bed Side Table Hang. This is great for contemporary art and it pulls a sense of warmth into play, too. Or, it creates a sense of "window/air" where there was none. Or use it to create the new bedroom mood you're looking for: soothing, romantic, glam, bold. You decide. Bedside lighting also works with the art, creating a rich, illuminating effect that allows the oversized art work to feel more alive in the space.
3. The Big Welcome. A console and mirror are standard issue for your entry hall or a hallway leading to the powder room. They're standard because they work so well and can expand a space. But sometimes it's a point in your life where you want to make a fresh statement about who you are, about the new look of your home, about your creative energy. Try a big art gallery pairing hanging in the entry instead (even if you just switch it up for the season). Choose a work that expresses what you love; don't be afraid of a moody or moving work, or conversely, a hot pop of color. This is your home, this is your entrance, and this is your chance to make it a defining space, not just a functional one. Have fun, and follow your own gut feeling and inspiration points.
4. Inspiration Art. We're all aware of what moves us most and gives us that "seize the day" feeling. Rich color. A sense of other places. Views we love. Creative, upbeat energy. A quiet, soothing, strengthening mood. Something that reminds us of a minute or year or place that changed our lives. That which we care deeply about. Big art can deliver all this on a new scale, because it feels like a deep commitment to feeding yourself imagery that will feed your emotions daily. Placed in a sitting area, home office, or bedroom, it can feel like a friendly visual "voice" supporting your feelings and cheering you on.
5. Balancing Act. Big spaces and big architectural elements (sweeping floor to ceiling windows, or long window banks, designs that draw the eye upward to an open or loft-like second-story space, and portals for strong daylight) all invite the use of big art. Gallery hang it like your favorite modern art museum might, or be interruptive and disciplined, hanging (or leaning) one strong piece only in a space, underlining its role as art, versus its secondary role as a room accent.