It's our 15th Anniversary at grandinroad, so we're celebrating by sharing our favorite easy ideas for making everyday a celebration. Add a little more sparkle, surprise, and color to your next party – or be ready to make any day of the week more fun. We're all about living more colorfully!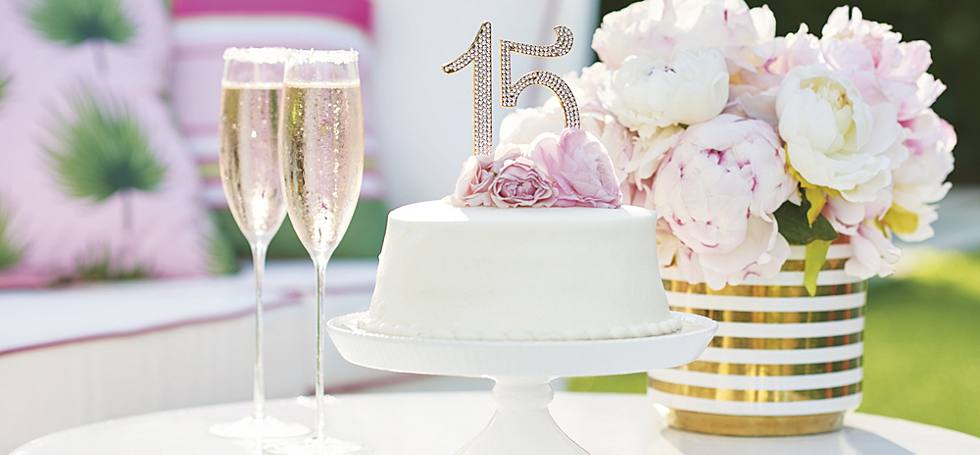 1. Champagne Cocktails. Always keep a bottle of champagne or prosecco wine on hand because you never know when a reason to celebrate might show up. As nice as bubbly is, you can also make it more party-specific with extra color or flavor.
Soak a sugar cube in bitters; have curls of lemon, lime, or bitter chocolate ready as a simple garnish.
To create a classic French 75 cocktail, add superfine sugar and lemon juice with some pink gin.
Or, devise a unique spin for your best brunch Mimosa.
During cocktail hour, we love using a gleaming ice bucket. They always elevate the look of your table or bar, add shine and a festive touch, keep things cool, and you can have a little fun with the look too: slip flowers into the ice-filled bucket to add color and a sense of fun, or to match your theme. Garden party? Shower? Roses on ice are a natural.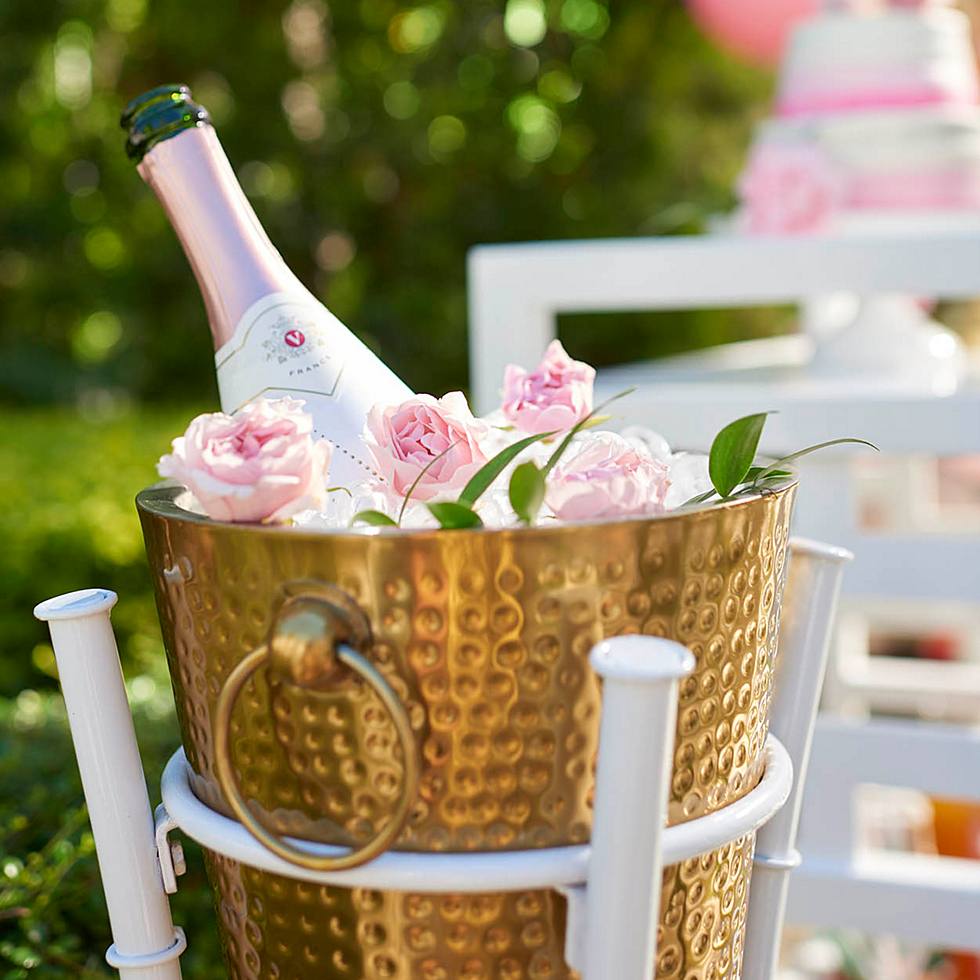 Depending on the size of your event, you might want to position more than one ice bucket within your party's layout to avoid traffic jams or forcing guests to wind their way through tables and seating areas to reach a bar or serving station. A freestanding ice bucket stand is big-plus if you often have bigger events. And definitely consider placing one ice bucket inside and one outside on the terrace; happy, sociable guests wander.
2. Get glam and happy with Glitter Ice! Now your drinks are as much fun as your party.
Fill your ice tray or silicone mold with spring water, and put it into the freezer to freeze completely.
Meanwhile, fill a bowl with edible glitter in the color of your choice. Take the ice cubes out of the freezer and let them stand a minute until they start to "sweat" a bit as they begin to melt.
Immediately roll the ice cubes in the glitter, and pop them into your drinks. Or, if pressed for time, you can just sprinkle glitter on top of a tray of ice cubes. (Note: edible glitter is mostly sugar, so this will add extra sweetness and color to drinks as the ice cubes melt.)
For summertime's iced tea or lemonade, try using lemon candy glitter for your ice cubes.
3. Drink Dispenser & Bar Cart, ready to mingle. Cocktails, yes. But the prettier, more sociable way to serve iced tea, sweet tea, and lemonade to friends & family on the porch or patio on any long summer night is also a bar cart. (See our glitter ice idea for tea or lemonade, above.)  A bar cart moves the party and appetizers indoors, out of doors, or around the pool. It gets that heavy ice bucket where it needs to be. It's the perfect home for our Flirty Flamingo Beverage Dispenser with the cheery little flamingo on top (see it?). And at the end of the night, it's the easy way to roll dishes, leftovers, and glasses back to the kitchen. Who needs a butler?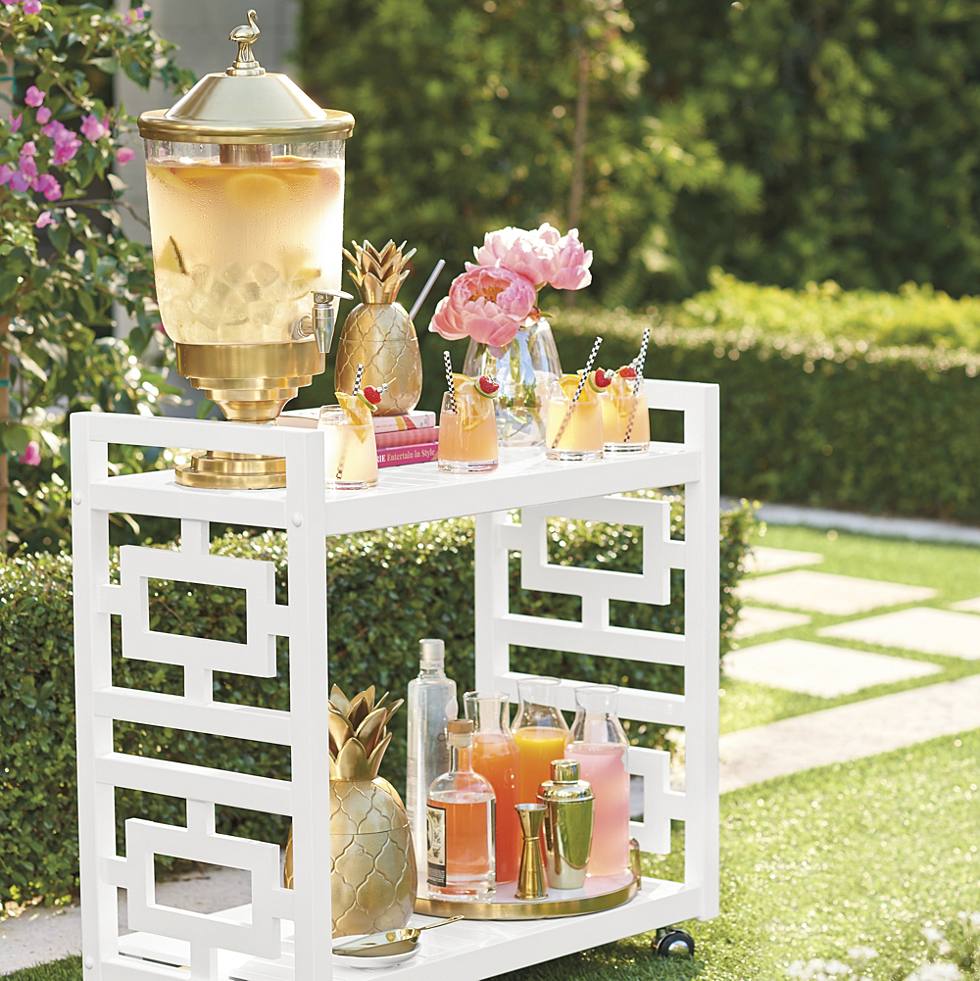 Decanting your mixed cocktails or fresh juices into clear glass serving pieces brings more color and eye-appealing fun to your bar cart, too.
4. Fun Beverage Stirrers & Stirrer DIY. Add whimsy to your drinks, and support a party theme. Stirrers make everything feel more festive. You can still find vintage stirrers in antique shops and online; styles from colorful plastic monkeys and giraffes to multi-colored little paper umbrellas still look like fun, because they are! The idea: serving up each drink with a smile.
Our basic rule: keep flamingo-shaped or classic umbrella stirrers on hand at home for impromptu events. We love the way they dress up any drink.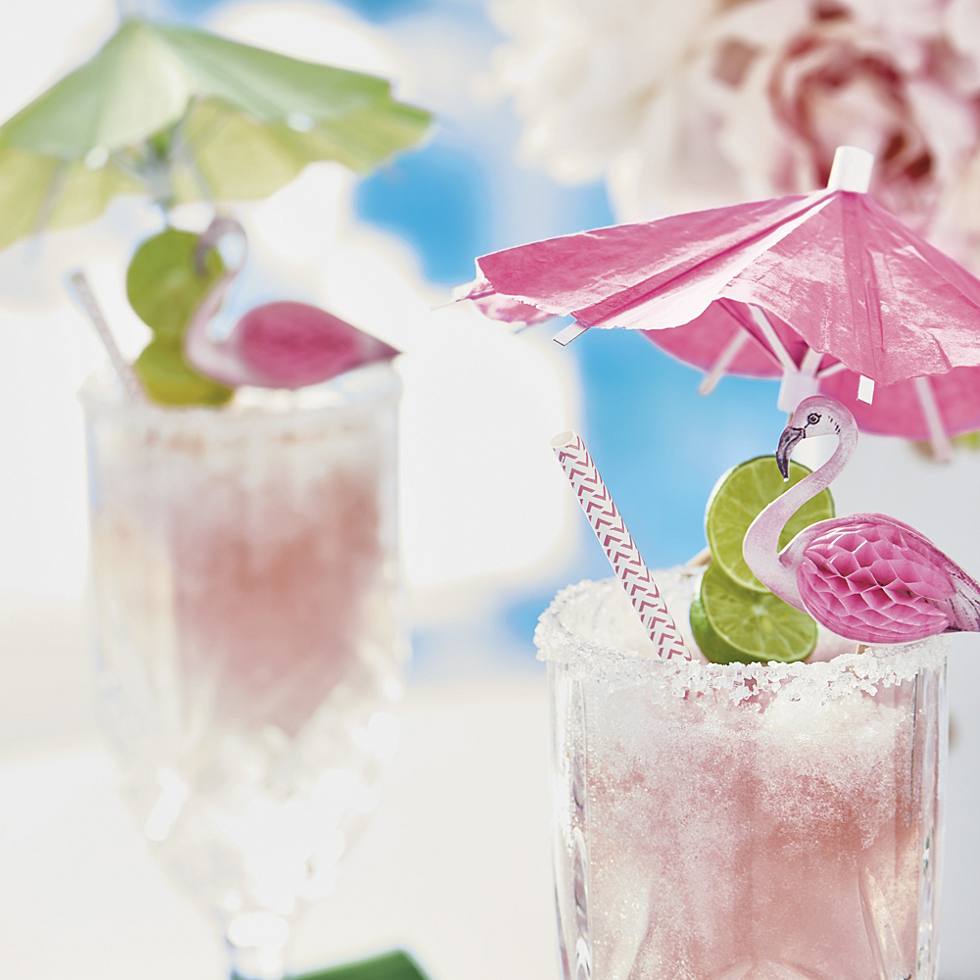 Or, have fun with family or guests, and make some yourself. We have four easy ideas for DIY Stirrers you can try; they're even fun with iced tea and lemonade.
Stirrer + dessert combo.  

Bake (or buy from your bakery) dense chocolate cake, donut balls, or donut holes. Each can be about 1″ to 1-1/2″ in diameter. Roll them in candy glitter or sprinkles or powdered sugar; press each onto a plastic straw. Guests can stir their drinks and savor a little sweet bite, too. They look charming displayed in a ceramic flower pot or small round glass vase.
Color drops. For a casual pool party, take bamboo skewer sticks, slide three colorful gumdrops (match your pool float colors) onto to the end of each stick, kabob style, and serve.
Good fortune. Buy a packet of printed fortune cookie fortunes, and tape one to the end of each bamboo skewer stick or plastic drink straw like a little flag. Add a twist of thin metallic ribbon.
Fringed fun. Fold a 9

"

strip of crepe paper into a 3

"

folded stack. At one end, cut longwise about 2

"

down, forming looped ends. Now wrap the uncut 1″ end portion tightly around the end of a bamboo skewer stick, leaving the cut 2

"

looped end hanging beyond end of stick. Secure untrimmed 1″ end around stick with clear tape. Fluff the loops, or cut loops to form the strip-like paper fringe.
5. Cupcakes with Style: they make it easy to share the happiness. If you love art, try the new thing in icing: brushstroke icing effects. Developed for luxe wedding cakes, this colorful, stroke-textured look gives your favorite cupcake recipes a fresh, modern look.
How to: Swirl diluted food-safe colors lightly into your vanilla icing mix to achieve a soft marbled, watercolor look. Using a medium fondant brush, starting at the top edge of the cupcake, sweep sections of icing upward, flame-like, not smoothing them in, for an effect that looks textured, like thick, knifed-on dabs of oil paint on a contemporary painting. Work your way down and around the sides of the cupcake. Voila. Be as precise or freehanded as you like. Or, simply swirl the icing around and upward, with a deep, rich textured look that echoes the center of a fluffy flower.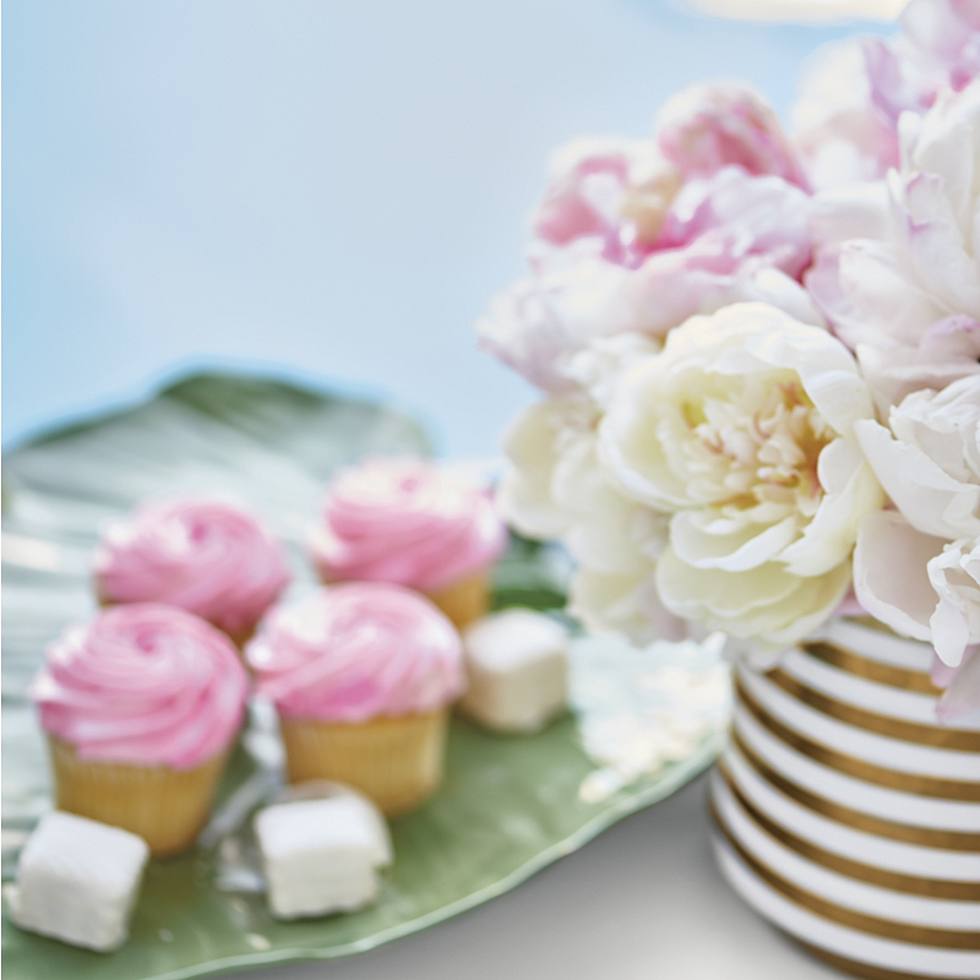 6. Surprise Gift-filled Balloons. For each balloon: write a wish, fortune, or prize idea onto a tiny piece of paper (fortune cookie size) and roll it up. Insert carefully into the balloon before you blow it up. Everyone picks a balloon, pops it at a specified moment and the goodies inside are revealed. You can tuck in lipsticks, charms, fluffy purse charms, and even concert tickets and gift cards (have someone stretch the balloon opening while you carefully slip the plastic gift card in. Once the gift item is inside, blow up the balloon as usual and tie it, then attach a festive length of ribbon). Makes any celebration more fun.
7. Lucky Pie/Cake: a big YES. A take on the old English and European custom of hiding a lucky gold coin in a Christmas cake (in Greece, for example, the coin is hidden in a New Year's Day bread called vasilopita). Also, like the Mardi Gras concept of baking a tiny ceramic doll into a cake. Originally a French custom, the idea was carried on into American Twelfth Night revels in the 1870s which involved baking a golden bean or charm into the king cake. The king cake was then served only to young women among the revelers; the woman who found the lucky gold bean or charm was crowned queen of Twelfth Night. You can bake your own king cake-styled treat anytime, and grant the lucky recipient his or her wish in a tradition-rich, way.
8. Candles for cakes and cupcakes. Enhanced. Always have some on hand; we especially love the purity, beauty, and nice burn of beeswax and soy birthday candles. Add to the look and decorate your serving table with additional Outdoor Flameless Flicker Candles, too. These battery-operated candles keep the party glow going even after the birthday candles are blown out and add a magical feeling to the space you're in.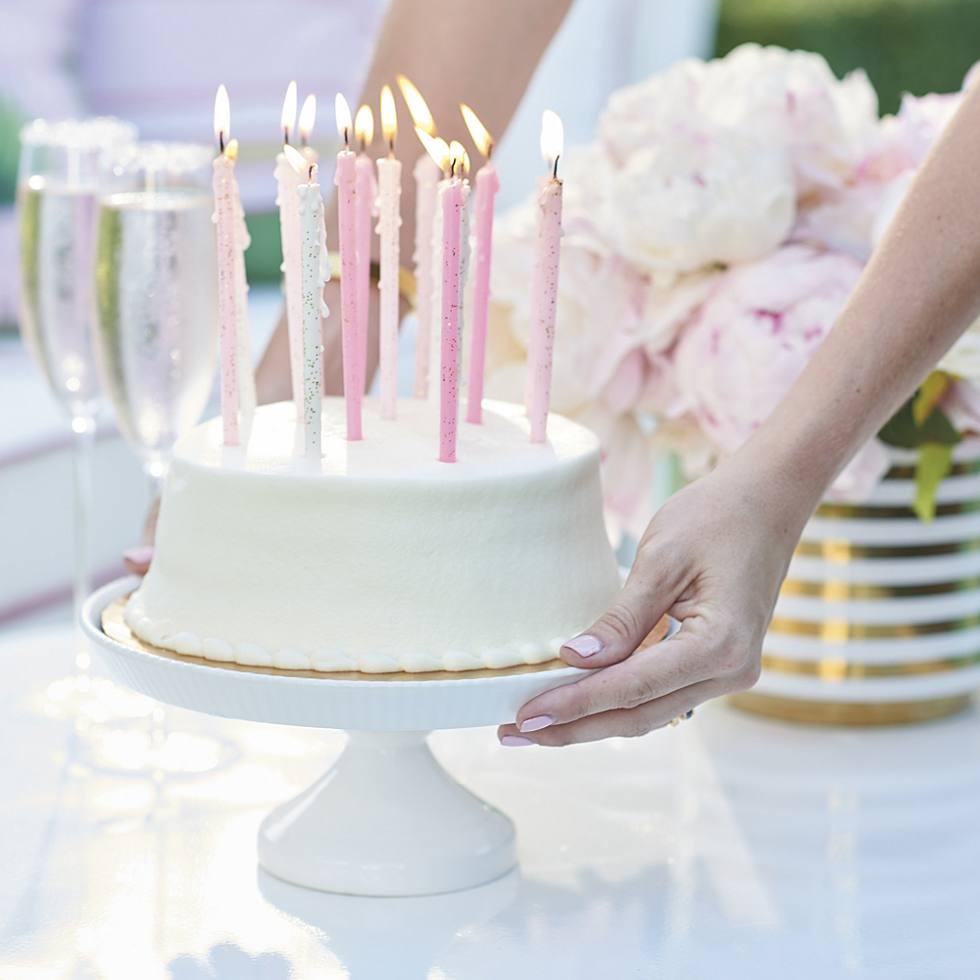 9. Dublin Crystal Glassware: so classic. Restock the bar with guest-worthy, classic glassware that has the gleam of 24% lead crystal. Nice enough for a decent scotch on the rocks by the pool, or a sparkling wine toast under the stars. Choose beverage, highball, old-fashioned, wine goblet, and flute styles, sold in sets of 12.
10. Ice Bucket or serving ware with a meaning. A must. Our delightful sculpted metal Preppy Pineapple Collection's Ice Bucket is useful and a conversation starter, too. insulated to keep ice cold longer, this handsome ice bucket also serves as a bright centerpiece for bar or table. Plus, the traditional pineapple design has symbolized welcome and hospitality for centuries. We love the matching tumblers, too.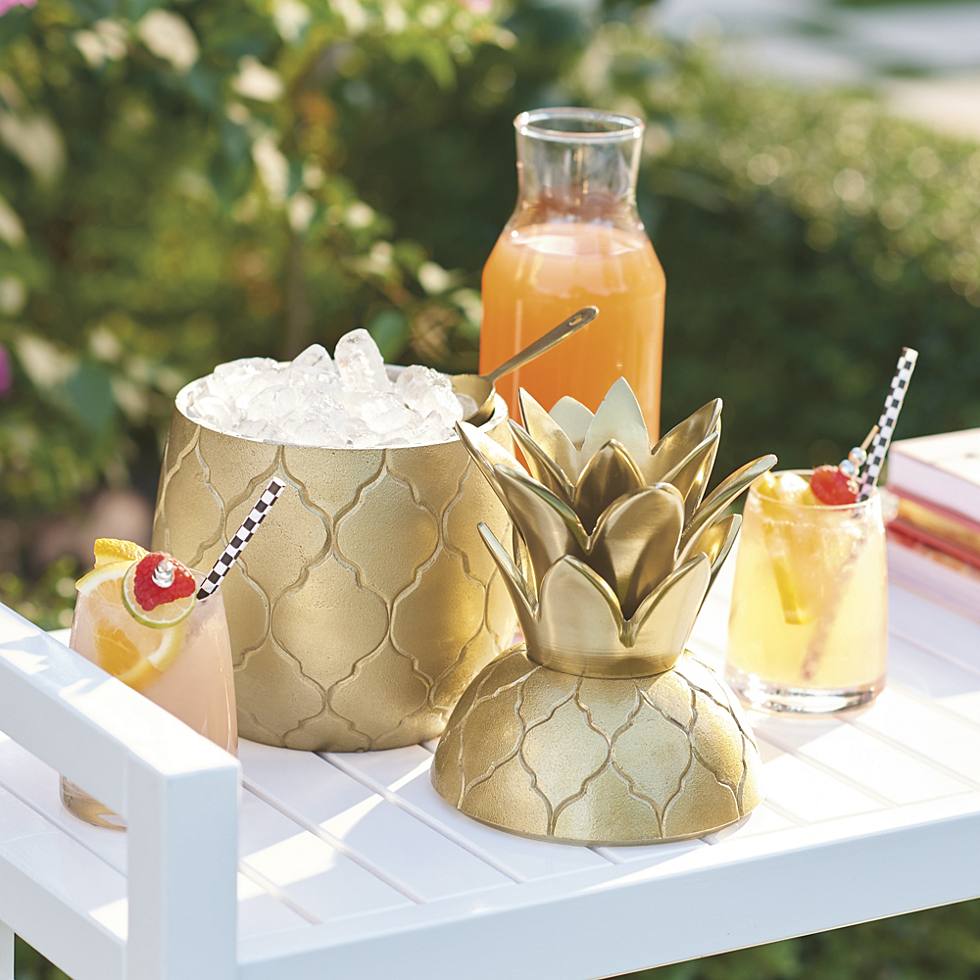 One more idea: using serving pieces collected from your travels can also add so much fresh color, art, and interest to your bar cart or serving table. Bring them out and enjoy them every day. It's all about telling your story.
11. Outdoor Melamine Dishes: no worries. If your parties are playful, crowded, wild and fun, or kid-filled (anything but utterly sedate), you probably need these shatterproof dishes. They're pretty and party-ready, and also wonderfully worry-free. If someone drops one, no problem (and no broken pieces for poolside bare feet to contend with).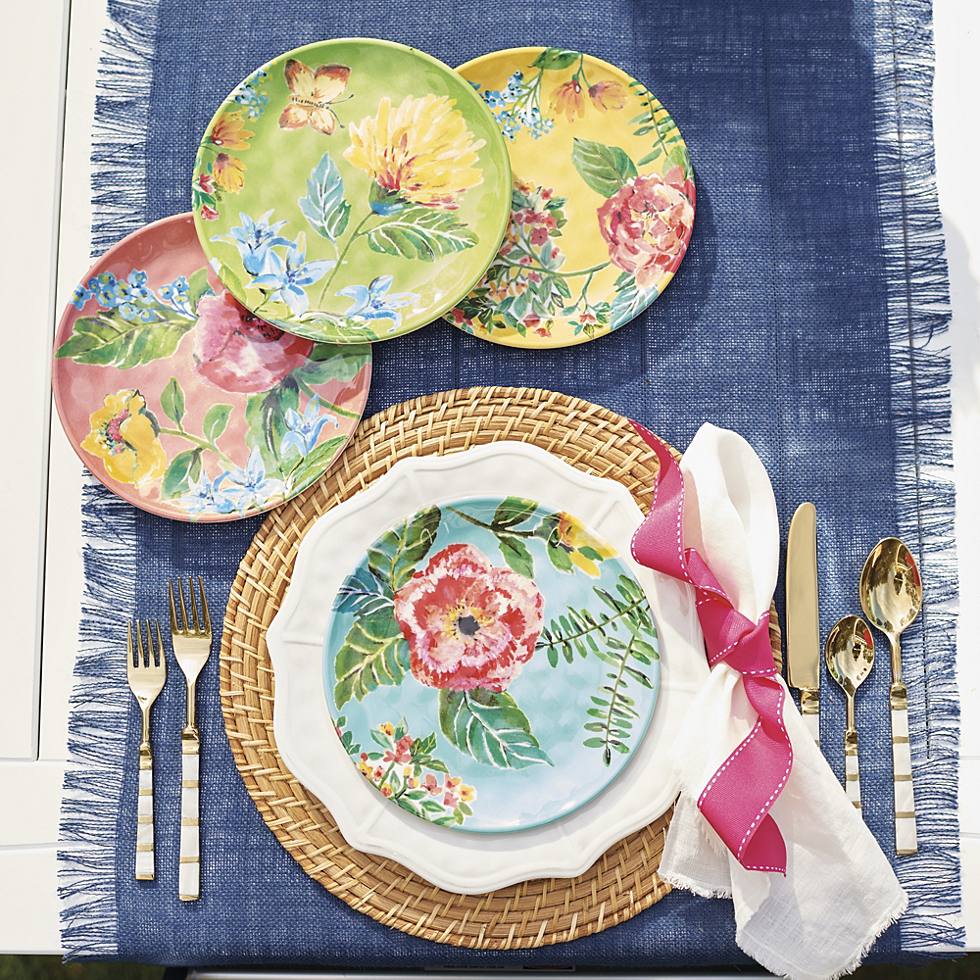 12. Fresh Flowers make every day special; they even have unique meanings. Who needs an occasion to celebrate the colors and beauty of life? Echo your blooms with forever faux flower wreaths, urn filler, and candle rings, indoors and outdoors. You can even choose your flowers for their symbolic meanings. For example, a yellow daffodil means good luck. Jasmine signifies elegance, romance, and grace. Gardenia is the flower of a secret love. Cherry blossoms allude to spirituality. Carnations suggest fascination and loving thoughts. Gerber daisies reflect innocence and beauty. Iris flowers are a sign of wisdom and faith. Roses, both love and deep appreciation. Want to tell someone you value her friendship: send a Peruvian lily.
13. Daily Book of Best Things to record the moments that matter. On a console in the entryway by your front door, keep an open journal or guest book and a pen. Remind family members and friends to note something special or meaningful that happened to them that day, big or small, each time they come into the house. Sharing these journaled thoughts at the end of every year can become one of your most meaningful traditions. You can even copy the sentiments, and use the collected thoughts to create patterned holiday wrap paper with a personal, positive impact.
14. Outdoor Lanterns and String Lights: shine on. Set a mood instantly. So much more welcoming than simply inviting people to sit outside on the porch or patio at night. The warm incidental lighting of outdoor lanterns and strings are also wonderful indoors, to turn a sunroom, guest room, or great room corner into a cozy, romantic setting.
And we love lanterns as tabletop centerpieces. What a lovely way to encourage guests to relax and linger, and enjoy their time together.
15. Bar Stools and "extra seat" Ottomans. Ottomans are the secret weapon of a good hostess. They double as seating or side tables, and are easily tucked away under consoles when not needed. They come in handy as guest-room seating too; then, just bring them into your party space when needed. And at grandinroad, they come in cheerfully bright, classic, and interesting colors, prints, designs, and shapes. Having enough available seating improves the mood of any get together, and ottomans always fill the land-and-chat seating void for guests in motion.
Ditto for bar stools. Remember, you can choose from both bar and counter height stools, so spend a moment measuring your counter height and deciding which will work best for your need. Our blog post on bar stools can help you decide what you'll need.
Now you're ready to invite everyone over, any day of the week. The best time to celebrate all the wonderful things in your life is always right now.