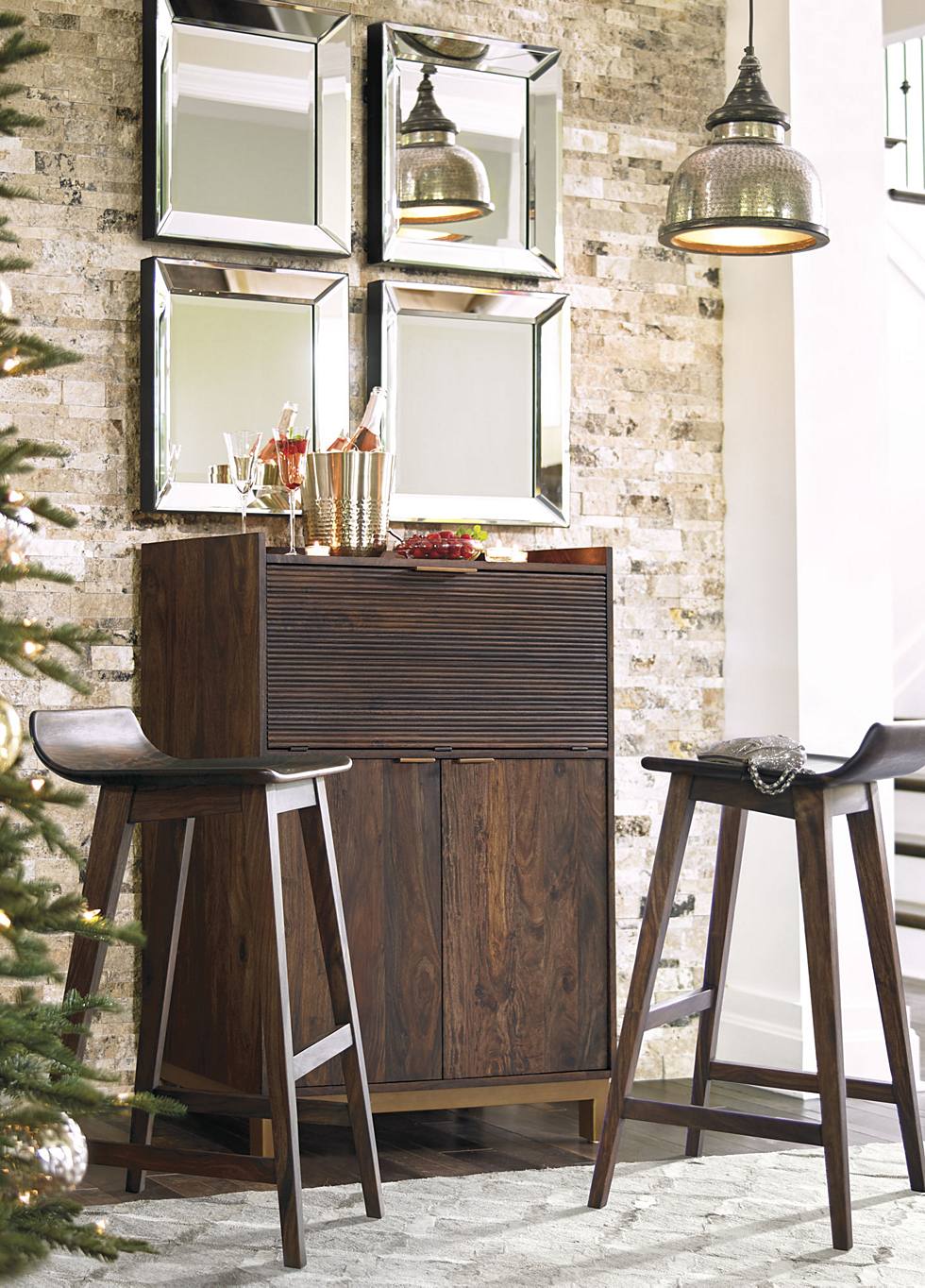 Of course your home has entertaining space. Of course you love having people over. Of course you want everyone to be happy, sitting in blissfully in your great-looking party space. So, get your bar stool game on.
First on the bar stool menu: smart choices
When choosing a bar stool, comfort matters as much as the style. On a bar stool you're sitting higher, but you're there to relax. So the cushioning, seat shape and seat design all matter, as does the position of a great footrest, or foot bar. A metal plate on a wood footrest is also ideal, for saving wear and tear on the stool.
Another consideration: swivel, or no swivel? (Think of a crowded party, with everyone turning left and right to talk with each other: a smooth swiveling seat might be a great idea.)
Shape choices also abound. Some people prefer the look and feel of a classic, retro, rounded stool seat, while other like the solidity of a square or rectangle. Have you considered a super-comfortable curved, padded seat style? Backless, winged, or traditional chair back? How about the very updated, low-profile curved seats that are crafted of beautifully polished wood or acrylic?
It's fun to have options, right?
Whichever combination of features you choose, you're on your way to creating a friendly destination spot where everyone can gather and enjoy some down time hanging out together. Start by making a plan that considers size, positioning, style.

Know the numbers: what's the difference between a bar stool and a counter stool?
You may be thinking about getting bar stools, but it's helpful to consider dimensions; maybe a counter stool is what you really want?
Here's what to keep in mind:
COUNTER-HEIGHT stools will generally seat you about 24 to 27 inches (seat top) from the floor, to work with a countertop that's on average 36 inches high. The lower height makes them a little more accessible and relaxed for casual dining at a kitchen counter, though they seat you a bit higher than the usual dining chair. Kids may find a counter stool much easier to navigate, too.
BAR-HEIGHT stools will seat you about 28 to 33 inches from the floor and most are designed to work with a countertop that's on average 42 inches high. Think of the stools you've perched on in restaurants or bars. These bar-height seats elevate you into a defined, intimate-feeling social space, above casual seating.
Remember, with either stool style, you'll want to allow 9 to 12 inches for leg space between chair seat and the underside of the counter.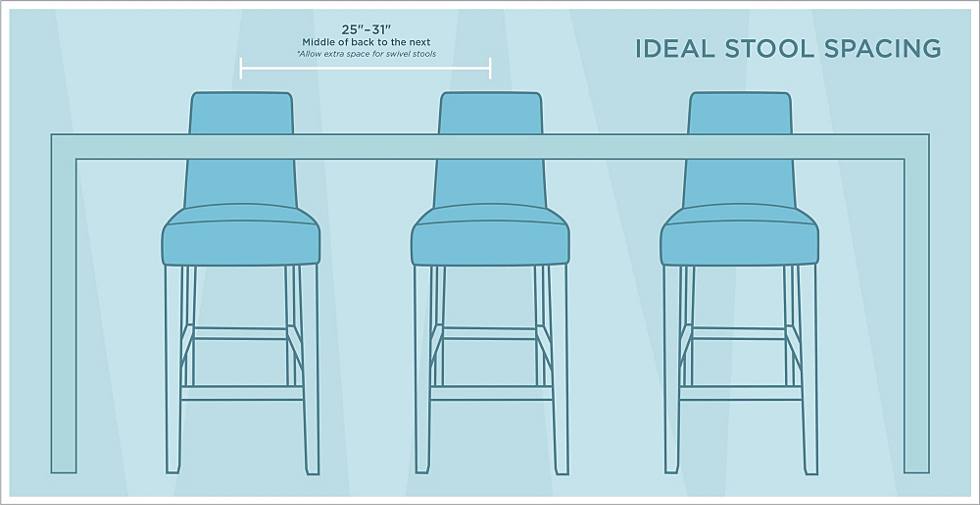 How many bar or counter stools will you need?
The ideal spacing of stools along a bar or counter works like this: it's usual to allow about 25 to 31 inches span between the middle back of one stool to the middle back of the next. Use this simple measurement to decide how many bar stools you might need, though acquiring a few extra stools of the same design to make sure overflow party guests get a place at the bar is always a good idea.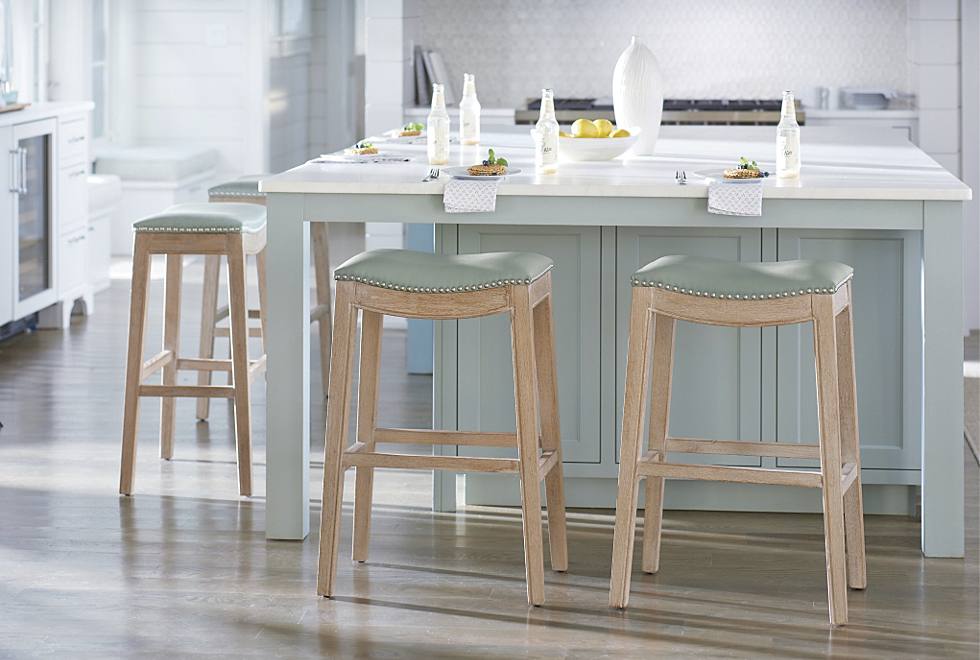 As many bar stool styles as there are cocktails
Bar stools and counter stools instantly call friends and family over to your entertaining space.
Your first thought will probably be a matched set that features matching seat materials and frame styles (say, dark wood with a bourbon-colored seat). That's always a timeless option when you're designing a entertaining space. It's classic and easy on the eye, which is why we love that look.
But there are other design concepts worth considering; we'll share a few here.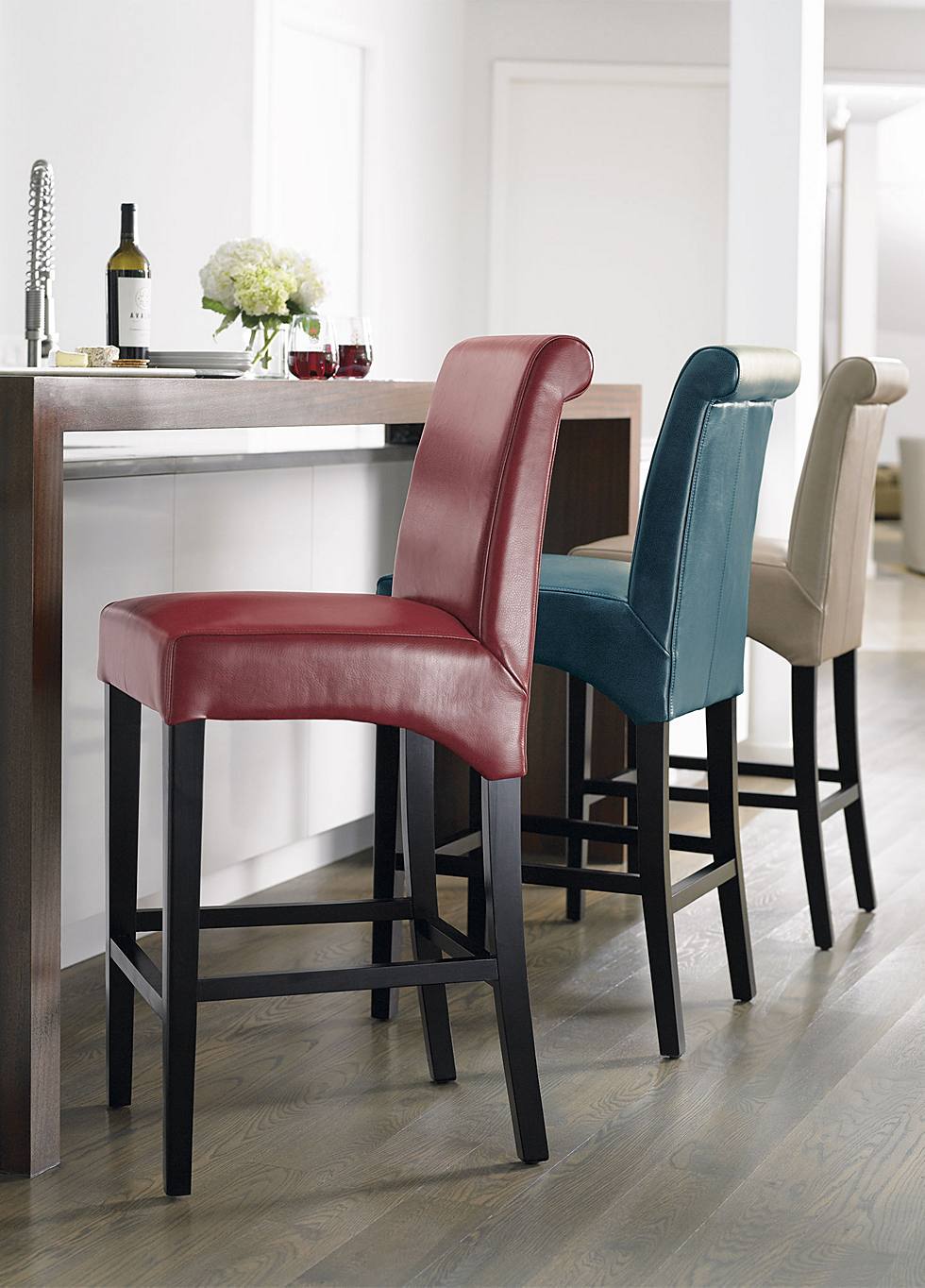 Five ways to work your bar and counter stool style
1. Color cocktail mix. Mix two or more seat colors in the same style bar or counter stool. Our Valencia and Julien bar stool collections have a great color range to allow you to create a tonal variation or colorful rainbow around the counter. The overall sense of your décor, formal to fun, will guide you.
2. Kitchen cabinet style-out. Another bar or counter stool idea touches on the new trend in cabinetry in which most of a kitchen's cabinets will be finished in one color, like white, while two or three positioned cabinets (say, in the sink or pantry area) will be finished in another color, like a classic dark or weathered brown. You can buy stools to echo this new two-color-focus idea. For example, try using four stools in one seat color that matches the dominant amount of cabinetry (in this case, white), and two stools in another color to match the secondary color. Mixing materials can make your space look fresh and very updated. Keep an eye on kitchen and great room trends in magazines and online.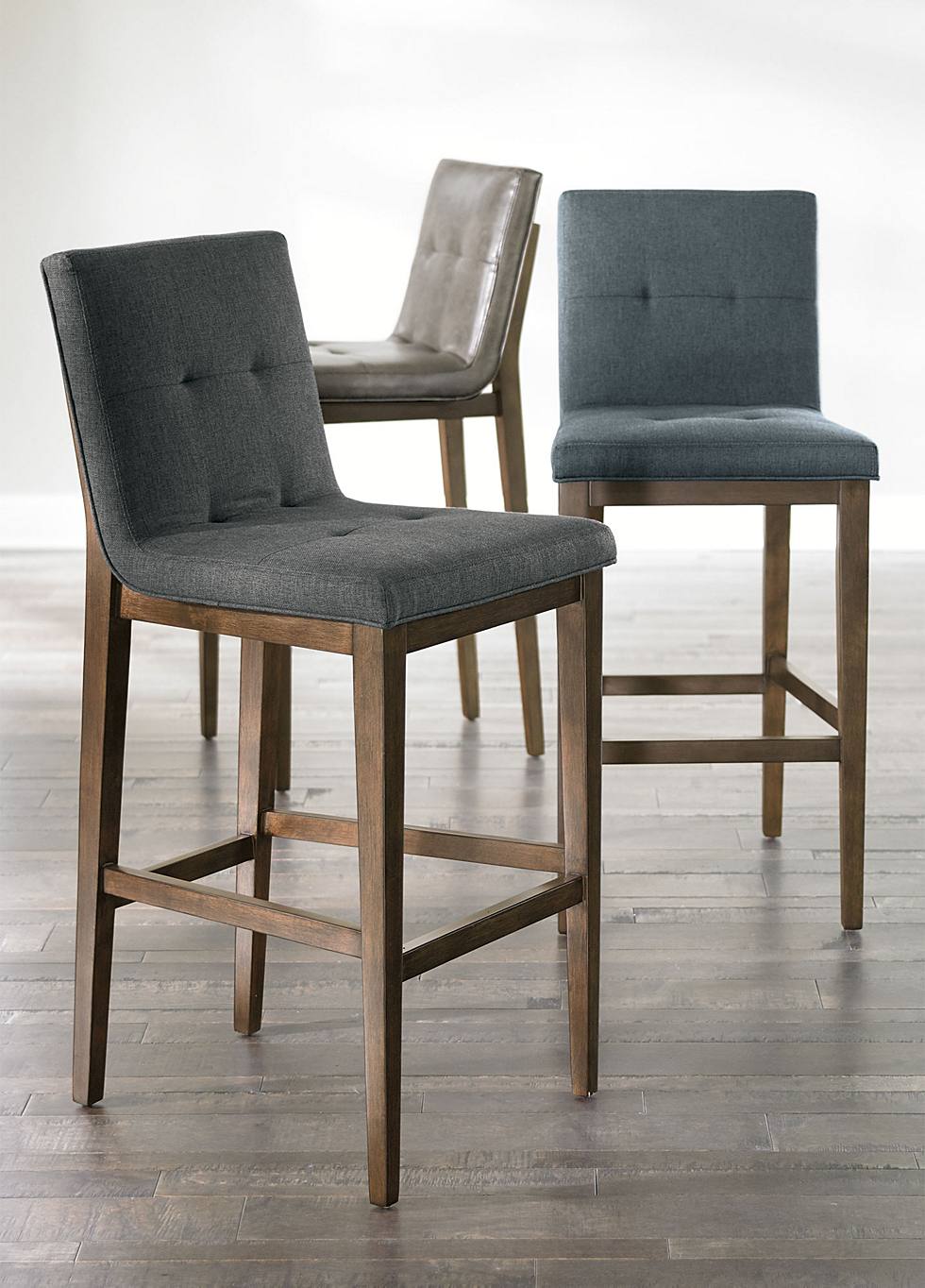 3. Play the base, try the contrast. The shape and material of the base of a stool can change everything. Try the industrial or modern country contrast of a sleek metal base with a wood seat. Wood legs with a tweedy cloth seat feel chic and mid-century modern, in the same way wood plays up the natural textural elegance of leather and bonded leather. Bringing dark wood-and-leather stools into sleek, tile-and-steel contemporary space to add a sense of texture and elements-interplay is also in keeping with the new trend of "honest" natural materials design.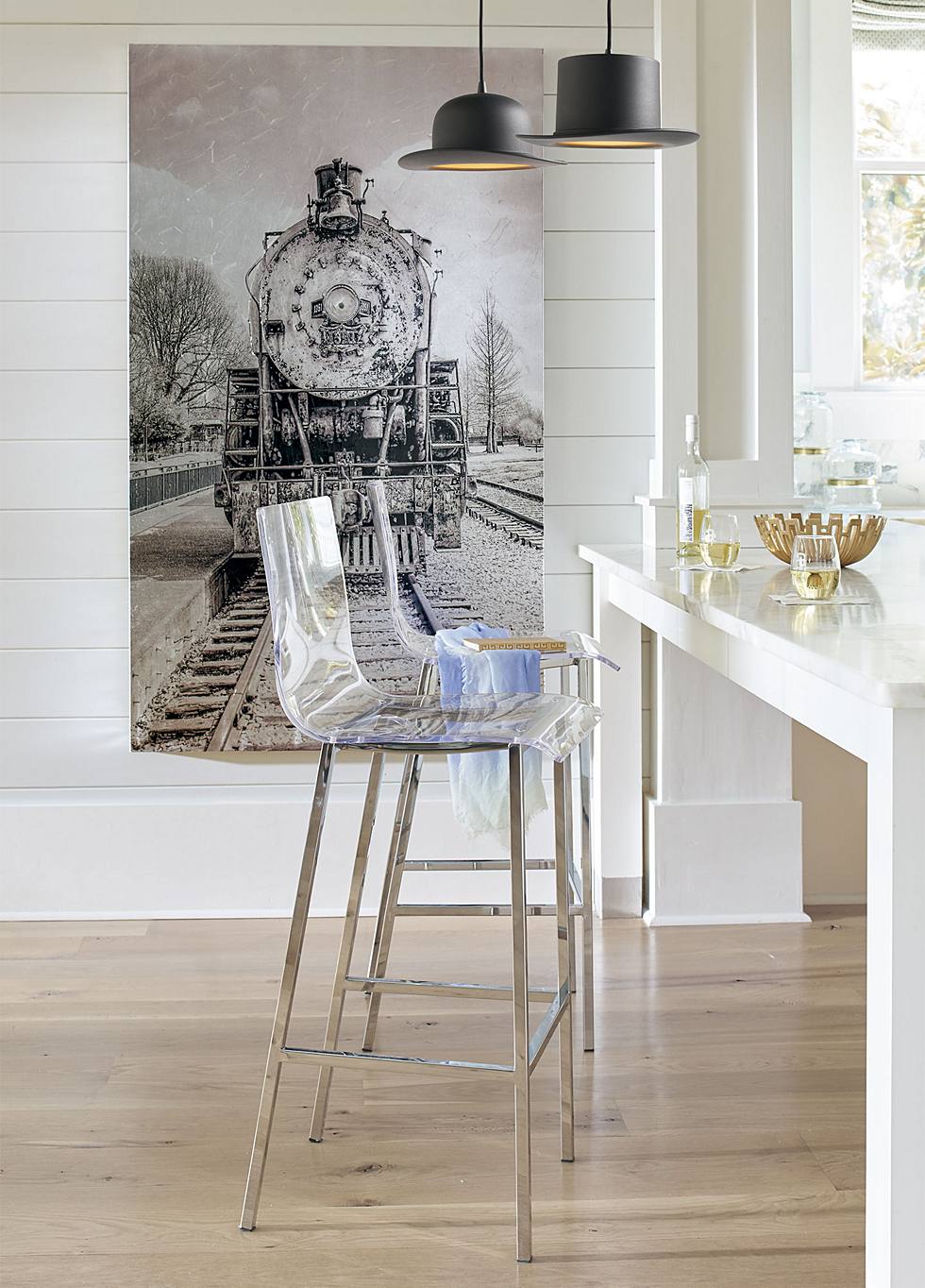 In the same way, acrylic-framed bar stools or sleek metal are great modern pieces, but they can add surprise and amplified interest in an earthier, wood-lined, or transitional space. And sculpted or circular bases might appeal to you in one space, while a classic foursquare stool has the stability and style you prefer elsewhere.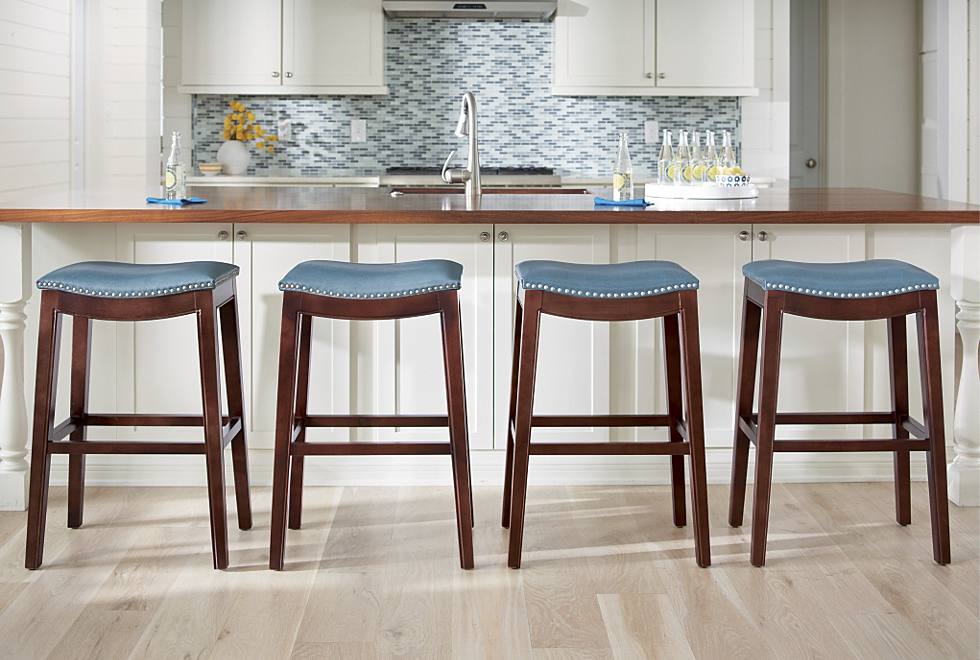 4. Be a happy contrarian. A dark bar stool pops dramatically in a space done in very pale hues or white. Think of dark leather or fabric seats paired with dark-stained wood frames, or dark wood against gleaming white subway tile. A clean, simple use of a line of dark brown bar or counter stools in an all-white space feels crisp, precise, and orderly. Think of the beautifully pure, simplified feeling of a Scandinavian-inspired space.
5. Warm accents. Leather or bonded leather seating will add classic richness and warmth to your bar area or counter seating space. Dyed leather (like seaside blues) brings color into even the most neutral of entertaining spaces, too. Use color as an accent you'll pick up with other decorative elements in the room, from dishes and vases to lamps. Example: try bourbon-hued leather seating with decorative accents in colors to match.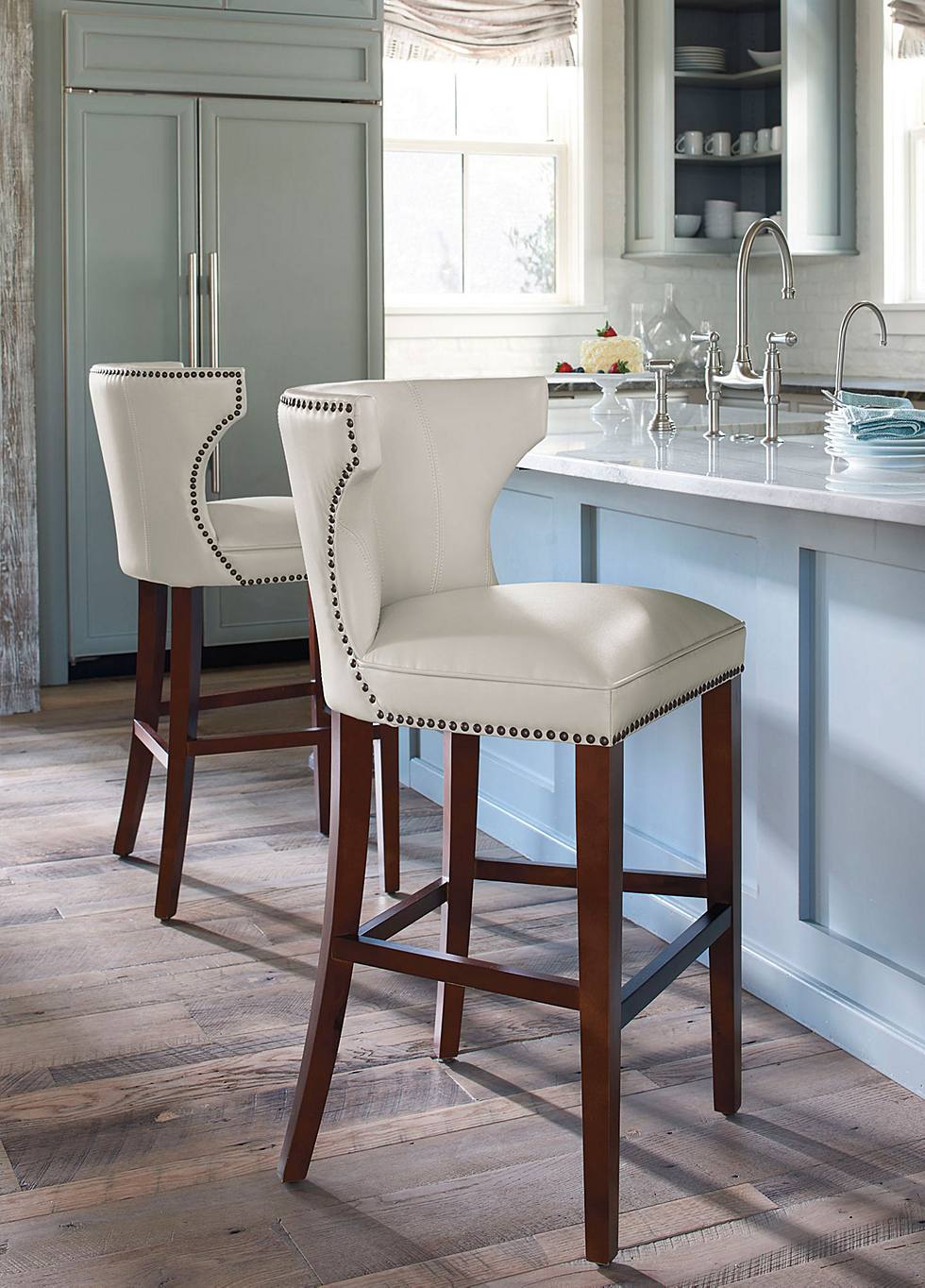 Fabric Tip: Remember that leather and bonded leather bar stools tend to have a more traditional, sturdy look and feel that will work best in traditional or transitional spaces. If you want to bring this easy-to-live-with material into a more updated home space, look for sleek, modern seat shapes, or the pairing of leather seats on modern metal frames. Note the texture of the leather, too. Sleeker, polished leather (city modern) versus more casual textured leather (relaxed country living) are just two options.
Okay, how about a Bonus Final Tip: Echo the look of your bar stools with a pair of accent chairs in the same leather or fabric, and in the same same hue or in a coordinating color, for a statement space that has pulled-together, guest-ready style.