Time to: invite everyone over to gather around your holiday season table. We have a few party ideas, from after-shopping cocktail parties to good luck feasts, with fun decor tips, that you can enjoy now through the new year.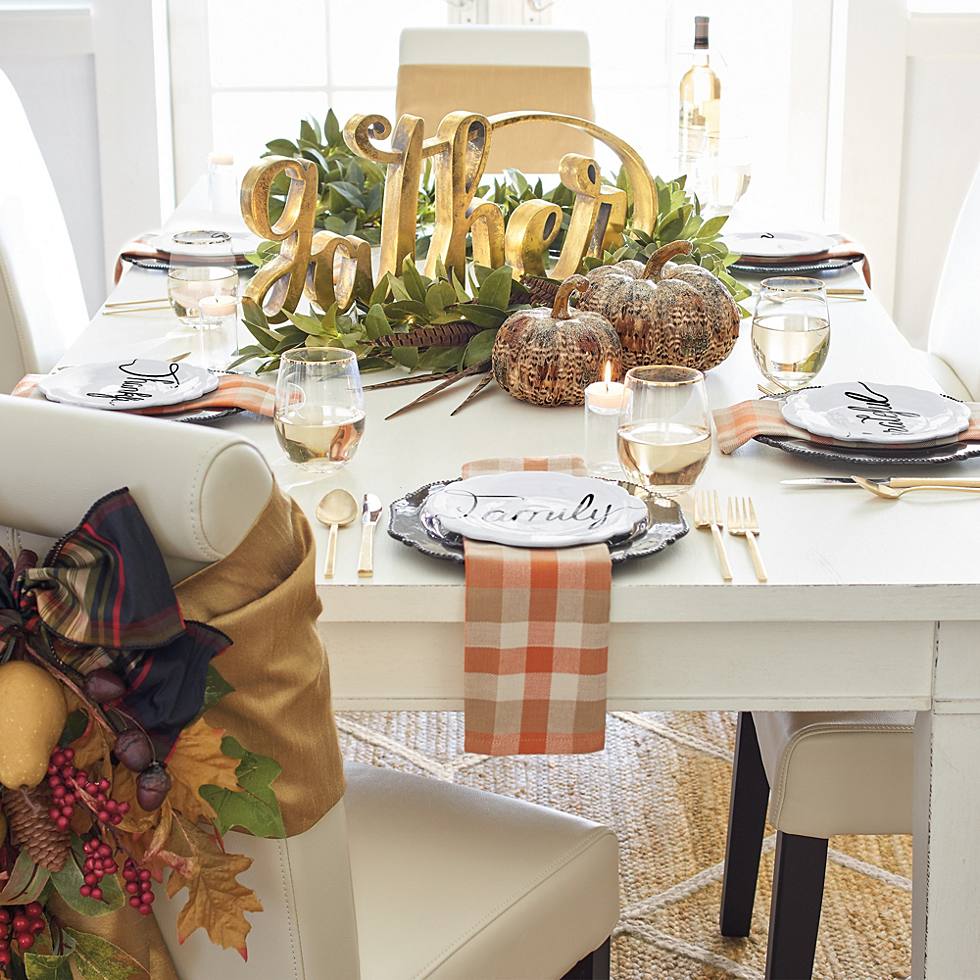 Autumn Dinner Party: Harvest fun. The beauty of a harvest moon. The crisp, bright days and cozy nights of fall. The natural treasures of a farmer's market. All of it can be captured in a warmly colorful table. A grapevine garland and natural gourds also help to add a sense of this bountiful year. Fall Word Plates that celebrate family and the season add a special touch to your presentation. And we love the lush, scene-stealing look of our leaf-and-berry-laden Finley Hill Chair Swags, which you can attach to our Faux Dupioni Chair Wrap (sold seperately in your choice of colors). Your favorite soups, stews, and breads will be perfectly presented here, displayed around our Script "Gather" Decor. Tip: our Willow Hill Dining Table even has drawers to store placemats, corkscrews, and other items to make entertaining prep easier. Or see our "how to choose a dining room table" tips on our blog, right here: Q&A: Five Dining Room Table Dilemmas, Solved!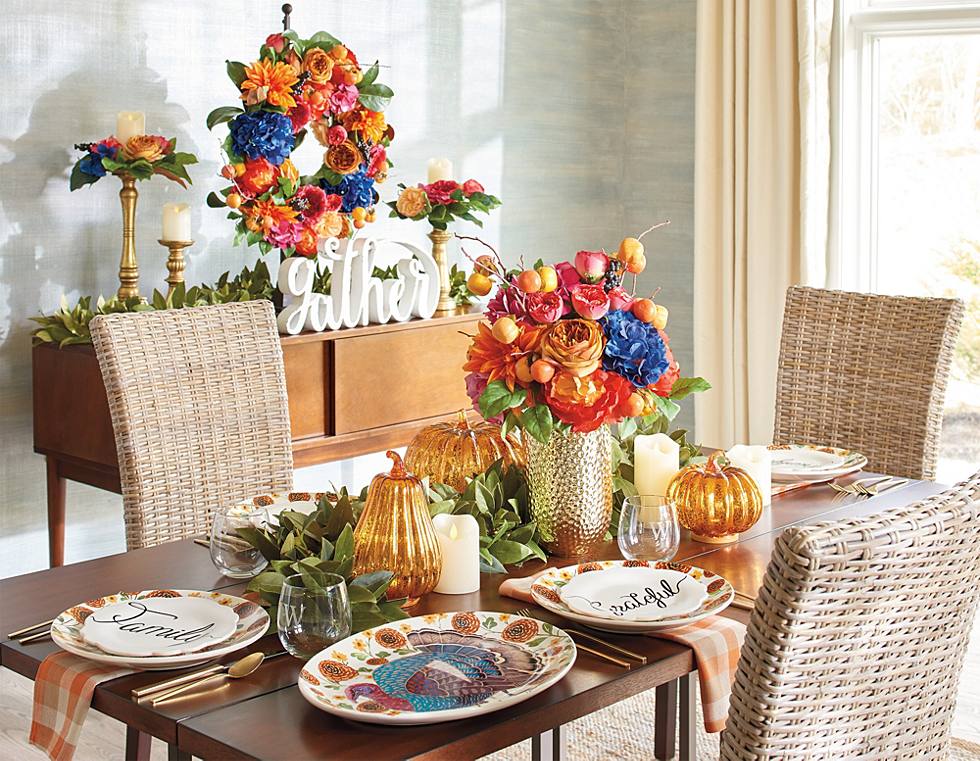 Thanksgiving Day: There's a lot to be said for traditions, and starting some of your own. Our Fall Floral Turkey Platter has the artful look of an heirloom piece. Add our Fall Word Plates, with the sentiments of gratefulness and thankfulness, and family, rich autumn faux greenery, gold candle holders. Load up our versatile Haven Drop Leaf Table, and look: you're ready to feast. And don't forget the beauty of flowers: our gorgeous Autumn Radiance Greenery Collection (shown above in all its glory) creates an unforgettable scene.
Woodland Escape Dinner: As temperatures cool off and the Christmas season begins, the fantasy of a winter cottage (Colorado or the Alps or somewhere in Scotland, your choice of fantasy) is so appealing. And it's a way to decorate your event as warm escape to usher in the winter season. Faux Fur Placemats are on-trend, and add instant drama. Other ideas to add to your warmly wild scene: our pre-lit Woodland Garlands and Mercury Glass Trees might join our delightfully sweet set of two Long-eared Owls in creating some snowy forest magic.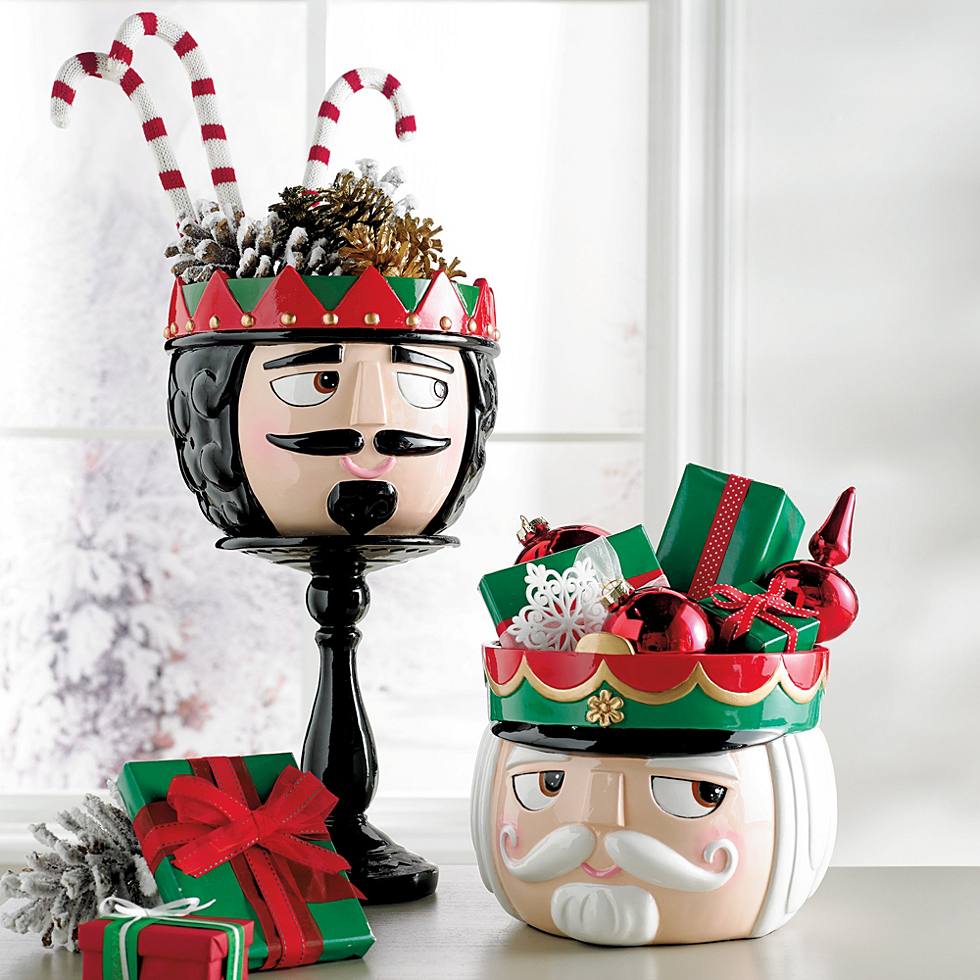 A Holiday Shoppers' Black Friday Buffet: Be the most fun, relaxing deal in town. Schedule a post-shopping get-together during the crazy gift-shopping days of Black Friday weekend for worn-out friends to de-stress before heading home with their purchases. Casual, straight-from-the-mall attire is welcome. Your buffet table mixes fun and fancy traditional tabletop décor that will accommodate anything you choose to serve; formal dishes and glassware keep that fresh, sparkling, traditional holiday mood going strong. Good Host Idea: hot, buttered rum-flavored drinks and warm savory treats help everyone forget the cold. Set up your Charles and James Nutcracker Bowls (shown above, giving guests the royal side-eye), and naturally, our Very Merry Candle Holders, too.  BONUS: Want some great, unique, unforgettable gift ideas for Christmas? After your guests have gone, have a hot toddy, relax, and read Best Gifts Ever, here on our grandinroad blog.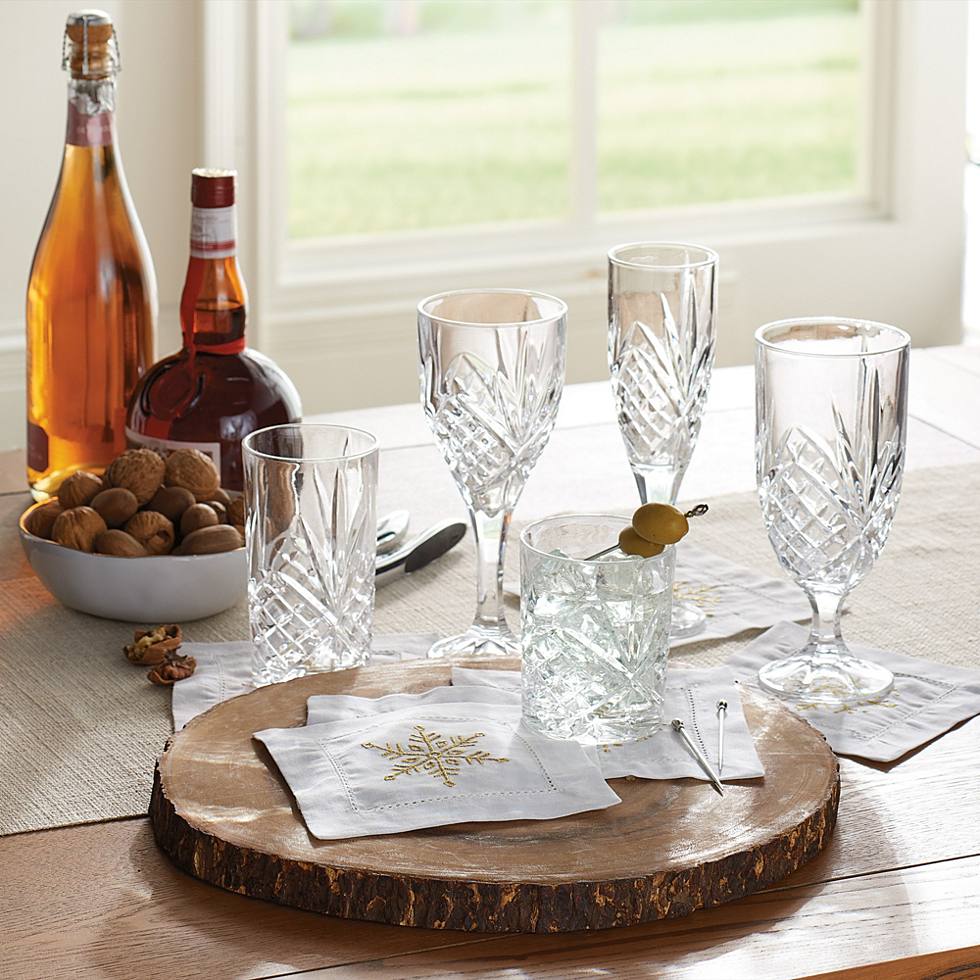 Christmas Cocktail Parties: Bright, or country inn traditional? For something totally new, see how updated it feels to start the season with a fresh  décor palette in lighter jewel-like pinks, blues, and greens for your first Christmas cocktail party. Best of all, you can create cocktails and treats that will match your vivid Merry and Bright Ornament Collection and accent colors. Host Idea: Have a range of ingredients, food coloring, and silly décor (pink umbrellas, bright swizzle sticks) ready to let guests invent their own color-right concoctions. For a traditional feeling, our Dublin Crystal Glassware (shown above) and Personalized Gold Dot Stemless Wine Glasses or a Personalized Gold Rim Stemless Wine Glasses Set are a must. (We'll personalize them at no extra charge.) Or, try our amazing, (great gifts too) set of four Personalized Martini Glasses to make every sip sparkle elegantly with warm, convivial bonhomie: cheers, friends!  Add our witty, genuine porcelain Shall We Holiday Dessert Plates, too. For extra bar and serving space, our circular, golden Halsted Mobile Cart with glass shelves is a must.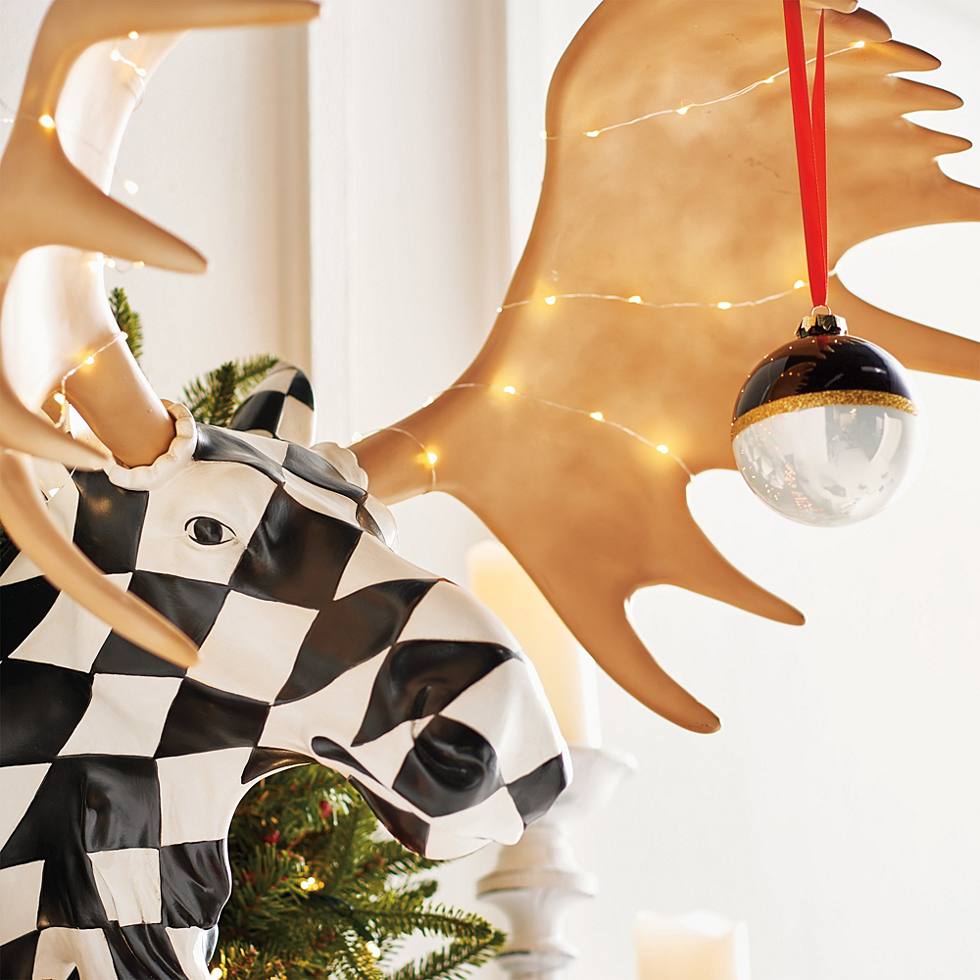 Ski Party: An easy tasting menu and cozy cocktails (hot toddies, Irish coffee, mulled wine) make it easy to have everyone over when you're off the slopes during Christmas break, or watching the preliminaries for the February 2018 Winter Olympics. Naturally you need fondue, and our Celebrations Cart and Celebrations Trays (which come in a festive range of bright modern colors, black-and-white graphic stripes, and patterns, with fun phrases and art in gold) to hold everything you're serving. Our handblown Whiskey Glasses and Festive Phrases Wine Glasses are a must (tip: always have 50% more glasses on hand than you think you'll need). To make your event feel contemporary and merrily complete, hang our statement-making Harlequin Moose Head Sculpture over the mantel (PS: your guests will probably give him a playful nickname by the end of the night).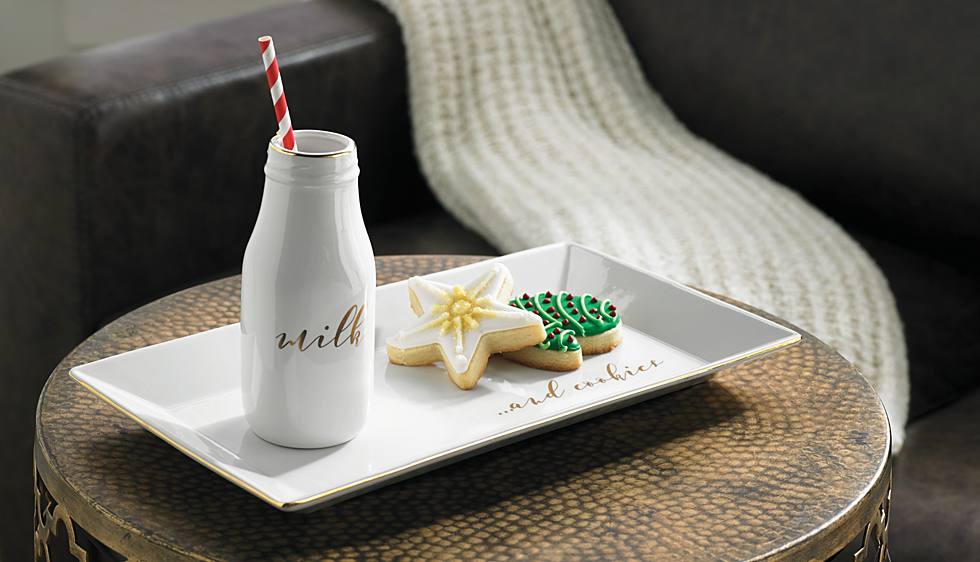 Christmas Day Brunch: Traditional celebration tables will always and forever be heartwarming to see, and the perfect way to bring people together. Memories are recalled, and new ones made. Things to remember for your own traditional Christmas events: the sweet ideas, like our porcelain Milk and Cookies Tray Set (even cute on an entryway console loaded with candy canes in the milk jug, and individually wrapped cookies on the tray for everyone to take home). To your dining room's  Valencia Chairs, add our prettily festive Mistletoe Chair Caps. Our graceful "Believe" Word Art also sets a welcoming, classic tone. The little things, together, always bring so much more to the merriment.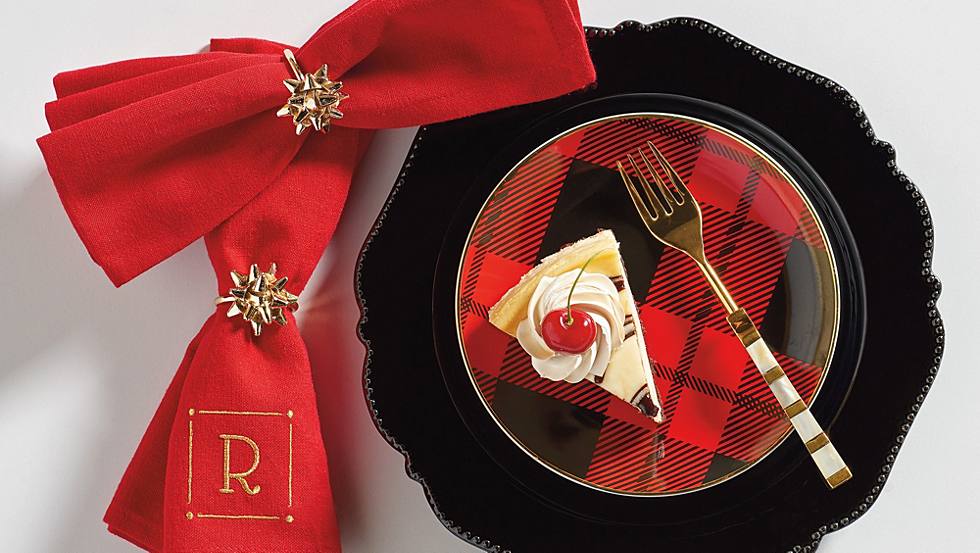 New Year's Day "Good Luck" Buffet: Bring out the lucky foods to usher in the new year (from a lucky list that includes pork, black-eyed peas, greens, and lentils cooked with fresh cotechino sausage) – all for financial luck and prosperity. And delicious soba noodles are said to ensure long life, so try not to break them when you eat them, according to Japanese tradition. Festive must-haves include our Celebrations Cart and Trays, Gold Hacienda Candle Holders with Natural Candle Rings, and the cheery Red Plaid Side Plates shown above (a great idea, because you'll use these from the day after Thanksgiving through the new year, because the scarf-like plaid symbolizes the warmth and relaxed coziness of the winter season). Add the Red Buffalo Check Pedestal Bowl to carry the theme and serve snacks.
From all of us at grandinroad… Merry Christmas and Happy Holidays!