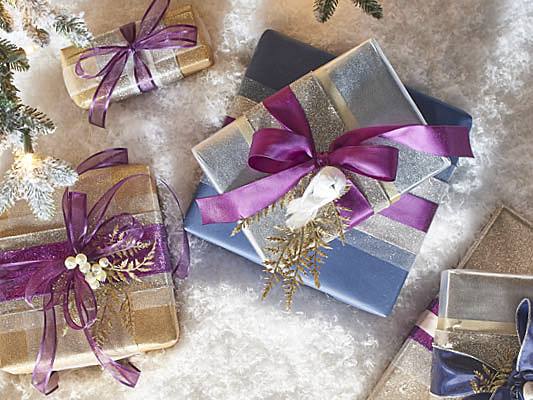 Grandin Road has the best gift ideas and gifting tips for almost everyone on your list. Because we're all trying to find uniquely thoughtful, cozy, and fun holiday gifts to share the joy of the season, right? It's a great time to find something really special for yourself too, like a delightful "find" from the Cyndi Lauper holiday collection.
Here are a few favorite gifting tips on our lists (read while singing "I'll Be Home for Christmas").
Making a list, clicking it twice for the best gift ideas
Thoughtful & unique gifts for anyone—friends' gifts and more: Because a soft hug of comfort is always right, we suggest a Multi Fringe Throw or maybe a Cassidy Metallic Throw. It's also fun to offer something a little "extra special" to close friends, so what about our velvety Nora or Chevron Velvet Quilts? Our Faux Fur Pillows & Throws? And our Winter Pillows are a clever way to say Merry Christmas, too: one reads Baby's It's Cold Outside, and another reads (with a wink) I'm Sorry For the Things I Said When It Was Winter… kind of perfect for anyone who isn't coping well with the blowy, chilly weather of the season.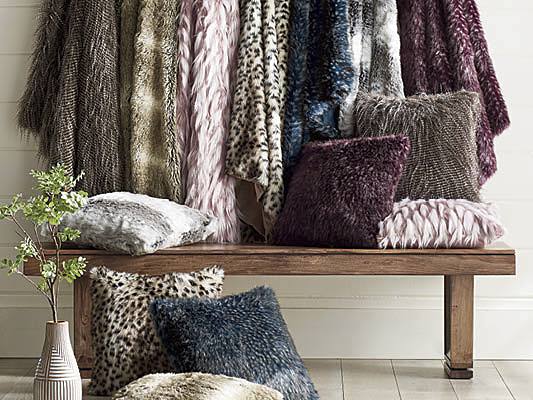 Santa's smiling at your list: faux-furry glam, soft cozy throws & witty pillows
Where the giving gleams: cool gifting tips
Tech-related gifts: We like our Yoga Kitty Tablet Stand, because it's so useful and—okay, we admit it, we like it because it is super cute (and useful). A Helping Hand Phone Holder is a must because it eliminates the scramble to find the phone and looks like a piece of sculpture.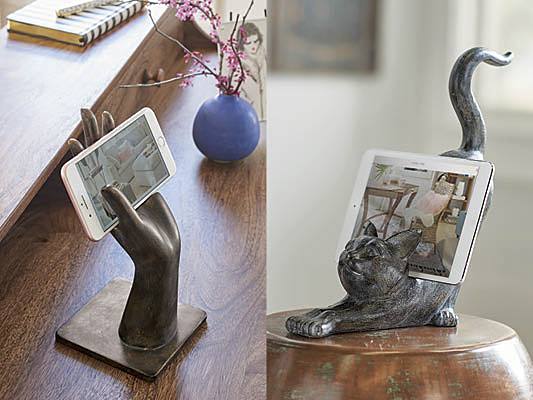 "Where's my…"  They'll love a Helping Hand Phone Holder or Yoga Kitty Tablet Stand
Hostess gifts:  Our set of four Cyndi Lauper Dessert Plates is a must. The Very Merry Entertaining Collection, including a Wreath Platter and Bowl Set, and a Tree Tiered Server, too. Or try a Tree-Shaped LED Candle, a Crystal Pinecone Bundle, or a Point Judith Teak Tray. Also charming to give: elegant, Personalized Gold Rim Flutes, a set of four, or the stunning Finley 12-Pillar Candle Holder. Prefer a gift that's a little witty? Give a Come Again and Bring Champagne Mat is our pick. And always a natural gift: stockings for the mantel! We love our Red Velvet Stockings, and really glam Pearl Stocking. 
New traditions: Cyndi Lauper Dessert Plates & our Very Merry Entertaining Collection
2018 gift ideas and creative gifts: Because our limited edition Cyndi Lauper Camper Cookie Jar is so incredibly cool we think everyone needs it and it's a collectible!  Next, go for the Personalized Letter to Santa Lumbar Pillow, or our gold-toned Script "Celebrate" word art for the mantel. We like the country style Christmas Tree Farm Canvas Wall Art, too.
Other gifts they'll be glad to get include the Timmins Oval Tray, the Bubble Bowl, and our Game Board Trays. For your more boho pals, we have cute Ventura Plant Hangers. And always welcome is our popular set of five different Dover Candle Holders to group on a mantel or the dining room console.


Surprise! Give a cool Cyndi Lauper Camper Cookie Jar & Script "Celebrate" word art
Good tidy-ings we bring you as Christmas gifts
Décor gift ideas that help you get organized too: Because it's kind to give Christmas gifts that help someone get beautifully ready for the New Year. Like a set of two Faux Lizard Totes, or a set of artisan-made Jambi Baskets. How about a Burlap Bulletin Board, too?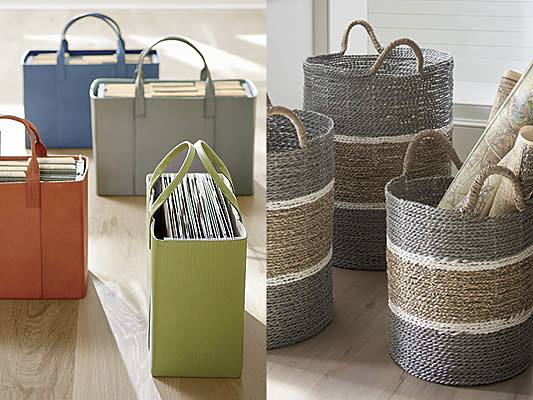 Stylish organizing gifts: our colorful Faux Lizard Totes & handmade Jambi Baskets
Have yourself a mirrory little Christmas
Wall accent gifts:  Game Board Trays, because they are art AND serving trays AND they're games too that come with velvet bags of playing pieces! Or how about our Brayden Arch Mirror? A Window Garden Mirror? Or the Fjord Mirror? Mirrors add dimension and style to any space.
Art they can play anytime: our bright Game Board Trays come with game pieces
More "perfect for Mother gifts" and new house gifts: Nantucket Rocking Chair, Gypsy Faux Fur Ottoman, Postema Gallery Wall Clock, Flower in Vase Canvas Art.
Barking in a winter wonderland
Pet gifts: A Sofa Dog Bed, Faux Crocodile Pet House, Dog Tail Hooks, because they are awesome! Personalized Dog Line Drawing Artwork or Personalized Cat Line Drawing Artwork is always welcome. For a wink, try the Vroom Vroom Pet Door Mat or All Over Bones Mat.
You'll find more Grandin Road gift ideas on our site, including our full array of Gifts Under $50.
For Mr. Fuzzy: a Faux Crocodile Pet House, or plush Sofa Dog Bed?
While you're in the spirit of the season, we're ready with brilliant decorating tips, too. like, How to Decorate a Christmas Mantel: Unexpected & Bright,  
So pour a cup of hot cocoa, and have fun planning and shopping. Cheers and Merry Christmas!