Colors that stand opposite each other on the color wheel are called complementary colors. Complementary colors play up each other's visual strengths in a way our eyes like a lot. That's why pairing complementary colors (and related shades) to update a room will look amazing.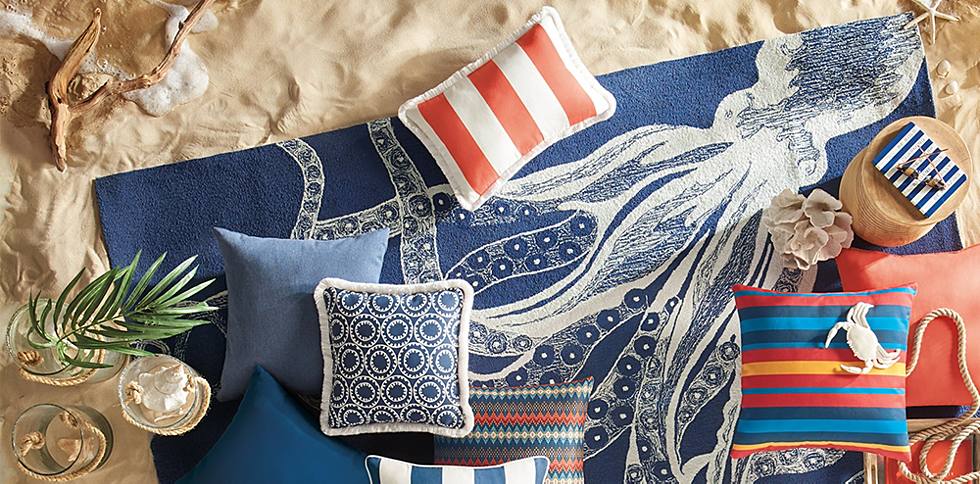 So, hello, Blue. Meet your complementary color, Orange The design world loves your cool-warm impact.
We do, too.
Here's how to add blue & orange energy to your home:
1. First, see if your room can guide you. Existing elements can suggest the best way to start working in some updated blue and orange. Maybe your great room or your patio is tiled in warm clay tones, or features honey-brown stone or woodwork. Idea: Support the warm tones with a rich leather seating piece, then add blue and burnt orange accents to style out a dramatic Pacific Coast theme. Is the room painted blue, or designed with blue-tinged gray stonework? Pull in orange-toned furniture pieces to complement the naturally cooler elements. Finish with multi-hued (blues and corals) patterned, textured rugs. In a white, well-lit room, a modern blue sofa pops for the win.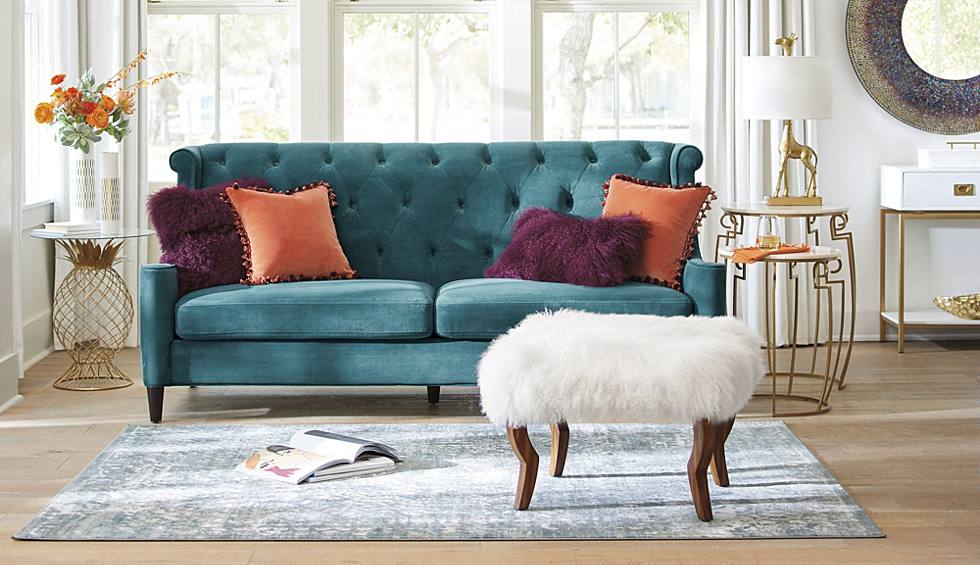 2. Update your existing furniture with great accents in the complementary color. It's so easy (and budget-friendly) to use pillows, rugs, art, and even paint to enhance a seating area. Idea: freshen up a jewel-blue sofa with at least two burnt orange accent pillows. Have more fun and paint a nearby wall a mellowed burnt orange for a creative mood. (Mixing bright or jewel tones with mellow shades feels modern and balanced.)
Out on the patio or porch, heap colorfully painted furniture and benches (like our popular First Love style, the Amalfi Bench) with pillows in shades of sky blue, cobalt, navy, orange, and dreamy, feminine coral, like our Austin Outdoor Pillows. Those blue-and-orange and blue-and-coral prints work as very fresh, impactful updates. They're weather-resistant (yay) and naturally cheerful.
You'll see how well this color pairing works indoors and outside. It's an energetic look we especially love with a few green plants and lots of sunlight.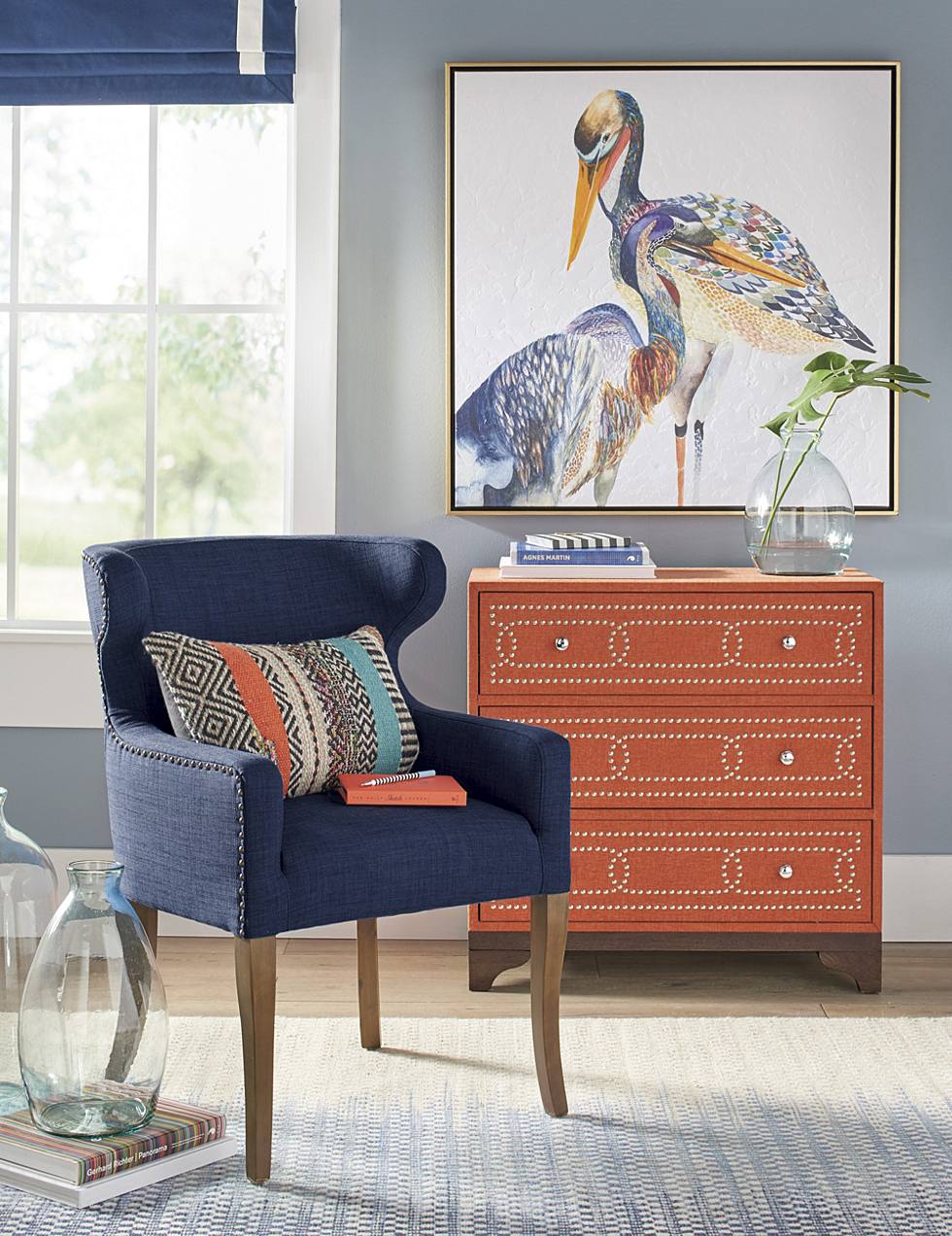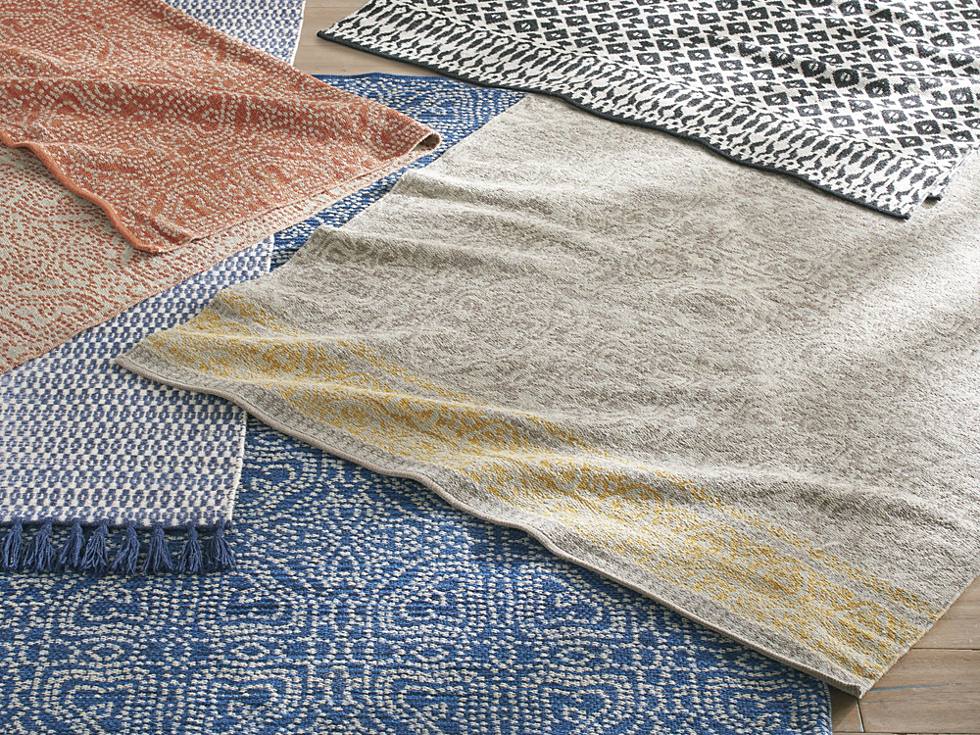 3. For a quick style lift: add a print that incorporates both hues. Look for multi-colored patterns in rugs, pillows, quilts, and art. Blue-and-orange and blue-and-coral florals or contemporary geometric graphics (often featuring a range of blue or orange family shades within the pattern) work as easy, one-step updates, too. Idea: bring in a vibrant blue-and-orange/coral area rug or pair of patterned chairs. The nature of the pattern (romantic, global, midcentury modern) will add the defining style twist.
4. Get bold: mix furniture pieces that come in either or both complementary colors. We love incorporating sofas, benches and chairs, chests, and tables created in our two complementary hues. Idea: a neutral Lucy Sofa flanked by blue and orange accent chairs and cobalt-blue Vivienne Side Tables makes an updated statement. So does a coral outdoor bench you accessorize with mint side chairs. In an all-blue great room, give your bar area the color update with a set of comfortable Julien Bar or Counter Stools in Burnt Orange. An orange, nailhead-trimmed Jackie Chest? It's fast, fabulous bedroom chic that works in a reading nook, too.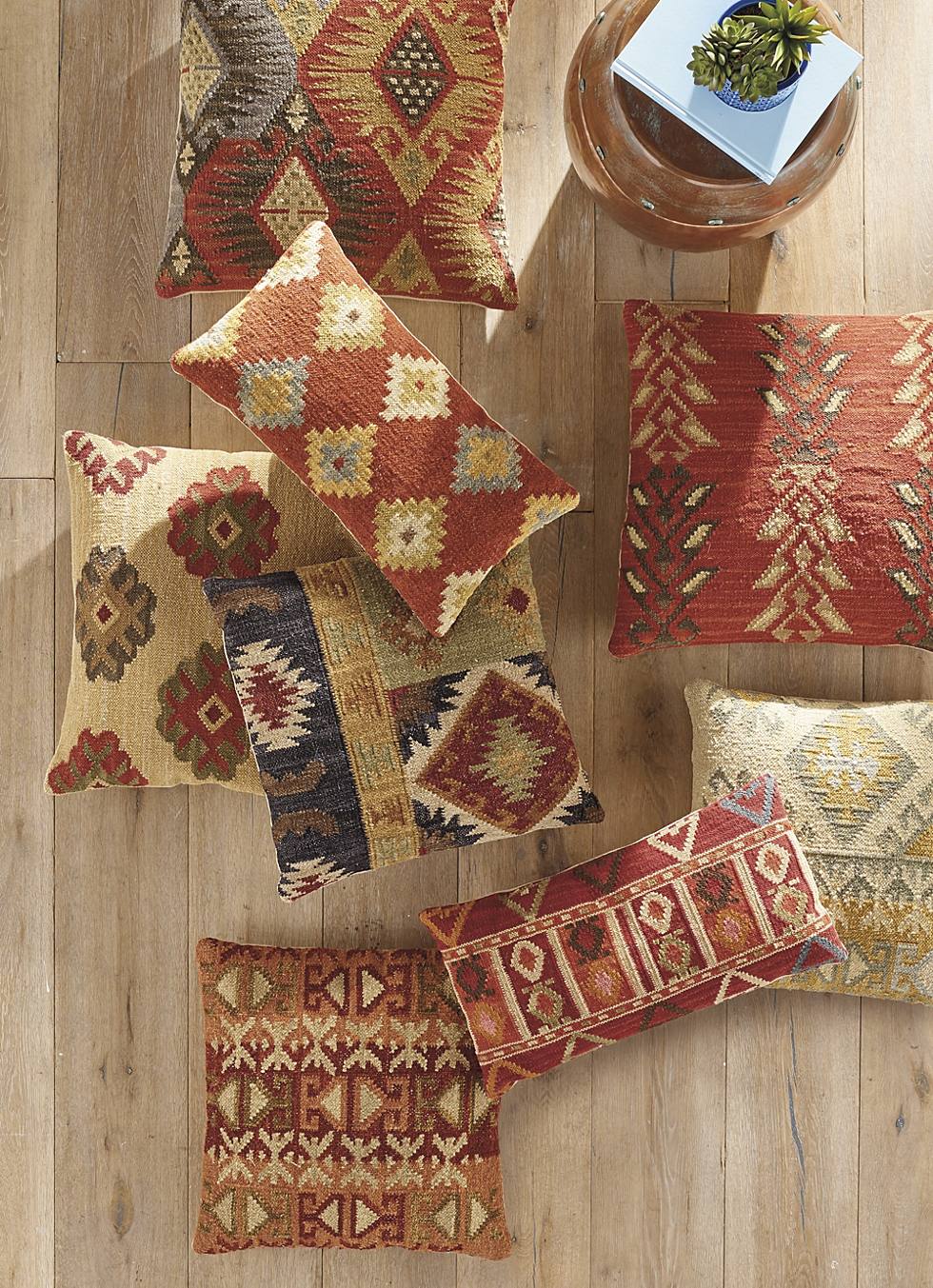 5. Look for textured pieces too, because texture gives color more depth. Colors interpreted in different materials interact to elevate your room's style. Jewel-toned velvets, shaggy, silky fringe, and lush warm suedes, embroidery, and mermaid sequins have extra design integrity. Idea: for surfaces like warm, woven natural rattan, nubby neutral tweeds, and sleek caramel leather, be distinctive. Acquire handworked authentic kilim pillows, or smooth, inviting velvets. For an edgier kind of interplay, invest in shaggy, hand-looped or hand-knotted fabrics, faux fur, or soft, chunky knits that will feel artfully special in your space.