Fresh ways of decorating with every hue of blue, from inky indigo to the palest sky tone and hints of aqua, continue to live at the forefront of home design.
What we're having fun with at the moment: the way our favorite denim blues with their gradated coloring have found their way into the mix. The enriched and textured colors that work within patterns. And the new easygoing velvets, making furniture pieces look strikingly but casually sophisticated in a very modern way.
Here are five ways to give blue a go in your happy place:
1. As a focal point in any room
Blues always seem to go with everything (sky, the oceans, blue jeans… ). So when you add a distinctive furniture piece in a blue you like (a great piece like our Wedgewood Three-Drawer Chest with its look of denim, or the Chloe Tall Chest in Antique Navy), you're making a statement that's pretty nice to live with. The Millie Chest in Sky Blue, painted in a floral design, shows us the lighter, romantic side of this color.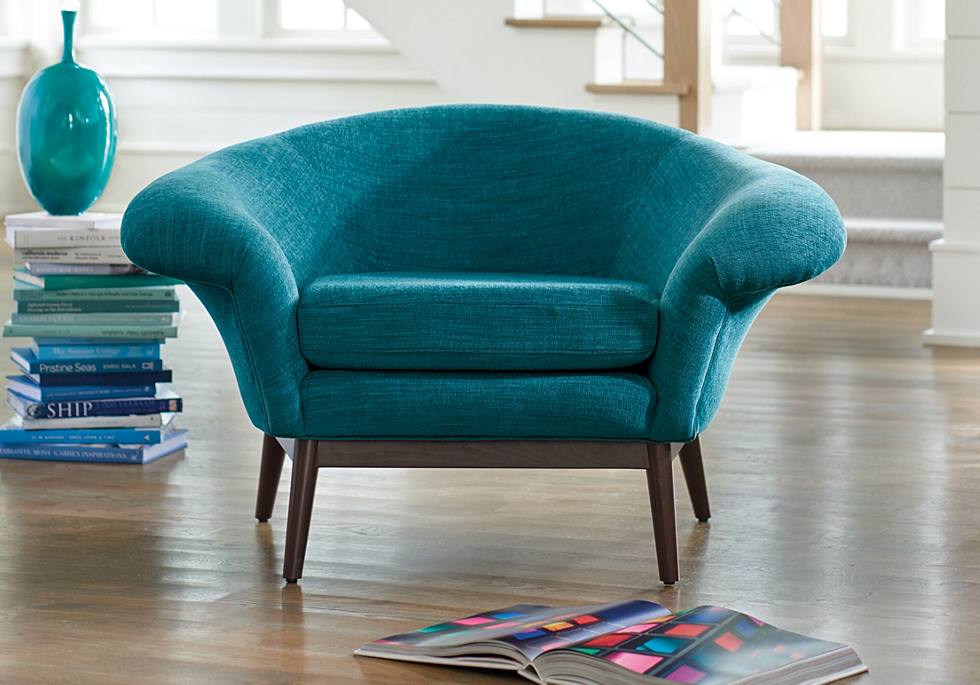 A blue furniture piece works by expanding the mood of the room, adding a tone that feels calming and friendly. Like our comfy Molly Chair, or a mid-century modern chair like the Frankie in a Tweed Navy, or in Lucky Turquoise, such a distinctive piece can easily add a focus to any space.
With blue furniture choices, you're creating a focal point for the viewer's eye to rest upon and enjoy, so have fun. And remember, certain deep blues can help balance warmer tones in a space, by acting as a sophisticated neutral.
What about outdoor "rooms" like your front porch and patio? Under a summer sky, a blue chair, planter, or rug always looks right. One idea: we like the presence of the Nantucket Rocking Chair in shades of neptune or mint. Or, try our blue outdoor cushions and printed pillows with your natural wood, wicker, and white- or black-frame outdoor furniture pieces. Outdoor living is the perfect place to start incorporating more blue elements.
2. As an accent color in special home accessories
As we always point out, the easiest way to add color to a room is with pillows. Mix or match your blues using pillows to create a very modern range of tones and patterns. Or keep the look clean and classic by choosing a single shade and then creating a pillow collection on a sofa, chair, or bed (same shapes and sizes, or mix it up).
To start, we like our Solid Fringed Pillow in Denim Blue; the Hilde Lumbar Pillow in blue and cream with its amazing knotted detailing and fringe or pompoms; and our Chevron Shag Throw Pillow with its gradations of vintage denim blue, so modern and boho all at once. All hold their own as statement-making accents.
Or use a more subtle accent: we love the Aqua and Navy trim options on our beautiful Lilly Embroidered Sheet Sets. And keep your eyes open for blue-accented lamp bases.
3. Use unique pieces endowed with exceptional texture
Loose weaves, knotting, and chindi weaves are some ways blue is worked into pillows, rugs, and throws. Denim blue, especially with an aged appearance, provides its own natural texture and shading; piecing or patching denim blue as an accent is always visually interesting. Dyed Mongolian Sheep Fur Pillows and bench covers (like the one for our Scarlett Bench) in soft powdery to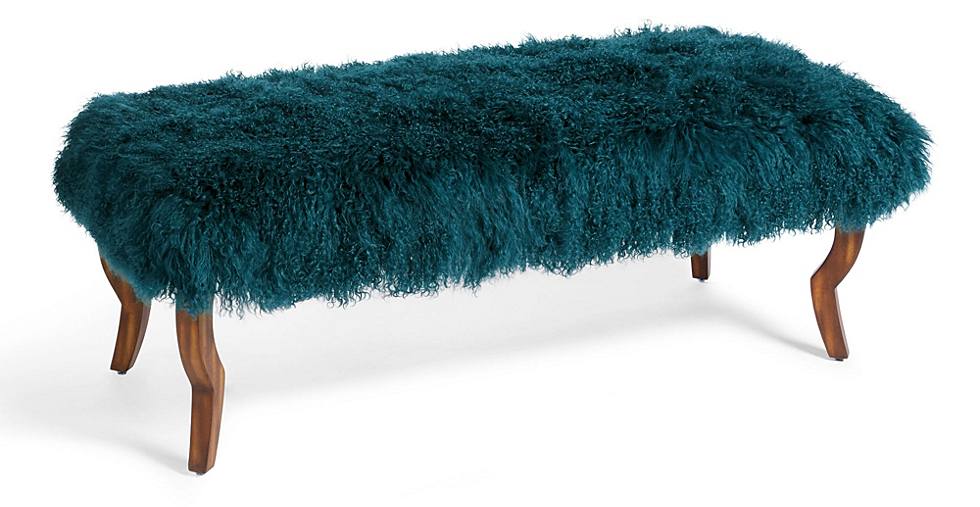 nes in the blue family look amazing, presenting a cloud-soft, elegant image. Our Tressa Throw delivers incredible strong color in a soft cotton weave. Prefer a gentler, textured look that's still very graphic? Try a Strato Oversized Throw from Italy in summery Blue, with its unique wave design.
4. Go velvety and modern-glam
Ever since kings (of countries or companies) bearing royal blue velvet jewelry boxes set a high-end tone for inky rich velvet blues, people have loved the luxury of the color in such special fabrics.
Today, easy-care velvety fabrics let you stretch the color into your décor in new ways. For example, our Hazel Accent Chair, brings the colors Bluebonnet and Forget Me Not to glamorous life.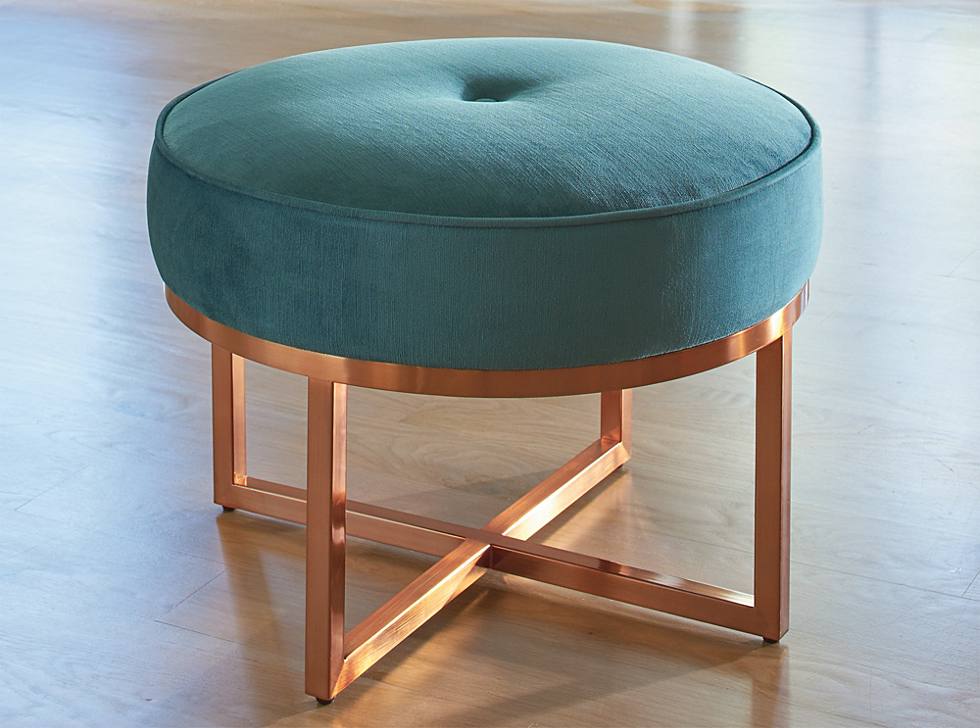 A modern room can get extra style points from a glam injection of blue velvety fabrics, too. Start with a touch, if you like: our modern, velvety soft Vera Pillow comes in Bayou, Ice, and deep Midnight.
Really eye-catching: our Rosie Ottoman in Aqua velvet with a gleaming brushed-copper metal frame. And our Bernice Ottoman in a Lapis elephant print.
5. Key in on the hue within patterns, prints, or art
If blue isn't your room's main hue, you can still work the color in as an update or accent. Try printed blue textiles, like a quilt or duvet cover, or print upholstery with elements of the color (our blue ottomans are a lot of fun). An accent chair in a print containing a touch of blue works wonderfully.
Naturally, many wall art pieces and coastal wall art with graphic prints incorporate this popular hue (a favorite for coastal properties). Also artful: lamps with blue-patterned base coloring; our Dreamer Glass Lamp is a brilliant option. When it comes to a printed upholstered piece, our Hazel Chair in the Cornflower pattern looks sweetly classic, brightening any seating area. Outside, all-weather outdoor cushions in blue-based prints and patterns keep your seating looking on-trend; try mixing blues with breezy corals and pinks.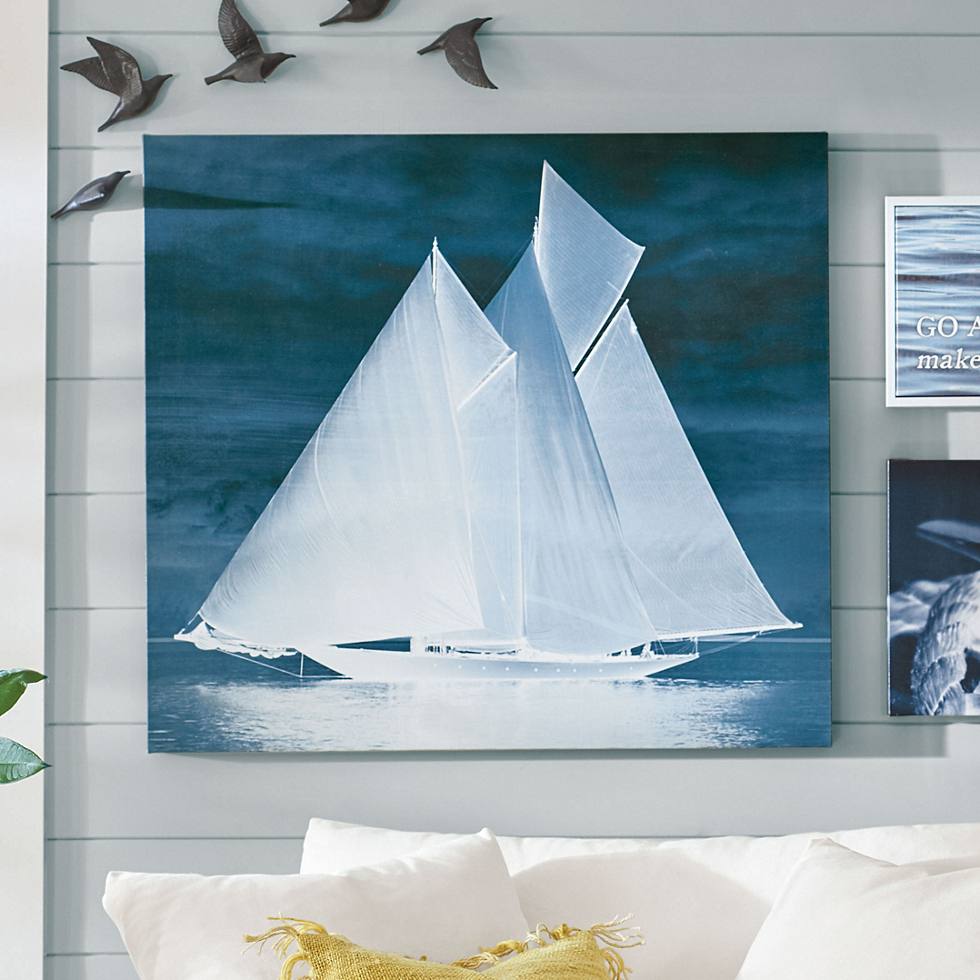 Whether warmed by partner tones of red and pink, or kept seaside-calm with greens and white, blue's an easy choice to live with, whatever weight you choose to give it in your designed space. Remember, it's all about having fun, and being true blue to what you like, in your creative, ever-evolving home.