What's new now: our personality-rich home office furniture ideas. Much more fun and expressive than working at the kitchen table, and definitely more you. Starting with grandinroad's Office Furniture collection (desks to shelving to lamps), and Decorative Accents, you can create a desk nook that merges beauty and a little cheer with functionality and organization. Have even more fun by adding your own spin to the story.
We hope you'll feel inspired and more focused than ever with your new workspace. Because that's a wonderful feeling.
Blogger's Sanctuary
Vibrant and inspiring, it's also fun. And sleek enough for your very modern world. A touch of glam glitters in the desk, étagère, and mirror; the print pops. Ready to organize your space? A cute, non-serious ottoman storage bench helps you keep things as organized as you like as a spirited, right-brain thinker, without losing your creative vibe.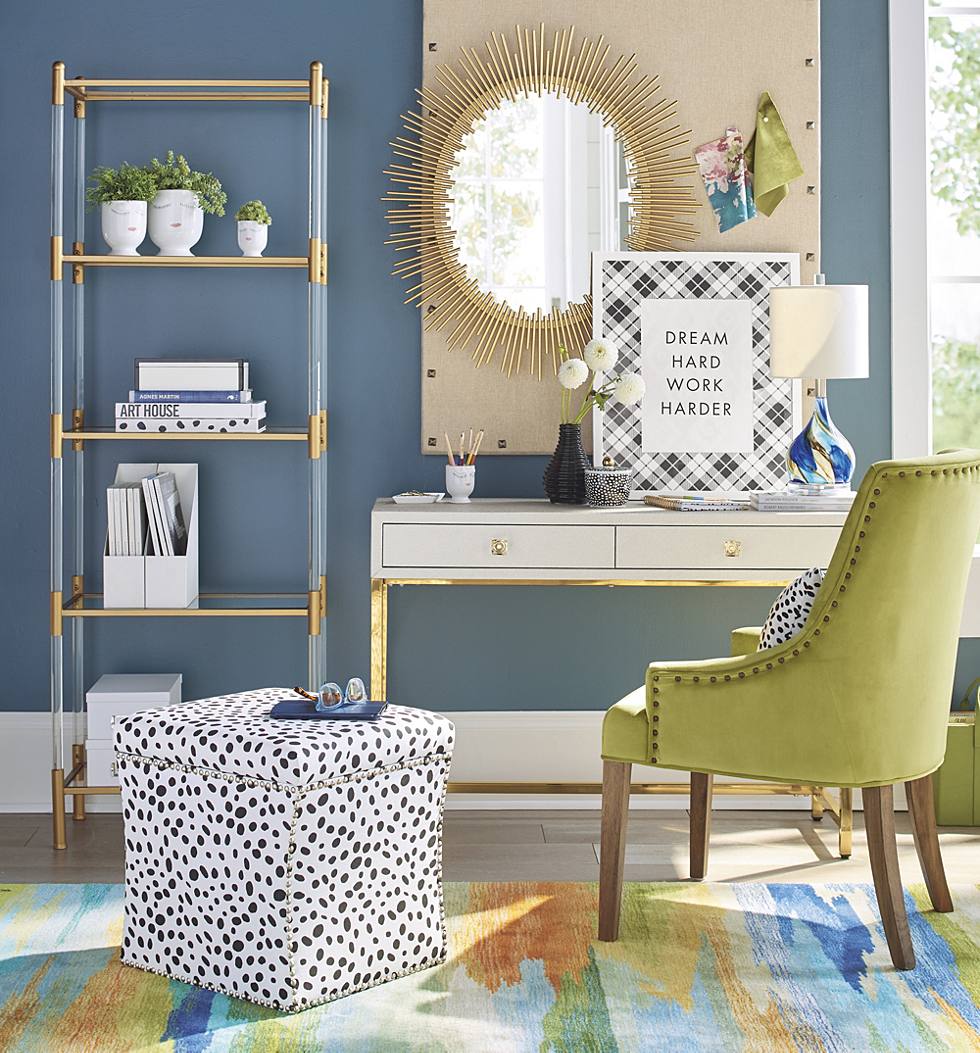 The List: our Blogger's Sanctuary.  Harlow Writing Desk (a modern jewelry-like feeling with clean lines); Aimee Accent Chair; Arabella Étagère; Lottie Dottie Storage Ottoman; Watercolor Rug; Orwell Mirror; "Dream Hard Work Harder" Wall Art
Traveler's Basecamp
The place to dream up your next trek, it features richly grained solid, satiny wood from a world away, genuine rattan, an artisan-made wool rug, and stunning art. The bookcase is ready to hold your collectibles, maps, art, and vintage camera collection. To add interest, the natural texture of rattan and woven wool area rugs keep the space welcoming.
The List: our Traveler's Basecamp. Neilson Desk (updated in a versatile new Brownstone finish); Naples Dining Chair; Atlas Sheesham Bookcase; Demi, Alexa, or Scarlett Fringe Rugs; York Table Lamp; Rocky Shores Wall Art
Pretty Preppy Dreamspace
Today's preppy stylee isn't quite what it used to be. This is a fresh, serene, focused feminine space with a bold Parisian twist on today's updated, sophisticated prep-inspired color scheme. The sculpted edge of the boldly-hued desk and the lush comfort of the chair telegraph the style savvy of the occupant of this beautiful space. The calm area rug grounds the look perfectly.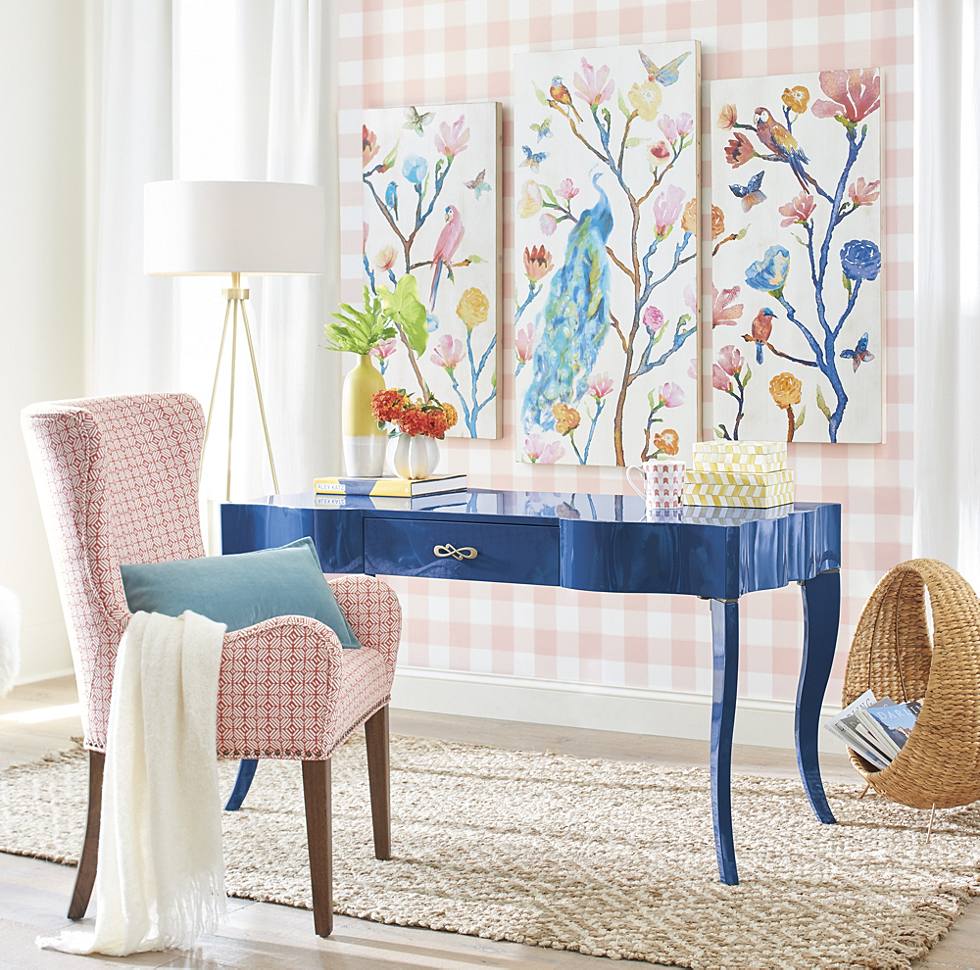 The List: our Pretty Preppy Dreamspace. Neela Writing Desk (unforgettable in blue lacquered wood); Billie Accent Chair; Visionary Floor Lamp; Sabine Fringe Rug; Garden Triptych Wall Art
Get to know all our desks by style & personality.
You deserve this: the Harlow Writing Desk was inspired by the glamorous designs of 1930s France. The exotic texture of faux rayfish skin (also known as shagreen, it was used to cover books and trunks in the 1700s) covers the wood's surface with a sophisticated, Hollywood-like, gold-and-white scale pattern. Two drawers (painted white inside) with crystal pulls, and the gold-plated steel base, are kisses of perfection.
A refined, modern workspace should encourage both creativity and a sense of life balance, so we love the one-drawer Nielson Desk. Handmade, each one is a work of art created of gentle curves. This peaceful design, of rich, warm solid Sheesham wood (famed for its beautiful graining), turns a corner into a calm, sophisticated nook for writing, phone calls, or scheduling your crazy week. Say yes.
Pure eye candy: the sleek Neela Writing Desk is a concept in blue lacquered wood, with gently scalloped edges and cabriole legs. The quiet elegance of the style gets a pop of color and glossy shine for a modern look with a designer edge. The back is also lacquered, so you can center this desk in your space if you like. There's one gliding drawer with a jewelry-like pull, in soft gold. A favorite find. Fashion lover? This is your desk.
Another modern, French-looking beauty our Colette Writing Desk, because our first idea was that it's a perfect "my place" spot to do paperwork or work on a book or blog (roomy top to accommodate your laptop and notes). But we thought about it and realized that this curving swoop of design is also something we'd use as a chic, updated make-up table, to display perfumes or jewelry, and tuck away cosmetics and brushes in the drawer. A strong but feminine design, it's absolutely beautiful in white high-gloss lacquer and trimmed in high-polish, gold-finished stainless steel, with a fluted, concave groove design around the sides of the entire desk, and delicate gilded hardware drawer ring pulls. We love that it's also a room-lightening shade of white, which happens to be a key room-changing color going forward. It's a focal point. It can be yours. How you'll utilize the Colette is up to you, but don't miss it. Men have bacon, we have this.
Blending the idea of function and delightful style, our Riley Two-drawer Desk is one of our most charismatic pieces. The airy, efficiently-sized design (a modern squared frame in light-attracting stainless steel with a chic, matte silver finish) enhances your room's sense of space while adding the utility and accent you need. Finely colored, ash wood veneer surfaces add more presence to your décor. Two drawers hold extra keys, business cards, notebooks and pens, and thumb drives. Are you in love yet? We thought so.
Small space? No space? No worries! The ingenious, exclusive Max Multifunction Table is there when you need it, folds down and rolls away when you don't. As versatile as it gets, this is a combination roomy worktable, and two-sided storage unit.
Use it as a sturdy desk/table with the top wings fully extended on the folding support legs, or just with one wing extended in smaller spaces. There is one cubbyhole shelf space and one storage cabinet space (with a door) on both front and back sides of the center section. Ideal for craft projects, gift wrapping, sewing, or working from home. After you fold it up and roll it aside (works as a side table or mini book shelf, too), you can still easily access stored items. It's equipped with smooth-rolling metal casters for turning, swiveling, and positioning anywhere.