Simple ways to start your decorating makeover
Easy-does-it in neutral. Add to a space with a neutral chair or sofa, or start a new room with a neutral. Everything goes with calm neutral foundation (creme to oatmeal, tan to brown, black to dark navy) pieces. You can't go wrong; it's the perfect base for using more color later, or even graduating to unique wallpaper prints.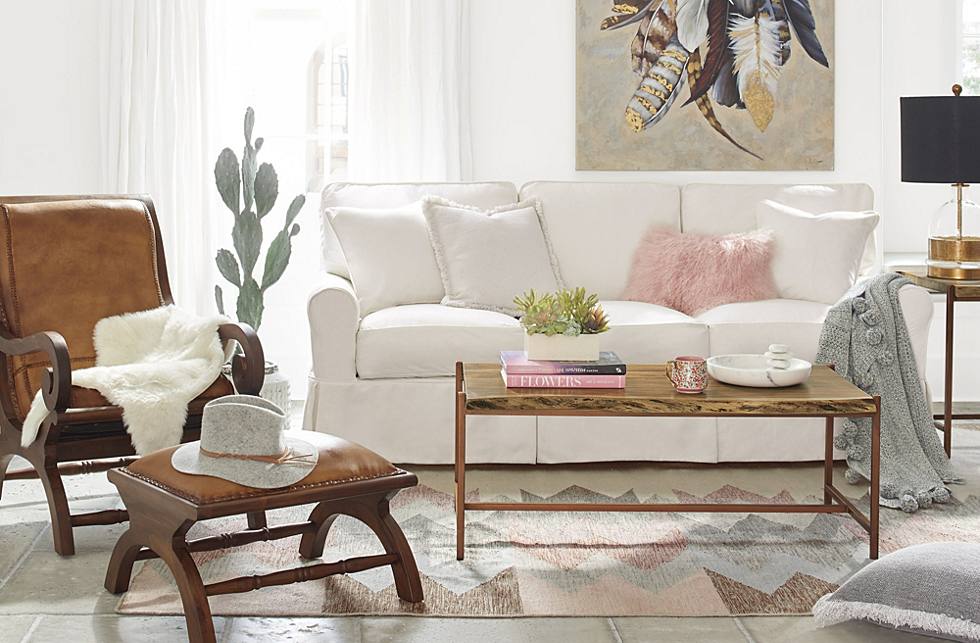 Next: neutrals, and furniture in soft hues, love company. These pieces are good foundation pieces in any space. Just add colors you like to create the new design and mood of the room. Quick ideas: we like the way clear, strong, lacquered bright hues or pastel colors will take a neutral room to a contemporary level that works nicely if you have (or like) modern art. Next, oranges, golds, and yellows can build in a warm, retro-chic, mid-century modern feeling. Deep, dark neutrals paired with inky blue, charcoal, and a spark of red or yellow, look sophisticated with a crisp modern edge. Add black and white for a city-chic vibe. Dark greens can up the richness. Adding pink feels unique, like a modern romance.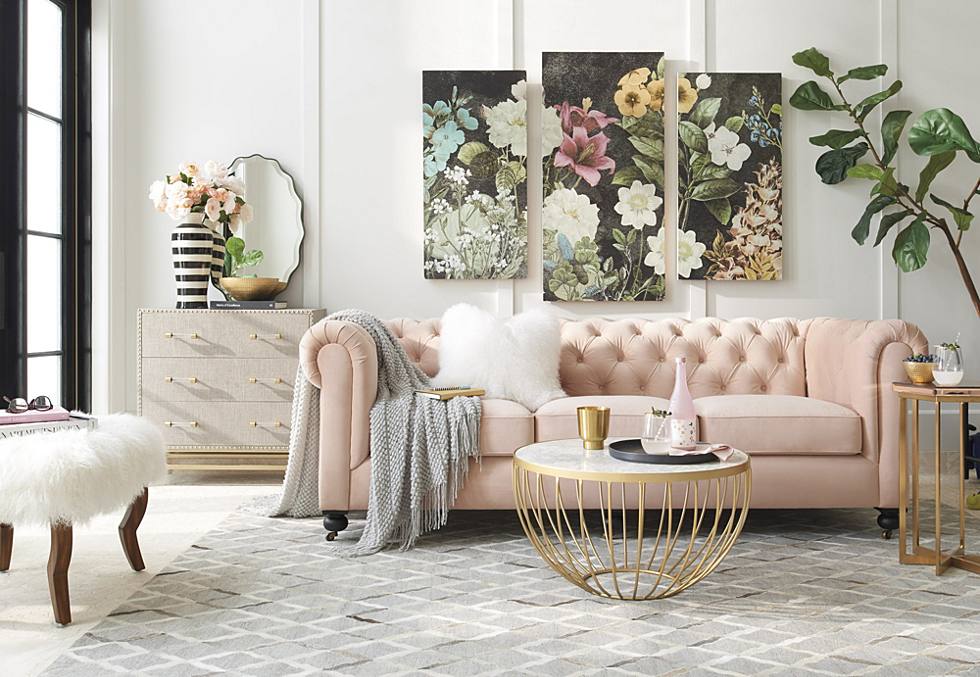 Or, lean in and start bold. Starting a makeover by bringing in one amazing color you like (in the form of a chair, pillow, sofa, vase, or rug) can be the nudge that helps you "see" the direction you want your room to take. This way, you're designing your space from inspiration instead of accident (we've all been there, so no shame points). Play with contrasting hues, textures, neutrals; you might also play with the mood the specific hue and color suggest: pink may be fun and romantic; green, tranquil; blue, formal or quiet. Follow the chosen color's lead, wherever it takes you, and you can end up with a statement-making result that's actually fun to create. See what we did, below.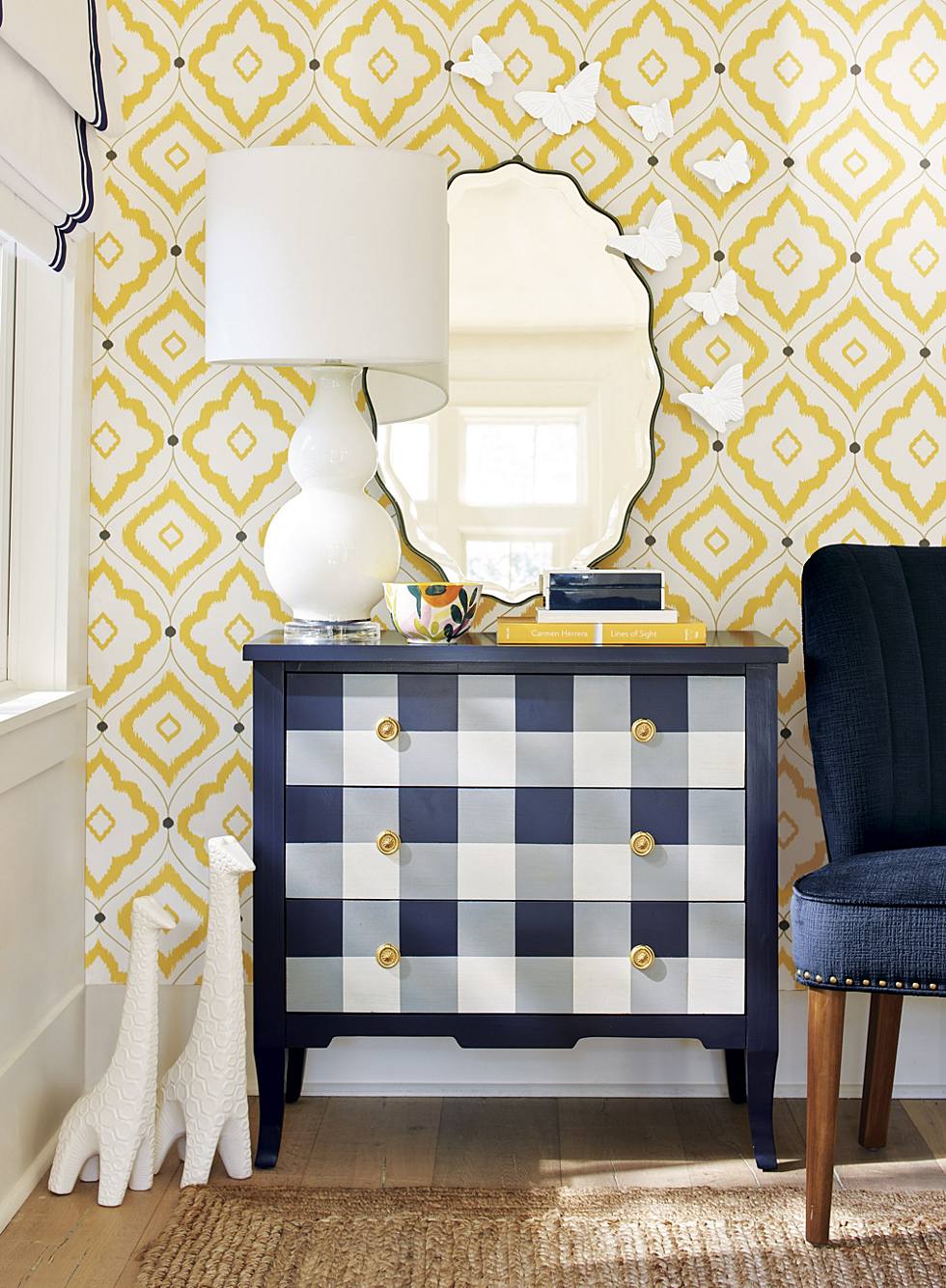 Sneaky-easy design tricks that add more wow
Mirrors hung in multiples. Give any wall its own distinctive style, while you also expand the available light with glass-mirrored surfaces for a happy, brighter mood. Mix new mirrors with a few vintage finds for interest. This will seem to expand your space, too.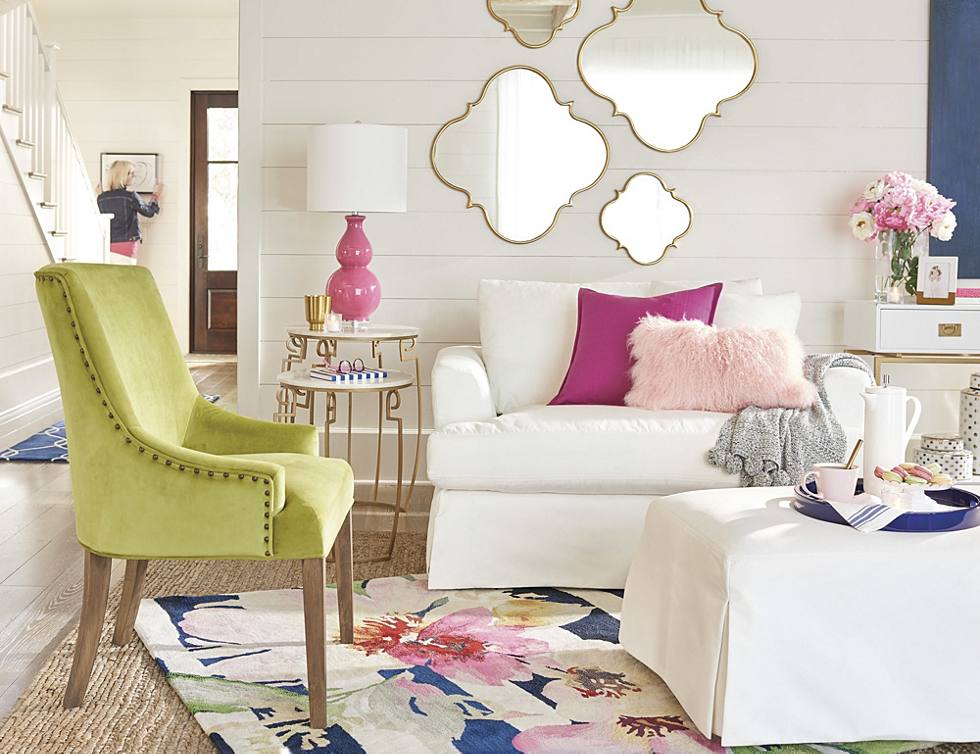 Velvet fabric catches and holds the light. With its plush surface, velvet's unique relationship with light makes it a more enlivened way to add color to a room: compare a classic matte blue linen pillow and a glistening velvet one and you'll see what we mean. Velvet is trending now, too, thanks to the way velvet colors look richer.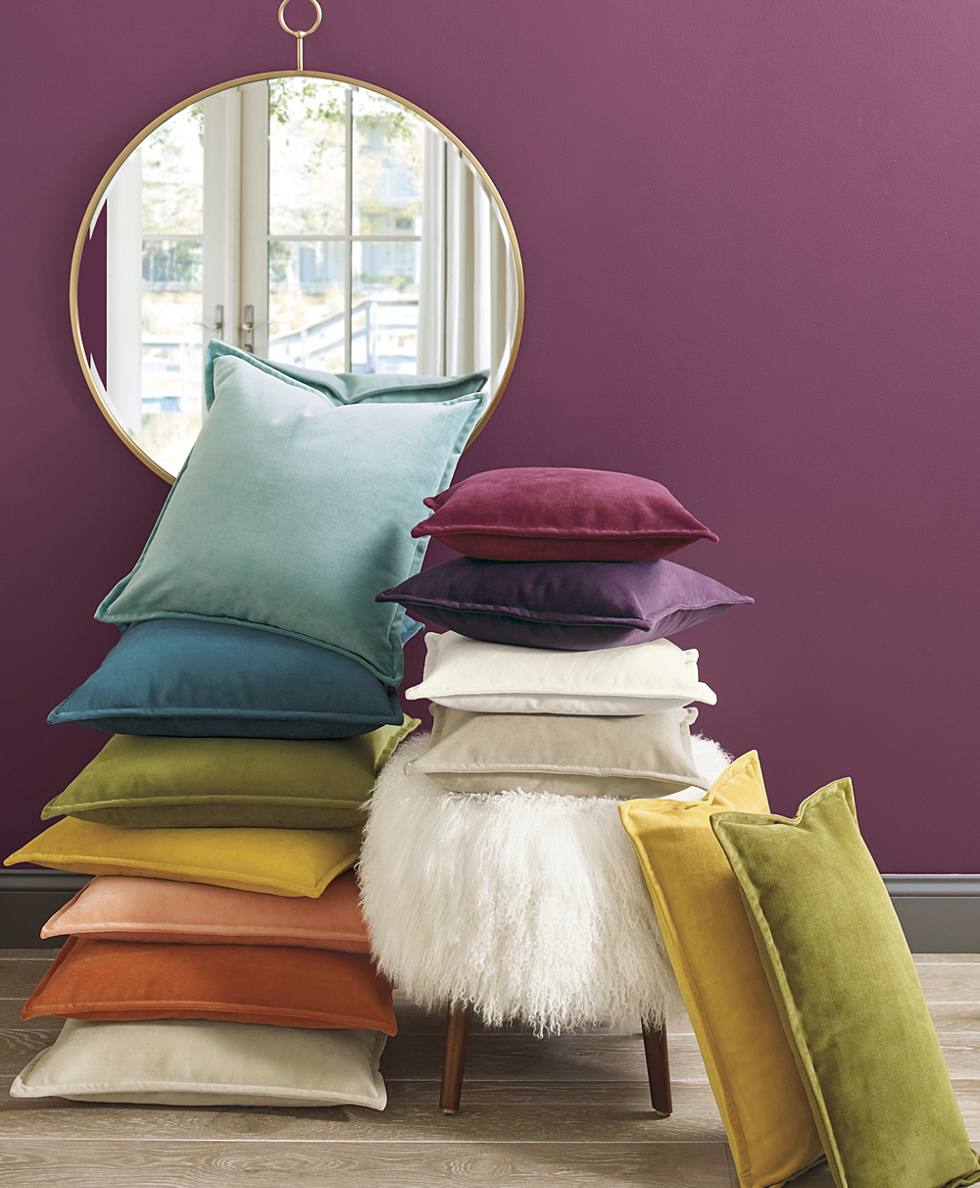 A colorful rug joins functional areas of a space. Love the big room with defined sections, but wishing you had a more pulled-together look? Here's an idea: you can visually connect the desk area, the sofa area, the reading corner, and the console of family photos with one big vibrant rug. Let those rug corners reach out to anchor the space. Now your room looks impressively cohesive instead of choppy.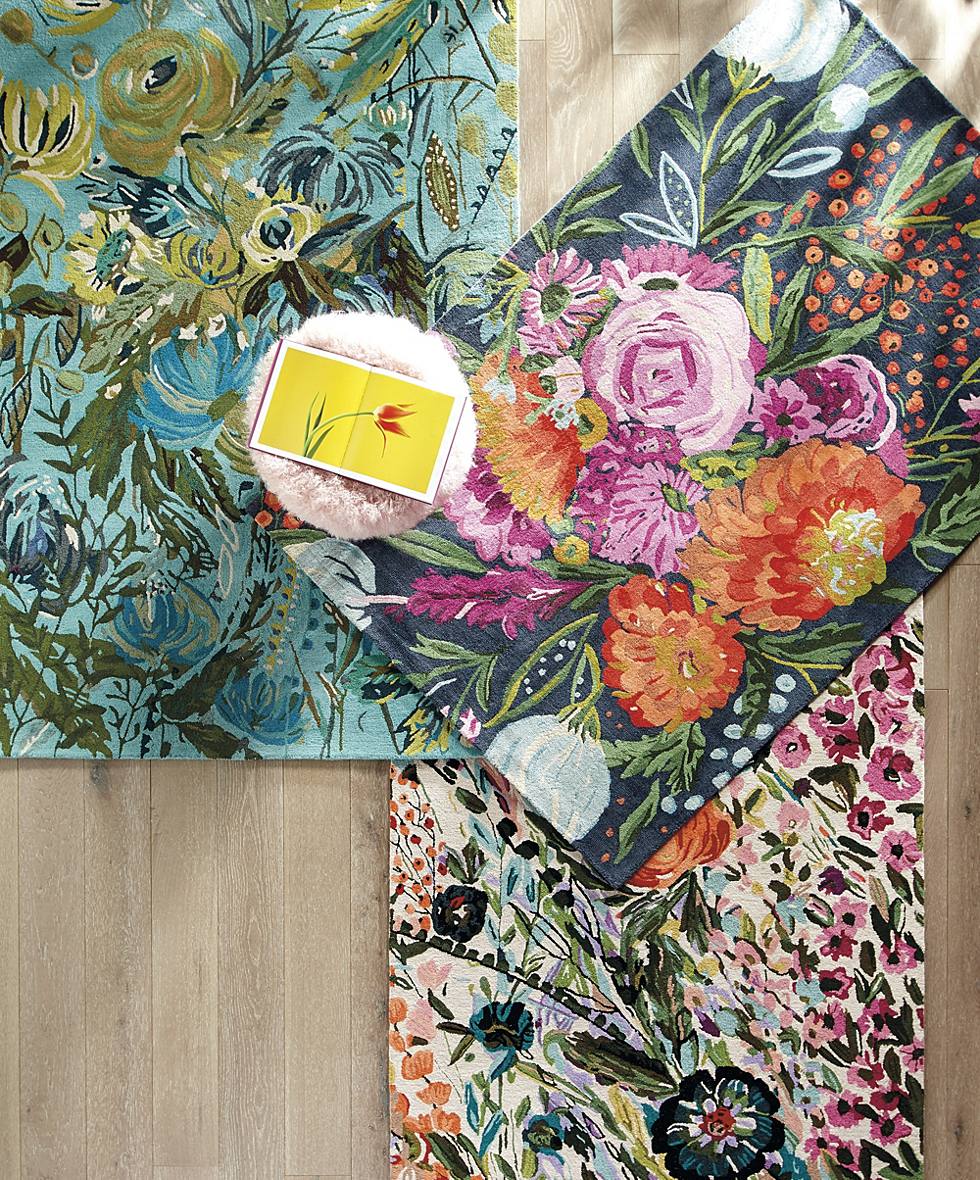 There's versatile magic in timeless pieces. A classic tailored and slipcovered sofa looks relaxed. Ahh!  Sink in and watch a movie. But, it can also look casually refined. It just depends on your accent choices (like side tables, pillows, throws). Even comfy sink-in seating like our Ava Slipcovered Sofa can be taken from family casual to urban cool by switching accent choices. Or, have a casual room for daily living, then revamp the look just for a formal party simply by switching out the accents for luxe pillows, gold side tables, and velvet ottomans. With a versatile sofa, you can be all things to all events.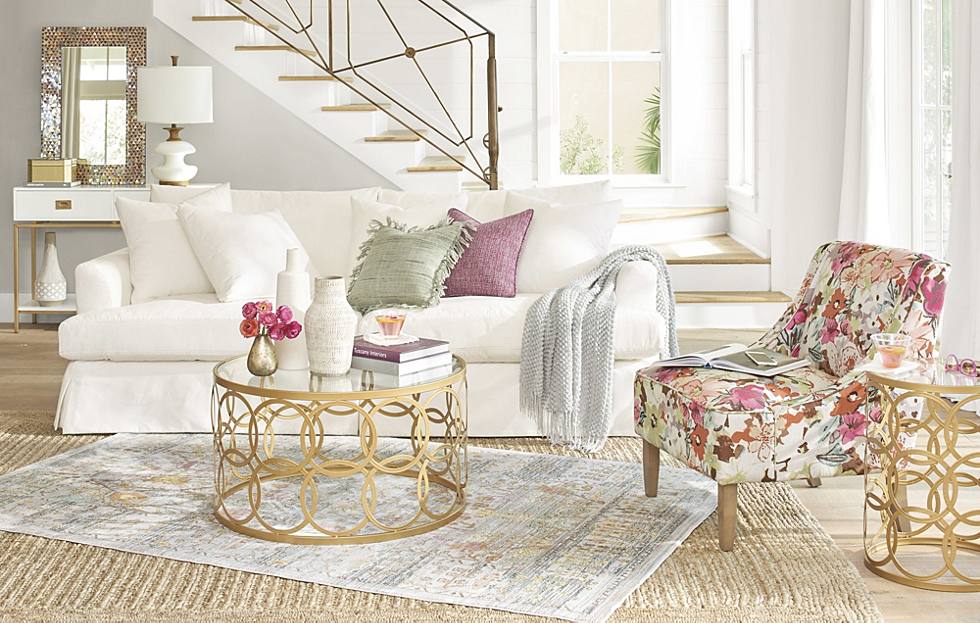 Balance actually works. Seriously, rooms that follow the theory of furniture used in a balanced way look instantly appealing, and you can just accept all the praise and smile. Balance is simple to achieve, too. Two matching armchairs can look like a design force paired and placed side-by-side opposite any sofa. Two or three side tables, even if they are different sizes or looks, can replace a heavy coffee table, the way you might use a big ottoman, for a look that's more updated, lighter in tone, and more functional. Or pair two exciting, leopard-print Becca Ottomans for a splash of extra style (as we did for the photo below). Three pillows are great for visual balance. Each of the pillows can be different as long as they're delivering on the room's colors and style (modern, rustic, glam, classic, boho).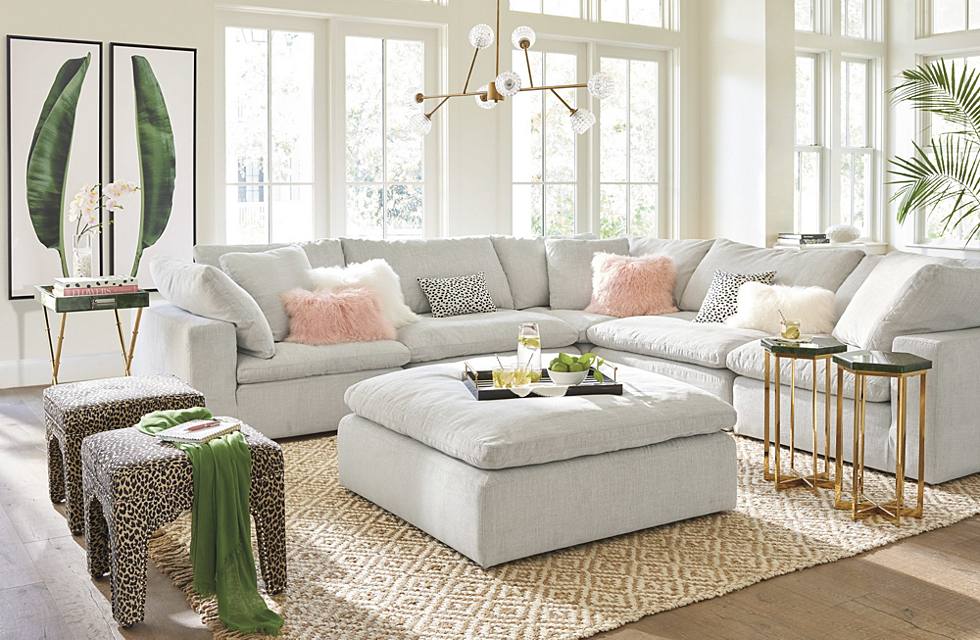 Blue is the easiest answer. Blue symbolizes harmony, peace, and wisdom, so it pleases the eye and makes it simple to create a great-looking space on any budget. There are always wonderful home products in shades of blue to choose from; grandinroad can certainly fill your blue dreams with goodies for any room (favorites: our Dreamer Lamps, our Horizons Big Blue Area Rug, our Chloe Tall Chest in Antique Navy, our Julien Bar and Counter Stools in Deep Sea or Caspian Blue). Vibrant blues can catch the modern coastal or Palm Beach preppy trends, even if used as artful accents.