The recliner is an engineered escape from everyday stress. A perfect chair concept for today, right? That's why it's enjoying a resurgence in popularity.
So, we've created updated grandinroad recliners for your home, each made using fine top-grain leather. Find your style, then learn why each of our recliners is amazing.
Style Guide to help you choose (each, sit-tested)
Mid-century modern. The Belmont Recliner (scroll down, to see it in motion) is an inspired mid-century modern look that's in high demand. ("I am thrilled with this recliner!" writes happy customer Csmith541. "The leather is incredibly soft.") The look is stylishly bookended with a solid wood, trapezoid-shaped frame design inspired by original mid-century modern furniture pieces. A sophisticated, highly comfortable choice.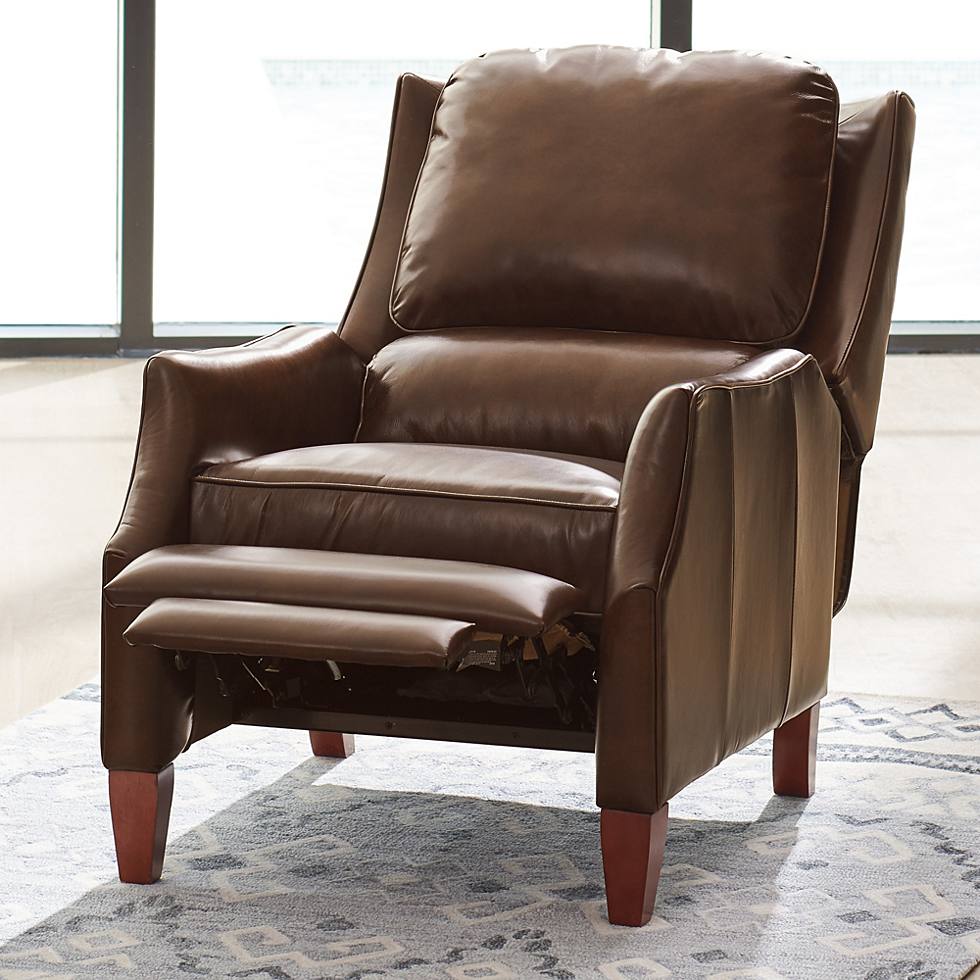 Vintage-inspired. The Barrett Recliner (shown above) is a vintage-inspired contemporary design with a higher back, updated with a tailored, streamlined silhouette. An amazing price for a go-with-everything design that's impeccably upholstered in smooth, supple, top-grain, aniline-dyed leather. Totally relaxing.
Classic. The Bryce Recliner (above) is a very classic design, styled with a contoured, richly padded back, curved track arms, and a deep "sink-in comfort" cushion. This is our most traditional style, its "mega-relaxation" level enhanced by the beautiful, supple leather. This is the kind of chair guys dream of getting for Christmas.
Weird bonus fact: Boom! Instant recliner style pedigree. The first reclining chair was owned by Napoleon III, Emperor of the Second French Empire in the nineteenth century. This royal is remembered for spearheading the Reconstruction of Paris. He had the taste and power and will to commission the grand redesign of the layout of the city, to look like the beautiful Paris we know today. He also flexed that power to have a reclining chair invented for his comfort and ease. Fancy. Today, you can sip Champagne in yours.
Your grandinroad recliner is a wonderland.
The style is real. No need to hide it in a back room. The modern grandinroad push back-style recliner is sleek, sophisticated leather furniture. It simply looks like a great comfortable chair; there's no lever on the side to give away its secret or wreck the look. (No old-fashioned side-lever mechanism recliners here.) Everything that does the smooth magic is hidden from view. And recliner designs and colors now accommodate your décor. Looking good. And well-tested: we sit-test our designs to make sure the leather and the chairs themselves feel truly comfortable from day one.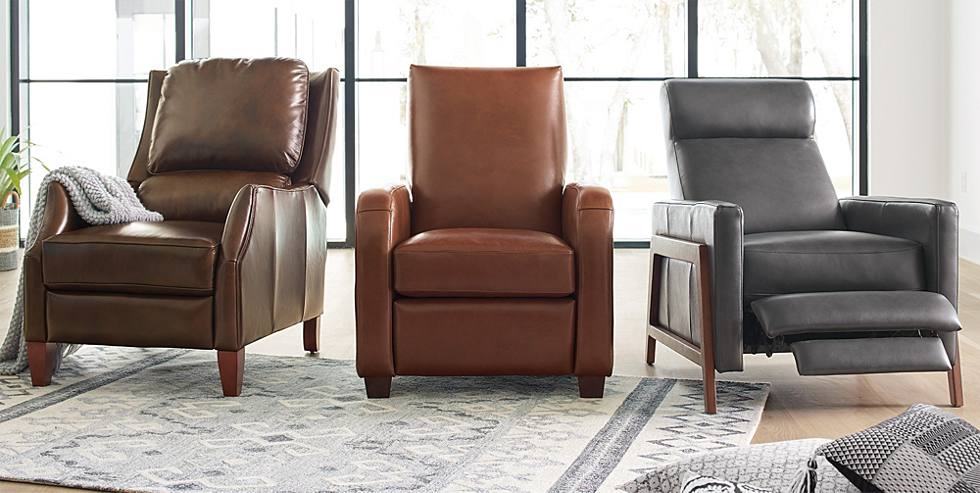 Top-grain, aniline-dyed leather matters. Aniline-dyed leather is one of the most highly treasured kinds of leather. Only the very finest, smoothest, highest-quality leather is used for a grandinroad recliner, because this aniline-dye method allows the naturally beautiful leather grain to be shown to its advantage. (This is the dye method used to create the finest leather shoes.) This top-grain, supple leather also feels incredibly good from the start, and gets even softer over time. And easy-to-live-with, top-grain leather from grandinroad is given a protected surface treatment. Simply dust or wipe off the leather surface with a water-dampened cloth if something is spilled. Whew. Because messy snacking and recliners kind of go together, right?
How far back can you go? Because of the three-way internal mechanism, you can recline all the way to a full, deep-recline layout, or stop anywhere you want. All of our ultra-comfortable recliner seating styles are great for a serious nap anytime. Simply sit down and lean back to take your push-back recliner into an easy recline and let its hidden footrest emerge. Constructed with a kiln-dried, hardwood frame, these handsome recliner chairs are also extremely stable and sturdy. Check out the Belmont, below.
What all our recliners have in common:
High-quality, top-grain, aniline-dyed leather
Easy-to-live-with leather has a protective treatment against spills; just dust off, or for spills, wipe with a damp cloth
Comfortable push-back design, with no exterior mechanism
Sit-tested for comfort
Three-way internal mechanism lets you recline all the way to a full, deep-recline layout, or stop anywhere you want
Tension adjusters allow you to tailor the tension of the back to your size, your height, or needs, to personalize the comfort and ease of the push-back operation
Paneled outside and inside arms
Pocketed coil seating
Hidden pop-out footrest
Solid, kiln-dried hardwood frame
2.0 lb. upholstery foam
Removable back
One-step set up (upon delivery, attach the back in a flash – no tools needed)
ROOM DESIGN TIP:  Our authentic, exclusive Kilim Pillows look incredible resting on the luxurious leather of our Recliners. Our blog has more about these timeless global accents, which are trending for home design: Kilim Design: Best Reasons to Love the Look.