Make a long, beautiful summer even more fun with our special decorative (and pretty entertaining) finds from our Outdoor Living collection. Here are some of our favorite ways to add a playful or joyful feeling to our outdoor spaces.
Piggy Back Garden Statue. What can we say? It's super cute and would make anyone smile. Yes, you live at the house everyone enjoys visiting. You know you'll probably find yourself naming these three sweeties. Our statue stands 15 inches high and is made of a durable resin composite with a classic rubbed-oil finish. Enjoy it indoors, too.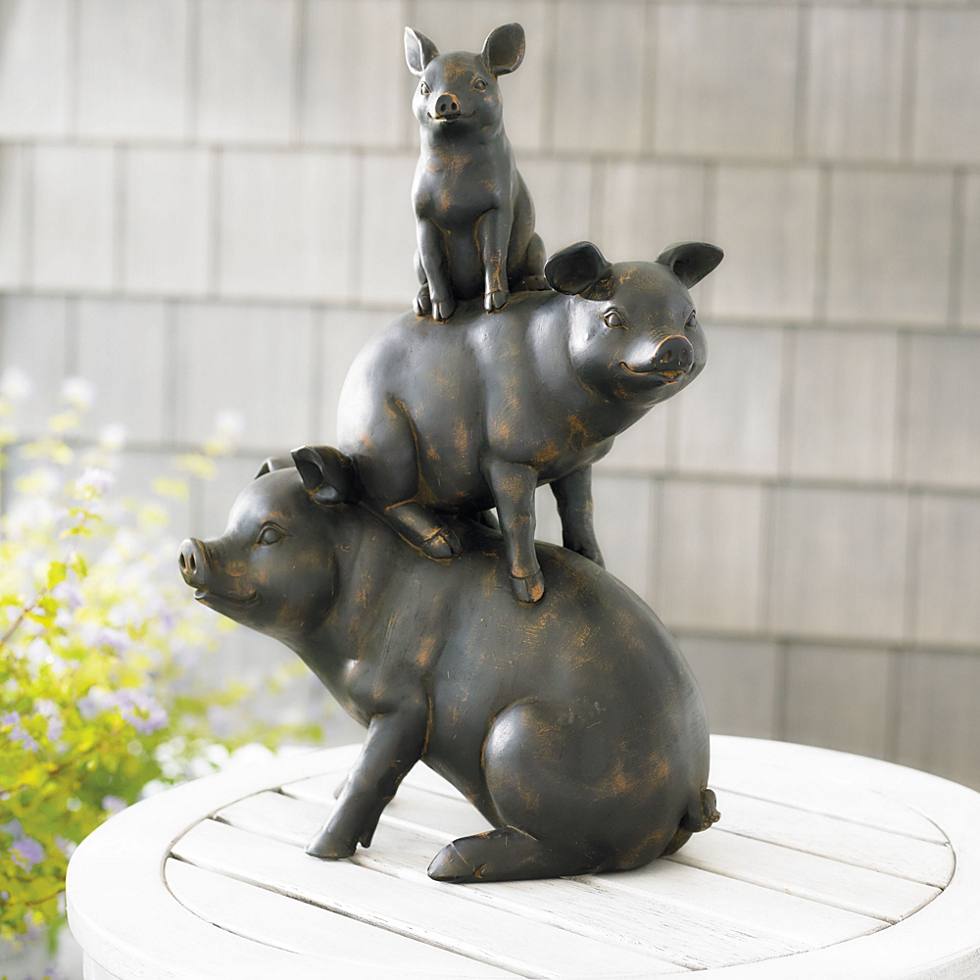 Faux Boxwood Squirrels. A set of two squirrels having a conversation about peanuts on your front porch is cute. But a gathering of six taking over your patio area? That's some big party décor in the making. Pink Squirrel Cocktail, anyone?
But even better than squirrels. we have Faux Boxwood Garden Dogs. Their charm is real, and we love them. Will the puppy, the well-behaved best friend, or best-selling Peabody Faux Boxwood Garden Dog (shown below) speak to your soul? Aw, get them all. Everyone loves them; popular Peabody has even appeared on a famous television morning show. Now he's ready to appear on your patio. He's a star anywhere he goes.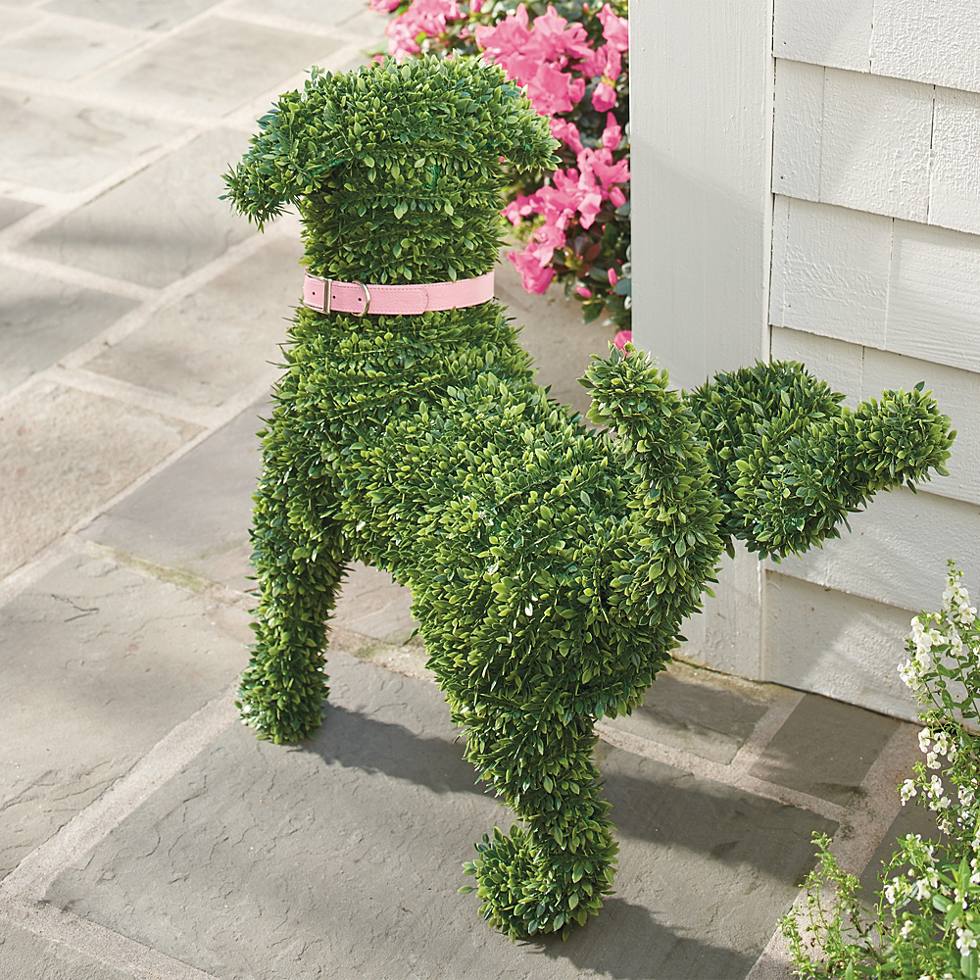 Outdoor Metallic Splatter Pouf. Glimmery and glam and exclusively ours, in shades of metallic ivory, taupe, white, and charcoal, our sleek poufs are handy extra seating with a streamlined modern edge. Everyone's going to love them. Great indoors as well.
Preppy Pineapple Collection. Do you want to sip delicious exotic chilled cocktails from golden pineapples? We know we do. Your friends do too. Get enough to pass around.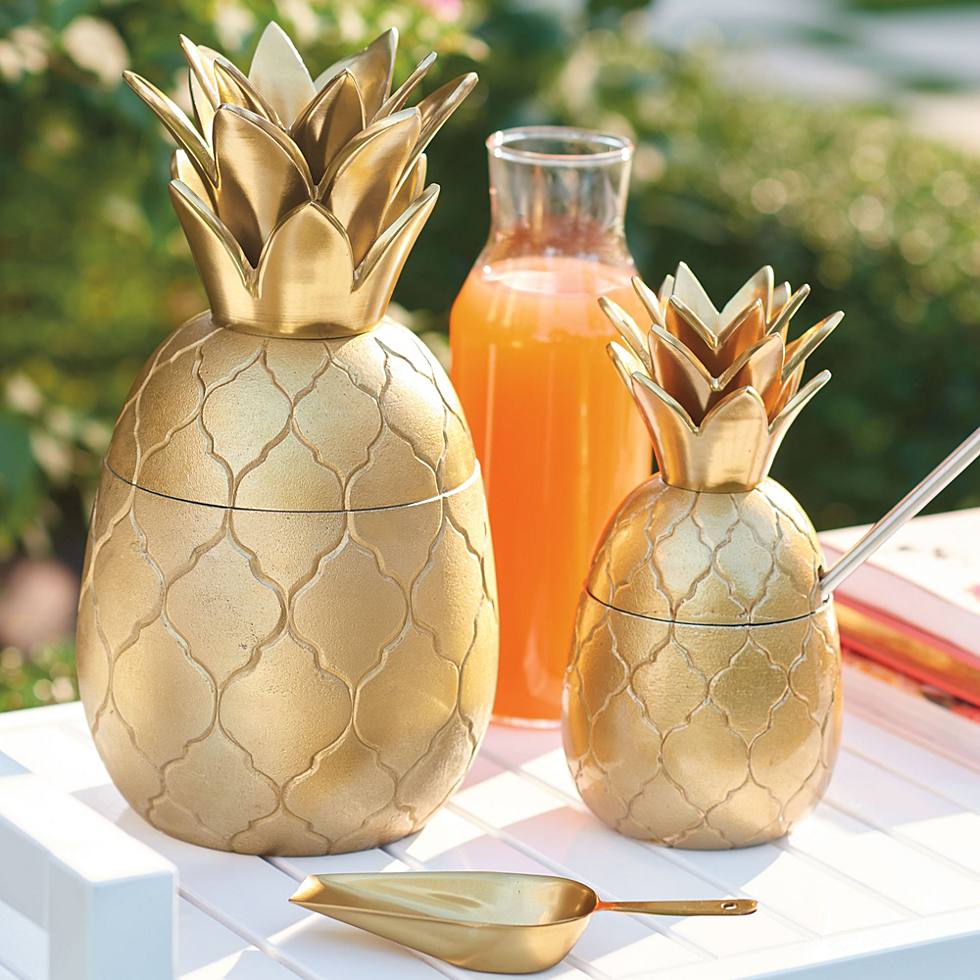 Pool Boy Service Bell. After you've ordered your usual Champagne, just press our very special Pool Boy Service Bell for anything else you may need. It will buzz for service in your kitchen or outdoor bar area or studio/workshop (the wireless service range is 80 feet), wherever you like. Won't your husband (a.k.a. Pool Boy) love being at your beck and call when you need more ice, magazines, fresh fruit, or an extra towel?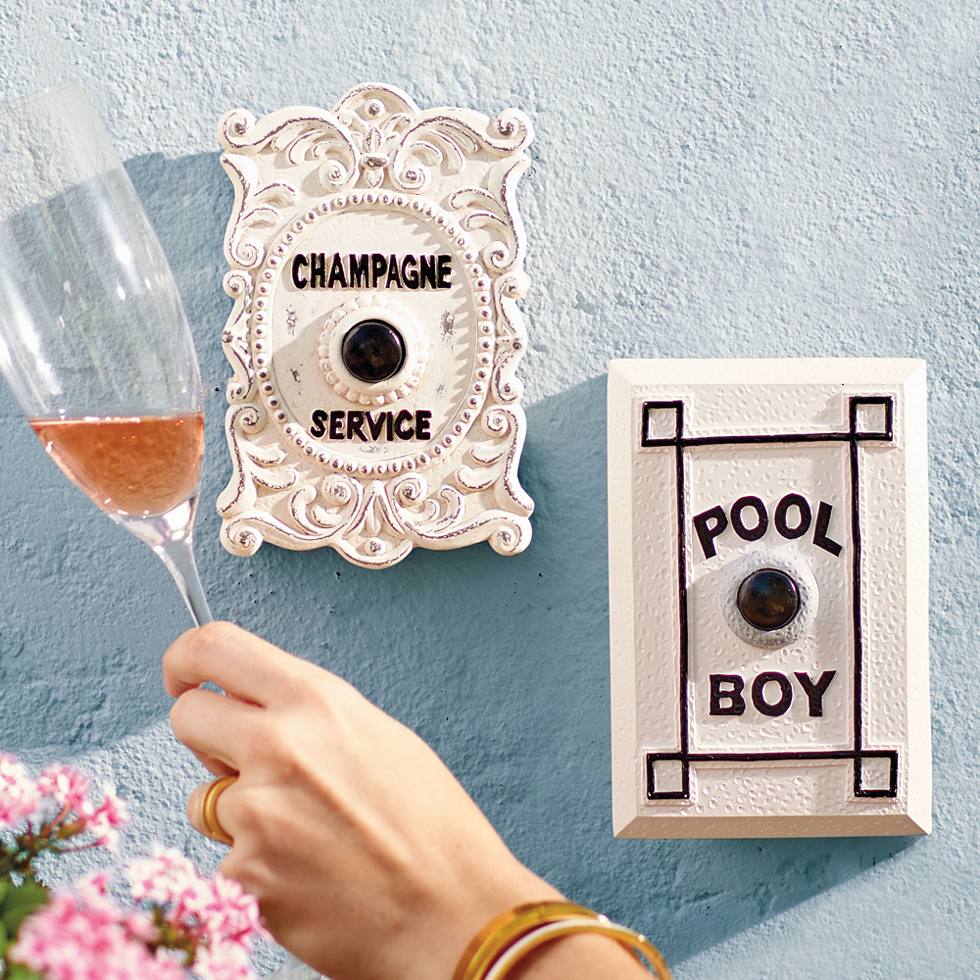 Dancing Garden Girl Outdoor Sculptures. You can see why they've been everyone's favorite. Just the light touch your flower beds or terrace need. These delicate artworks are created in steel, with a weather-resistant antiqued silver finish. (So, do you think she's holding a leaf-shaped handbag? Cute!)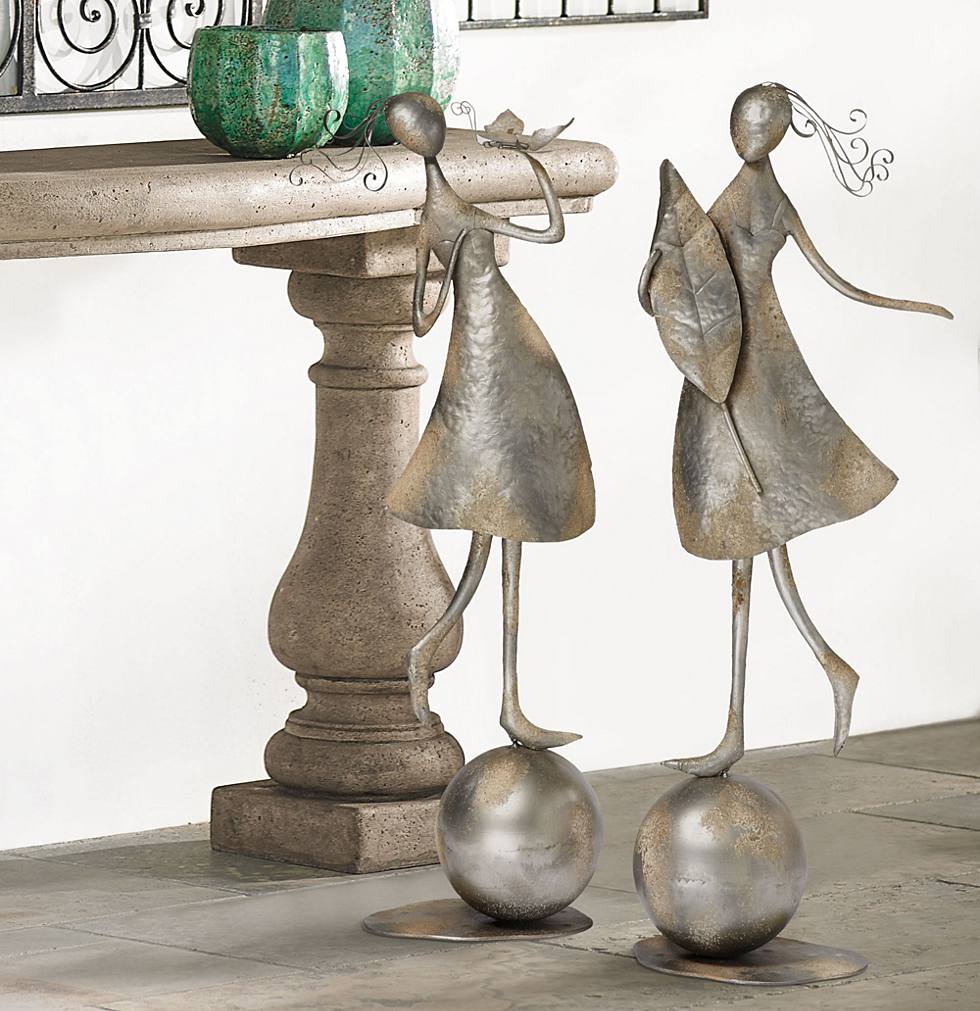 Also, if you prefer animals as your garden accents of choice, we have a wonderful kitty-shaped Curious Garden Sculpture. If anything is sweeter than this, we'd like to see it: our kitty and that butterfly on her nose are happy summer friends. Want more? See our Stretching Cat Garden Sculpture. Posed just like your purr-iest feline pal does in a ray of sunshine, he's delightful. You probably need them both.
Pretty in Pink Flamingo Outdoor Pillows. Irresistible as a bold pop of updating color. Or get an accent pillow that shows a "flamboyance of flamingos" (the technical term for a flamingo flock, and you're welcome for that tidbit): our Pretty In Pink Flamingo Party Outdoor Pillow. Those chic flamingos are definitely enjoying their day together. As an option, we love our Harlow Ellie Elephant Outdoor Pillows, too, in Navy and Pink. You can't go wrong with a bright throw pillow, indoors or outdoors.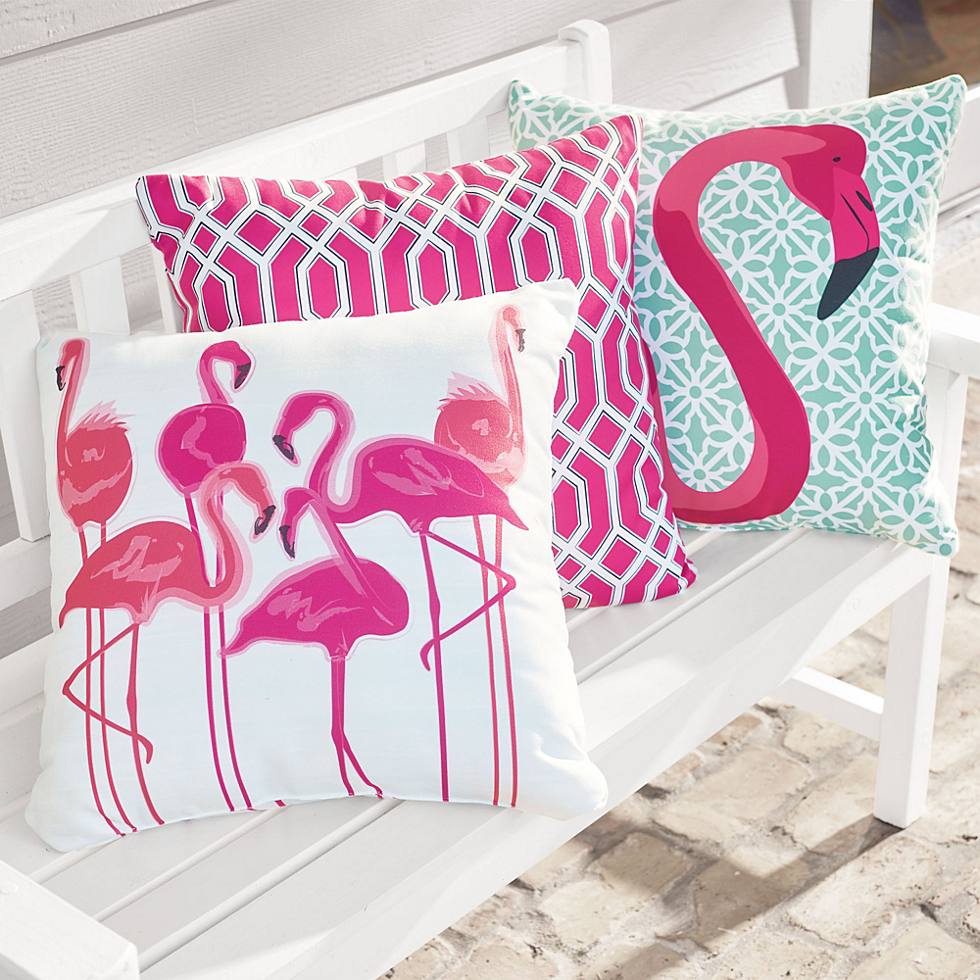 Faux Boxwood Flamingo. Tell everyone this is where the party is. Here it is! Right here, by this green boxwood flamingo staked into the ground!  Our flamingo is also cute if you add one of your party balloons on a ribbon.
Bird Cage Outdoor Wall Décor. Fill them with faux flowers or air plants. They're a nice way to create a wall look that enhances your other décor. We love their Parisian flea market vintage vibe so much. This is an easy addition to a pretty porch nook, too.