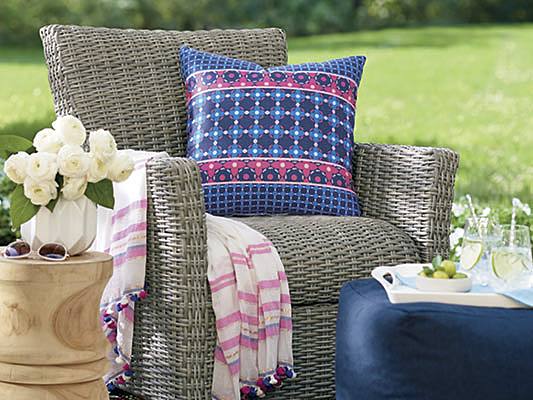 Porch seating is the perfect way to expand the footprint of your home without any construction involved. It's true, even with just a few seating pieces. And the right porch décor can give your outdoor space as much personality and style as your much-loved space inside.
Want to know the secrets to the style? The designers at Grandin Road are here to help. We started with a 12 ft. x 14 ft. space (on one really great porch) and just two pieces from our Simsbury Outdoor Seating Collection. From there, we selected outdoor accents to create three distinctly different styles. See the looks we created with front porch décor and how easy it could be for you.
Enjoy days at the beach? Create a laid-back, coastal vibe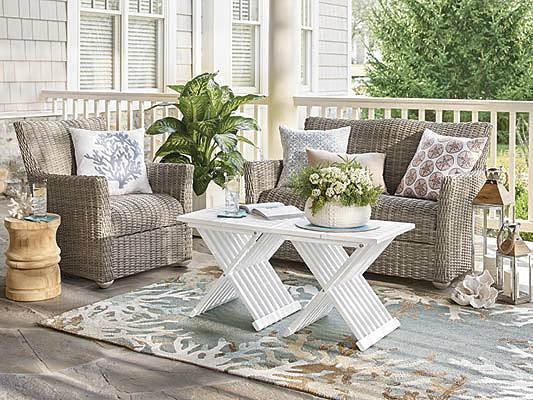 The pieces that make it perfect: Simsbury Loveseat and Lounge Chair, Starfish Pillows, Coral Border Rug, Farrah Folding Tables (2), Kendall Teak Stool, White Nantucket Square Planter, Tucker Lanterns
Why we love it:
Coral and sand dollar motifs, decorative shells, and nautical-look lanterns convey a relaxing, beach-worthy feel.

Light colors and crisp white accents keep the feeling breezy.

Plants give it life, and signs of life are welcoming to guests.
Bring the world to you: Create eclectic, global appeal
The pieces that make it perfect: Simsbury Loveseat, Lounge Chair and Ottoman, Sedona Pillows, Quinn Trellis Rug, Ginger Table, Copper-finished Footed Planter, Halstead Lanterns, Cameron Basket
Why we love it:
Pick a pattern mix with well-traveled appeal: an ogee-motif rug, tribal-look pillows, an Indonesian-styled accent table.

Natural (and natural-look) fibers, with copper-finished metal, are a natural fit in an outdoor setting.

A warm color palette warms the space—and makes porch décor so inviting.
Have fun with color: Create space that makes you smile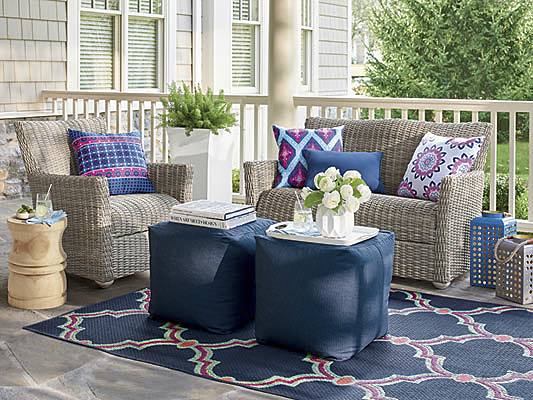 The pieces that make it perfect: Simsbury Loveseat and Lounge Chair, Rosalie Pillows, Calypso Quatrefoil Rug, Outdoor Poufs (2), Kendall Teak Stool, Tall Brighton Planter, Sawyer Lanterns
Why we love it:
Indigo blue and bright pink pop against a green outdoor setting.

We appreciate versatility: poufs instead of a traditional center table make extra seats when more guests arrive.

Easy-care pieces, easy to love: Ceramic-look lanterns are durable iron. That ceramic-look planter is shatterproof polyethylene. Cushions inside the seats… never blow away.
No matter what your style is, remember these tips:
Materials: Outdoor living requires porch décor that stands up to the elements. Choose furniture in vinyl wicker or moisture-tolerant teak wood, for example; rugs made from mildew-resistant polypropylene; quick-dry polyester pillows.
Size: There are stylish choices for every footprint. Select a smaller chair for a balcony. Deep-seating sectionals are better for a large veranda. Find porch décor that works for your space.
A little goes a long way: Want to outfit the entire porch? Great, but you don't have to—a new set of outdoor pillows, alone, can make an existing seating space feel refreshed.
Check out our entire Outdoor Living collection for more great finds, from seating to accents. Find the fit that's right for your space.
And for even more front porch décor inspiration, check out another great blog, Front Porch Makeover: One Porch, Three Sunny Ways.