Check out this year's most festive Christmas porch decorations, gathered just for you by the elves at Grandin Road. Battery-operated garland, Christmas wreaths, lighted decorations (love Christmas lights!), front door mats with personality, and all the extras to wow the neighbors. So have some fun.
1 | Classic Christmas porch decorations get an update.
Do you love the modern farmhouse trend? Then you'll probably love updated icons, like our Retro Squares Seating and Musical Nutcracker—they're the perfect holiday home décor match. And the elegance of our Savannah Cordless Greenery completes the look (battery-operated garland, wreaths, swags, and urn fillers—a little something to fill every gorgeous space on the front porch). (Red Deer, a nice touch too!)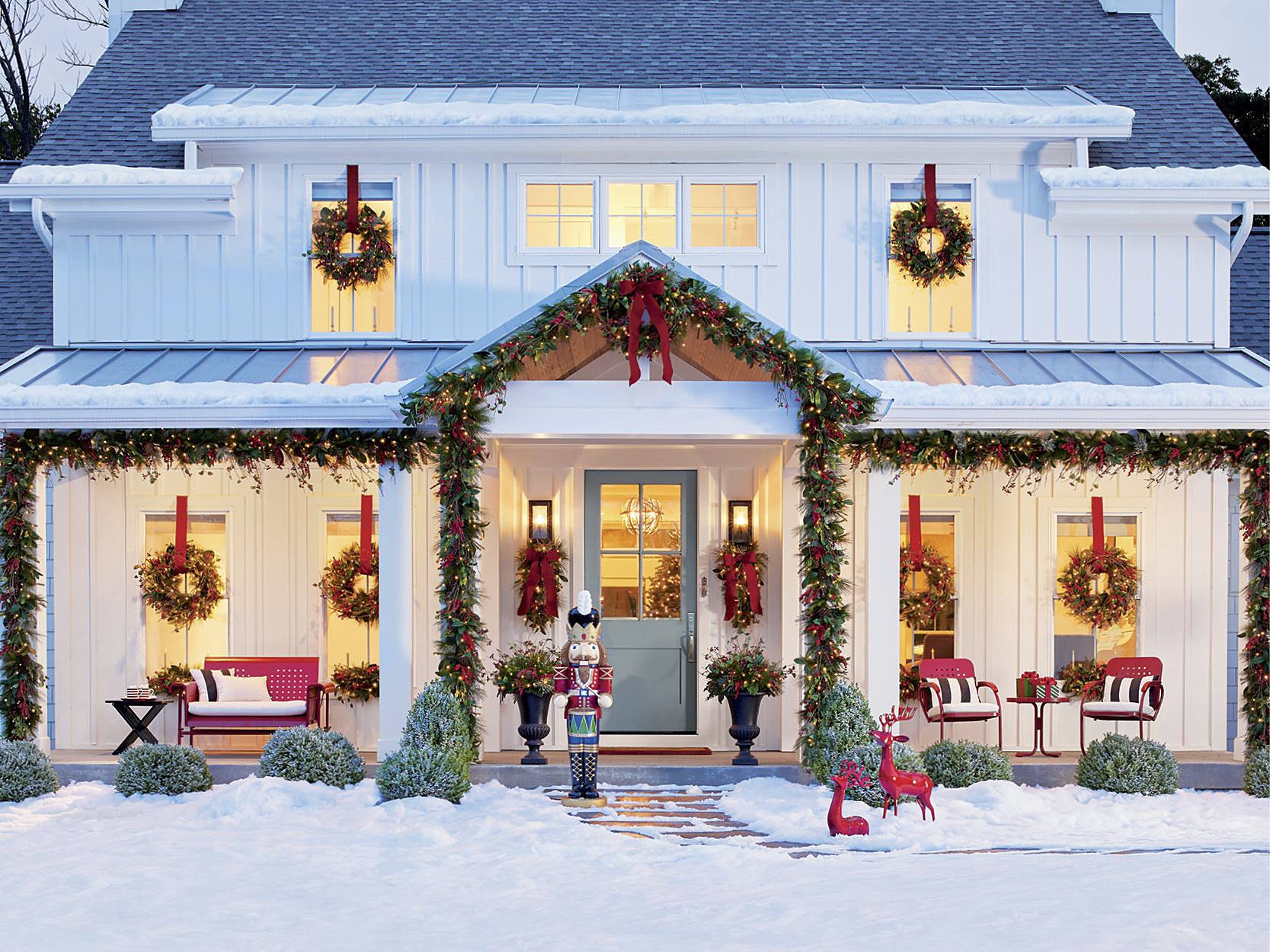 2 | All bling. No bother (with pre-lit, cordless garland and wreaths).
Why not select pre-lit, cordless greenery that's simple and sophisticated—no ornaments and no ribbon, so it's perfect for an extended holiday season, and no cords to plug in. Simply set the timer, and you're set to dazzle all season long. Try our Frosted Winter Greenery and Shooting Stars.

3 | Let it snow ( because you love it).
Your wintertime philosophy: a fresh layer of snow and the world is new again. Bring that magic to your Christmas porch decorations, regardless of the forecast, with our perfectly flocked Let It Snow Greenery, complete with place-it-anywhere, battery-operated, sparkling lights.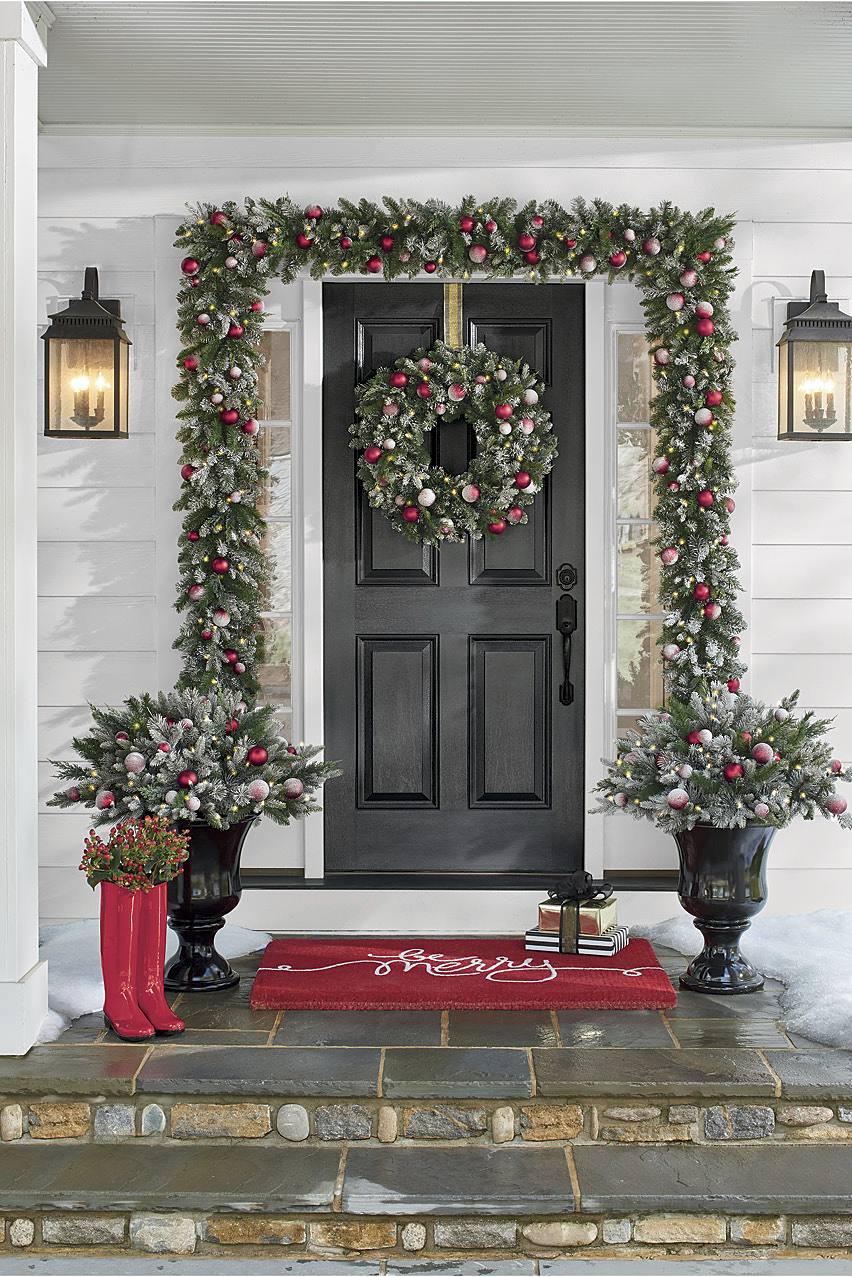 4 | Sugarplum fairy.
You're inspired by trends and not tied to tradition. Dazzle the neighbors with candy-colored Merry and Bright Cordless Greenery, a turquoise blue "Be Merry" front door mat, and hundreds of brilliant, battery-operated Christmas lights. After all, no one does yuletide like you.
5 | The more Christmas porch decorations, the merrier.
Every room in your home has a holiday theme, every surface, a touch of Christmas. So why not take that Christmas enthusiasm to the porch in bold fashion? Graphic Holiday Harper Topiaries, ribbons to match, and pre-lit Madison Cordless Greenery to frame it. A dramatic, glossy-white woodland deer as an added touch? Yes, please, how about two?

6 | Simply good natured.
It's difficult to improve on Mother Nature's design. So you love to bring outdoor elements to your space: botanicals, warm wood grain, natural stone. Christmas porch decorations are the perfect transition from outdoors to inside—add a hearty coir front door mat, stone-look outdoor planters, and our battery-operated Blue Cedar Wreath and Garland.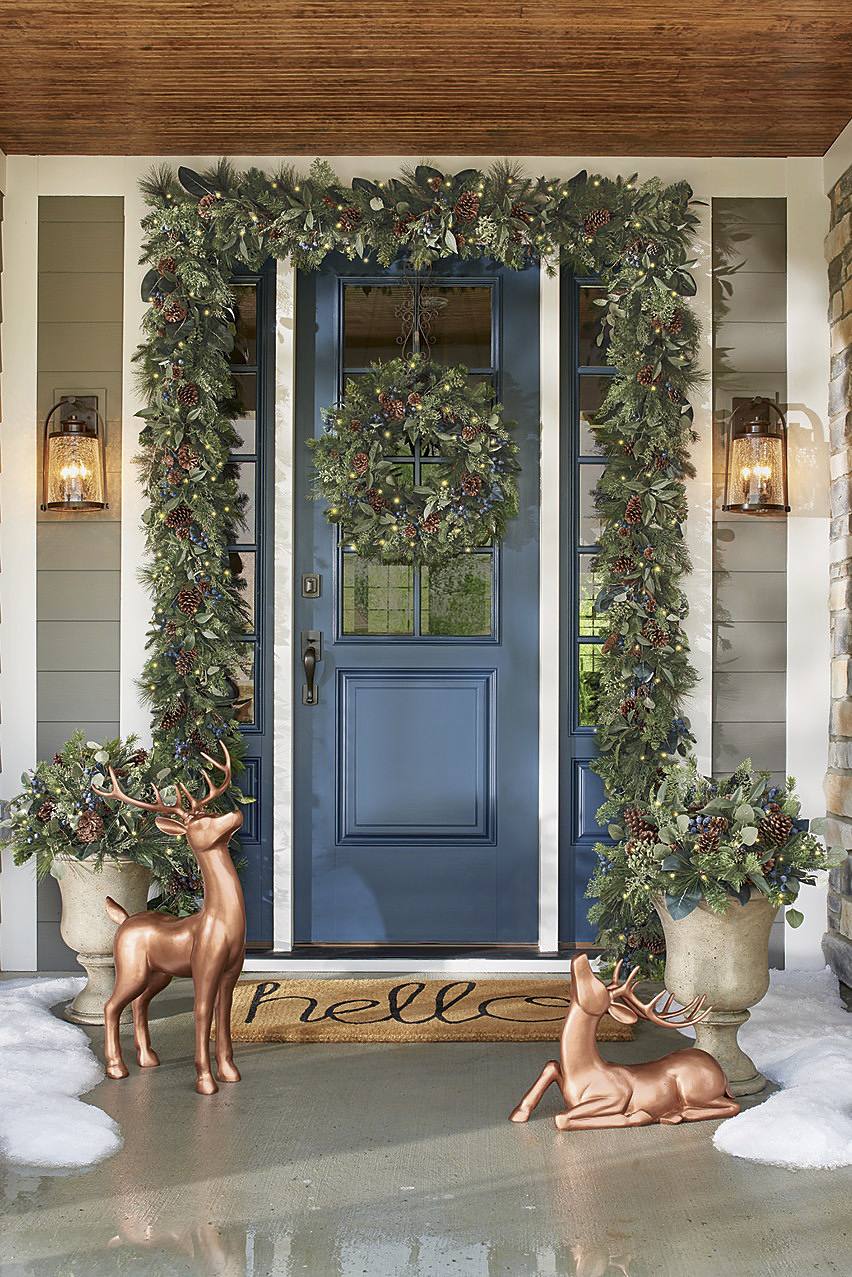 7 | Sentimental about Christmas decorations?
Frosted pinecones, sparkling Christmas lights, shiny red ornaments—and stacks of gifts? These are a few of your favorite things (they're everyone's faves), so keep them gathered at the front door to welcome friends and family. Tradition is important—carry it on with our MacKinley Battery-operated Greenery and Presents Topiaries.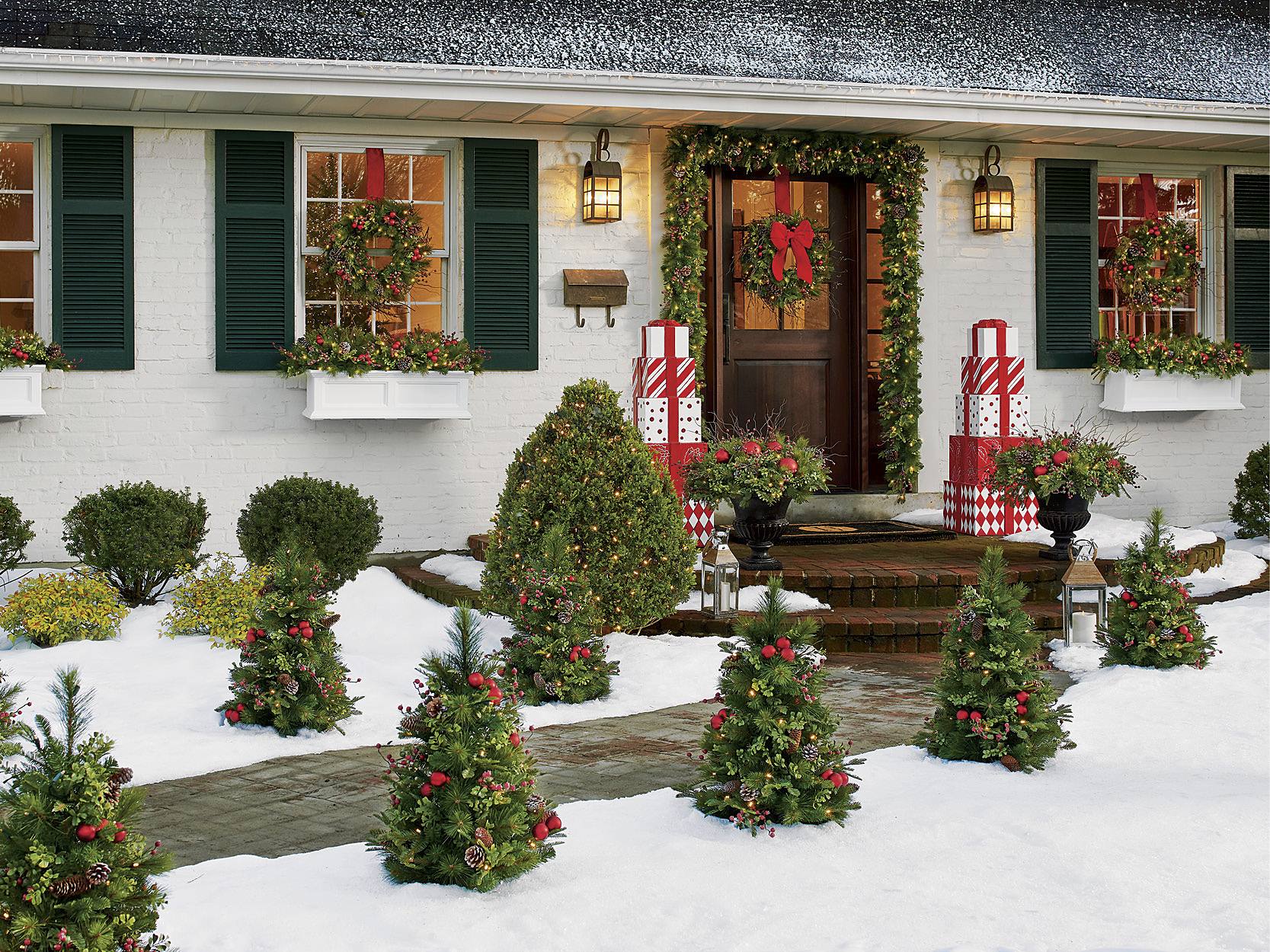 8 | Santa's little helper.
You're a child at heart. You delight in toys beneath the tree, hot cocoa, and cookies, and, in your book, Santa is still the biggest rock star on the planet. So set the stage, North Pole style, with Candy Canes, the lights and music of our Animated Musical Nutcracker, and—not one—but three Holly and Berry Wreaths on a Ribbon. Christmas porch magic.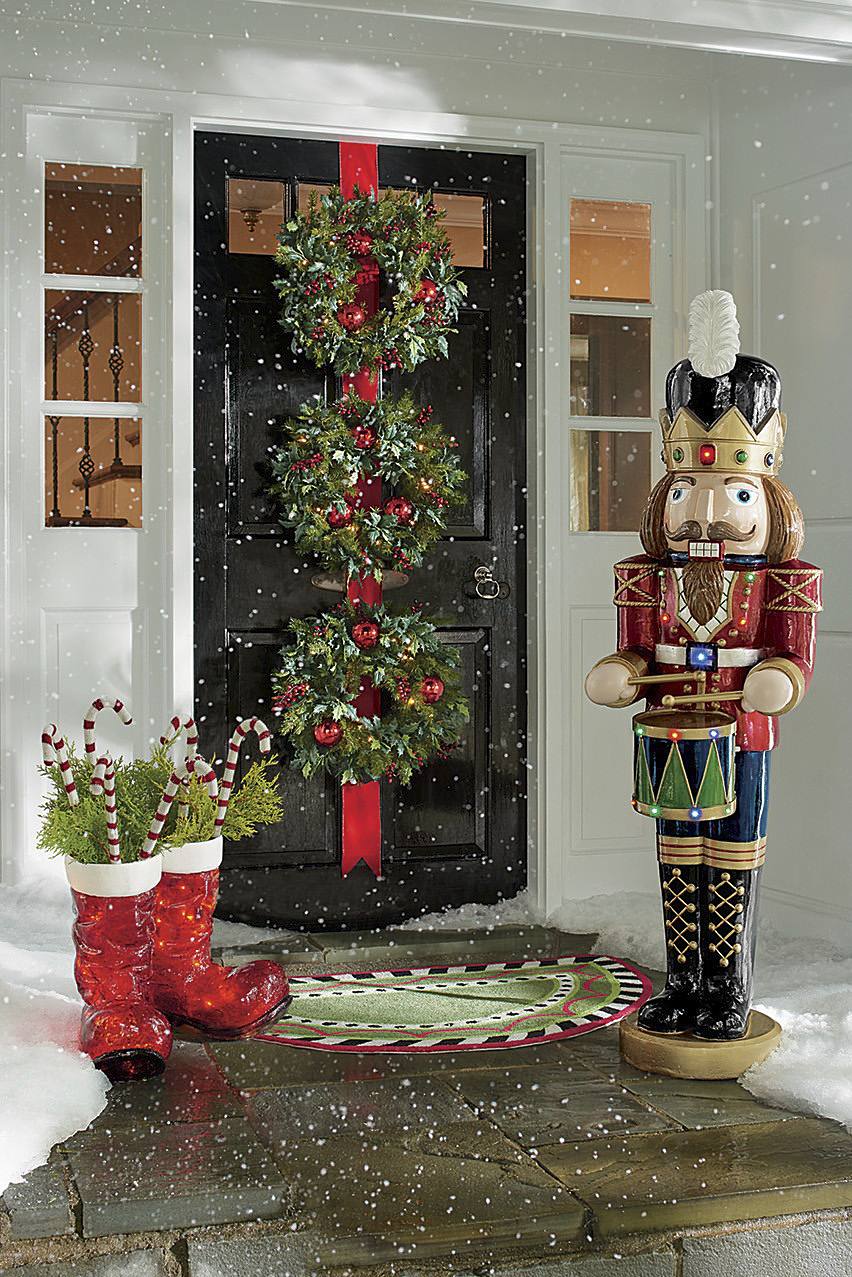 9 | All is calm. All is bright.
The holidays are chaotic—and home is your escape. You want a Christmas front porch welcome that brings balance and harmony back into perspective: a row of Three Winter Wreaths neatly aligned. And the calming, curving lines of our iconic Nantucket Rocker. Relax, we've got your covered.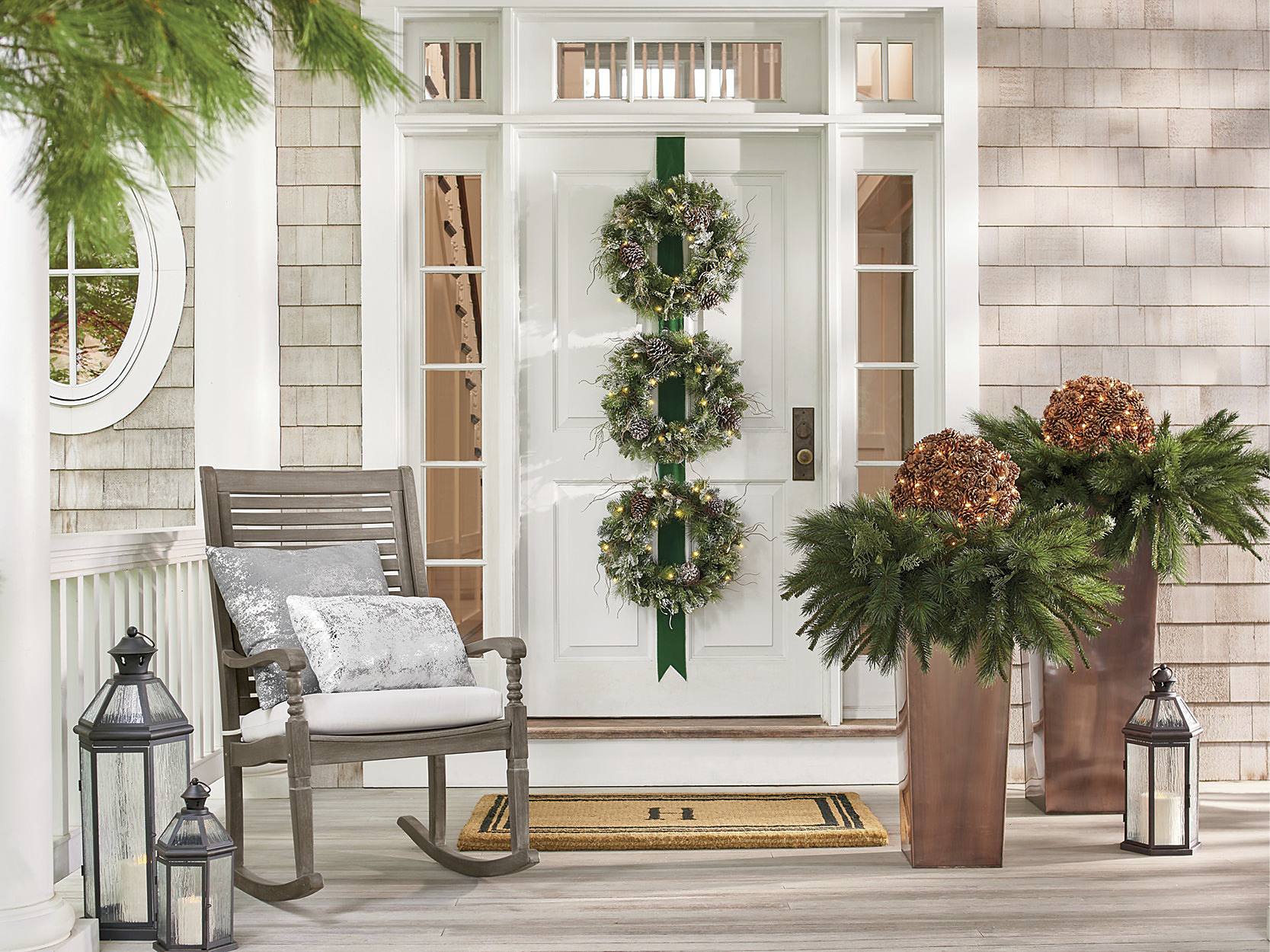 10 | Bench warmer.
You believe that all Christmas porch decorations should include comfortable seating, like our Barrymore Bench, because at the end of the day, you'll have a place to enjoy it all. Spruce it up for the holidays with lighted Christmas decorations, like our Pre-lit Greenery Stars, but enjoy the bench all year long.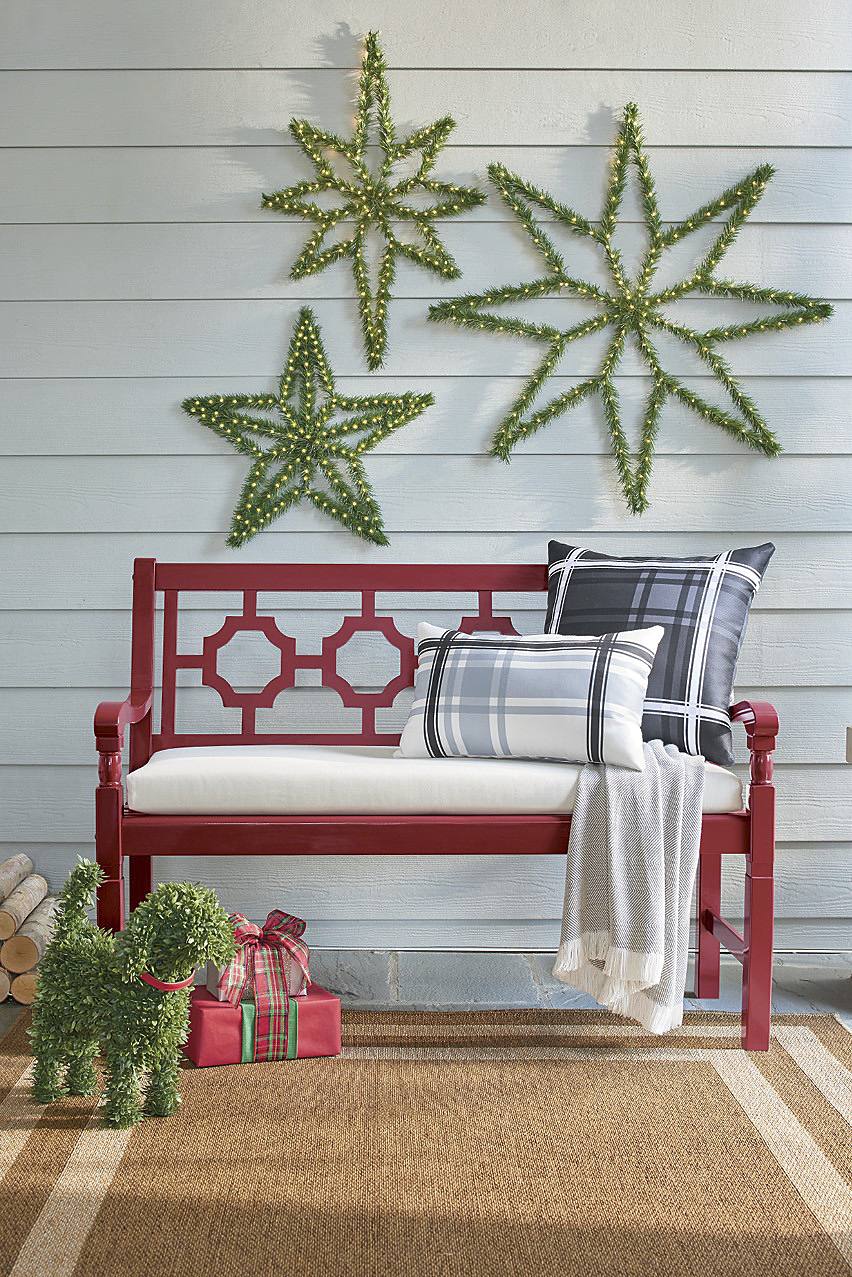 11 | Green thumb (think Christmas porch planters).
Gorgeous planters, like our Zoey Urn, look great any time of year. And what a perfect (and easy) way to frame a Christmas front door look! Top them with our no-maintenance, evergreen Faux Podocarpus.

12 | A Christmas porch for Peabody.
Our Faux Boxwood Dogs are a huge hit (especially Peabody), so deck them out for the holidays with a jingle bell collar or tiny Santa hat. Another great idea? Faux Boxwood Monogram Letters instead of a traditional Christmas wreath—all thoughtful gift ideas, too!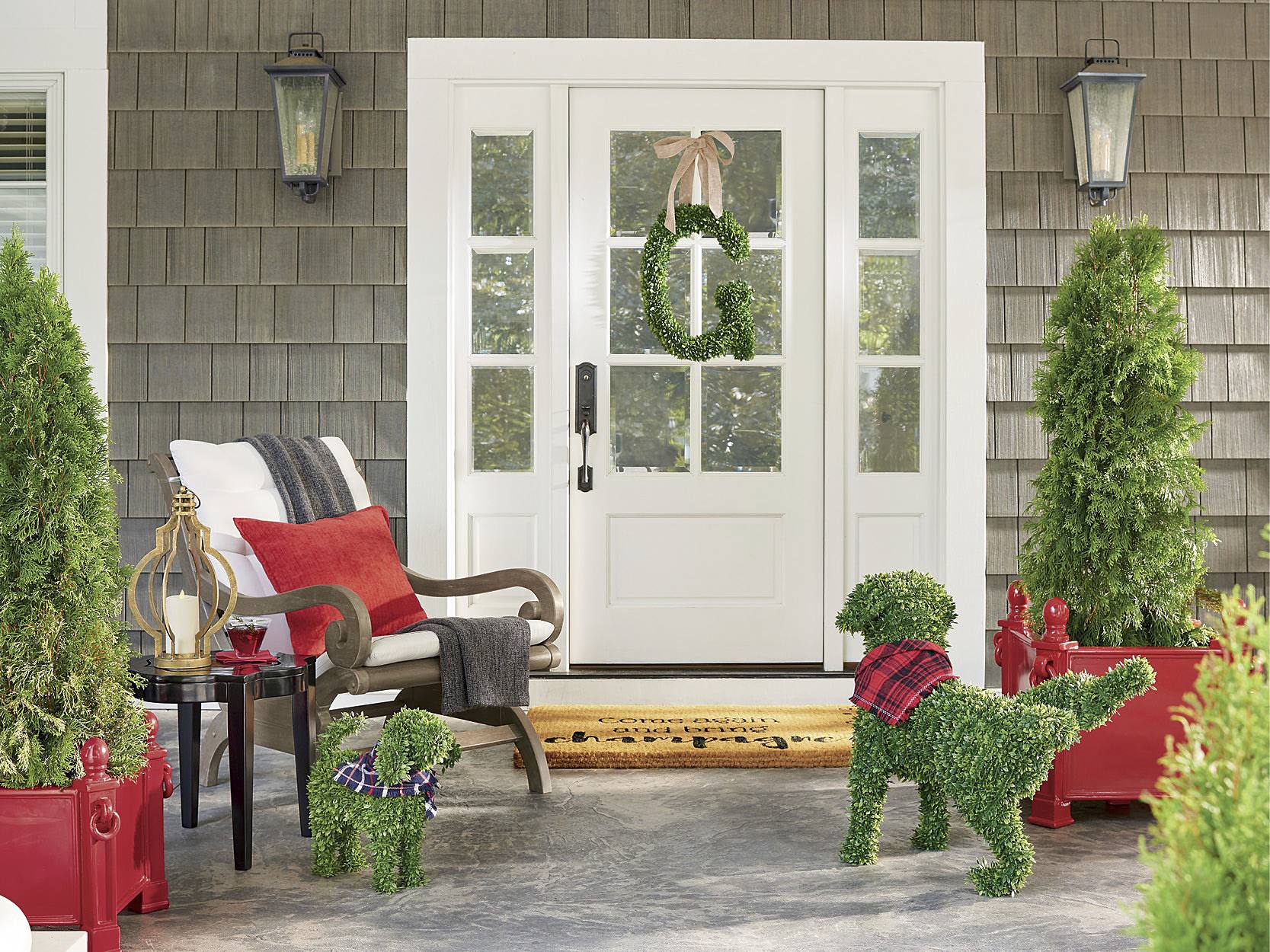 13 | Conversation starter.
Make your Christmas door mat the message, and they'll smile before they ring the bell. An easy (and festive) way to spread good will and, consequently, another great gift idea.

14 | Bright ideas (love Christmas lights!).
Your street appeal doesn't have to be front door-centric. Create a stunning affect with our Weeping Willow Lights or Micro Light Snowflakes hung from a tree or along a roofline. Pre-lit Boxwood Presents or Snowflake Pathway Markers look brilliant near the stoop. Perfect as "extras" or make them center stage.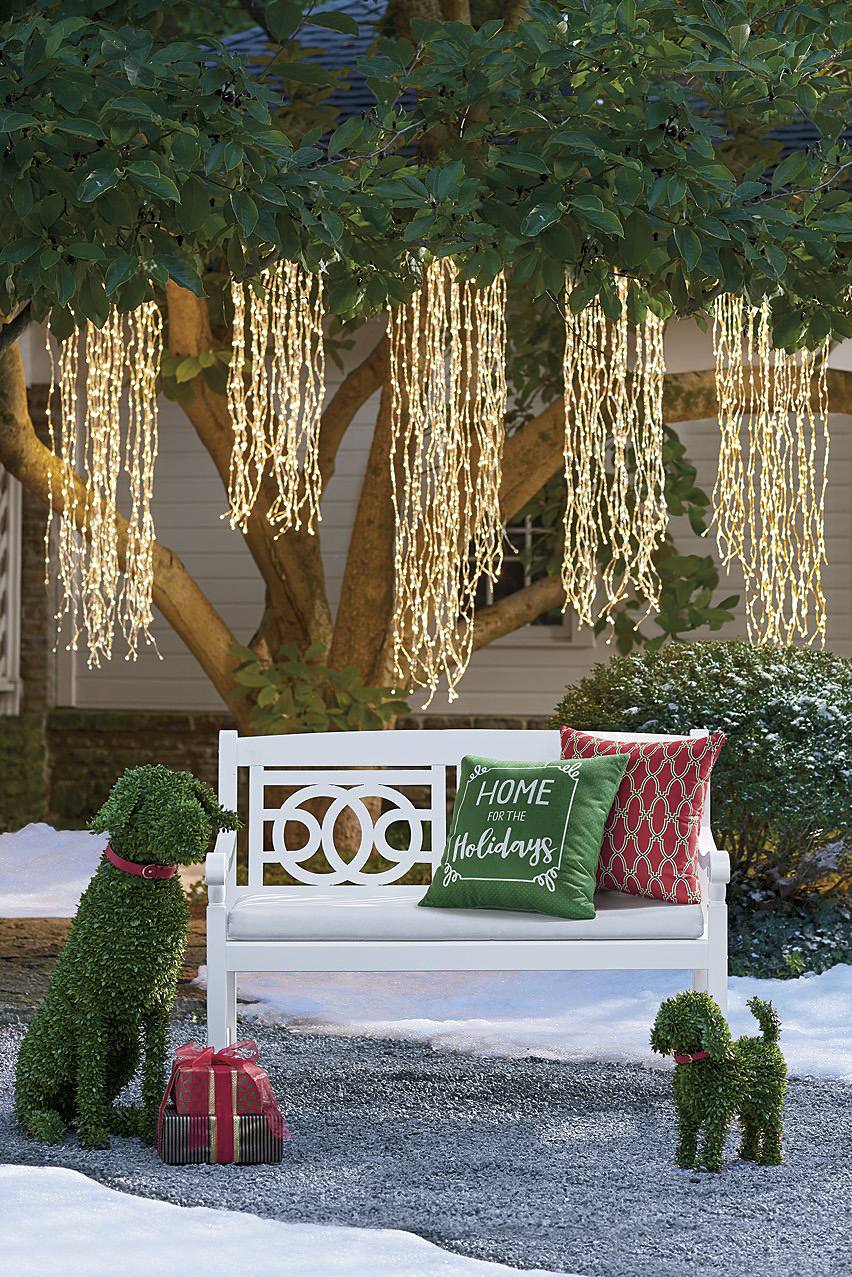 15 | Christmas porch decoration "drama"?
Finally, go for something unexpected: jet black, flat-iron Deer Silhouettes absolutely pop against the backdrop of a simple porch setting, especially in the winter snow. Back-light them at night to captivate the wildlife watchers in the neighborhood (wink).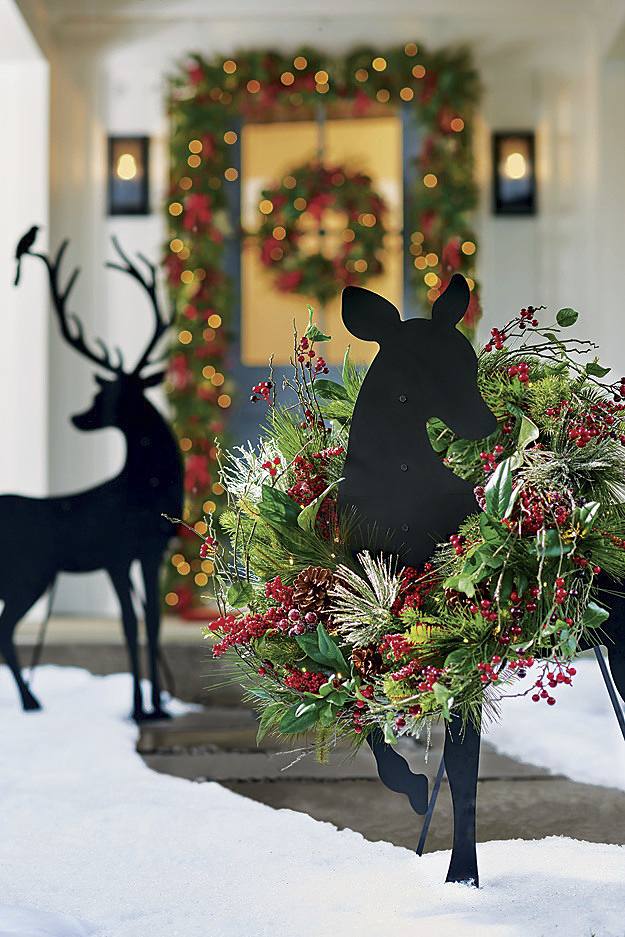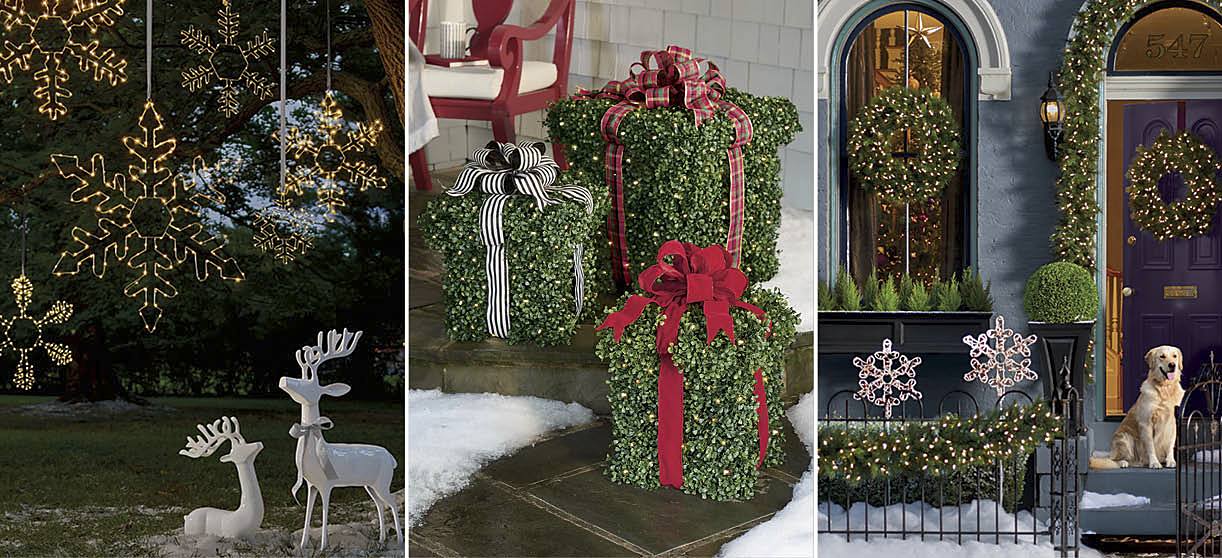 Can't decide on the perfect Christmas porch decoration look for you? Use our exclusive, interactive visualizer to create one of your very own, with a quick-and-easy, drag-and-drop feature that lets you see how your front porch might look, decked out in all your favorites. See our Santa-approved Mix & Match Visualizer.
Like this blog? Turn your Christmas creativity indoors, and check out another helpful Grandin Road blog, How to Decorate a Christmas Mantel.
SaveSave
SaveSave