We're so glad we got married to color, fun, and creative style 14 years ago. We've been happy ever since! So we're celebrating. And you're invited. Come to our month-long April Anniversary party; we'll have new ideas, surprises, and offers.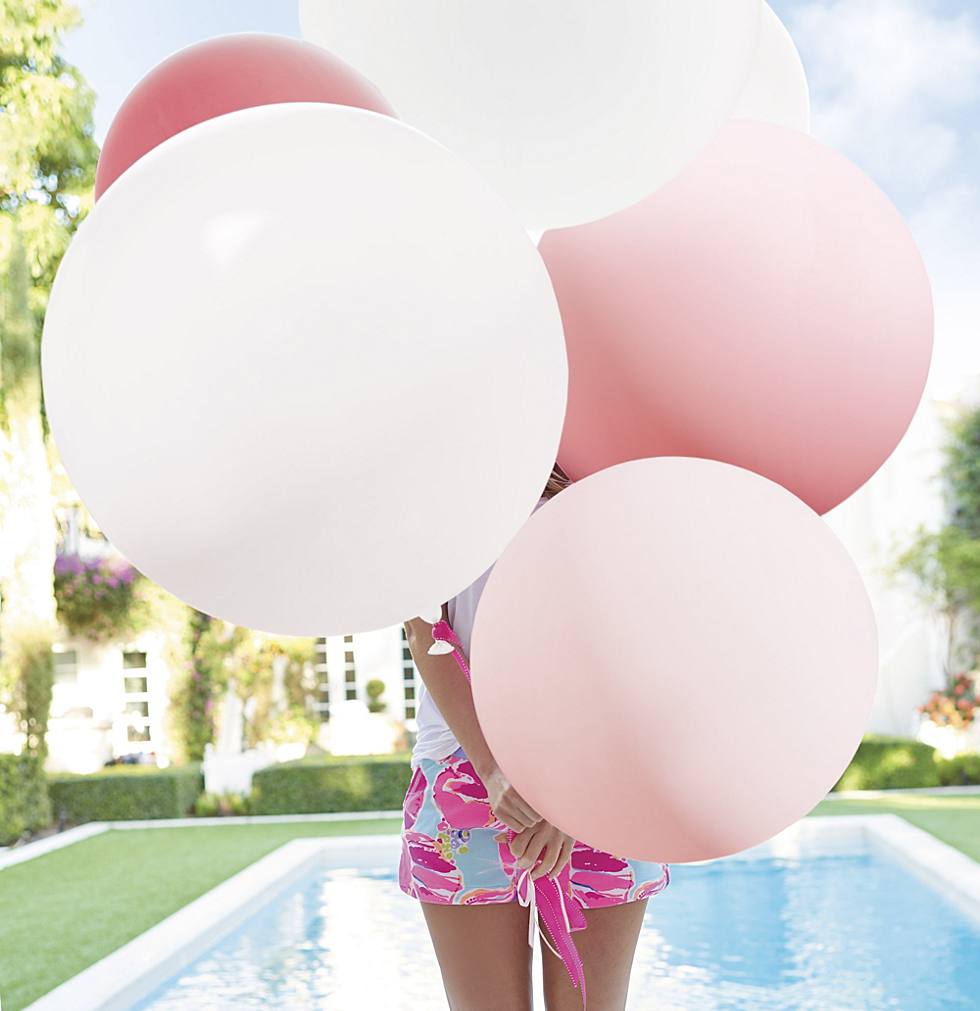 To start the party, we need a gorgeous setting. We're getting all fancy out on the patio with our oversized, comfortable Mason Cocoon Chairs, woven chairs which we've often called our cocoons of utter happiness. Curl up and relax for hours in these high-style beauties; they're super-sturdy with powdercoated aluminum frames under the all-weather wicker-like weave. Here's a place for friends and family to sit and reminisce about some great years and amazing adventures in style.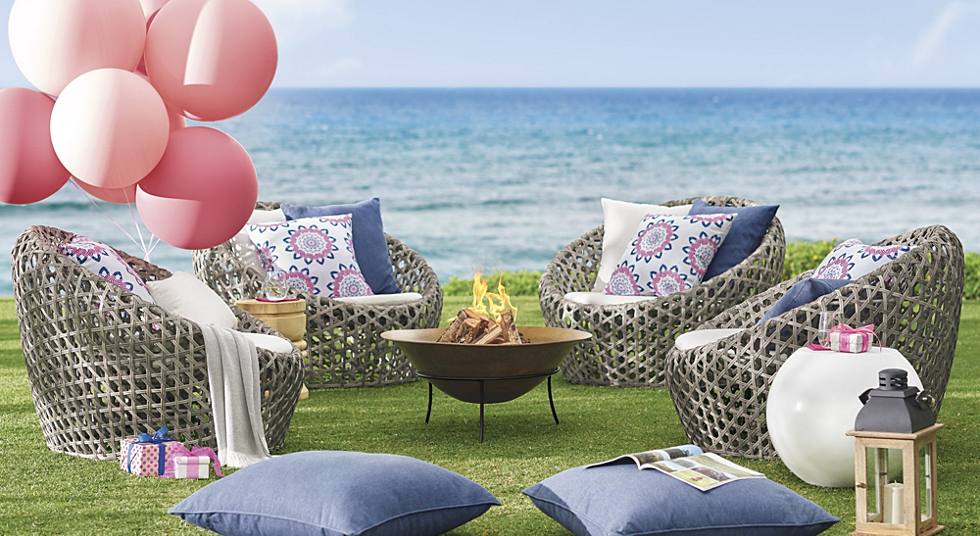 We also like the fact that a setting of Mason Cocoon Chairs (sold in sets of two, to make outdoor design even easier) creates a very modern look for outdoor entertaining, and you can personalize them to work with your own party scheme or color theme.
How? Cushions and pillows, of course…

The rich, woody coloring of the Mason Cocoon Chairs goes well with textiles in any color, so you can basically stamp your own personality into the style. For our Anniversary party, we're getting trendy with an emphasis on fresh pinks, corals, and blues. Pillows and cushions from our own outdoor collection work the magic; we like the interplay of the dynamic open weave of the chair with the classic global patterns of our new bright Rosalie Outdoor Pillow Collection, or our equally cheery Penelope Pillows, for example. Our Denim Pillow is a natural, too (denim goes with everything, especially the year's blues and pinks), and really invites people to lounge and relax with its casual cool.
White side tables (we like rounded and drum styles in heavy ceramic or stone to balance the weave and patterns) are also very much on trend, so we want them at our party, too. The crisp strength of white is big indoors and just as impactful out under the trees, especially with bright cushions to heighten the contrast of tones.
Be smart, and add our Danbury Firepit, too (because you know this party goes after dark and we'll want to cozy up while the music plays).
Accents are everything when you throw a party
From the balloons floating overhead (think big, think tonal, for more impact, as we did) to the signature cocktails you serve and the glassware that holds each cold concoction, you can direct attention to your theme, or some memory you'd like to celebrate: a vacation destination, a love of design, a favorite color, a sense of culinary cool that extends from the appetizers to the bar service.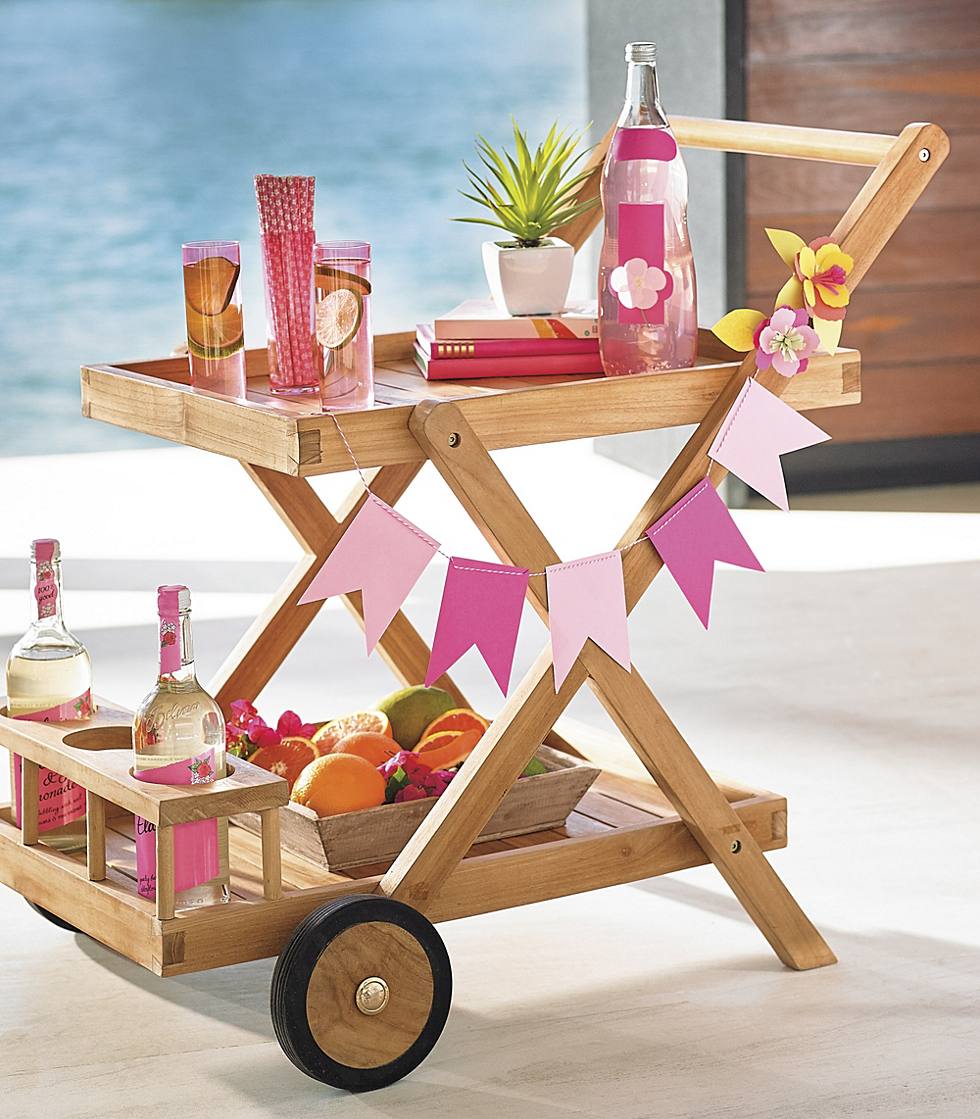 A glittery gold Pineapple Ice Bucket? Definitely. It's one of our party signature pieces that works anytime, symbolizing a statement of welcome, of sparkly wit, of glamor, of tropical summertime fun.
Light the night
Brighten the scene with our lanterns, because this party isn't going to end with cocktail hour, is it? Our Concord Lanterns are perfect, mixing fir wood, metal, and glass for a modern-meets-rustic touch. They look great indoors, too, and we love them best when safe, flameless, battery-operated candles are glowing inside so you don't have to worry about a guest knocking one over, or the wind blowing them out.
Then, add some natural color with our outdoor planters and faux greenery, and more outdoor cushions and floats on the pool (theme those colors and designs – we have flowers, fruit, and solids in our pool float collection), and you've got a look that's Anniversary-ready (but it can handle birthdays, tea parties, brunches, and lovely, long luncheons too).
Party on, indoors
Later on, we'll go inside and keep the party going – our roomy sofas and chairs come in great colors and patterns to keep the mood glam, fun, and upbeat. Our accent chairs and ottomans are more colorful than ever and and our Birdie Ottomans can keep your color theme going while supplying extra seating.
And of course, our bar stools, counter seating, and mobile bar carts are ready to go! Guests staying over after the festivities? No problem – you got the guest rooms ready with new duvet covers, quilts, pillows, right? Dancing follows – roll up your gorgeous Grandin Road rugs, or leave them as is looking brilliantly colorful and fun, just like you.
Feel like celebrating now, right? Great, so do we. Come join us!