Our weather-resistant Outdoor Living Pillow Collection is overflowing with joyful colors and patterns for your porch and patio. They're made well, too.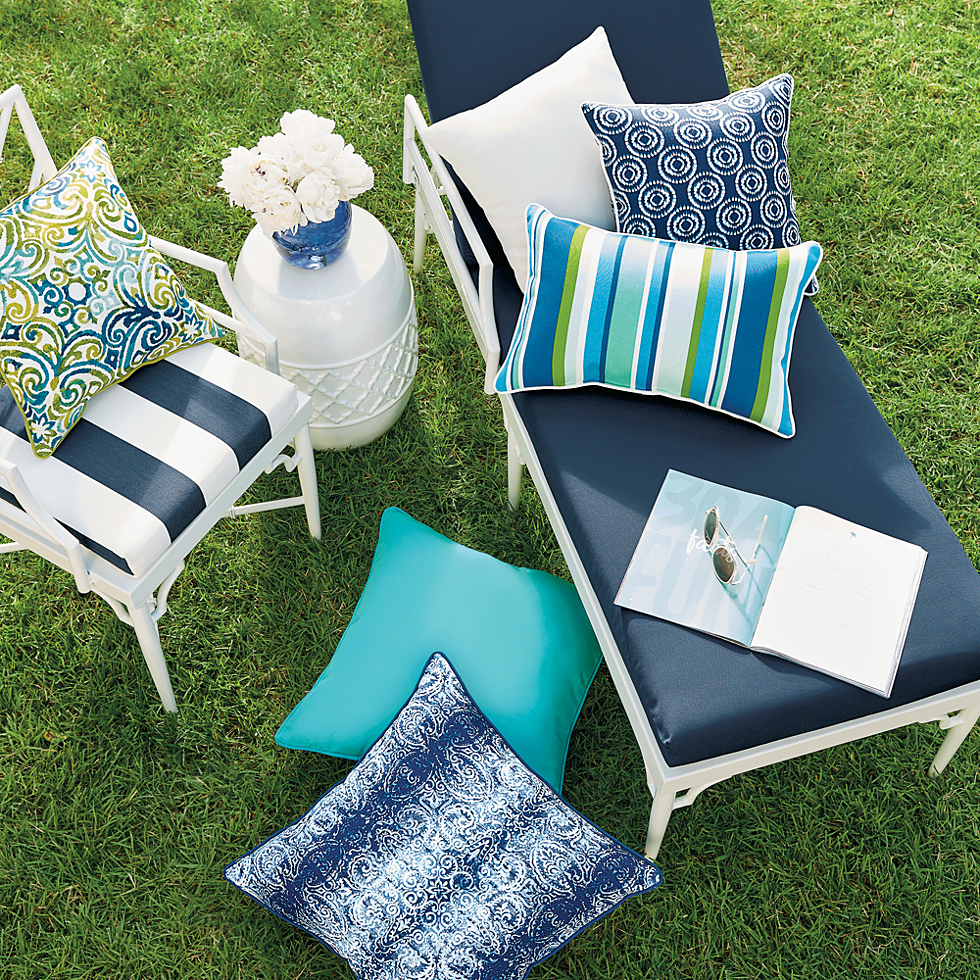 We use top-quality, UV-stable outdoor fabrics, like Sunbrella®, sturdy, colorfast acrylic or brilliant, durable polyester—choices designed to defeat the rain and to resist mildew, mold, and outdoor wear. Every pillow is made to the highest quality standards. They're filled with polyester fiberfill for a nice lastingly plump feeling.
Quick-drying after a hard rain (or being splashed by the pool) and so easy to care for, grandinroad outdoor pillows are as great to live with as you'd hope they'd be, and then some.
Most of all, we really love the pops of exciting color and designer-look prints they bring to the party. We have amazing solid colors, and our merchants also design collections of pillows in different unique patterns in shared hues, that work perfectly together as collection looks for a unique designer impact that you can buy with an easy click.
Some special reasons to join our brilliant pillow party this summer:
Brinley Outdoor Pillows are our garden party darlings. Roses and subtle wallpaper stripes tell this pretty story on benches and patio chairs.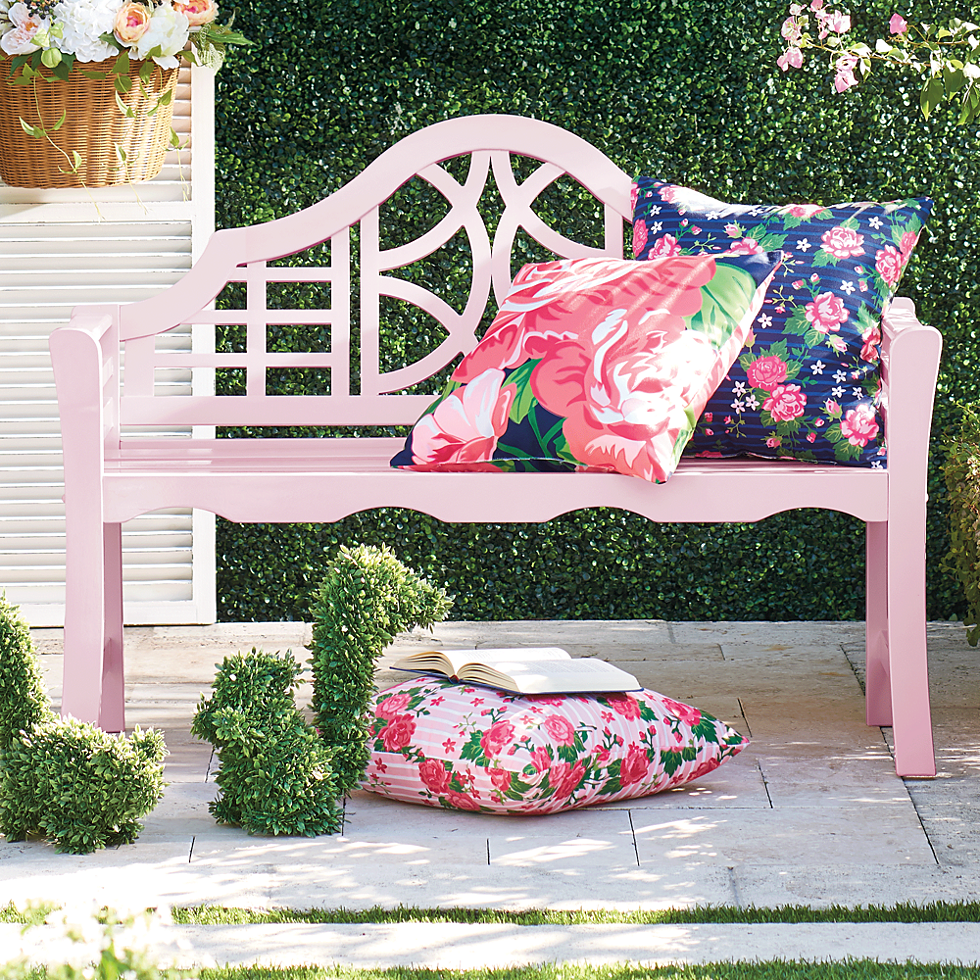 Celeste Outdoor Pillows give us the modern graphics we love in cool blues and plummy pinks. They look amazing against cool, clean white, as you can see. Heap them onto porch swings, garden benches, and outdoor cushioned seating. So comfortable, too.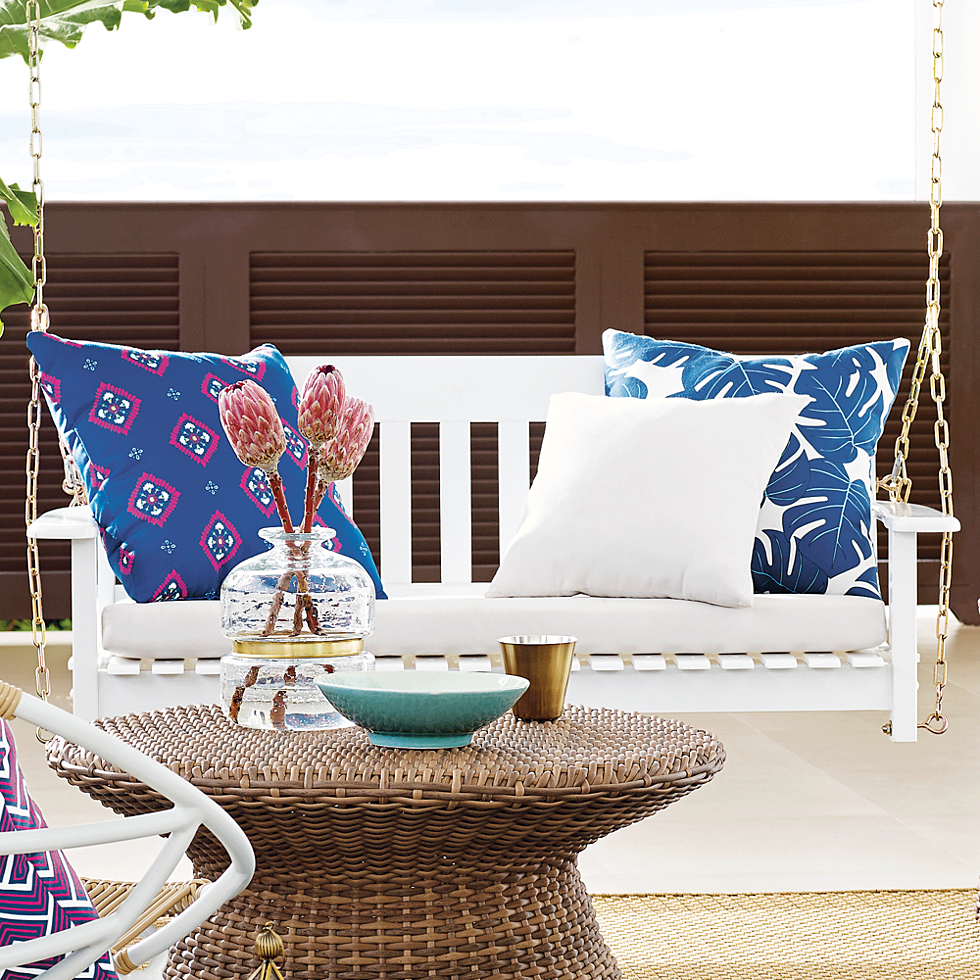 Hampton Outdoor Pillows take us to an ocean-side summer sojourn with a crisp mix of nautical stripes, crisp graphics, and a cute life-preserver print, in all-American red, white, and blue. These would be perfect luxe pillows to accent your on-board boat seating, too.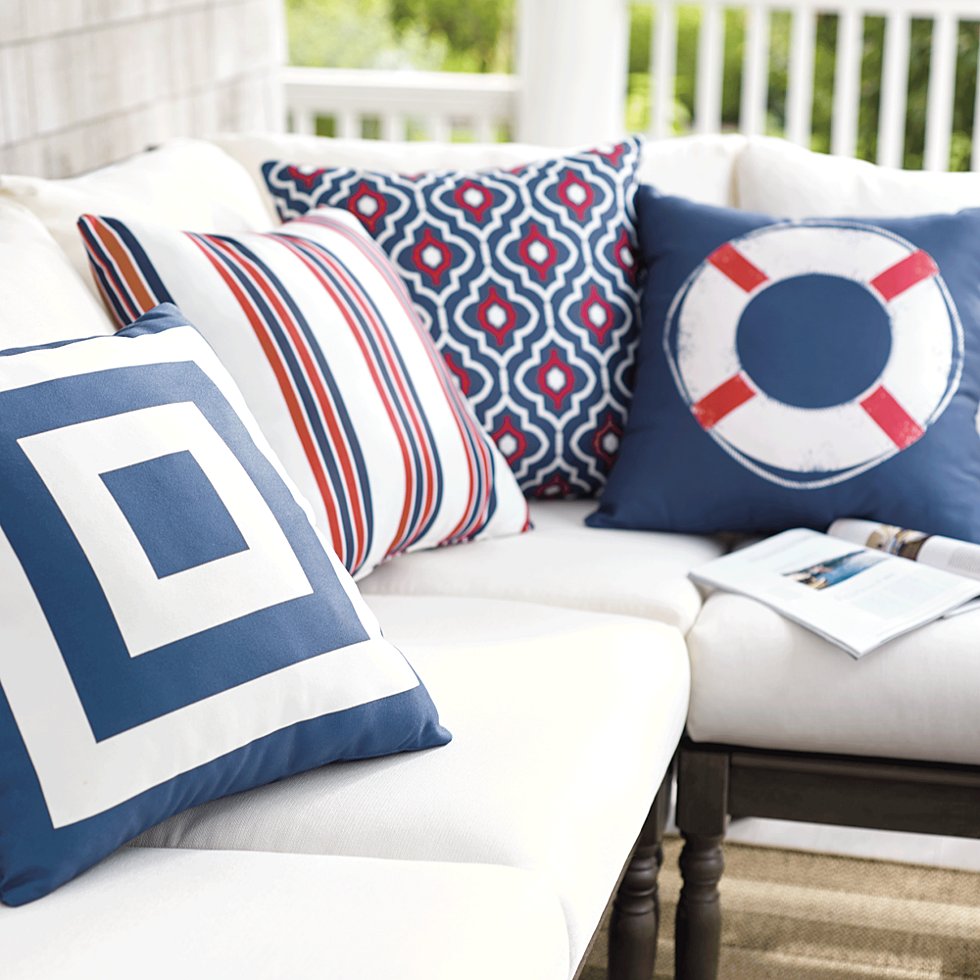 By the way. to stage your pillow concept, our Mason Cocoon Chairs are also amazing. Made of high quality HDPE synthetic wicker to be weather-resistant, the pair of chairs. come with neutral-color cushions. That means it's easy for you to keep changing their look with fresh throw pillows. As a backdrop to the colorful look of your world, and as superbly comfortable seating, these chairs are a pillow lover's dream. Remember: neutral seating allows you to work in pillows of various colors and prints to your heart's content. Keep the chairs, toss the pillows around!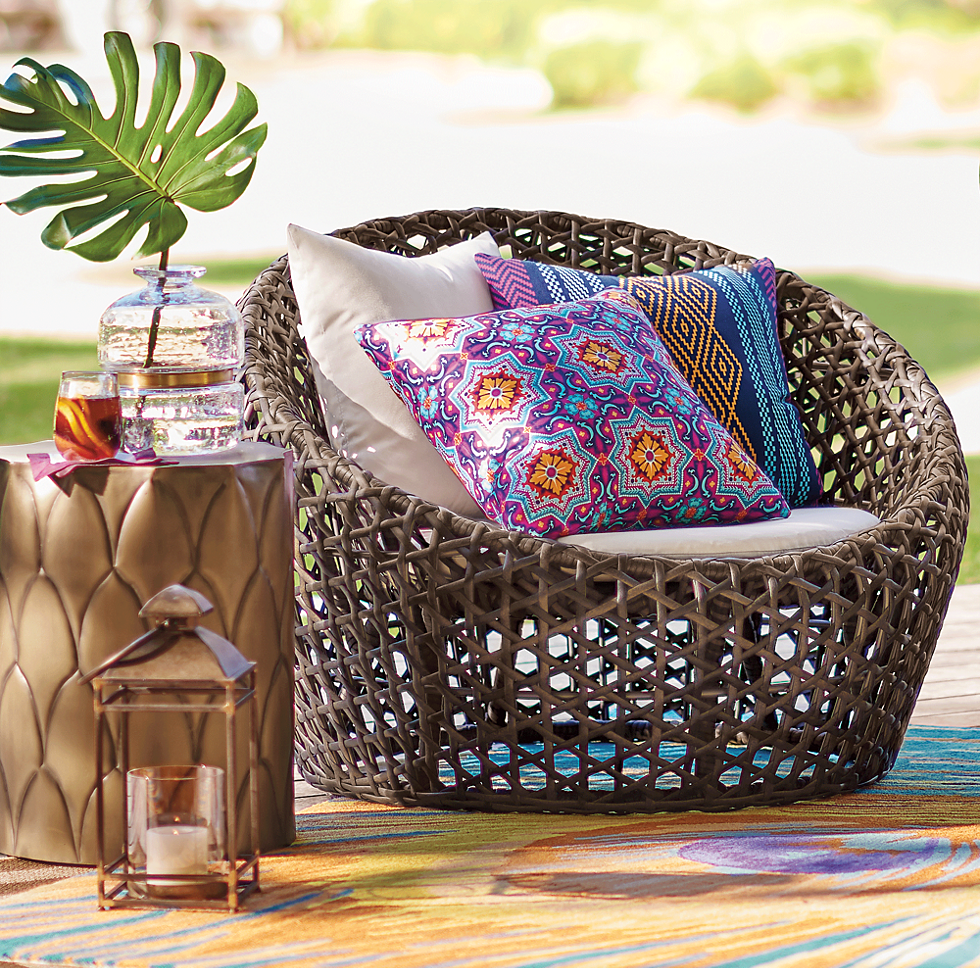 Parrot Outdoor Pillows are a modern tropical statement that's a little preppy too, we love this bold collection. Completely fun, and a fast way to set a new party mood. Polly want a cocktail? Yes, please.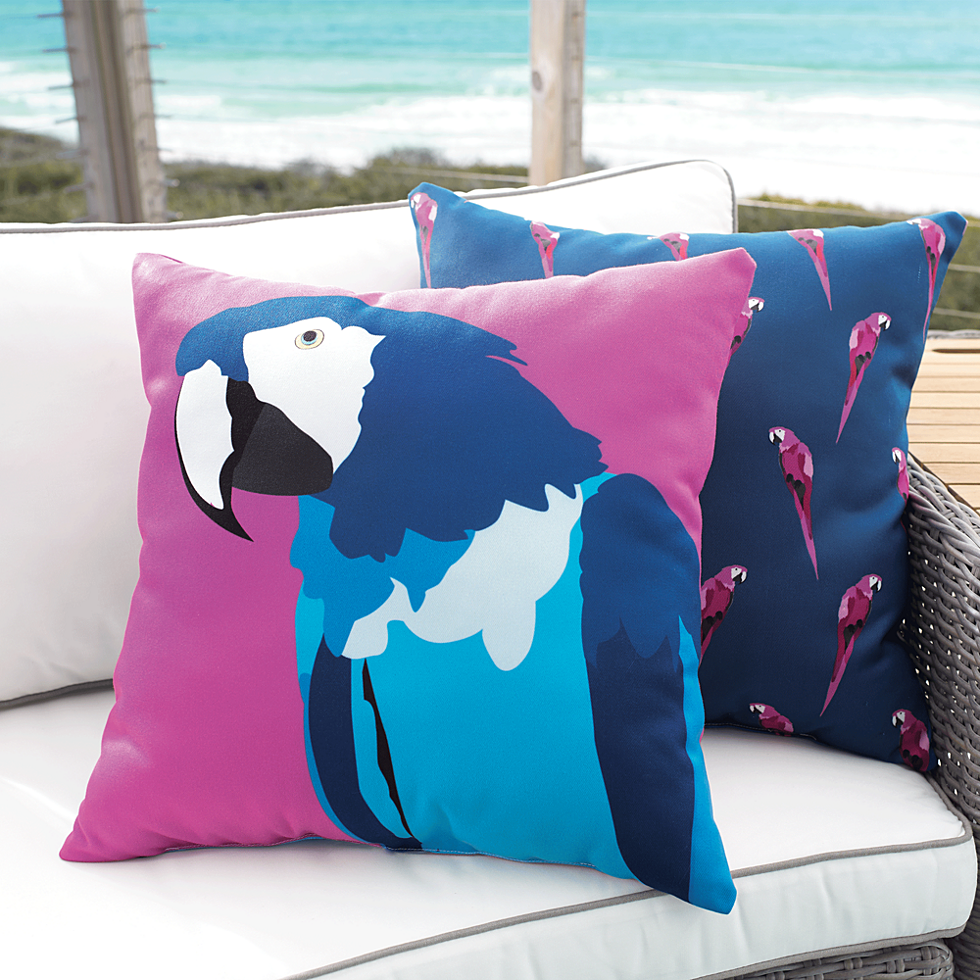 Leila Outdoor Pillows offer up bold palm fronds, stripes, and repeat medallion prints in a compatible pallet of pinks and greens. It's Palm Beach all the way, but updated with fresh graphics to work the Modern Tropical look too.