It seems no matter how well we maintain our homes, at times, we all wish they were just a bit more orderly and livable. If you know the secrets, those moments can be a lot more fun than frustrating. Join us as we reveal easy storage solutions to quickly reclaim four of your favorite spaces, making them more attractive and comfortable than ever.
Crowded tabletops, wayward pillows, books, games, and linens disappear… check out these handy ideas to get organized in style, then discover more great-looking storage furniture.
1 |

Entryway & Hall Storage Solutions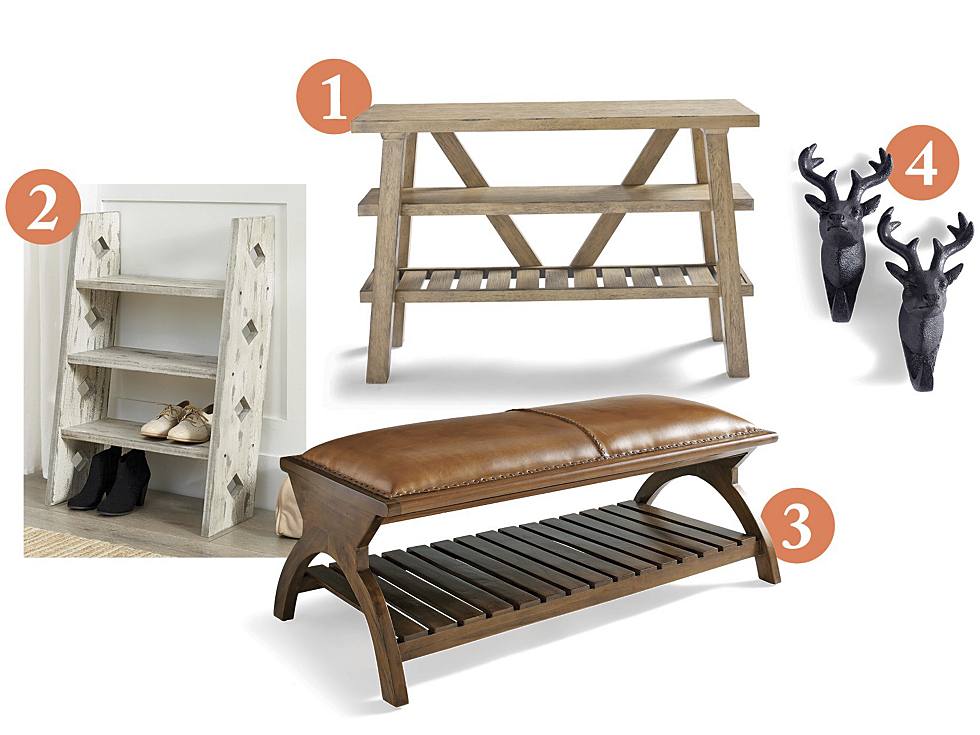 As the first thing guests see when they arrive, think of the entryway as your home's "hello." Cramped quarters may initially appear challenging, but it's actually simple to extend a warm, inviting, and beautifully composed welcome.
Top Tips:
» Lots of wall hooks keep coats, keys, and pet leashes up and off of surfaces. When they're not being used—and this special—instant wall décor.
» Let's be honest, it's just more practical to keep your favorite shoes by the door. A clever shelving unit designed just for organizing them transforms a potential eyesore into an amazing design opportunity!
Favorite Ideas: 1. Teagan Tiered Console Table 2. Fairview Wood Shelf 3. Augusto Bench 4. White Tail Deer Hooks, Set of Two
2 |

Office Storage Solutions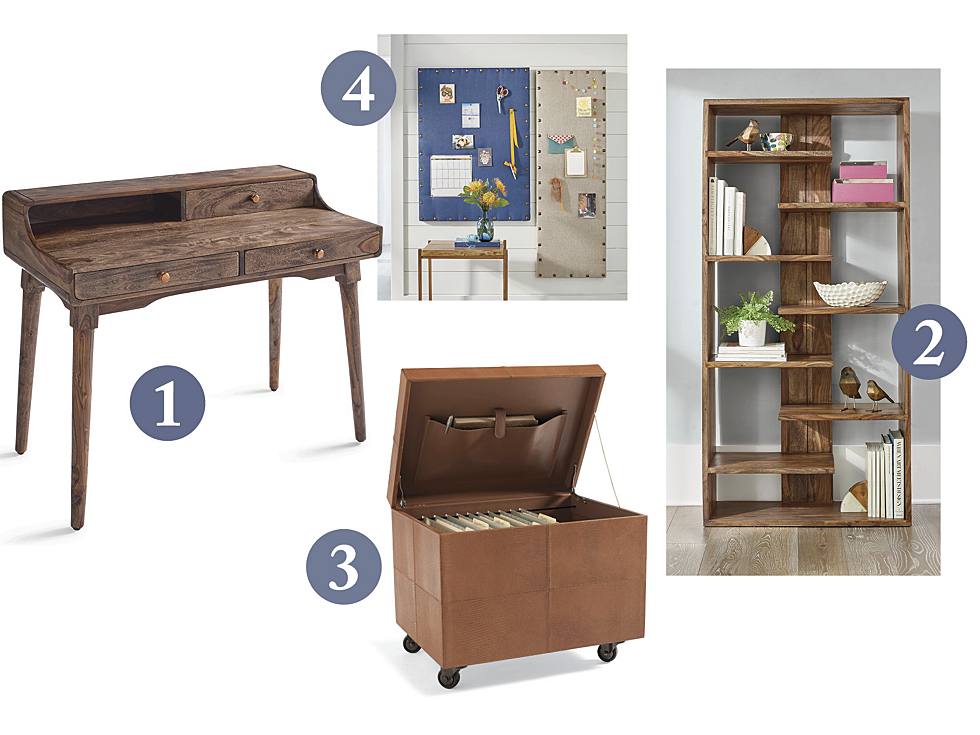 When you're relaxed and comfortable, in an attractive and inspiring workspace, it stands to reason you'll get more done, faster. You can achieve all that and maintain the functionality you need.
Top Tips:
» Files, files everywhere… rather than one large, obtrusive cabinet, make it manageable. Smaller organizers with wheels relocate wherever you like and can be stylish enough to go completely unrecognized.
» Some items you simply have to have at hand, and open shelving can work beautifully—if you're choosy. A dynamic design and rich materials, like sheesham wood, actually enhance your office décor.
Favorite Ideas: 1. Grayson Writing Desk 2. Atlas Sheesham Bookcase 3. Mobile File Ottoman 4. Burlap Bulletin Board
3 | Bedroom Storage Solutions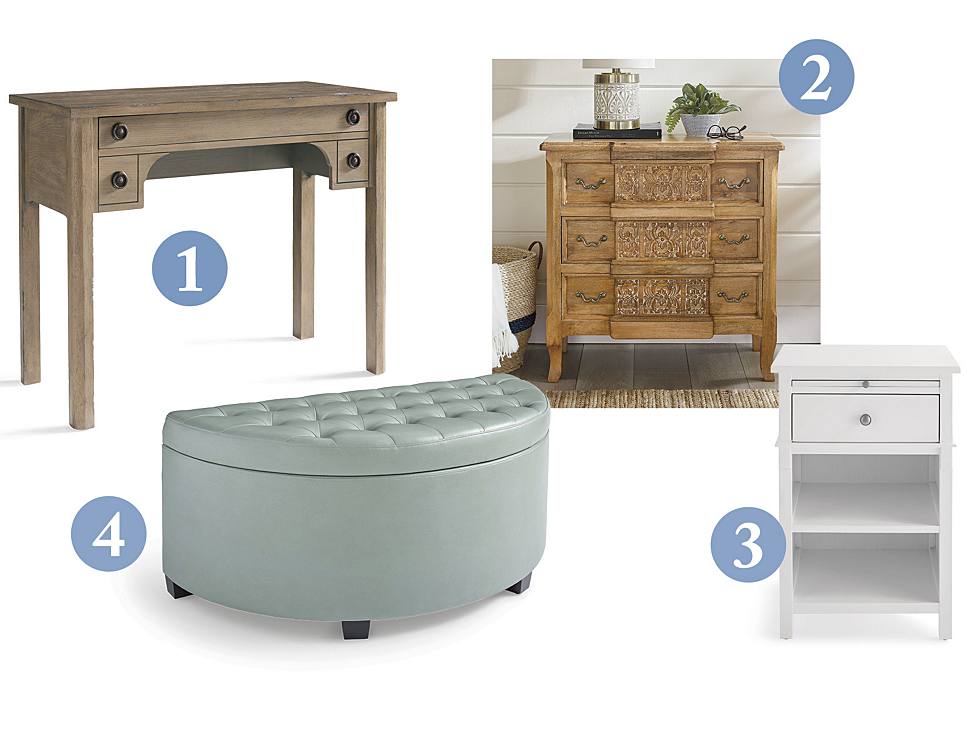 It's all too easy to just pull the door on the less-than-dreamy state of our bedrooms. Modern lifestyles mean we're doing more living in our bedrooms than ever. Open up to a more attractive, well-ordered, and functional space.
Top Tips:
» A small desk creates a comfortable place to jot a note or hide away extra glasses or a book. Look for connectivity, like the USBs in our Liam Desk, and keep your devices handy, protected, and fully charged.
» Consider adding a storage ottoman. Indispensable in a guest room or master suite alike. Extra sheets and pillows remain out of sight, but easily accessible. Also a convenient place to quickly change shoes, then tuck them away.
Favorite Ideas: 1. Liam Petite Desk 2. Waverly Chest 3. Jayne Single Drawer Nightstand 4. Piper Storage Bench
4 |

Living Room Storage Solutions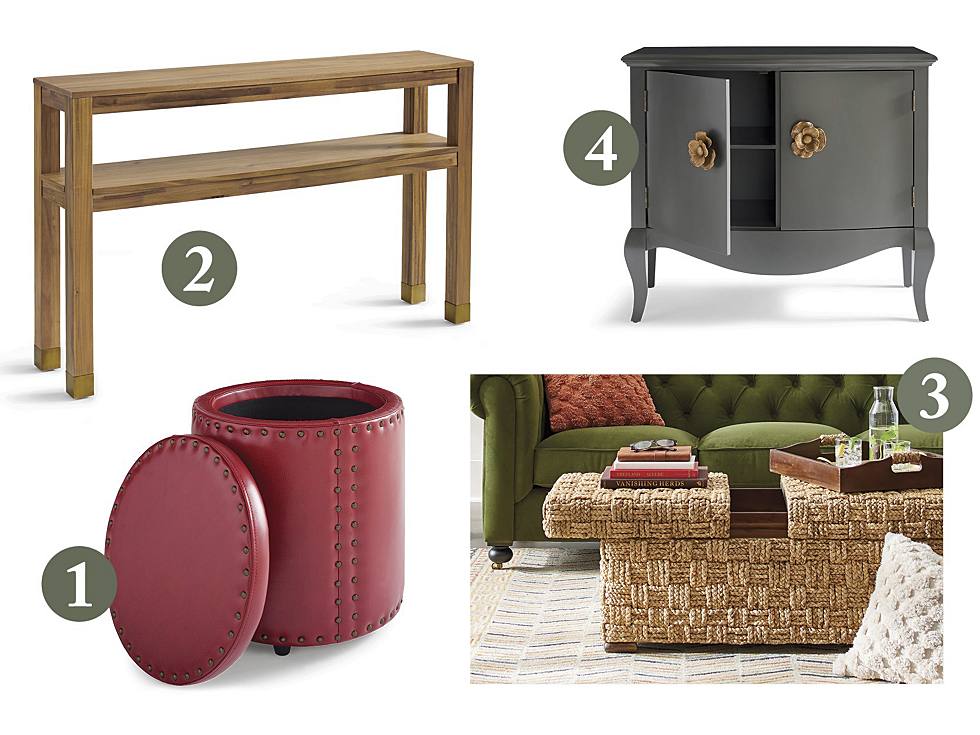 Think you spend too much time in your primary living spaces to actually have them look fantastic for entertaining? It's all about having lots of varying organizational pieces that are cleverly and attractively disguised.
Top Tips:
»  Identify any unused small space and add a uniquely designed chest or cabinet. When the moment arrives, fill with magazines, remote controls, and anything else lying around. "Wow, I love the new look!"
» When it comes down to it, most coffee tables are just a single flat surface with legs. Make it more. A trunk provides the same surface, plus storage for extra pillows, games, or a throw.
Favorite Ideas: 1. Tracy Storage Ottoman 2. Parsons Console Table 3. Andros Sliding Trunk 4. Althea Cabinet
Many of the items featured here are great for a guest room. Take a look at Guest Room Checklist: 5 Easy Updates That Will Bring Visitors Back.