Perhaps it was that first, truly delightful day of spring. Or when you were preparing for your every-other-Thursday lunch on the patio with the girls… Maybe you were digging into your gardening, or planning a bang-up Fourth of July celebration. Whatever the circumstance, you've likely thought, more than once, "Wow, I really need to freshen things up!" We totally understand the feeling, friend. Best part? We're here (and happy) to help.
Nothing too ambitious in mind—that's not our style—just a few really easy tips that can have you falling back in love with the look of your home, in no time. Plus, make the thought of a more colorful, comfortable, and all-around more beautiful outdoor season something to celebrate. Did we mention everything's also easy on the budget?
There's oodles of decorating fun to be had, so let's get started. (Psst… be sure to stick around for the end. There's an amazing surprise that will absolutely help you put your decorating plans in motion.)
Recharge with the flower power of faux greenery

Blooming with possibilities. Place wreaths on classic focal points, like windows and doors, for an instant pop of color and dynamic natural beauty. Or branch out by enlivening a patio wall, gardening shed, or pool house. Planters and window boxes spring to life with gorgeous fillers that never need watering. Smiles and unexpected delight await at every turn when you position whimsical boxwood animals in the garden, at the doorstep, or on the porch. Don't worry about going all out—just identify the places and corresponding pieces that say, "absolutely… YES."
Why we love Faux Outdoor Greenery
Incredible realism
Completely carefree
Unparalleled beauty of nature
Get growing expanding your planter palette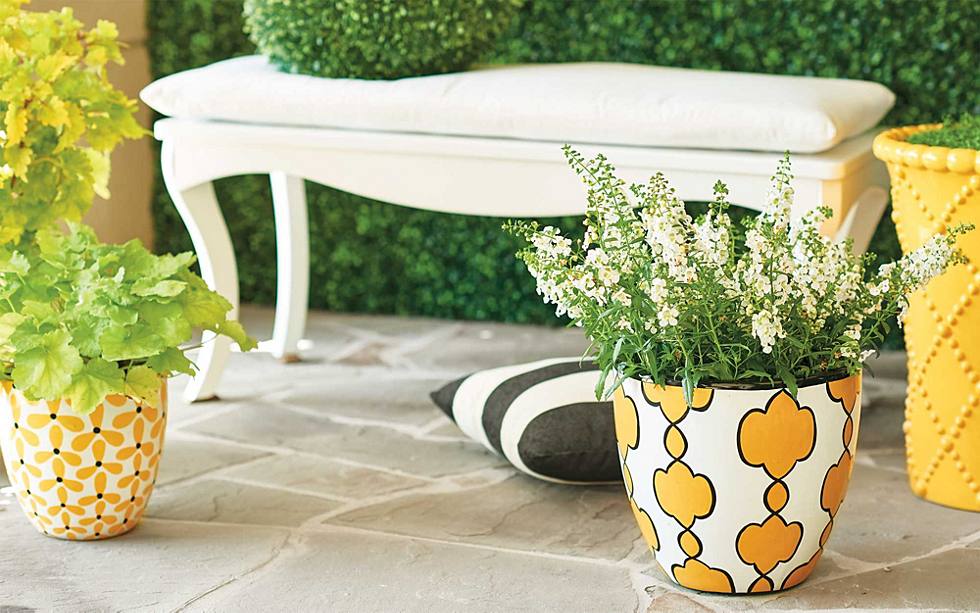 We've come a long way… Thankfully, with each passing season, the garden-variety planter materials, shapes, and colors of the day have been upgraded to stunning works of stand-alone art that rival the brightest blooms you'll place in them. Think exclusive, handpainted designs that look like ceramic but are actually durable, lighter-in-weight composite. Sure, it's OK to keep your existing favorites—mix in a few new styles at a time and, before you know it, you have a whole new outlook on summer. ?
Why we love Planters
Options, options, options… classic to figurative, handpainted to copper finish
Durable and resistant to all kinds of weather
Moveable, so it's a breeze to change up the look
Lay down a happier hello with a medley of mats
With door mats starting at a sunny $49, every entrance is fertile ground for a simple one-minute makeover. And if there's anything a common brick, stone, or concrete floor is asking for, it's…wait for it…COLOR. Our passion and specialty. Bonus tip: layering two low-profile mats (smaller over larger) creates a unique, dimensional-design impact no single style can match. This year, brighten up your welcome for the many guests you'll greet during the season—or just to make yourself smile.
Why we love Door Mats
Super easy and affordable 
Brightly colored to classic, personalized designs
Match your style to the trend or seasons
Now, let's really have some fun. Using our exclusive interactive visualizer, bring all three ideas together to reimagine any entryway around your home. Enjoy endless moments of mixing and matching to create your perfect doorway decorating plan. Then, drop it in your cart, and take it home.
Interactive Mix & Match Visualizer (try it, try it!)
We love seeing the looks you create, so no matter how simple or spectacular your outdoor update, snap a picture and share it on Instagram or Facebook with the hashtag #grandinroad.
More great decorating tips where this came from. Check out Pet Project: Decorating with Faux Greenery Garden Animals.
Shop Outdoor Living.