We say faux is fabulous, and we can prove it. Our gorgeous, almost-real-but-not faux greenery urn fillers,  wreaths in many styles, and specialty faux greenery concept pieces look realistic from right here, and from there, and from way over there. Beauty and fresh color are yours, without the green-thumb skills, or garden-shed mess. A big "yay" for the ease of decorating with artificial plants.
Faux greenery is the new fresh, and very popular for good reasons
Today's faux greenery is sophisticated, designed to emulate the coloring, texture, growth patterns, and density of real greenery. Artificial plants look rich and realistic now.
Because of this new attention to detail by the expert designers of these plants and flowers, and because of the incredible materials they can be made of today, the look is wonderful, and feels modern, too.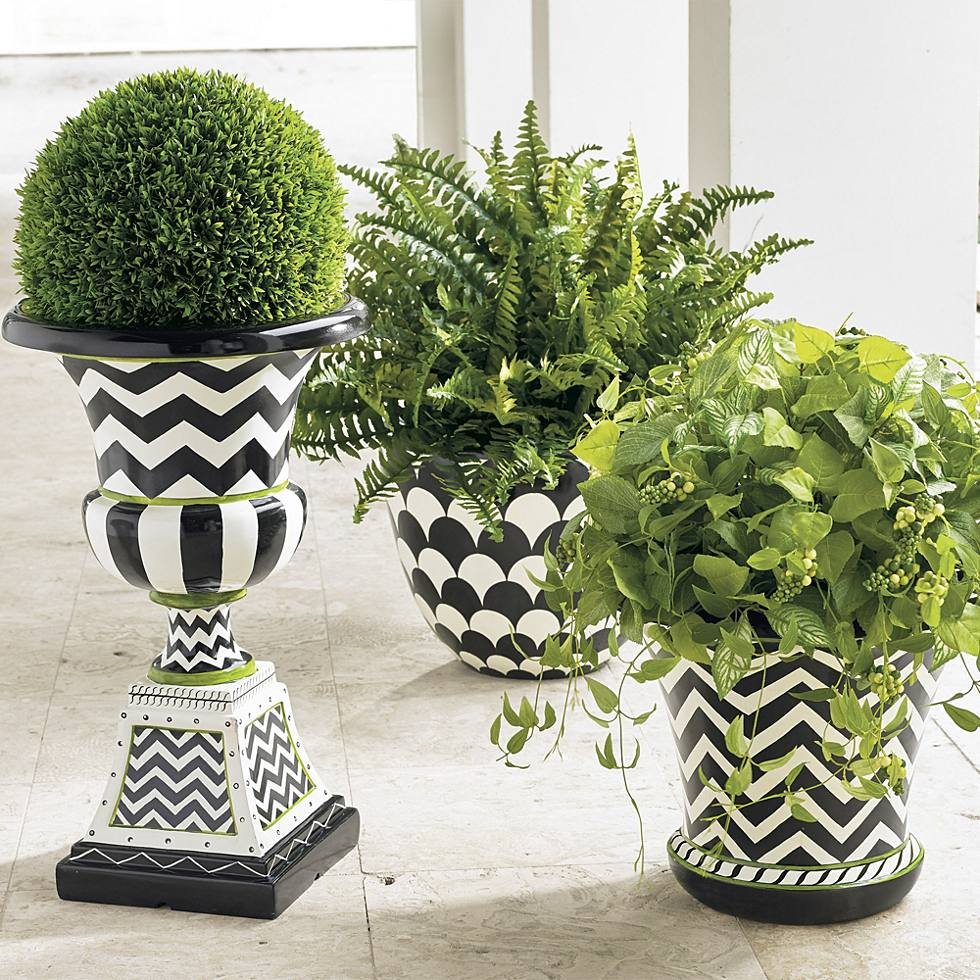 Indoors and outdoors, faux plants and greenery accents are a great way to add time-saving, easy-care lushness anywhere. They can work as a very nice complement and extra visual support to the theme of your real, living plants and blooms, and bring the green look you want into spaces that lack the best light for plant growth.
So, be prepared to be very pleasantly surprised at the design-right green looks you can create. (In fact, you've probably seen well-done faux greenery in hotels without knowing the fresh look was actually man-made. The word "artificial" becomes almost hard to believe when you see these plants.)
Smart, not just pretty
Faux greenery makes good sense, too.
Let's say you love gardening, and want a healthy, green look everywhere. But the direction of your patio or porch invites too much sun exposure at some points, or not enough sustaining light. That spells problems for live plants. In this case, using faux greenery makes it possible for you to still have the look you want. Green, perfect décor, but without worrying about living plants failing from the wrong exposure, or in uncertain early spring temperatures.
Planning a few outdoor parties? For outdoor entertaining, faux is the smart way to enhance an entertaining space with some certainty. You can forget the last-minute worries of wilting plants and flowers. Your outdoor parties and yes, even outdoor weddings,  benefit from the beauty, ease, and savings of of using artificial plants instead of real (time-consuming, delicate) plants.
[Of course, for your real plants and flowers, you can have less worry too: don't forget to get some of our low-maintenance and self-watering outdoor planters with built-in water reservoirs. Pour water in, let the plants absorb what they need during the week while you're busy with the rest of your life.]
You can also count on faux for a very precise look
If you decide you want to position a row of urns with our sculpted faux greenery (say, some of our dark green, lush, faux podocarpus shrub balls) along a pool, patio, or outdoor deck area, or entryway, faux keeps the perfection looking good.
Faux is fantastic for any porch setting, too. Window boxes with our lush faux blooms, or urns of our natural-looking faux flower-dotted greenery, and our beautiful faux wreaths look so beautiful, drawing more compliments (and maybe fewer wasps and bees drawn into your seating area). Faux-filled boxes on upper floor windows or in hard-to-reach areas look impeccable.
Another reason to go fabulously faux: it's nice to have faux greenery to keep your look going while you're away for long vacations, or trips for work. And it's handy if you're simply busy and overbooked. Plan that backyard wedding with one less thing to worry about, knowing the blooms and leaves will look perfect, and you'll know the meaning of worry-free.
With faux, you can keep the pop of fresh green going all season without the time-consuming work. Repeat after us: less work.
Faux and fun
We even have a playful time (of course we do—we're Grandin Road!) with the concept.
Our mini collection of greenery dogs are cheery, leafy sculptures everyone will be talking about. (Peabody, showing us his leg-up stance, below, was even featured in a segment on the NBC's "TODAY" on March 22. Star power, baby.)
These Faux Boxwood Garden Dogs boast great color and a lot of charming attitude (and we do mean attitude). We hope you'll have fun with them, too. They're super cute posing on a porch or by pillars, garden walkways, and larger planters, and they're definitely conversation starters.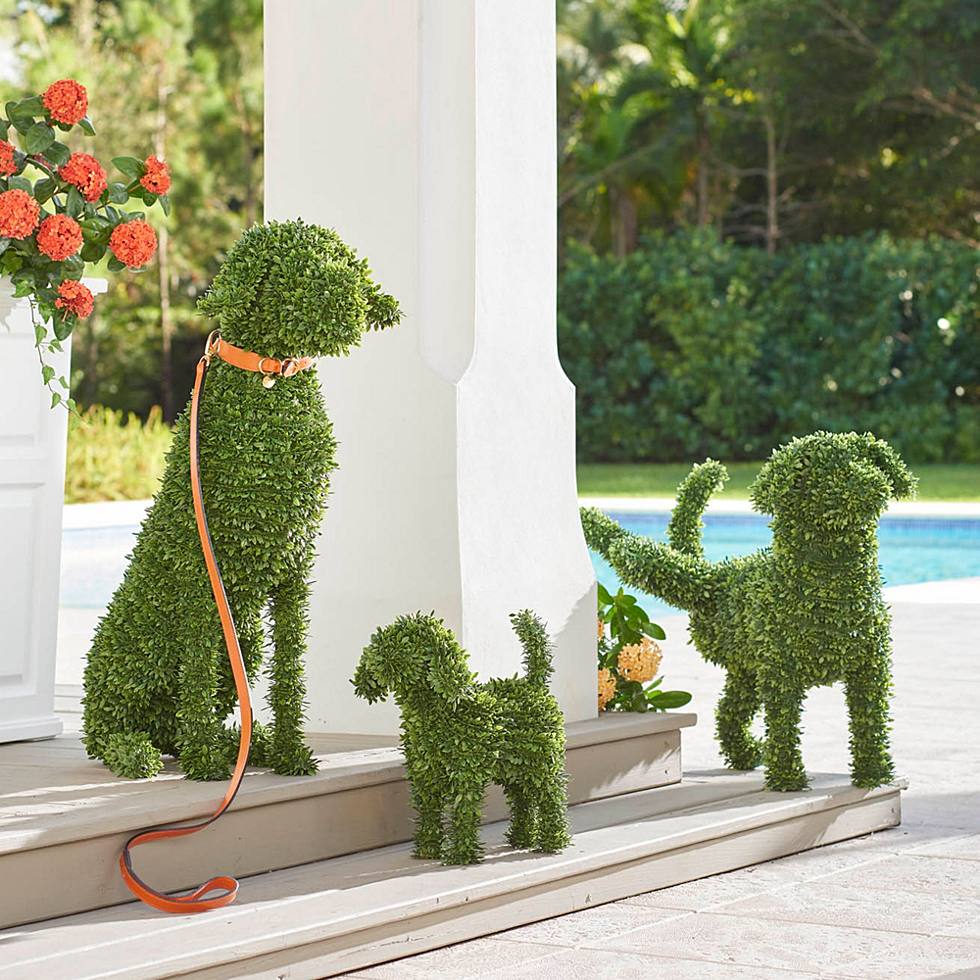 For springtime cheer or the traditional Easter season, some of our greenery ideas mix in fresh seasonal blooms, in traditional colors that work indoors and out, with everything from painted eggs to holiday tableware.
From window-box inserts to faux greenery urn fillers and wreaths replete with realistic-looking flowers, incidental plantings, and natural-looking trailers, we have the looks with our growing collection. Even classic Boston ferns and lush leaves. And our handsomely sculpted podocarpus shrub styles with their distinctively thick, luxurious, dark green look.
Let Grandin Road be your "faux garden shop" for the fresh, realistic greenery styles you want this spring and summer, and we'll delight you just as much come fall and winter, too.
Indoors, too? Yes, of course.
You can bring any of our outdoor greenery in to accent favorite spaces, from a sunroom to a great room or spa-style master bath. In summer.
Filling  an empty, cleaned fireplace with greenery is a great way to add friendly color to the somewhat cold look of an empty hearth. Or, simply accent your fireplace surround, using standing urns and planters.
Try different looks, vary your styles by season, and most of all, have fun—gorgeous, care-free greenery is a great way to make any room feel like an extension of your beautiful, lush, outdoor world.