If you take a minute to look at your front porch as an opportunity to express yourself, everything changes. There's real potential in this often under-used space. It's the way you can introduce your home's personal style to family and friends.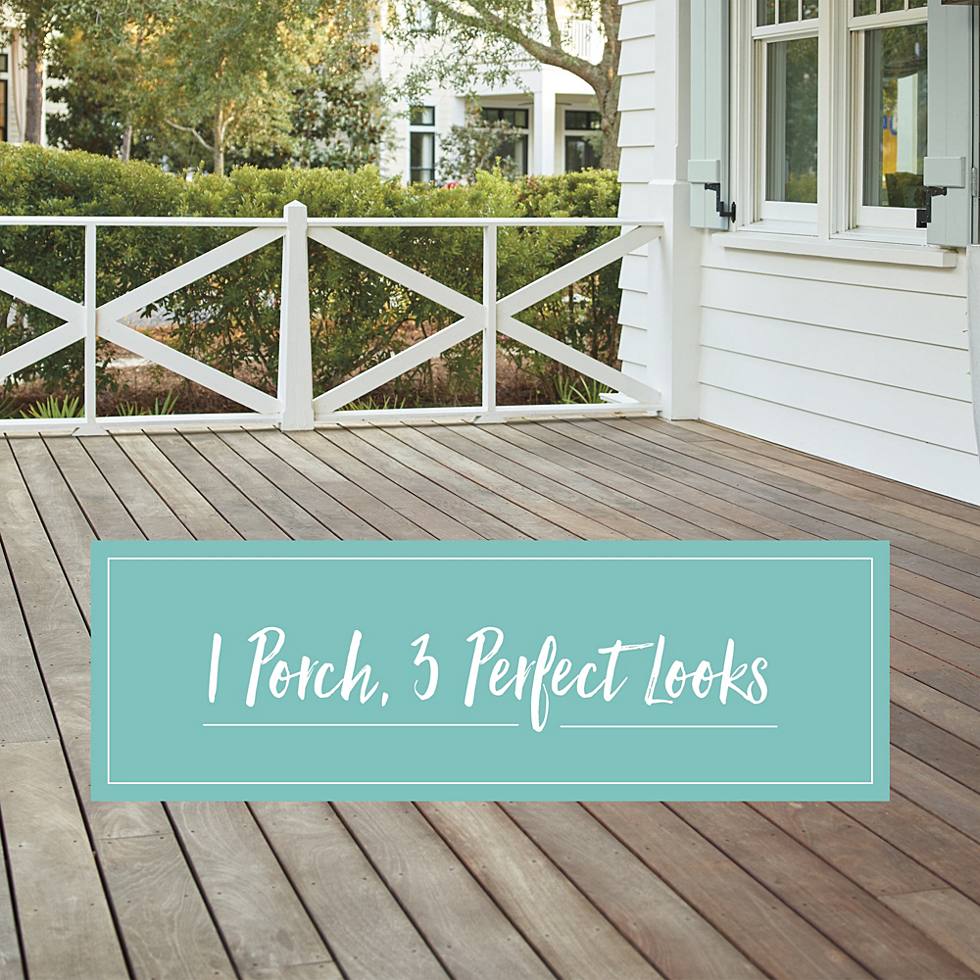 With this in mind, our Grandin Road designers and stylists came up with some unique ideas for creating amazing outdoor rooms.
We chose one front porch, and gave it three distinctly different, equally fun makeovers in a single day. To note, if you're trying this at home:
The porch dimensions are 28' long by 12' deep. We used only about half of that space to create the looks, which would be an area that's 12'- 14' long x 12' deep.
Porch Makeover #1: European Café Charm
Ooh la languid. European café influences make this idea a very appealing one. Designed to look like the seating you'd find in an outdoor Parisian café, these curvy Monet Collection pieces have a black-and-white rattan weave accented by the frame's look of bamboo. In our case, bold pink adds updated sophistication infused with a modern femininity. The playful selection of accent pieces promotes a creative, "mismatched casual" vibe.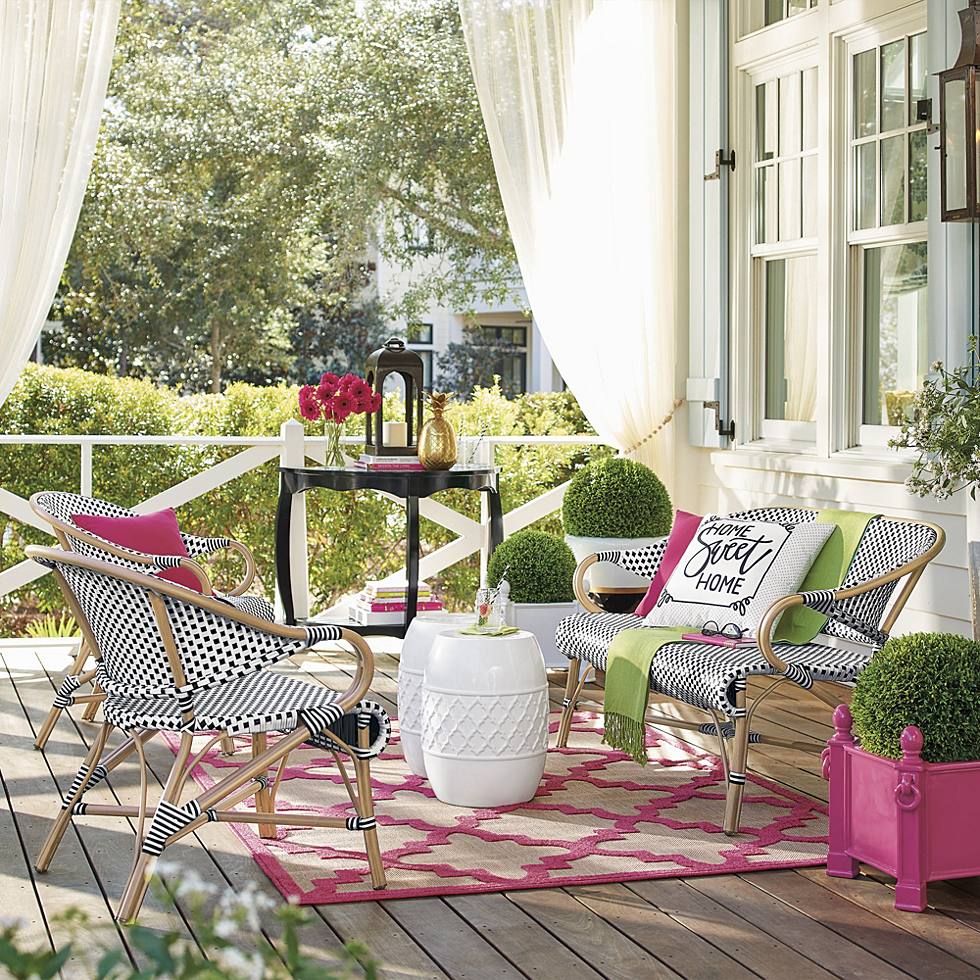 We mixed rattan-weave pieces with a delicate, gleaming black wood Lily Console Table, along with a geometrically textured ceramic Dana Side Table (reminds us of an embossed china cup, can you see it?). Like our chic Pineapple Ice Bucket? Our Percy High-Low Rug stepped in for an updating pop of extra color.
Result: an individualized design filled with fun before your guests ever step through the front door. C'est vrai: why go inside on a balmy afternoon, when you can entertain so beautifully right here?
Porch Makeover #2: Sweetest Escape
Add fresh, soothing color to your porch and outdoor time becomes magically relaxing. It's so easy to spend time in this happy summer setting. Inspired by the elegantly sculpted lines of trellis designs from a formal garden, our classic Luciana® outdoor hardwood furniture has you ready for sweet tea and friends anytime.
We like adding a daffodil-yellow metal Astoria Table to add that sunny pop of retro interest  (see the gently scalloped edges and curved pedestal-style design?). The feeling is echoed by a small wood side table, painted white. Tip: pairing a drum table with this small classic white four-legged side table adds just the right touch of whimsy to the setting and also forms a more centered table grouping that you can utilize in other ways when you entertain.
Our colorful Watersound Rug pulls the look neatly together, in clean, updated stripes. (A floral rug would play up the sense of romance for another wonderful look; for this design, we just liked the update statement stripes can make with the latticework and crown tops of the Luciana seating.) Quietly off to the side, we like a gold-and-white planter (think: our Mabel or Hattie planters) with a metallic gleam, to underline the idea that this is a feminine jewel-box of a porch. Pillows with a soft floral print are the cozy finishing touch. Note the pretty Metallic Outdoor Sheers too, with a touch of sheen.
Porch Makeover #3: Blue Crush Color Pop
Cool down your porch with fresh, crisp blues. Like a popsicle for the eyes (summer's version of eye candy, okay?), we love the energizing lift of the blue accents anytime, but they're a natural when hot weather calls for a visual cool-down.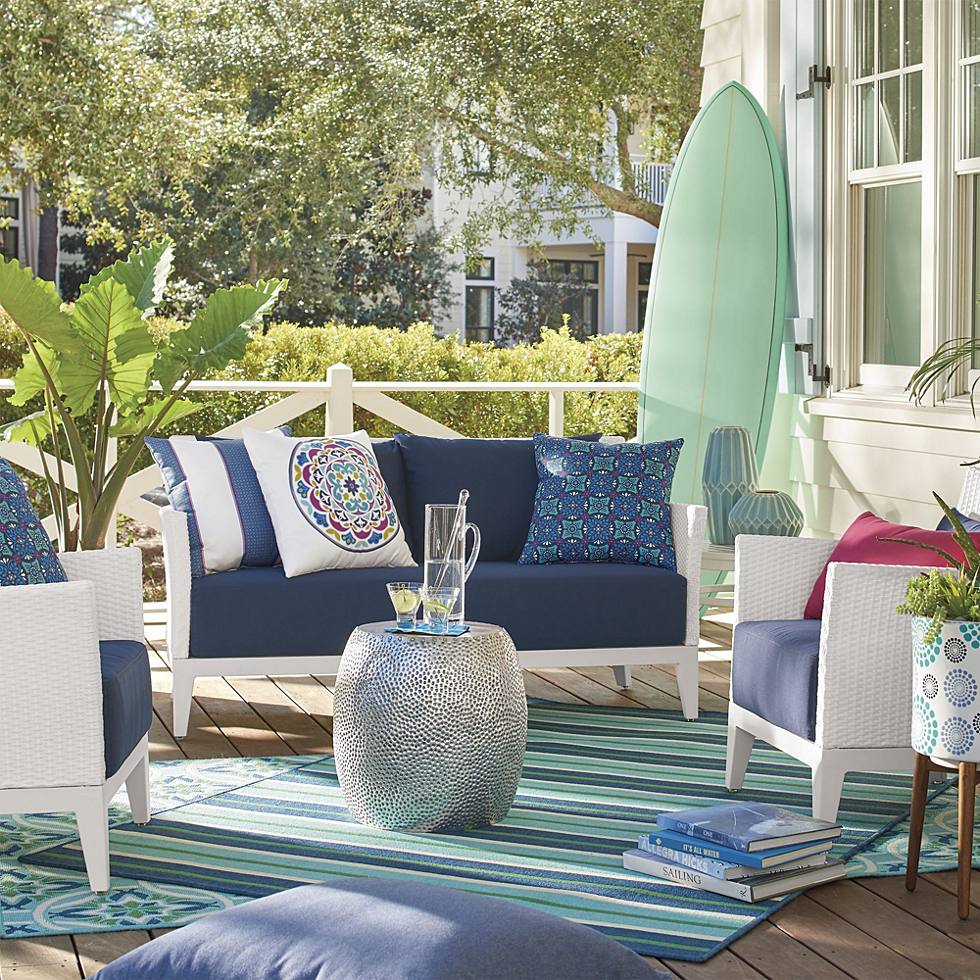 Color-popping with ultra-comfortable, Neptune-hued deep-seating cushions, the casual, squared Essex Outdoor Seating Collection, an all-weather wicker seating group in clean white makes a classic coastal color combo seem new again. Play up those contrasts to keep the look fresh: with the squared lines, we liked a rounded Kingston textured-metal table; you may try something else. The linear look of the vibrant striped Tortola Outdoor Rug and geometrically patterned Penelope Outdoor Pillows and denim-colored outdoor pillows add nicely updated graphic energy.
Because we've mixed those classic lines and a few unexpected, relaxed modern touches, it's a fun, welcoming look. A little greenery, real or faux, swirls in more tropical charm.
A great, well-designed front porch may become your real fair-weather living room until fall. Family and friends can curl up and relax in your blue crush dream porch, or your sweet escape, or your European bistro dream spot anytime. Even wet bathing suits and sandy toes are no problem for these all-weather collections. Who doesn't like that?
So get creative, have some fun, and share your own front porch design photos with us too: #GrandinRoad.