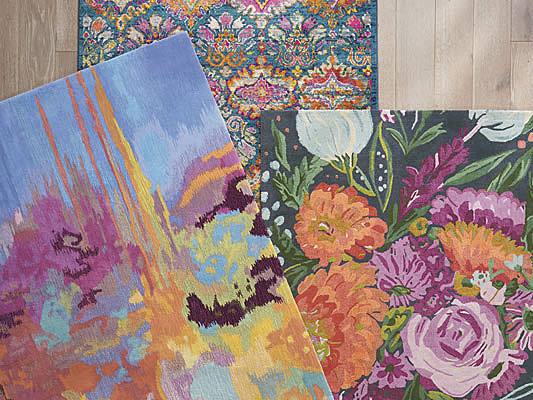 The turning of the new year could mean it's time to freshen up your home décor—check in on the newest rug ideas to see what's trending for 2019. Because a rug is the perfect place to begin, whether you're adjusting the vibe of a needs-to-be-fantastic area or starting from scratch on a room redesign. New materials, new looks, and new perspectives on floor décor make it happen, beginning now. Get inspired.
Entryway Rugs
Entryways can be a challenge to style (often with stairways, closet doors, unique footprints). But homeowners are deciding to treat guests with a first impression that makes an impact—entryways that reflect the same décor personality as the rest of your living space. A rug is not only a gorgeous (and easy) design foundation for an entryway, it warms your welcome, insulates against the busy sounds of a front door, and helps to protect floors against the effects of the natural world outside.
HINT: Patterned rugs disguise dirt and stains temporarily, until you have time to clean properly, perfect for a busy foyer or front hallway. Take a look at our Durban, Granby, or Marrakesh Rugs.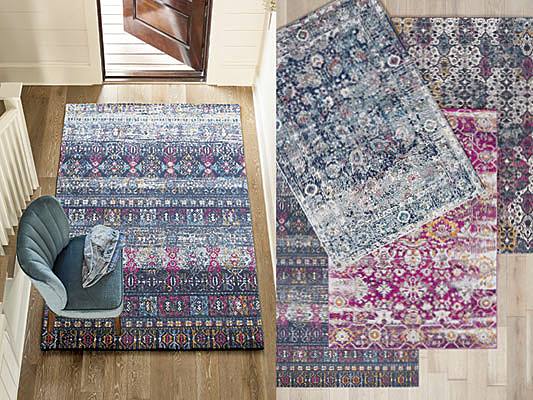 Low-pile Rug Ideas
Speaking of entryway rug ideas, low-pile rugs rest perfectly beneath a door, so they're frequently the popular choice for a front hallway or foyer. But low-pile is moving further inside the modern home for 2019, and for many good reasons. Here's why:
Less allergens—shorter, tighter fibers mean less room to trap pesky particles that make us sneeze; ideal if you have kids or pets that spend a lot of time on the living room floor
Easier care—shorter, tighter fibers are also easier to vacuum, and require less effort when it comes to cleaning spills or dirty footprints
Smoother surface—this makes it easier to move furniture and shows less indents once you do
Increased durability—low-pile construction usually translates to a stronger rug, end-to-end, which offers better wearability over a longer time (that makes them a good investment)
HINT: Low-pile rugs are ideal in the dining room, the kitchen, or a craft room. For added texture in your space, layer low-pile rugs, like our Bellamy, with flat-weave styles too.

Transitional Rugs
Transitional rugs blend the timelessness of elegant, traditional patterns with contemporary elements, for a fresh, less formal appeal. New advances in looming technology are making it real (and making this one of our favorite rug ideas for 2019). Think classic center medallion or an intricate floral motif—without the wide, bordered edge. Or re-imagined in a fashion-forward color palette. Our Tinsley and Langley Rugs are bright examples.
WHAT'S REALLY NEW: Antique-look rugs being "refashioned," in brilliant hues, using digital printing techniques. (Skeptical? It's so much better than you think. Take a look at our Alanya Rug Collection.)

Jute Rugs
Wool has long been the "material of the moment" for the discriminating rug buyer (for good reasons, like its warmth and durability). But its natural, sustainable-fiber cousin, jute, is gaining popularity in every room of the modern house. That's because of jute's own outstanding hallmarks, including its textural appeal, natural strength (especially when braided or twisted), and sound- and heat-insulating qualities, too. Many jute rugs, like our McKay Rug, have a fixed back to help give it shape; flip it over for a gorgeously textured face. A rug pad's a good idea.
FAVORITE RUG IDEA NOW: Layer a flat-weave jute rug with a vibrant, more plush rug on top, for a unique, dimensional look.

Multi-colored Rugs
Designers are predicting bold, multi-colored looks and bright florals to be a top trending rug idea for 2019, too. Use bold rugs like art on the floor, as the focal point of a room. Pick out a few favorite colors from within the rug design to use throughout the space (think wall décor), and create balance with smaller-scaled prints. Accent pillows on seating are an easy (and fun) go-to here.
WHAT WE LOVE: Hanging big, beautiful rugs on the wall, like our Corinne, Jules, or Blossom Rugs designed to match a colorful, bubbling personality (like yours).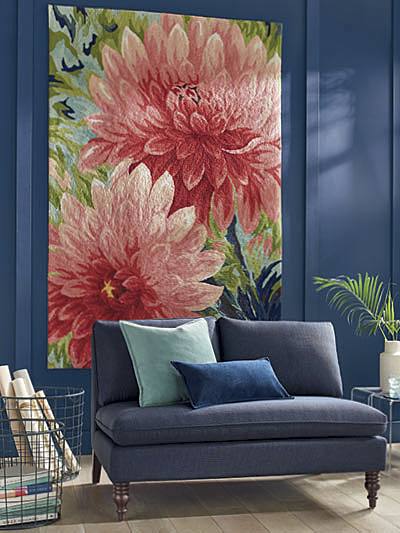 Love these rug ideas for 2019? Or maybe you're inspired to start your own rug trend, right at home. For even more help in selecting the correct size or just the right materials and construction for your space, take a look at a few more helpful guides: How to Pick an Area Rug or The Right Rug, The Right Size: 3 Tips.