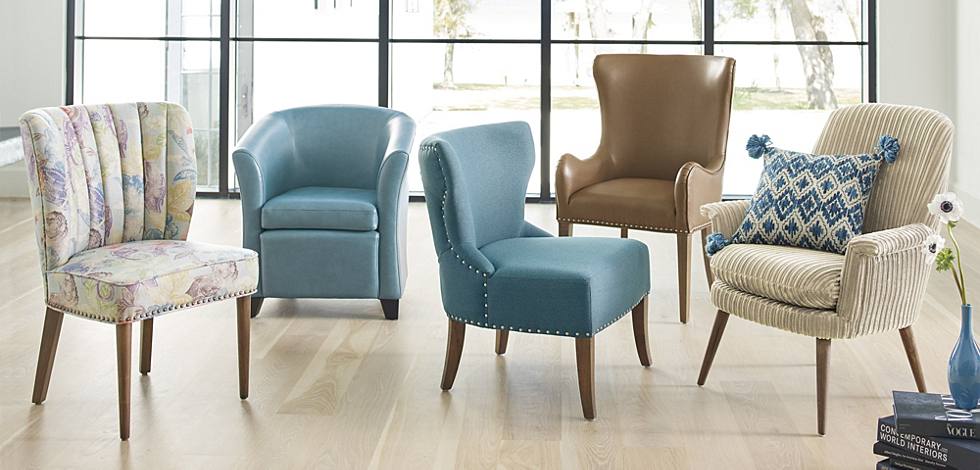 Chances are that eight hours a day, you sit in an uncomfortable chair you didn't choose. Shouldn't you go home to the chair of your choice, a good, comfy chair you can love?
Luckily, our $299 Accent Chairs selection makes doing that easy. Because we worked hard, challenging ourselves to build in fine quality so you'd have wonderful chair options.
Constructed with your comfort in mind, our affordable chairs are even comfort-assessed: sit-testing is a vital part of our design process. And, there's more:
The quality secrets of our Affordable Accent Chairs
1. A kiln-dried hardwood frame is a top-quality furniture construction element that ensures lasting, non-sagging frame sturdiness. It's a "good chair" thing.  So all our grandinroad $299 chairs are built on kiln-dried hardwood frames. We believe in offering you sturdy, well-made chairs to live with. That's what makes a good value a good value.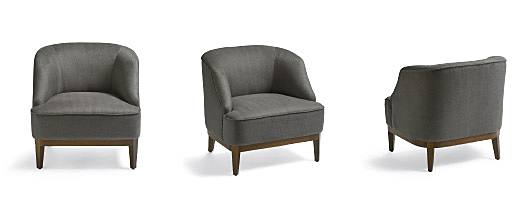 2. Our affordable accent chair collection offers all the looks and uses you might want: Traditional, Mid-century, Feminine button-tufted, shapely chairs, Classic Club styles, and a Modified Wing Chair, plus a range of fabrics and colors. We want you to have much more than a generic choice: we've designed chairs that really work in a range of settings: living room, hall, dining room, bedroom, reading nook, and your office, too.
3. Applying nailhead trim by hand is a time-consuming, quality finishing detail. It's a costly finishing step. But, our $299 chairs like our Banks and Mindy Chairs (Mindy is shown below, with its sweet tufted back) have hand-applied nailhead trim. We decided that level of detailing nicely enhanced their particular design, so we went for it. That's how we roll.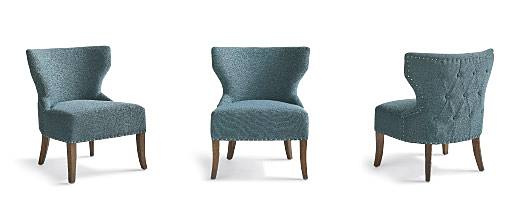 4. Fresh colors, on-trends prints and patterns, and fabrics like plush velvets and tweeds are important today. So our chair merchant goes to great lengths of fabric (couldn't resist) to offer you modern, beautiful upholstery choices. Some styles, like the Addison slipper-style chair, below, come in an ever-growing range of colors and designs, too.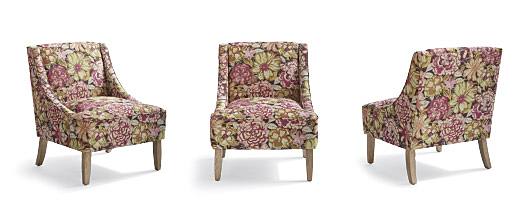 5. Better design elements, like a unique silhouette or a fan-shaped back, curved club shaping, a wrapped seat, welt trim, tufting, a removable seat cushion, or stitch detailing take design time and effort. We work with great chair makers to create our fresh silhouettes, while keeping the prices affordable, so you can get two instead of one, if you like, to do more with your home's décor. Because: we like you. We really, really like you!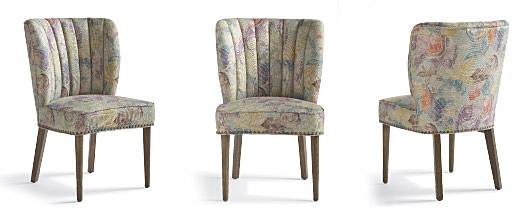 6. Bonded leather offers an attractive visual texture, and great coloring. So some of our our classic affordable chairs come in lovely, textured or smooth bonded leather, as well as a choice of easy-care fabrics.
7.  Bar area match-ups: designing an entertainment space or open-plan great room? Some colors match our bar stool and bench colors, so be sure to check them out.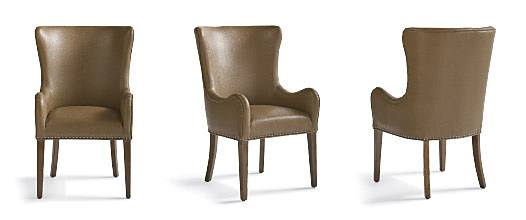 7. True or False POP QUIZ: Sit-testing is a time-consuming process, and involves tweaking and improving the comfort of a chair at the manufacturing level; but we still take this time-consuming step to make every grandinroad chair perfect.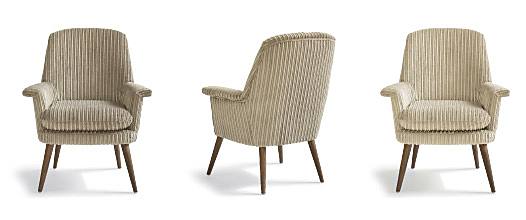 TRUE!!!  You knew this one, because you were paying attention: ALL our $299 chairs are specially sit-tested by our product team to make sure you get a chair that's comfortable, functional, and beautiful.
Here's a recent customer comment about our corduroy-upholstered Effie Chair, shown in all its cuteness above: "It is so attractive, and best of all, comfortable. Got it in the corduroy and it is so soft. Love this chair."
And that's why we do what we do. Happy chair shopping.