Improving the comfort of your guest room is actually pretty simple, and Grandin Road can help.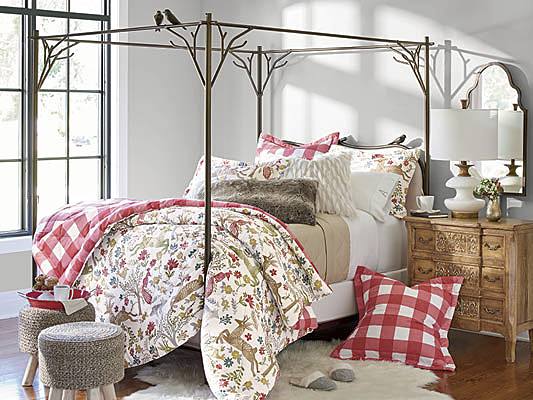 Start with our Guest Room Closet Checklist
In the guest room closet: choice of pillows, firmer and softer than the ones on the bed. Because everyone has a different comfort level and a poor night's sleep can ruin a visit.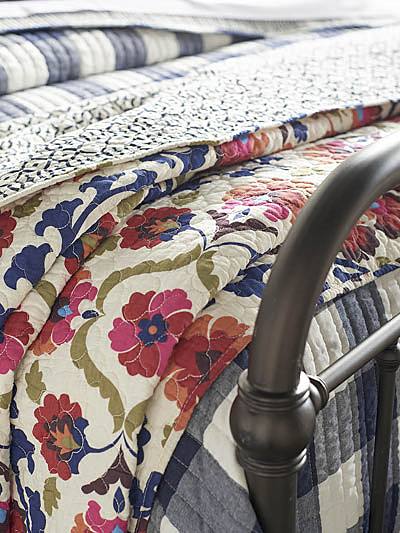 An extra quilt like the Kipton lets guests layer the bed for their comfort. 
Also offer additional quilts, coverlets, and blankets on a guest room shelf or a bench. Your guest room might feel chilly to someone who likes to sleep more warmly. Besides that, some people require the weight of several blankets to sleep soundly, so a guest room stocked with various blanket and comforter choices and other bedding basics is a thoughtful plus. Stocking the room can also save guests the embarrassment of asking for a blanket late at night.
The Guest Room Accent Chair: Another Must
Drape a comfy throw on the accent chair. You do have an accent chair in the guest room, right? Because this room is also often the one private retreat space for visitors when they just want to just chill out, do some work or make a private call, or simply relax quietly with a book. A comfortable reading or corner chair will always be welcome.
It's important to pair the guest room accent chair with a side table, or a small chest or ottoman, and nice lighting to create a convenient reading nook.

The Linnet Embroidered Armchair is perfect for reading and relaxing.
Checklist for a Dreamier Guest Room Bed
Fresh bedding is so important, because crisp, new, fresh sheets are actually more comfortable for sleeping. Tip: white or solid sheets have been shown to actually help people fall asleep more easily.
A new or refreshed mattress pad is a must, too. Because good bedding basics definitely keep the comfort level up.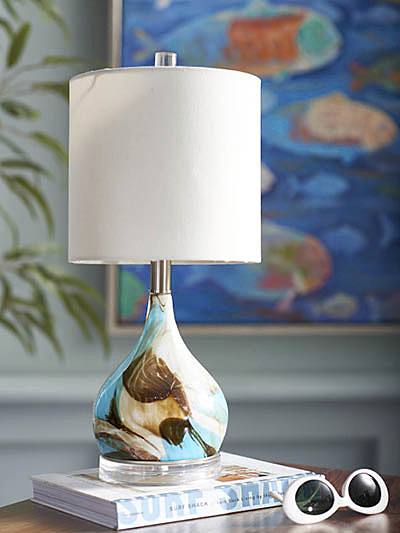 A bedside lamp can be simple or distinctively artful. 
Adequate lighting by the bed. A tabletop lamp is a must for reading, or if a guest wakes in the middle of the night. And it's cozy ambient lighting on a gloomy day. Short on surface space? A floor lamp can do the trick.
Pile up accent pillows on the bed or on a nearby chair or loveseat in case your guests like to rest propped up against pillows while they read or watch a movie.
Guest Room Extras: Decorating that Delivers
Because everyone needs more space, as well as a spot to rest a suitcase or overnight bag, add a storage bench or ottoman. We're also a fan of baskets for storing amenities.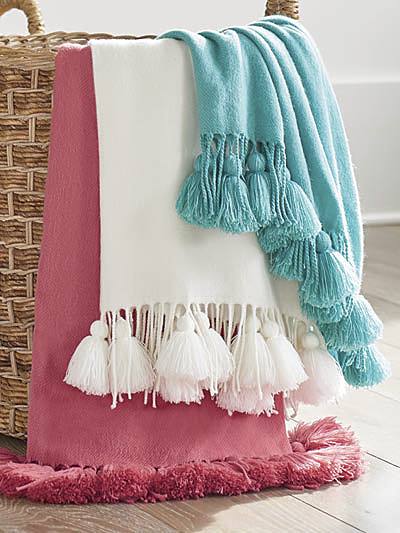 Fill baskets with extra throws or current magazines.
Place a matching larger basket in their closet for their use as a laundry hamper.
Restful or cheery wall art can elevate the guest room's mood and look.
Time for a new area rug? Having guests to stay is the perfect excuse to get an updated rug for the guest room. Or get a larger rug to cover more floor space for their comfort.
Final touch: a faux greenery wreath on a bedroom door, the foot of the bed, or a window can be charming. We also like a tray of flameless battery-operated candles on a dresser for a warm glow. If you have a lot of hallway doors, a wreath makes it easy for guests or children to find their room, too.
Doing a holiday season guest room? Add a bit of color. For example, during late November and into December, try some Christmas decorations or Christmas lighting, because even just one cute holiday accent can create a smile.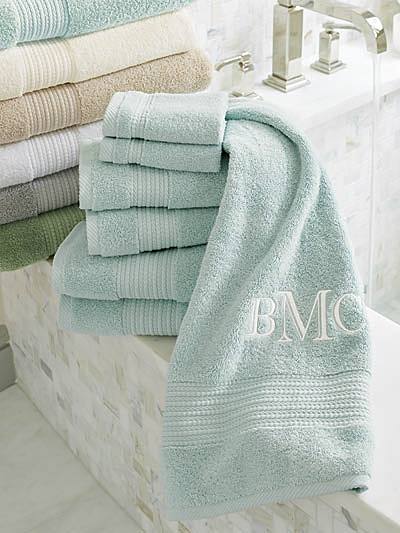 Plenty of fresh, fluffy towels are a must for houseguests.
A More Welcoming Guest Bath
It's important to have lofty, soft fresh towels, and it's the easiest way to update the color.
Get a teak shower stool because it's handy, and an extra spot for bath travel items.
A fluffy foam bath rug is great, because the extra comfort and absorbency keep the guest bath more welcoming, with a drier, safer floor.
Feeling guest-ready? You'll find more bedroom design tips in our Hue & Wit blog article, How to Layer Your Bed: Our Best Bedscaping Tips.