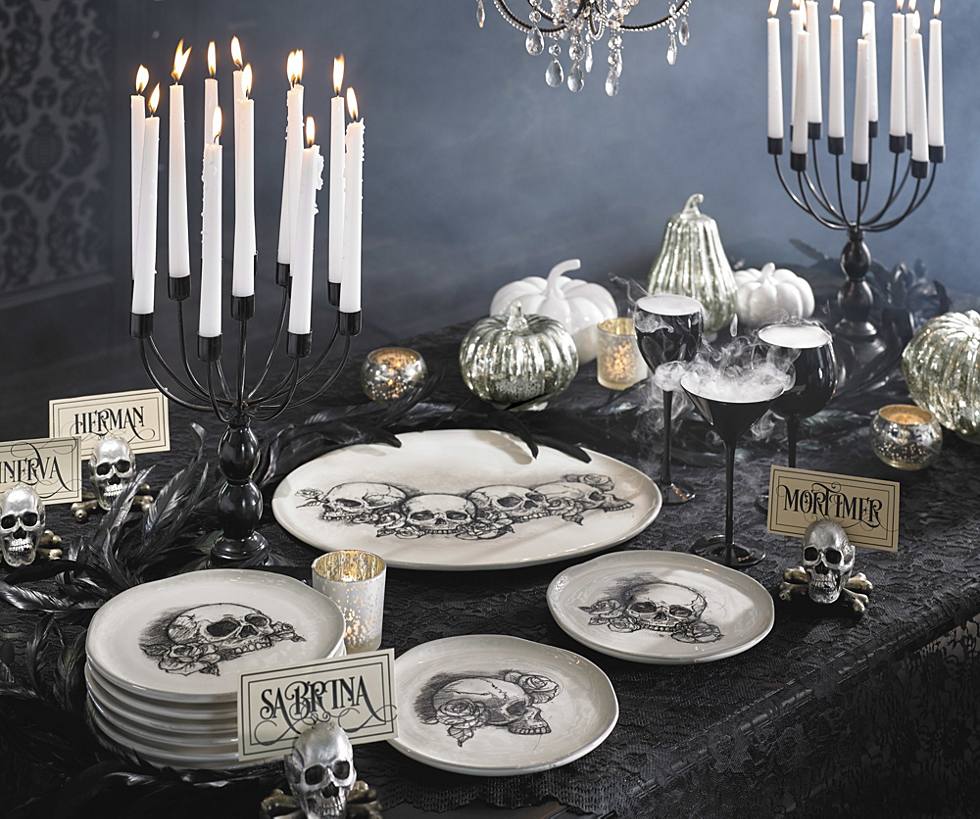 Esteemed guests have been summoned, spirits are high, and October 31 edges unsettlingly closer and closer…
Whether it's your first Halloween party or your fifteenth, you naturally want to make a lasting impression on everyone who appears at your fearsome affair. For friends and family, you want the gathering to be a fun celebration of the season that leaves everyone smiling. For you—not so selfishly, we must add—it should be fast and easy to pull together, plus properly reflective of your everyday great taste in trend-worthy home décor.
Alakazam.
Follow our simple decorating tips, and quickly transform your table into a visual feast of spellbinding beauty that your guests won't forget. A look into the future… sophistication rules the night, in a dynamic display of both the functional and decorative. Black and white tones are accented with metallics and special glimmering touches for added glamour and sparkle.
First Course: Plates
Any amazing tablescape is the result of a thoughtful layering process. Plates are the perfect foundation. We're about authenticity, so plastic and disposable tableware were banished long ago. Take your pick of our substantial stoneware Witchy Word Plates, Midnight Black Dinner Plates, or Sketched Skull Plates. Already clutching Halloween-themed or undecorated plates you love? Don't be afraid to use them!

Wicked Style Now Being Served
As guests swoop in, time and time again, it just may be another eyeful of your Skeleton Serving Ware they're seeking. Besides the obvious practicality and tastefully executed design, the shiny cast aluminum finish captures the attention and creates a fascinating contrast to the accompanying matte tones. Consider filling with party favors—every guest is dying for a fun little memento.

All Spirits Should Know Their Place
Why risk a lost soul when you can personalize the setting just for them? You've experienced it yourself; that warm, joyful feeling you get anytime you're delightfully surprised with an encounter or gift that has been made special just for you. Guests are sure to enjoy this unexpected touch. Hostess tip: consider giving each attendee a spooky nickname for the evening. Fab conversation starter.
Layer on the Twinkle and Shine
The scene hasn't been fully set until the supporting players are in place. The just-noticeable small wonders that instantly elevate the individual components to something greater—a complete, showstopping spectacle. In this case, they make the entire tableau sparkle. So many choices. Like our Jeweled Skull Decanter, Jeweled Skeleton Rat, and Black Beaded Skulls, for example. Cheers to adding enlightened elements, such as candles, illuminated pumpkins, and florals throughout to soften the look.

Additional Considerations
All the pieces we've discussed look stunning on a simple black table covering. Make it an entire room setting with wall pieces from the same color palette and array of finishes. Really take it over the top by seating a Chrome Skeleton at the head of the table.
Truthfully speaking, a successful monster bash isn't magic. In keeping with our year-round philosophy, if you love it, we love it, and it works. So do what your heart says when it comes to décor, and best witches, from us, for a killer Halloween party, hosted in style! Snap a picture of your finished table setting and share it with us on Instagram or Facebook; tag #grandinroad.
Shop all grandinroad Halloween Entertaining now.