Hunting down unique Halloween decor can be a frightful proposition. So many of the same old tricks at the same old places…
Fear not, dear friend. Years of offering hundreds of elevated, exclusive Halloween decor finds has made us the go-to haunt for easy, shockingly stylish props and accents. And you won't find them hanging out at every house on the block.
Follow along and fill up your trick-or-treat bag as we count down the all-new top 13 Halloween Products for 2019 You Won't Find in Stores (or anywhere but Grandin Road). Snap them up fast. Favorites disappear in a flash!
13 | Gold Skeleton Bees, Set of Six
Bee-guiling. Transform your display without the sting of a big investment—$24.

12 | White Mice Necklace
Made of rubber, they jiggle just enough as you move to give them a little life. EEK.

11 | Animated Deluxe Bird Cage
A secret motion sensor triggers him to squawk and swing back and forth. "Pretty bird… "

10 | Skull Twig Stems, Set of Six
Ghastly boo-quet. These "floral" stems feature tiny, subtle skulls. $59, and only here.

9 | Towering Reaper
Adjusts up to 8′ tall. Create a monstrously fun, can't-find-it-anywhere-else welcome.

8 | Falloween Wreath
Harvest meets Halloween. Enjoy the beauty early fall to well beyond the witching season.

Smashing new design at $59. Carve out a prime spot on the mantel or party buffet.

6 | Hanging Witch Ghost
Easily create the convincing illusion of a floating specter and cause Fright-Night drama.

5 | Classic Halloween Window Box Filler
Lifelike pumpkins, florals and ornaments that fit perfectly in Grandin Road window boxes.

4 | Woodland Pumpkin, Fox
Clever, coming and going. Turn to see an equally cute, dimensional backside.

3 | Halloween Weeping Willow Lights
A captivating, cascading twinkle effect dances down thirty strands of lights.

2 | White Skeleton Hand Vase
Bone-afide unique Halloween decor. This year, get rousing applause from guests.

1 | Deluxe Celestial Crystal Ball
The future looks stormy! In a fun way. "Lightning" follows your finger across the surface.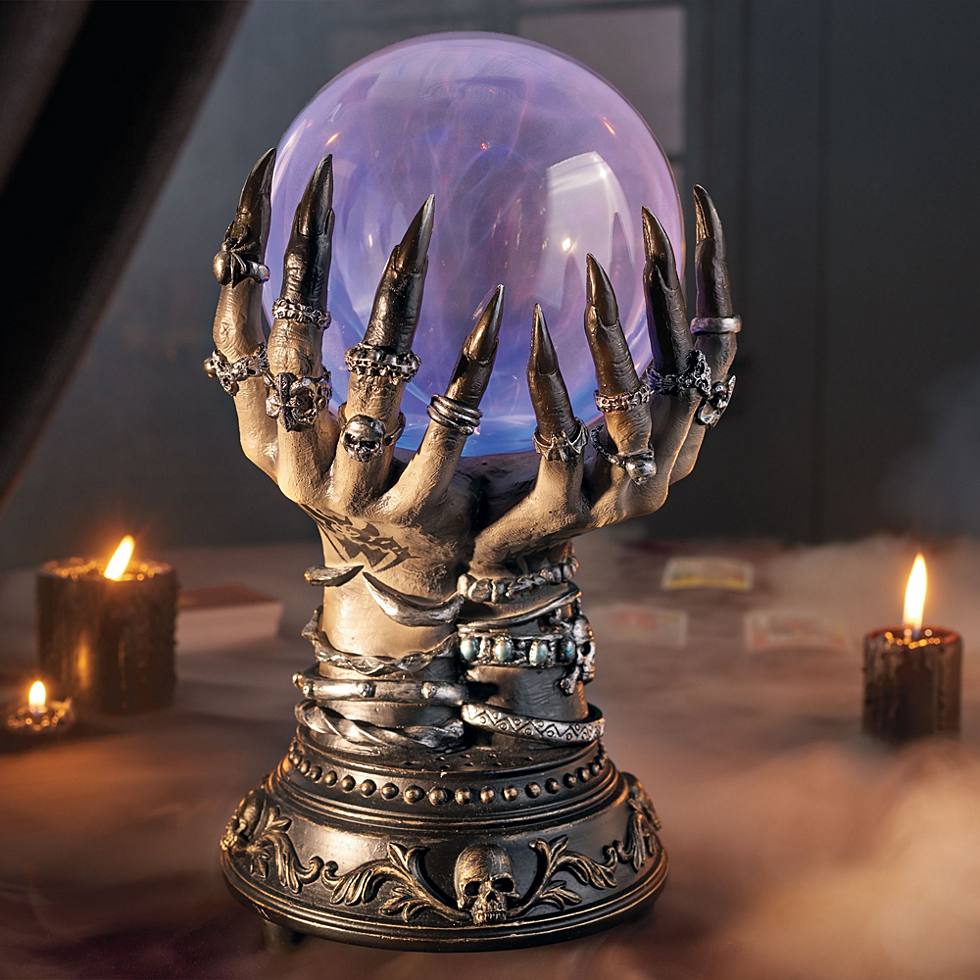 Shop all of these Grandin Road exclusive Halloween decor items, and more, now.
Looking to extend a more spirited Halloween hello? Learn 5 Easy Tricks, Craft a Wicked Porch Makeover.
Miss last year's eerily enchanting list of unique Halloween decor? Take a look back at 10 Exclusive Ideas to get Spooky on Any Budget.