SERVE UP SOME FRIGHT – AND SOME FUN
You've done the Halloween decorating. You've put on your get-up. Now it's time to feed the costumed masses who show up at your party. Try these nibbles for a bit of festive fun.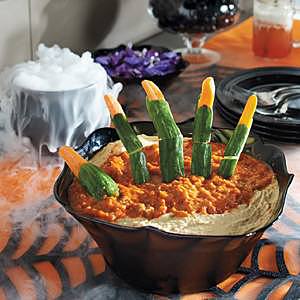 INGREDIENTS AND SUPPLIES
Hummus
Pureed red bell peppers
Five petite English cucumbers, cut in two
Baby carrots or radishes, cut into fingernail-shaped slivers
Toothpicks
Decorative bowl
INSTRUCTIONS
Fill decorative bowl with hummus.
Fluff up the hummus with an immersion blender.
Top with a pool of pureed red bell peppers.
Insert the largest mini cucumber half into the hummus, round edge up – this is the "thumb."
Insert four mini cucumber halves into the hummus, rounded edge down – these are the bottoms of the "fingers."
Insert two toothpicks, parallel to each other, into the top of each "finger" bottom; insert them at an angle to achieve a bent look.
Cut slit into the rounded ends of four remaining cucumber halves, plus the "thumb," and insert "fingernail" carrot or radish slivers.
Attach tops of "fingers" to the protruding toothpicks.
Serve with a side dish full of dip-ready raw veggies.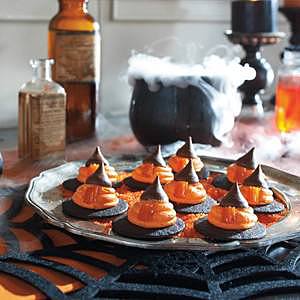 WITCH HAT WAFERS:
WICKED AND WONDERFUL
INGREDIENTS AND SUPPLIES
Orange icing (make your own, or add food coloring to a tub of pre-made whipped icing)
Package of chocolate wafers (try Nabisco Famous Chocolate Wafers, Anna's Wafers, or upside-down fudge-striped cookies)
Bag of Hershey's Kisses
Black or orange soft candy, cut into buckle-sized pieces (we used Orange Crush licorice)
Icing decorating bag
Jar of orange colored sugar
Decorative tray
INSTRUCTIONS
Dye your icing orange; mix thoroughly for even coloration.
Place a layer of chocolate wafers on a flat, clean surface.
Using a decorating bag, center a large dollop of orange icing on each wafer.
On top of the orange icing, gently press a Hershey Kiss into place at a slight angle.
Adorn the "hat" with a candy "buckle."
Distribute a layer of orange-colored sugar on a decorative tray; place "hats" on top and serve!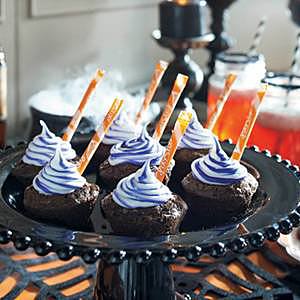 BROWNIE CAULDRONS: SWIRLS OF SWEETNESS
INGREDIENTS AND SUPPLIES
Two-bite brownies (you can make your own in a mini-muffin pan or buy them pre-made at the grocery store)
Tub of white icing (pre-made whipped icing, or make your own)
Icing decorating bag
Violet icing gel (we used this)
Pixie Stix, snipped into 2-1/2" pieces and twisted to seal each end
Decorative platter
INSTRUCTIONS
If you're making your own brownies, scoop out a measuring teaspoon-full right after baking, while they're still hot, to make a proper divot for the icing.
If brownies are cool, carefully cut a divot into the center of each brownie. We recommend using clean kitchen scissors for this.
Place cooled brownies on a clean, flat surface.
Open up decorating bag and paint a straight line of violet icing gel in each quadrant.
Fill decorating bag with white icing.
Pipe icing in a spiral into the divot of each brownie.
Place your "cauldrons" onto a decorative platter.
Garnish with mini Pixie Stix, poked in at an angle.